Welcome to Southern Savers,
where finding deals and steals is simple and rewarding!
See I told you, this would help!
Coupon Abbreviations
SC

= Store Coupon

MC

= Manufacturer Coupon

SS

= Smart Source

RMN

= Retail Me Not

PG

= Proctor and Gamble
Coupon Terms
WYB

= When You Buy

B1G1

= Buy One Get One Free

.75/1

= 75 cents off one item

.75/3

= 75 cents off three items

EXP

= Expiration Date
Going Nuts? I can help you understand coupon terms and abbreviations
Home > Publix Deals > Publix Ad: 5/8-5/14 or 5/9-5/15
This post may contain affiliate links. Read our disclosure here.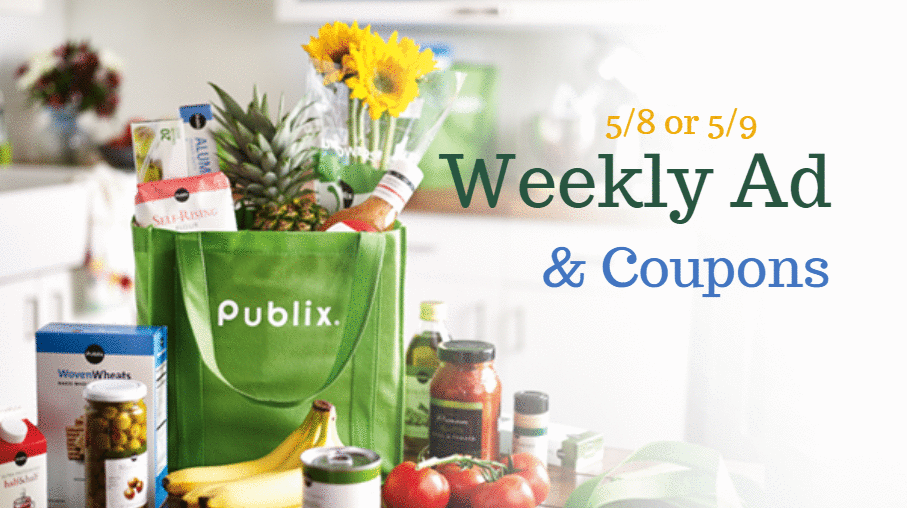 Here are the deals from the new Publix ad that starts 5/8 (or 5/9 depending on your area). Get Ragu pasta sauce for 99¢, Purina Bella dog food for 99¢, organic Gerber baby food for 87¢, and more.
Gift Card Promo
Buy $15 in Participating Personal Care Products Get a $5 Publix Gift Card back.
Dove Body Wash, 22 oz, Shower Foam, 13.5 oz, or Body Polish, 10.5 oz, $5.99
-$2/2 Dove body wash regular or foam mousse, beauty bar & bath bomb items, Publix (EXP 5/14) eCoupon (limit reached)
-$1 off Dove Body Polish item, 10.5 oz, excl Men+Care and trial, limit 2, RMN 05/05
-$1 off Dove Body Wash 22 oz+, or Shower Foam item 13.5 oz, excl Men+Care and trial, limit 2, RMN 05/05
-$1.25 off Dove body wash 22 oz+, or shower foam 3.5 oz, excl Men+Care, limit 2, RMN 05/05
-$2/2 Dove Hair Care 5-20.4 oz, Body Wash, Polish, Shower Foam or Mousse 10.3-34 oz, Dove Bar 6 ct, Bath Bomb 2 ct, Hand Wash 6.8 oz or Deodorant 1.7-5.2 oz, (Publix Coupon), Health & Beauty Flyer or printable
Dove Bar Soap, 6 ct., $6.49
-$1 off Dove Product, any (sign up) printable
-$1 off Dove Beauty Bar, 4-pk+, limit 2, RMN 05/05
-.75/1 Dove Beauty Bar 4-pk+, limit 2, RMN 05/05
-$2/2 Dove Hair Care 5-20.4 oz, Body Wash, Polish, Shower Foam or Mousse 10.3-34 oz, Dove Bar 6 ct, Bath Bomb 2 ct, Hand Wash 6.8 oz or Deodorant 1.7-5.2 oz, (Publix Coupon), Health & Beauty Flyer or printable
TRESemme Hair Care, 11 or 28 oz, $4
-$2/2 Tresemme Shampoo, Conditioner, Styling or Root Touch Up Products 2.5-28 oz, (Publix Coupon), Health & Beauty Flyer or printable
TRESemme Pro Collection Hair Care 22 oz, or Styling Products, 4.3-10.5 oz, $5
-$2/2 Tresemme Shampoo, Conditioner, Styling or Root Touch Up Products 2.5-28 oz, (Publix Coupon), Health & Beauty Flyer or printable
Buy One Get Ones
Grape Tomatoes, 1 pint, at $2.59 ($1.29)
Mini Sweet Peppers, 8 oz, at $3.59 ($1.79)
Publix Premium Mussels, 16 oz, at $5.99 ($2.99)
Oscar Mayer Beef Franks, 14-16 oz, at $5.99 ($2.99)
Butterball Turkey Burgers, 32 oz, at $8.99 ($4.49)
Armour Meatballs, 11-14 oz, at $4.99 ($2.49)
Sargento Shredded Cheese, 5-8 oz, at $4.29 ($2.14)
-.60/1 Sargento Reserve Series Shredded Natural Cheese, SS 04/14
-.75/1 Sargento Shredded Cheese item, Publix eCoupon


(use .75/1, makes it $1.39)

Palermo's Primo Thin Crust Pizza, 14.2-16.55 oz, at $9.69 ($4.84)
-$1 off Palermo's Pizza printable


(makes it $3.84)

Totino's Pizza Rolls, 90 ct., at $8.99 ($4.49)
-$1 off Totino's Crisp Crust Party Pizza, Pizza Rolls, Mini, excl Party Pizza, packs, Publix eCoupon
Mayfield Ice Cream, Bars or Sandwiches, 1.5 qt. or 21 oz or 6 ct., at $6.15 ($3.07)
Blue Bunny Bunny Snacks or Mini Swirls, 6-8 pk, at $6.15 ($3.07)
-.75/1 Blue Bunny ice cream and novelties (sign up) printable


(makes it $2.32)

Skinny Cow Ice Cream Sandwiches, 4-6 ct., at $5.69 ($2.84)
Sorbabes Sorbert, 16 oz, at $4.99 ($2.49)
Magnum Ice Cream Bars or Non-Dairy Bars, 9.12-11.1 oz or Ice Cream,, 14.8 oz, at $6.15 ($3.07)
-.75/1 Magnum ice cream bar multipack, 3 ct. printable
-$1.50/2 Magnum ice cream bar multipack, 3 ct.+ printable
-$1.25 off Magnum ice cream tub, 14.8 oz printable
-$5/$25 Magnum Ice Cream Products, multiple receipts ok, SavingStar mobile app
-$1.50/2 Magnum Ice Cream bar multipacks, 3 ct+, Publix eCoupon
-.75/1 Magnum Ice Cream bar multipacks, 3 ct+, Publix eCoupon
-$1.25 off Magnum Ice Cream Tub, 14.8 oz, Publix eCoupon
-500 points WYB Magnum ice cream, limit 3, get 2,000 bonus points w/ code N0REC at sign up, Fetch Rewards mobile app


(use $1.25 off, makes it $1.32 after Fetch Rewards!)

Boca Veggie Protein Veggie Burgers or Patties, 10 oz, at $3.79 ($1.89)
Sara Lee Pound Cake or Cheese Cake, 10.75-30 oz, at $8.59 ($4.29)
-.55/1 Sara Lee product, RMN 05/05


(makes it $3.74)

Dole Acai Bowls 6 oz or Frozen Fruit, 12-16 oz, at $4.59 ($2.29)
-$1 off Dole frozen item printable


(makes it $1.29)

Sabra Classic or Roasted Red Pepper Hummus, 6 pk. 12 oz total, at $5.63 ($2.81)
Borden Cheese Singles, 12 oz, at $4.79 ($2.39)
Russell Stover Choclates, 8.25-12 oz, at $9.99 ($4.99)
-$2/2 Russell Stover Boxes 8-16 oz, limit 1, SS 04/28


(makes it $3.99 ea.)

Dove Chocolate Promises, 7.61-8.46 oz, at $4.79 ($2.39)
Publix Bakery Chocolate Chip, Cranberry Honey or Heath Original Recipe Cookies, 13 ct., at $5.11 ($2.55)
Reser's Main St. Bistro Baked Sides or Roasted Potatoes, 17 oz or 20 oz, at $5.19 ($2.59)
-$1 off Reser's Main St. Bistro, 12-32 oz printable


(makes it $1.59)

Mrs. Dash Salt-Free Seasoning Blend or Grilling Blend, 2-2.5 oz, at $3.29 ($1.64)
-$1 off Mrs. Dash seasoning bottle, SS 04/07


(makes it 64¢)

Aunt Jemima Syrup, Pancake & Waffle Mix, Easy Crepes Mix, 24-35 oz, at $3.69 ($1.84)
-$10 Publix Gift Card WYB $50 in Participating Products at Publix: Kraft, Nabisco, PepsiCo and P&G select items, Stocking Spree online rebate
Ragu Sauce, 14-24 oz, at $3.49 ($1.74)
-$1/2 Ragu sauce printable
-.50/1 Ragu pasta sauce, 16 oz+, SavingStar mobile app


(use both, makes it 99¢ ea.)

Meuller's Pasta, 8-16 oz, at $3.49 ($1.74)
Kraft Mayo Mayonnaise or Miracle Whip Dressing, 22-30 oz, at $6.15 ($3.07)
-$10 Publix Gift Card WYB $50 in Participating Products at Publix: Kraft, Nabisco, PepsiCo and P&G select items, Stocking Spree online rebate
Peter Pan Peanut Butter, 40 oz, at $7.30 ($3.64)
Nature's Own Butterbread, 20 oz, at $3.39 ($1.69)
Del Monte Canned Tomatoes, 14.5 oz, at $1.54 (77¢)
College Inn Broth or Stock, 32 oz, at $3.09 ($1.54)
-$1/3 College Inn Broth or Stock cartons, 32 oz printable


(makes it $1.21 ea.)

Pompeian Imported Olive Oil, 32 oz, at $15.79 ($7.89)
-.55/1 Pompeian extra virgin olive oil printable


(makes it $7.34)

Quaker Cap'N Crunch Cereal, Life or Oatmeal Squares, 14.5-20 oz, at $4.86 ($2.43)
-$10 Publix Gift Card WYB $50 in Participating Products at Publix: Kraft, Nabisco, PepsiCo and P&G select items, Stocking Spree online rebate
Post Honey Bunches or Oats, Pebbles, Oreo O's, Nutter Butter, Alpha-Bits, Chips Ahoy, Honeycomb or Golden Crisp Cereal, 11-14.75 oz, at $4.39 ($2.19)
Betty Crocker Muffin Mix, 13.9-16.9 oz, at $2.69 ($1.34)
Mentos Gum, 45-50 ct., at $3.69 ($1.84)
Thomas' English Muffins, 12-13 oz, at $8.19 ($4.09)
Kar's Sweet N Salty Mix, 44 oz or 20 ct., (price not listed)
Nabisco Variety Pack Cookies or Crackers or Single Serve Trays or Handi-Snacks, 10-18 ct. 9-25.2 oz, at $6.89 ($3.44)
-$10 Publix Gift Card WYB $50 in Participating Products at Publix: Kraft, Nabisco, PepsiCo and P&G select items, Stocking Spree online rebate
-.75/1 Nabisco multipacks, 7 oz+, limit 5, cannot use with other coupons, Checkout 51 mobile app
-.75/1 Nabisco Multipacks, 7 oz+, SavingStar mobile app


(makes it $2.69)

Snackwell's Vanilla Cookies, 12 pk., at $6.89 ($3.44)
-$1 off Snackwell's product, 3.9 oz+ (Facebook) printable


(makes it $2.44)

Planters Peanuts, 12-12.5 oz, at $3.47 ($1.73)
-$10 Publix Gift Card WYB $50 in Participating Products at Publix: Kraft, Nabisco, PepsiCo and P&G select items, Stocking Spree online rebate
Nabisco Ritz Crackers or Ritz Bits, 8.8-13.7 oz, at $4.08 ($2.04)
-$10 Publix Gift Card WYB $50 in Participating Products at Publix: Kraft, Nabisco, PepsiCo and P&G select items, Stocking Spree online rebate
-.75/2 Nabisco Ritz crackers, 7 oz+ box, SS 04/07
-.75/1 Nabisco Ritz select crackers, 7 oz+, excl Crisp & Thins and Toasted Chips, limit 5, cannot use with other coupons, Checkout 51 mobile app
-.75/1 Nabisco Ritz crackers, 7 oz+, excl Crisp & Thins and Toasted Chips, SavingStar (EXP 5/8) mobile app


(use .75/2 & SavingStar, makes it $1.29 ea.)

Doritos Tortilla Chips or Ruffles Potato Chips, 6.5-11.25 oz, at $4.29 ($2.14)
Lay's Kettle Cooked Potato Chips, 6.5-8 oz, at $3.49 ($1.74)
Atkins Meal Bar, 5 ct., at $8.19 ($4.09)
Emerald Cashews, Mixed Nuts or Virginia Peanuts, 5-10 oz, at $3.99 ($1.99)
Lance Crackers, 10-14 oz, at $3.19 ($1.59)
-$1/2 Lance Crackers, 8.4 oz+ printable


(makes it $1.09 ea.)

Entenmann's Donuts, 10-20.5 oz, at $5.99 ($2.99)
Welch's Fruit Snacks, 22 ct., at $5.59 ($2.79)
-$1/2 Welch's Fruit Snacks or Fruit Rolls printable
-.50/1 Welch's Fruit 'n Yogurt snacks, 8 oz+ bags or boxes, limit 5, cannot use with other coupons, Checkout 51 mobile app
-$1/2 Welch's Fruit Snacks, 8 oz+ boxes, on same receipt, limit 5, cannot use with other coupons, Checkout 51 mobile app
-.50/1 Welch's Fruit 'n Yogurt snacks, 8 oz+ bags or boxes, SavingStar (EXP 5/9) mobile app
-$1/2 Welch's Fruit Snacks, 8 oz+ bags or boxes, on same receipt, SavingStar (EXP 5/9) mobile app
-.50/1 Welch's Fruit n Yogurt snacks or rolls, 8 oz+ bag or 6-ct+ box, SS 05/05
-$1/2 Welch's fruit snacks, 8 oz+ bag or 8-ct+ box, SS 05/05
-$1/2 Welch's fruit snacks, Fruit 'n Yogurt snacks or fruit rolls, 8 oz+ bag or 6 ct.+ box printable (limit reached)


(use $1/2 mfr coupon and SavingStar, makes it $1.79 ea.)

Nabisco Oreo Thins Sandwich Cookies, 10.1 oz, at $4.18 ($2.08)
-$1 off Oreo Chocolate Candy, WYB Nabisco Oreo cookies printable
-$10 Publix Gift Card WYB $50 in Participating Products at Publix: Kraft, Nabisco, PepsiCo and P&G select items, Stocking Spree online rebate
Orville Redenbacher's Gourmet Popping Corn, 6-12 ct. or 11.64-30 oz, at $5.47 ($2.73)
Pepperidge Farm Goldfish Snack Crackers or Bite Size Slim Cookies, On The Go! Packs, 8-10 ct., at $5.79 ($2.89)
-.75/1 Pepperidge Farm Whole Grain Thin Sliced Breads, 22 oz loaf, Ibotta App mobile app


(makes it $2.14)

Nabisco Chips Ahoy Cookies, 7-15.25 oz, at $3.89 ($1.94)
-.75/1 Nabisco Chips Ahoy!, 6 oz+ excl single serve sizes, claim up to 2X, cannot use this offer with any other coupon, Checkout 51 mobile app


(makes it $1.19)

Weber Seasoning, 2.5-3.75 oz, at $2.29 ($1.14)
Pepperidge Farm Whole Grain Bread, 22-24 oz, at $4.29 ($2.14)


(excludes Farmhouse)

Huggies Wipes, 56-64 ct., (price not listed)
-$1/2 Huggies wipes printable
-.50/1 Huggies Wipes, 48 ct.+ printable
Hallmark Greeting Cards or Gift Wrap, (price not listed)
Chinet Cut Crystal Plates, Cups, Bowls, or Cutlery, 8-48 ct., at $3.49 ($1.74)
Chinet Napkins, 40 or 90 ct., at $2.29 ($1.14)
Lysol All Purpose Cleaner, or Trigger Spray, 22-32 oz, at $3.99 ($1.99)
-.50/1 Lysol All-Purpose or Power Bathroom Cleaner, limit (2) like coupons, SS 03/10
-.50/1 Lysol Kitchen Pro Antibacterial Cleaner or Wipes, limit (2) like coupons, SS 03/10
-$1/2 Lysol All-Purpose or Power Bathroom Cleaner, limit (2) like coupons, SS 03/10
-$1/2 Lysol Kitchen Pro Antibacterial Cleaner or Wipes, limit (2) like coupons, SS 03/10


(makes it $1.49)

Purina Bella Dog Food, 3 lb, at $5.99 ($2.99)
-$2 off Purina Bella dry dog food, 3 lb+ printable (limit reached)
-$2 off Purina Bella dry dog food bag, 3 lb+, Publix (EXP 5/12) eCoupon


(makes it 99¢)

Pup-Peroni Dog Snacks, 10 oz, at $6.19 ($3.09)
Purina Fancy Feast Gourmet Cat Food, 3 lb, at $7.65 ($3.82)
One Hope Cabernet Sauvignon Wine, Red Blend, Pinot Nor or Chardonnay, 750 mL, at $16.99 ($8.49)
Agua Fresca Spiked Sparkling Beverage or Rita Spritz Wine Cocktail, 12 pk., at $17.99 ($8.99)
Beso Del Sol Red Sangria Wine, 3 L box, at $14.39 ($7.19)
Michelob Organic Ultra Pure Cold Light Lager, 6 pk., at $9.75 ($4.87)
Ocean Spray 100% Juice Blend or 100% Grapefruit Juice, 60 oz, or Organic, 33.8 oz, at $4.18 ($2.08)
-$1 off Ocean Spray Pink Cranberry Juice Cocktail, 64 oz printable (limit reached)


(makes it $1.08)

CapriSun Organic Juice Drink Blend, 10 pk. 6 oz, at $4.95 ($2.47)
-$10 Publix Gift Card WYB $50 in Participating Products at Publix: Kraft, Nabisco, PepsiCo and P&G select items, Stocking Spree online rebate
Powerade Sports Drink, 8 pk. 20 oz, at $5.99 ($2.99)
Eternal Naturally Alkaline Spring Water, 6 pk, 600 mL, at $6.15 ($3.07)
Seattle's Best Coffee, 12 oz, or K-Cups, 10 ct., at $7.99 ($3.99)
-$1 off Seattle's Best Coffee printable
-$1 off Seattle's Best Coffee PayPal rebate
-$1 off Seattle's Best packaged coffee printable
-$2.25/2 Seattle's Best k-cups coffee, 10 ct., 18 ct. or 24 ct. carton printable


(use $2.25/2 and PayPal, makes it $2.37 ea.)

Chameleon Cold-Brew Coffee, 32 oz, at $9.99 ($4.99)
Bolla Prosecco Sparkling Wine or Rose, 750 mL, at $15.99 ($7.99)
Produce
Publix Red or Idaho Russet Potatoes, 5 lb bag, $2.99
Asparagus, $2.99 lb
Organic Strawberries or Red Raspberries, 6 oz or 16 oz, $3.99
Organic Fuji Apples, 2 lb, $2.99
Sweet Corn Yellow, white or Bi-Color, 40¢ each
Tomatoes On The Vine, $1.49 lb
Fresh Attitude Salad Blends, 5 oz, $2
Strawberries 16 oz, $2
Harvest Snaps Snack Crisps, 3-3.5 oz, $2
Bartlett Pears, $1.69 lb
Meat
Armour LunchMakers, 2.44-2.67 oz, $1
Boneless New York Strip Steaks, $8.99 lb
Snow Crab Clusters, $9.99 lb
Publix Ground Round, 3 lb +, $3.99 lb
Publix Premium Eye Round Beef Roast, $3.99 lb
Publix Pork Loin Back Ribs, $2.99 lb
Greenwise Bone-In Angus Ribeye Steaks, $10.99 lb
Fridge or Frozen
Pete And Gerry's Organic Free-Range Brown Eggs, 12 ct. or Liquid Egg Whites, 16 oz, $3.99
-$1.50 off Pete & Gerry's Organic Egg Products (sign up) printable


(makes it $2.49)

Rana Pasta or Sauce, 7-15 oz, $3.50
-$1 off Giovanni Rana Refrigerated Sauce item, Publix eCoupon


(makes it $2.50)

Pillsbury Crescent Dinner Rolls, Cinnamon Rolls, Grands Biscuits, or Jr. Flaky Biscuits, 4-12 oz, $1
-$1/3 Pillsbury Refrigerated Baked Goods Products, SS 04/14


(makes it 77¢ ea.)

Polly-O or Kraft String ot Twists Cheese, 7.5-12 oz, $3
Publix Sweet Cream Butter, 16 oz, $3
Blue Diamond Almond Breeze Almondmilk, 64 oz, $2.50
-$1 off Blue Diamond Almond Breeze Almondmilk Blended with Real Bananas, 64 oz, limit 1, SS 04/14
-$1 off Blue Diamond Almond Breeze Almondmilk Chocolate Items, 64 or 96 oz, limit 1, SS 04/14


(makes it $1.50)

Daisy Sour Cream or Cottage Cheese, 16 oz, $2.50
Devour Entrees, 7.4-12.5 oz, $2.50
Friendly's Ice Cream Sundae, 6 oz, $1
Weight Watchers Smart One Entree, 4.4-10.5 oz, $1.66
Eggo Waffles, 10.7-12.3 oz, $2.33
-$1 off Kellogg's Eggo frozen item 5.3 oz + (850 points) printable


(makes it $1.33)

Finagle-A-Bagel Bagels, 5 ct., $2
Grocery
Stacy's Pita Thins or Bagel or Pita Chips, 6.7-8 oz, B2G1 at $3.59
Quaker Popped Rice Crisps or Rice Snacks, 3-3.52 oz, $1
Bumble Bee Premium Tuna, 4 pk, $2.50
Welch's Jam or Jelly or Spread 17-30 oz jar or Squeezable, 17.1-20 oz, $2
Cheez-It Baked Snack Crackers, Snack Mix, Grooves, or Snap'd, 7.5-12.4 oz, $3
-$1 off Sunshine Cheez-It 7 oz + (850 points) printable
-.75/1 Cheez-It Snap'd, 7.5 oz, Ibotta App mobile app
-.75/1 Cheez-It Snap'd crackers printable


(use .75/1 and Ibotta, makes it $1.50)

Nabisco Triscuit Crackers, 6.5-9 oz, $2.50
-$10 Publix Gift Card WYB $50 in Participating Products at Publix: Kraft, Nabisco, PepsiCo and P&G select items, Stocking Spree online rebate
-$1/2 Nabisco Good Thins Snacks, or Triscuit Wheatberry Clusters, 3.5 oz+, SS 04/14
-.75/1 Triscuit Wheatberry Clusters or Crackers, 3.5 oz+, limit 5, cannot use with other coupons, Checkout 51 mobile app
-.75/1 Triscuit Wheatberry or Crackers, 3.5 oz+, SavingStar mobile app
Beverages
Sterling Cabernet Sauvignon Wine, 750 mL, $8.99
Publix Ground Coffee, 24.2 oz, $4.99
Coca-Cola Products, 2 L, B2G1 at $2.19
-$2 off Publix Deli Platter AND Coca-Cola 2L, (Publix Coupon), Health & Beauty Flyer or (EXP 5/10) printable
Coca-Cola Products, 6 pk. 16.9 oz, B2G1 at $4.99
Aquafina Pure Water, 24 pk., 16.9 oz, B2G1
Glaceau Vitaminwater or Vitaminwater Zero, 20 oz, $1
Michelob Ultra Beer or Bud Light Lime or Orange, 12 pk, $12.99
White Claw, Truly Spkied, Henry's or Truly Tropical Hard Seltzer, 12 pk, $13.99
Starbucks Coffee, 10 oz or 6-10 ct., $6.99
-$1 off Starbucks ground or whole bean coffee printable
-$2 off Starbucks K-cup Pods, 6-ct+, limit 4, SS 04/28
-$2 off Starbucks Packaged Coffee Bags, 10 oz+, limit 1, SS 04/28
-$1.50 off Starbucks K-Cup Pods, 6-ct+, limit 1, SS 04/28
-$1.50 off Starbucks Packaged Coffee Bags, 10 oz+, limit 1, SS 04/28


(use $2 off, makes it $4.99)

Gatorade Thirst Quencher, 32 oz, $1
-$10 Publix Gift Card WYB $50 in Participating Products at Publix: Kraft, Nabisco, PepsiCo and P&G select items, Stocking Spree online rebate
-B10G2 Gatorade 32 oz, (Publix Coupon), Health & Beauty Flyer or (EXP 5/10) printable
Canada Dry, 7UP, A&W, or Diet Rite, 12 pk, 12 oz cans, B2G1 at $5.49
Personal Care
Method Liquid Hand Wash or Foaming Hand Wash, 10-12 oz, $2.50
Nexium or Prilosec OTC Acid Reducer, 42 ct., $5 off
(prices after sale)
Nexium 42 ct., $23.99
Prilosec OTC, 42 ct., $23.99
-$3 off Nexium 24HR tablets, 28 or 42-ct printable
-$1 off Prilosec OTC Product, limit 1, PG 04/28
-$2 off Nexium 24HR product, RMN 04/28 (EXP 5/12)
-$1 off Prilosec OTC item, Publix eCoupon
-$2 off Nexium 24HR product, SavingStar (EXP 5/12) mobile app
-$10/2 Nexium 24HR 42 ct or Preparation H Rapid Relief 1 oz , (Publix Coupon), Health & Beauty Flyer or printable


(buy (2) use store and (2) $3 off, makes it $15.99 ea.)

Listerine Mouthwash, 32 oz to 1.5 L, or Ready! Tabs, 8 ct., $1 off
(prices after sale)
Listerine Ultra Clean Mouthwash, 1 L, $5.99
Listerine Ready! Tabs, 8 ct., $1.49
-.75/1 Listerine adult mouthwash, 1 L+, excl whitening rinse printable
-.75/1 Listerine Mouthwash or Healthy White item 16 oz+ printable
-$1 off Listerine Sensitivity Mouthwash item, 250 mL+ printable
-$10 Publix Gift Card WYB $30 in Neutrogena, Aveeno, Listerine, Clean & Clear, Band-Aid, Neosporin, Motrin, Sudafed, Pepcid, Visine, Benadryl, Imodium, Bengay, Roc, Johnson's, Rhinocort, Lactaid, Tylenol, Desitin, Zyrtec, or Tena products , in one transaction, online rebate
-$1 off LISTERINE Adult Mouthwash, 800 mL+, Ibotta App mobile app
Carefree Pantiliners, 36-60 ct., or Stayfree Pads, 14-24 ct., $2.50
-$2/2 Stayfree Products printable
-.75/1 Carefree product, excl 18-22 ct, limit (2) like coupons, SS 04/07 (EXP 5/11)
-.75/1 Stayfree product, excl 10-ct, limit (2) like coupons, SS 04/07 (EXP 5/11)
-$2/2 Stayfree products, excl 10-ct, limit (2) like coupons, SS 04/07 (EXP 5/11)


(use $2/2, makes it $1.50 ea.)
Baby Care
Huggies Boxed Diapers or Pull-Ups or GoodNites Underwear, jumbo pk, $8.99
-$2 off Huggies GoodNites underwear printable
-$2 off Huggies Pull-Ups Learning Designs training pants (sign in) printable
-$2 off Huggies Pull-Ups Cool & Learn training pants (sign in) printable
-$1 off Huggies diapers printable
-$1 off Huggies diapers (sign in) printable
-$1.50 off Huggies GoodNites Bedtime Pants printable
-$1.50 off Huggies Pull-Ups Training pants printable
Huggies Wipes, 56-64 ct., B2G1 at $2.59
-$1/2 Huggies Wipes (sign in) printable
-.50/1 Huggies Wipes, 48 ct.+ printable


(use $1/2 and .50/1, makes it $1.22 ea.)

Gerber Organic Baby Food or Graduates Grabbers, 3.5-4.23 oz, B6G2 at $1.50
-$1/4 Gerber pouches or glass jars printable


(buy (8), use (2) $1/4, makes it 87¢ ea.)

Publix Baby Wipes, 72 ct., $1.66
Household
Viva Paper Towels, 6 Big Rolls, $6.49
-.50/1 Viva Paper Towels printable
-.50/1 Viva Paper Towels 6 pack +, SS 04/14 (EXP 5/12)


(makes it $5.99)

Cottonelle Bath Tissue, 12 Dbl Rolls, 6 Mega Rolls or Flushable Cleansing Wipes, 168 ct., $6.49
-.55/1 Cottonelle Toilet Paper printable
-.55/1 Cottonelle Flushable Cleansing Cloths printable
-.55/1 Cottonelle Toilet Paper printable
-.55/1 Cottonelle Toilet Paper (sign up) printable
-.55/1 Cottonelle Flushable Wipes printable
-.50/1 Cottonelle FreshCare Flushable Wipes, any, Ibotta App mobile app
-.25/1 Cottonelle Toilet Paper, any, Ibotta App mobile app
-.75/1 Cottonelle Flushable Cleansing Cloth 168 ct+ printable
-$2 off Cottonelle toilet paper double roll 12-pk+, or Mega roll 6-pk+, WYB (1) Cottonelle Flushable Cleansing Cloths tub or refill 42-ct+ (Publix coupon), RMN 05/05


(buy Bath Tissue & Wipes, use store, .55/1, .75/1, and both ibottas, makes it $4.46 ea.)

Gain, Tide Pods or Gain Flings Detergent, 50-52.9 oz or 12-16 ct., $5
-$2 off Tide Pods, excl liquid, powder, Simply, Pods 9 ct. or less, trial/travel sizes printable
-$1 off Gain Flings, Liquid or Powder Laundry Detergent & Botanicals, excl Fabric Enhancers, Fireworks, Flings 9ct & trial size, Publix (EXP 5/11) eCoupon
-$2 off Tide PODS, excl liquid or powder laundry detergent, Simply and Simply PODS, and PODS 9-ct or less, limit 1, PG 04/28
-$1 off Tide Simply PODS 13-ct, or Downy Liquid Fabric Conditioner 40-ld or less incl Odor Protect, Bounce or Downy sheets 60-ct or less, or In Wash Scent Boosters 4.3 oz or less, incl Downy Unstopables, Fresh Protect, Infusions, Dreft Blissfuls or Gain Fireworks; excl Tide detergent and PODS, Downy Libre Enjuague, Gain Fireworks, limit 1, PG 04/28
-$2 off Tide PODS, excl liquid/powder laundry detergent, Simply, Simply PODS & PODS 9 ct- & trial size, Publix eCoupon


(use $2 off, makes it $3)

Palmolive Ultra Dish Liquid, 32.5 oz, $3
-.50/1 Palmolive Ultra Dish Liquid, 10 oz, Publix eCoupon
-.50/1 Palmolive Ultra Dish liquid, 18 oz+, SS 05/05
-$1 off Palmolive Ultra Dish liquid, 32.5 oz+, SS 05/05


(makes it $2)

Glad Tall Kitchen or Trash Bags, 25-45 ct., $6.99
Scotch-Brite Sponges, 3 ct., $2.50
-.50/1 Scotch-Brite Scrub Sponges, 3-ct+, claim up to 5X, cannot use this offer with any other coupon, Checkout 51 mobile app
-.50/1 Scotch-Brite select scrub sponges, 3-ct+, SavingStar (EXP 5/9) mobile app


(makes it $2)

Hot Shot Ant & Roach Killer, 17.5 oz, $2.50
-.75/1 Hot Shot select aerosols for Ant, Roach, Spiders, limit 5, cannot use with other coupons, Checkout 51 mobile app
-.75/1 Hot Shot select aerosols – ant, roach & spider, SavingStar mobile app


(makes it $1.75)
Pet Care
Purina Tidy Cats Cat Litter, 14 lb, $6.50
-$2/2 Purina Tidy Cats Clumping Cat Litter, any size, (excludes LightWeight) printable


(makes it $5.50 ea.)
Publix LINKS
Latest Articles
Categories
Videos
← PREV NEXT →
Printable Coupons
See our full list of printable coupon resources