Welcome to Southern Savers,
where finding deals and steals is simple and rewarding!
See I told you, this would help!
Coupon Abbreviations
SC

= Store Coupon

MC

= Manufacturer Coupon

SS

= Smart Source

RMN

= Retail Me Not

PG

= Proctor and Gamble
Coupon Terms
WYB

= When You Buy

B1G1

= Buy One Get One Free

.75/1

= 75 cents off one item

.75/3

= 75 cents off three items

EXP

= Expiration Date
Going Nuts? I can help you understand coupon terms and abbreviations
Home > Publix Deals > Publix Ad: 6/5-6/11 or 6/6-6/12
This post may contain affiliate links. Read our disclosure here.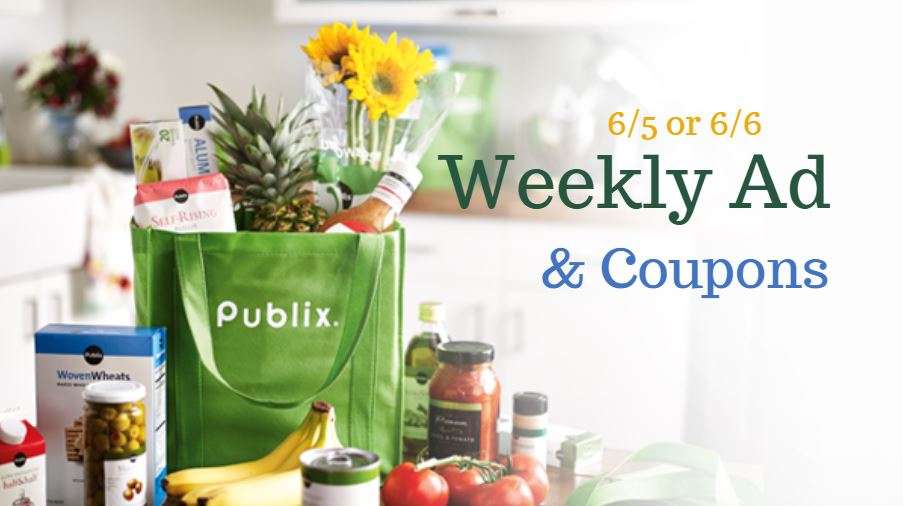 Here are the deals from the new Publix ad (starting 6/5 or 6/6 depending on your area). Get Quilted Northern for $2.19, Huggies for $3.99, cereal for 62¢, and more!
Buy One Get Ones
Campari Tomatoes, 16 oz, at $4.99 ($2.49)
Fresh Express Salad Blend or Kit, 5-13 oz, at $4.29 ($2.14)
Publix Deli Chicken Breast or Turkey Cob Salad, 8 oz, at $5.99 ($2.99)
Publix Cooked Shrimp, 41/50 ct., 24 oz, at $20.99 ($10.49)
Publix Frozen Mussels, 16 oz, at $5.99 ($2.99)
Publix Boneless Pork Loin Chops or Roast, at $5.29 ($2.64) per lb
GreenWise Chicken Breasts, Drumsticks, or Thighs, at $7.69 ($3.84) per lb
Oscar Mayer Weiners (excludes Beef, Cheese and Angus), 16 oz, at $3.34 ($1.67)
Perdue Short Cuts Chicken or Turkey Breast, 8 or 9 oz, at $4.99 ($2.49)
-$1.50/3 Perdue refrigerated fully cooked chicken printable
-$1/2 Perdue Refrigerated Fully Cooked Chicken products – incl Simply Smart Organics or Harvestland items, RMN 05/12


(makes it $1.99 ea.)

Laughing Cow Spreadable Cheese Wedges, 6 oz, at $3.59 ($1.79)
Annie's Homegrown Ready to Bake Rolls or Biscuits, 8-17.5 oz, at $3.99 ($1.99)
Silk Oat Yeah Oatmilk, 64 oz, at $4.59 ($2.64)
-$1 off Silk Oat Yeah Oatmilk half gallon printable (limit reached)
-$1 off Silk Half Gallon (sign up) printable


(makes it $1.64)

Lender's Pre-Sliced Bagels, 6 ct, at $2.99 ($1.49)
Morning Star Farms Veggie Entrees, 5.25 oz, or Meal Starters, 18 oz, at $7.65 ($3.82) or less
-$1 off MorningStar Farms Veggie Foods item (850 points) printable
-$1 off MorningStar Farms Veggie Foods item, 5.25 oz+, Publix eCoupon
-$1/2 MorningStar Farms veggie foods products printable
-$1/2 MorningStar Farms veggie foods products printable


(makes it $2.82 or less)

Gorton's Fish Sticks or Fillets, 18.2-24.5 oz, at $7.49 ($3.74)
Green Giant Steamers Vegetables, 11-12 oz, at $2.39 ($1.19)
Delimex Tequitos, 21.6-23 oz, at $5.99 ($2.99)
Magnum Ice Cream Tub or Ice Cream Bars, 9.12-14.8 oz, at $5.99 ($2.99)
-.75/1 Magnum ice cream bar multipack, 3 ct. printable
-$1.50/2 Magnum ice cream bar multipack, 3 ct.+ printable
-$5/$25 Magnum Ice Cream Products, multiple receipts ok, SavingStar mobile app
-$1.25 off Magnum Ice Cream Tub, 14.8 oz printable
-.75/1 Magnum Ice Cream Bar multipack, 3-ct printable
-$1.50/2 Magnum Ice Cream Bar multipacks, 3-ct+ printable
-.75/1 Magnum Ice Cream Bar, 3 ct multipack, Publix eCoupon
-$1.50/2 Magnum Ice Cream Bar, 3 ct+ multipack, Publix eCoupon
-$2/4 Magnum Ice Cream items, 9.12 oz+, Publix eCoupon
-$1.25 off Magnum Ice Cream Tub, 14.8 oz, Publix eCoupon


(use $1.25 off, makes it $1.74)

Kellogg's Eggo Pancakes or French Toaster Sticks, 12.7-16.4 oz, at $4.49 ($2.24)
-$1 off Kellogg's Eggo frozen item 5.3 oz + (850 points) printable


(makes it $1.24)

Dole Frozen Fruit, 6-16 oz, at $3.49 ($1.74)
-$1 off Dole frozen item printable
-$1 off Dole Frozen Fruit, small bags 16 oz or less, limit 5, cannot use with other coupons, Checkout 51 mobile app


(makes it 74¢)

Celentano Meatballs, 12 oz, at $4.99 ($2.49)
Halo Top Ice Cream, 16 oz , at $4.99 ($2.49)
-$1 off Halo Top ice cream, pint, (sign up for newsletter) printable
-.50/1 Halo Top Ice Cream, 1-pint, Ibotta App mobile app


(use both, makes it 49¢)

WholeFruit Fruit Bars, 16.5 oz, at $3.99 ($1.99)
-$1 off WholeFruit Fruit Bars (EXP 6/7) printable (limit reached)
Toufayan Gluten Free Wraps, 11 oz, at $4.09 ($2.04)
Lay's Family Size Potato Chips, 9.5-10 oz, at $4.29 ($2.14)
Cascadian Farm Organic Cereal, Bars, or Granola, 8.75-16 oz, or 6.2-8.85 oz, at $4.49 ($2.24)
-.50/1 Cascadian Farms products – cereal, granola and bars, at Food Lion, Kroger, Publix, Walmart, limit 5, cannot use with other coupons, Checkout 51 mobile app
-$1/2 Cascadian Farm cereal or granola printable


(makes it $1.74 ea.)

Black Forest Organic Gummy Bears, Worms, or Sour Heads, 8 oz, at $3.49 ($1.74)
-.50/1 Black Forest Gummy Bears, 9 oz or less, Real Fruit Juice variety, limit 5, Ibotta App mobile app


(makes it $1.24)

Publix Microwave Popcorn, 12.6-14.4 oz, at $3.59 ($1.79)
Jif Extra Crunchy or Creamy Peanut Butter, 28 oz, at $4.99 ($2.49)
Bumble Bee Premium Albacore Tuna, 5 oz pouch, at $3.09 ($1.54)
Bumble Bee Premium Chicken Breast, 10 oz can, at $3.39 ($1.69)
LavAzza Ground Coffee, K-Cups, or Expresso, 12 oz or 10 ct, at $10.99 ($5.49)
Heinz Mayonnaise or Mayochup, 19-30 oz, at $5.49 ($2.74)
-$10 Publix Gift Card WYB $50 in Participating Products at Publix: Kraft, Nabisco, PepsiCo and P&G select items, Stocking Spree online rebate
-$1 off Heinz Real Mayonnaise, any, limit 1, Checkout 51 mobile app
-$1 off Heinz Real Mayonnaise, any, SavingStar mobile app
-$1 off Heinz Real Mayonnaise, Publix eCoupon


(use $1 off and mobile app, makes it 74¢)

Quaker Oats Oatmeal, 18 oz, at $2.96 ($1.48)
-$10 Publix Gift Card WYB $50 in Participating Products at Publix: Kraft, Nabisco, PepsiCo and P&G select items, Stocking Spree online rebate
-$1/2 Quaker Instant Oatmeal boxes, SS 04/28 (EXP 6/9)


(makes it 98¢ ea.)

Cracker Barrel, Kraft or Velveeta Macaroni & Cheese Dinners, 9.4- 14 oz box or 12.3 oz bag, at $4.49 ($2.24)
-$10 Publix Gift Card WYB $50 in Participating Products at Publix: Kraft, Nabisco, PepsiCo and P&G select items, Stocking Spree online rebate
Ocean Spray Craisins, 8-12 oz, at $3.99 ($1.99)
Prego Sauce or DeCocco Pasta, 14-67 oz or 16 oz, at $4.99 ($2.49)
-.50/2 Prego Pasta Sauce, Ibotta mobile app


(makes it $2.24 ea.)

Hidden Valley Dressing, 12-16 oz , at $2.75 ($1.37)
Old El Paso Dinner Kit, 8.8-14 oz, at $3.99 ($1.99)
-.25/1 Old El Paso bonus – redeem marked taco shells offer on (2+) separate shopping trips, Ibotta App mobile app
-$1/2 Old El Paso products, excl seasoning, refrigerated, produce products printable
-$1/2 Old El Paso products, excl seasoning, refrigerated and produce items, SavingStar mobile app


(use $1/2 and SavingStar, makes it 99¢ ea.)

Mt. Olive Pickles, 16 oz, at $2.79 ($1.39)


(excludes Organic and Simply Vidalia)

Post Great Grains, Shredded Wheat, or Grape Nuts Cereal, at $3.07 ($1.53)
Nature Valley or Fiber One Value Packs, 8.2-17.8 oz, at $5.65 ($2.82)
-.50/2 Nature Valley granola bars, biscuits or cups printable
-.50/2 Nature Valley Granola Bars, Biscuits, Granola Cups, Layered Granola Bars, Soft-Baked Filled Squares, Protein Bars, Granola Snack Mix or Peanut or Almond Butter Granola Bites, 5-ct+ boxes, SavingStar mobile app


(makes it $2.32 ea. after SavingStar)

General Mills Cinnamon Toast Crunch, Cheerios, Lucky Charms, Cocoa Puffs, or Cookie Crisp, 10.5-13.8 oz, at $3.25 ($1.62)
-$1/3 General Mills Cheerios, Cinnamon Toast Crunch or Lucky Charms cereal printable
-$1/2 General Mills Cheerios cereals, any flavor, SS 06/02
-$1/2 General Mills any flavor of Cinnamon Toast Crunch, Lucky Charms, Reese's or Cocoa Puffs, Trix, Cookie Crisp, Golden Grahams, Kix, or Cinnamon Toast Crunch Churros cereals, SS 06/02
-$1/2 General Mills Big G cereals any flavor: Cheerios, Cinnamon Toast Crunch, Lucky Charms, Reese's Puffs, Chex, Cocoa Puffs, Trix, Cookies Crisp, Golden Grahams, Kix, Fiber One, Wheaties, Raisin Nut Bran, Total, Basic 4 or Oatmeal Crisp, SavingStar mobile app


(use $1/2 and SavingStar, makes it 62¢ ea.)

Duncan Hines Cake Mix, Brownie Mix, or Perfect Size for One, at $3.19 ($1.59)
Jif Peanut Butter, 28 oz, at $4.99 ($2.49)
Pepperidge Farm Farmhouse Bread, 16-24 oz, at $3.89 ($1.94)
-$1 off Pepperidge Farm Whole Grain Thin Sliced Bread 22 oz LIMIT 1, (Publix Coupon), Additional Coupon Flyer or (EXP 6/7) printable
-$1.25 off Pepperidge Farm Whole Grain Thin Sliced Breads, 22 oz loaf, Ibotta App mobile app
(use both, makes Thin Sliced

FREE

– if included)
Pepperidge Farm On The Go! Snacks or Bite Size Cookies, 8-10 ct, at $5.99 ($2.99)
Near East or Rice-A-Roni Products, 1.9-10 oz, at $2.39 ($1.19)
-$1.50 off Rice-A-Roni any variety excl cups, AND Butterball Smoked Sausage 12-13 oz, both items on same receipt, Ibotta App mobile app
Cape Cod Kettle Cooked Potato Chips, 6.5-8.5 oz, at $3.79 ($1.89)
-$1/2 Cape Cod Waves, 7.5 oz+, SS 05/19


(makes it $1.39 ea.)

Eclipse or Orbit Sugarfree Gum, 40-60 ct, at $3.69 ($1.84)
Blue Diamond Almonds, 6 oz can, at $3.99 ($1.99)
Entenmann's Products, 2.75-20.5 oz, at $6.99 ($3.49)
Nabisco Nilla Wafers, 11 oz, at $4.21 ($2.10)
-$10 Publix Gift Card WYB $50 in Participating Products at Publix: Kraft, Nabisco, PepsiCo and P&G select items, Stocking Spree online rebate
-.75/2 Nabisco Cookie or Cracker Products, 3.5oz+, SS 05/19
-$1/2 Nabisco Cookies and Crackers, 3.5 oz+, on same receipt, excl Honey Maid Grahams, SavingStar mobile app


(use .75/2 and SavingStar, makes it 73¢ ea.)

Arnold Select Rolls, 8-12 ct., at $3.59 ($1.79)
Nabisco Snack Variety Packs, 10-18 ct, at $6.69 ($3.34)
-$10 Publix Gift Card WYB $50 in Participating Products at Publix: Kraft, Nabisco, PepsiCo and P&G select items, Stocking Spree online rebate
-.75/2 Nabisco Cookie or Cracker Products, 3.5oz+, SS 05/19


(makes it $2.97 ea.)

Publix Bakery Butter Pound Cake, 12 oz, at $4.59 ($2.29)
Not Your Mother's Hair Care Products, 6-16 oz, at $8.99 ($4.49)
St. Ives Body Wash, 13.5 oz, at $2.55 ($1.27)
Quilted Northern Bath Tissue, 6 dbl rolls, at $5.39 ($2.69)
-.50/1 Quilted Northern Bath Tissue printable
-.50/1 Quilted Northern bath tissue printable
-.50/1 Quilted Northern bath tissue, 6 double roll+, RMN 05/19
-.50/1 Quilted Northern bath tissue, 6+ double roll, Publix eCoupon (limit reached)
-$1/2 Quilted Northern bath tissue, 6 double roll+, RMN 05/19


(use .50/1, makes it $2.19)

Reynolds Wrap Heavy Duty Aluminum Foil, 75 sq ft, at $6.81 ($3.40)
-.50/1 Reynolds Wrap aluminum foil printable


(makes it $2.90)

All Detergent or Pacs, 32-40 oz or 19-24 ct, at $5.99 ($2.99)
-$1 off All Product, excl trial, limit 1, RMN 05/19 (EXP 6/9)
-$1 off All laundry product, excl trial size printable (limit reached)
-$1 off All laundry product, excl trial size printable


(make it $1.99)

3M All Weather Duct Tape, at $7.99 ($3.99)
Scripto EZ-Squeeze Multi-Purpose Lighter, at $4.99 ($2.49)
Beneful Dog Food, 10 oz tub or 3 ct, 9 oz, at $2.09 ($1.04)
–B1G1 Purina Beneful Wet Dog Food Tubs or Pouches, 9-10 oz or 3 ct. printable
(makes it 52¢ ea. or makes both

FREE

in Florida)
Coca-Cola Beverages, 8 pk, 12 oz bottles, at $5.49 ($2.74)


(excludes Dasani)


–

FREE

Kettle Brand Chips 8-8.5 oz WYB (2) Coca-Cola Products 8 pk 12 oz bottles, (Publix Coupon), Additional Coupon Flyer or (EXP 6/7) printable
Publix Malta Malt Beverage, 6 pk, 12 oz bottles, at $2.49 ($1.24)
Ocean Spray Juice Coctail, Blend, or Drink, 101.4 oz, at $5.59 ($2.79)
CapriSun Juice Blends or Apple Juice, 10 pk, at $3.99 ($1.99)


(excludes Regular and Organic)


-$10 Publix Gift Card WYB $50 in Participating Products at Publix: Kraft, Nabisco, PepsiCo and P&G select items, Stocking Spree online rebate
Crystal Light or MiO Water Enhancing Powder, at $2.99 ($1.49)
-$10 Publix Gift Card WYB $50 in Participating Products at Publix: Kraft, Nabisco, PepsiCo and P&G select items, Stocking Spree online rebate
Glaceau SmartWater, 1.5 L, at $2.69 ($1.34)
Tailor Made Chardonnay Wine, 750 mL, at $16.39 ($8.19)
Campo Viejo Cava Brut Spraking Wine or Cava Brut Rose, 750 mL, at $13.99 ($6.99)
Publix Omeprazole Acid Reducer, 20 mg 14 ct., at $8.99 ($4.49)
Goose Island Beer, 6 pk, at $10.99 ($5.49)


**regional deal**
Produce
Red or Idaho Russet Potatoes, 5 lb bag, $3.49
Petite Red Potatoes, 3 lb bag, $2.99
Romaine Hearts, 3 ct., $2.99
GreenWise Organic Baby Cut Carrots, 16 oz, $1.79
Sweet Corn, 30¢
Vidalia Sweet Onions, 3 lb bag, $2.49
Organic Fuji Apples or Anjou Pears, $1.99 lb
Honeycrisp Apples, $2.99 lb
Mangos, $1 ea.
Limes, 33¢ ea.
Tropicana Pure Premium 100% Orange Juice, Ruby Red Grapefruit, or Trop50, 52 oz, $3.33
Meat
Boneless Top Sirloin Steaks, $5.99 lb
Boneless Top Sirloin Fillets, $6.99 lb
GreenWise Italian Chicken Sausage, 16 oz, B2G1
Fresh Catfish Fillets, $6.99 lb
Medium Cooked Shrimp, 41/50 ct., $6.99 lb
Boneless Chuck Roast, $4.99 lb
Bone-In Country Style Ribs, $2.59 lb
Ground Chuck Beef, 3 lb +, $3.49 lb
Applegate Organic Chicken Nuggets or Strips, 8 oz, $6.99
-$1 off Applegate product printable


(makes it $5.99)

Tyson Breaded or Battered Chicken or Any'tizers, 10-13.25 oz, $3
Publix Deli Southern Cobb Salad, $5.99
Fridge or Frozen
Pete & Gerry's Organic Brown Eggs, Liquid Eggs, or Boiled Eggs, 12 ct, 16 oz, and 6 ct, $3.99
-$1.50 off Pete & Gerry's Organic Egg Products (sign up) printable


(makes it $2.49)

Horizon Organic Milk, 64 oz, $3.99
-$2 off Horizon Organic High Protein Milk, half-gal, at Kroger, Publix, Target, limit 1, cannot use with other coupons, Checkout 51 mobile app


(makes it $1.99 – if included)

Buitoni Pasta or Sauce, 7-15 oz, $3.50
Sargento String Cheese or Cheese Sticks, 9-12 oz, $4
-.75/1 Sargento Sticks cheese snack, any, at Ingles, Kroger, Publix, Target, limit 1, cannot use with other coupons, Checkout 51 mobile app
-.75/1 Sargento Sticks Cheese Snacks, SavingStar mobile app


(makes it $3.25)

Cracker Barrel or Kraft Cheese Slices, 7-8 oz, $3
Daisy Sour Cream or Cottage Cheese, 16 oz, $2
Oui or YQ by Yoplait Yogurt, 5-5.3 oz, $1.33
-.50/2 Yoplait Oui yogurt jars printable
-.50/2 Oui by Yoplait french-style yogurt, jars, SavingStar mobile app


(makes it 83¢ ea.)

Kerrygold Irish Butter, 7.5-8 oz, $2.50
DiGiornio Pizza, 17.2-31.6 oz, $5
Bertolli Complete Skillet Meal for 2, 22-24 oz, $5.49
Grocery
Crunchmaster Crackers, 3.54-4 oz, B2G1 at $3.59
-$1 off Crunchmaster Product (sign-up) printable
-$1 off CrunchMaster product, limit (2) like coupons, SS 03/31
-$1 off Crunchmaster items, Publix eCoupon
-$1 off Crunchmaster Crackers, 4 oz , limit 1, Checkout 51 mobile app


(use (3) $1 off and Checkout51, makes it $1.06 ea.)

DeLallo Seasoned Olive Medley, 8 oz, $4
-$1 off DeLallo product (sign up) printable


(makes it $3)

Snack Factory Pretzel Crisps, 5-7.2 oz, B2G1 at $3.79
-$1/2 Snack Factory Pretzel Crisps products, 7.2 oz+ printable


(makes it $2.19 ea.)

Lay's or Tostitos Dip or Dip-Etizers, 10-15.75 oz, $3
-$1.50 off Tostitos Dip 15-24 oz WYB 2 Tortilla Chips 9-18 oz bags, Publix eCoupon
Chef Boyardee Pasta, 14.5-15 oz can, 89¢
-$1/4 Chef Boyardee 14.5-15 oz or 7.25-7.5 oz microwave cup, (Publix Coupon), Additional Coupon Flyer or (EXP 6/7) printable


(makes it 64¢ ea.)

Bumble Bee Premium White Albacore Tuna, 4 pk, 5 oz, $4.99
Nabisco Premium Saltine Crackers or Soup & Oyster Crackers, 8-16 oz, $1.99
-.75/2 Nabisco Cookie or Cracker Products, 3.5oz+, SS 05/19
-$1/2 Nabisco Cookies and Crackers, 3.5 oz+, on same receipt, excl Honey Maid Grahams, SavingStar mobile app


(use both coupons, makes it $1.11 ea.)

Nabisco Variety Pack Snacks, 20 pk, 20 oz, $5.99
-$10 Publix Gift Card WYB $50 in Participating Products at Publix: Kraft, Nabisco, PepsiCo and P&G select items, Stocking Spree online rebate
-.75/2 Nabisco Cookie or Cracker Products, 3.5oz+, SS 05/19
-$1/2 Nabisco Cookies and Crackers, 3.5 oz+, on same receipt, excl Honey Maid Grahams, SavingStar mobile app


(makes it $5.12 ea. after SavingStar)

Nabisco Family Size Cookies & Crackers, 10-25.6 oz, $3.50
-$10 Publix Gift Card WYB $50 in Participating Products at Publix: Kraft, Nabisco, PepsiCo and P&G select items, Stocking Spree online rebate
-.75/2 Nabisco Cookie or Cracker Products, 3.5oz+, SS 05/19
-$1/2 Nabisco Cookies and Crackers, 3.5 oz+, on same receipt, excl Honey Maid Grahams, SavingStar mobile app


(makes it $2.63 ea. after SavingStar)

Nabisco Triscuit Crackers, 6.5-9 oz, $2.50
-$10 Publix Gift Card WYB $50 in Participating Products at Publix: Kraft, Nabisco, PepsiCo and P&G select items, Stocking Spree online rebate
-.75/2 Nabisco Cookie or Cracker Products, 3.5oz+, SS 05/19
-$1/2 Nabisco Cookies and Crackers, 3.5 oz+, on same receipt, excl Honey Maid Grahams, SavingStar mobile app
Frito-Lay Snacks Variety Pack, 16-22 ct., $5.99
Uncle Ben's Ready Rice or Flavored Grains, 6-8.8 oz, $2
-$1/4 Uncle Ben's Rice Products printable


(makes it $1.75 ea.)

College Inn Broth or Stock, 32 oz, $1.67


(excludes Organic and Bone Broth)


-$1/3 College Inn Broth or Stock cartons, 32 oz printable


(makes it $1.34 ea.)

Purely Elizabeth Granola, 8-12 oz, $5.79
-$1.25 off Purely Elizabeth Granola, 8 oz+ bag, Ibotta App mobile app


(makes it $4.54)

Smucker's Fruit Preserves, Jam, and Jelly, 17.25-18 oz, $2.50
Kellogg's Pop-Tarts, 8 ct, $1.67
-$1 off Kellogg's Pop-Tarts toaster pastries, 8-ct.+ (850 points) printable
-$3/5 Kellogg's Pop-Tarts Toaster Pastries (EXP 6/11) printable (limit reached)
-$2/4 Kellogg's Pop-Tarts toaster pastries printable


(use $2/4, makes it $1.17 ea.)

Cheez-It Snack Crackers, 7.5-12.4 oz, $3
-$1 off Sunshine Cheez-It 7 oz + (850 points) printable
-.75/1 Cheez-It Snap'd crackers printable
-.50/1 Cheez it Snap'd Cheesy Baked Snacks, 7.5 oz, RMN 05/19
-.75/1 Cheez-It Snap'd printable
-.75/1 Cheez-It Snap'd, 7.5 oz, limit 5, Ibotta App mobile app


(use .75/1 and Ibotta, makes it $1.50)

Planters Peanuts, 12-12.5 oz, $2
Beverages
SToK Cold Brew Coffee, 48 oz, $4.50
Blue Diamond Almond Breeze Almondmilk, 1/2 gallon, $3
-$1 off Blue Diamond Almond Breeze Almondmilk Blended with Real Bananas, 64 oz, limit 1, SS 04/14
-$1 off Blue Diamond Almond Breeze Almondmilk Chocolate Items, 64 or 96 oz, limit 1, SS 04/14
-.50/1 Blue Diamond Almond Breeze Almondmilk Blended with Real Bananas, chlled 64 oz carton, at BI-LO, Harris Teeter, Kroger, Winn-Dixie, Ibotta App mobile app
-.50/1 Blue Diamond Almond Breeze Almondmilk Unsweetened Chocolate, chilled 64 oz carton, Ibotta App mobile app
-$1 off Almond Breeze Refrigerated Almondmilk 64 oz, or Creamer 32 oz, (Publix coupon), Publix Be The Best You flyer or printable


(use store, mfr, and Ibotta, makes it 50¢)

Coca-Cola Products, 12 pk, 12 oz cans, B2G1 at $5.49
-$2 off Publix Deli Platter AND any Coca-Cola product, (Publix Coupon), Additional Coupon Flyer or (EXP 6/7) printable
Deer Park Natural Spring Water, 24 pk, 6.9 oz bottles, $3.33
Lipton Tea, 12 pk, 17 oz bottles, B2G1 at $5.99
Gatorade Thirst Quencher, 32 oz, 88¢
Propel Electrolyte Water Beverage, 6 pk 16.9 oz bottles, $3
–

FREE

Propel 6 pk 500 ml WYB (2) Gatorade 8 pk 20 oz , (Publix Coupon), Additional Coupon Flyer or (EXP 6/7) printable
Green Mountain, Donut Shop, or Krispy Kreme Coffee K-Cups, 10-12 ct, $6.49
-$1 off Green Mountain Hazelnut iced coffee K-Cups, 12 ct. printable


(makes it $5.49)

Dunkin' Donuts or 1850 by Folgers Coffee or K-Cups, 11-12 oz bag or 10 ct , $6.49
-$1 off Folgers product (take quiz) printable
-$2/2 Dunkin' Donuts Coffee Products, excl Cold Brew, RMN 05/19


(makes it $5.49)

Pepsi Products, 2 L, B2G1 at $2.19
La Croix Flavored Sparkling Water, 12 pk, 12 oz cans, B2G1 at $5.20
Canada Dry, 7 UP, A&W or Diet Rite Sodas, 2 L, B2G1 at $1.99
-.25/1 Canada Dry ginger ale and lemonade variety, 2 L bottle, Ibotta App mobile app
-.25/1 Canada Dry ginger ale and orangeade, variety, 2 L bottle, Ibotta App mobile app


(makes it 74¢ ea.)

Starbucks Frappucino or Doubleshot Coffee Drink, 4 pk, 6 or 9 oz bottles, B2G1
Atkins Shakes, 4 pk, 11 oz, $6
-$2 off Atkins product (sign up) printable
-$1.50 off Atkins select shakes, 4-pk, excl PLUS protein & fiber shakes, SavingStar mobile app


(use $2 off and SavingStar, makes it $2.50)

PediaSure Complete Balanced Nutrition Shakes, 6 pk., 8 oz, $5 off WYB 3
-$3/2 PediaSure Products (sign up) printable
Coca-Cola Products, 6pk 7.5 oz cans, B2G1 at $3.19
–

FREE

Snyders of Hanover Pretzel Peices 10-12 oz WYB (2) Coca-Cola products 6 pk 7.5 oz, (Publix Coupon), Additional Coupon Flyer or (EXP 6/7) printable
Miller Lite, Coors, or Bud Light Beer, 1 5pk cans or bottles, $13.99
Stella Artois Lager or Cider, or Hoegaarden Belgian White Beer, 6 pk, B2G1
Personal Care
Clairol Hair Color, $6.99
–B1G1 Clairol Natural Instincts Hair Color, up to $7.99, excl Crema Keratina , SS 06/02
–B1G1 Clairol Nice N' Easy or Permanent Root Touch-Up Hair Color, up to $7.99, SS 06/02
–B1G1 Clairol Nice 'n Easy, Permanent Root Touch-Up or Natural Instincts hair color product (up to $7.99), excl Natural Instincts Crema Keratina printable


(makes it $3.49 ea.)

Secret, Outlast, Fresh, Old Spice, Red Zone, or Gillette Deodorant, 2.4-3.8 oz, $5
-$1 off Gillette Deodorant 1.6 oz+, limit 2, PG 05/26 (EXP 6/8)
-$1 off Secret Fresh, Outlast or Active 2.6 oz+, limit 2, PG 05/26 (EXP 6/8)
-$3/3 Old Spice deodorant, body wash or bar soap, excl High Endurance and trial, limit 2, PG 05/26 (EXP 6/8)
-$2 off Secret Invisible Solid, Peace & Love, Fresh & Free or American Bloom varieties, limit 5, Ibotta mobile app
-$2/2 Old Spice Deodorant, Body Wash or Bar Soap, excl High Endurance, Twin Packs or trial size, Publix (EXP 6/8) eCoupon
-$1 off Secret Fresh, Outlast or Active, 2.6 oz+, Publix (EXP 6/8) eCoupon
-$2 off Secret Invisible Solid Deodorant, 2.6 oz stick, Ibotta App mobile app


(use $1 off and Ibotta, makes it $2)

Olay Regenerist Eye Products and Moisturizer, 0.2-4 oz, $4 off
-$2/2 Olay Moisture Ribbons Plus Body Wash 22 oz or Beauty Bars 6 ct, excl trial size, Publix eCoupon
-$5/2 Olay Whips, Sun, Regenerist, Total Effects, Eyes or Luminous Moisturizer 1.3-2.5 oz , (Publix Coupon), Health & Beauty Flyer or printable
Crest 3D White Strips, 4-20 ct , $5 off
-$5 off Crest 3D Whitestrips kit, excl Noticeably White, Classic White, or Original or Gentle or Express Whitening Kit, and trial, limit 2, PG 05/26 (EXP 6/8)
Tampax Pearl or Radiant Tampons, 28-36 ct , $6.99
-$1 off Tampax Pearl, Radiant or Pure Tampons, 16-ct+, limit 2, PG 05/26
-$1 off Tampax Pearl, Radiant or Pure tampons, 16 ct+, excl trial size, Publix eCoupon
-.50/2 Tampax Radiant or Pocket Radiant Tampons, 28-32 ct, Ibotta App mobile app


(use $1 off and Ibotta, makes it $5.74 ea.)

Always Infinity Radiant, Ultra Thin, or Maxi Pads, 18-46 ct , $6.99
-$1 off Always Radiant, Infinity, Pure, Ultra or Maxi Pads 11-ct+, excl liners and Discreet, limit 2, PG 05/26
-$1 off Always Radiant, Infinity, Pure, Ultra or Maxi Pads 11ct+, excl Liners & Discreet, Publix eCoupon


(makes it $5.99)

Pantene, Herbal Essences, Aussie, or Head & Shoulders Hair Care Products, 3.2-30.4 oz, $2 off WYB 2
-$1 off Head & Shoulders Product 315ml/10.6 oz+, or Clinical Solutions, excl trial , limit 2, PG 05/26 (EXP 6/8)
-$2/2 Head & Shoulders Products 315ml/10.6 oz+, or Clinical Solutions, excl trial, limit 2, PG 05/26 (EXP 6/8)
-$1 off Pantene Product incl Gold Series Collection, excl trial, limit 2, PG 05/26 (EXP 6/8)
-$5/3 Pantene Products incl Gold Series Collection, excl trial, limit 2, PG 05/26 (EXP 6/8)
-$2/2 Pantene Pro-V 24-25.4 oz or Aussie Shampoo, 2 in 1 or Conditioner 26.2 oz , (Publix Coupon), Health & Beauty Flyer or printable
Pharmacy
Nature's Bounty Dietary or Nutritional Supplements, 25-320 ct, $6 off WYB 2
-$1 off Nature's Bounty dietary supplement, limit (1) like coupon, RMN 03/17
-$3 off Nature's Bounty Co Q-10 Supplement, limit 1, RMN 05/05 (EXP 6/8)
-$1 off Nature's Bounty Vitamin or Supplement, limit 1, RMN 05/05 (EXP 6/8)
-$2 off Nature's Bounty Vitamin or Supplement, limit 1, RMN 05/05 (EXP 6/8)
-$2 off Nature's Bounty Optimal Solutions Vitamin or Supplement, limit 1, RMN 05/05 (EXP 6/8)
-$3 off` Nature's Bounty Optimal Solutions Vitamin or Supplement, limit 1, RMN 05/05 (EXP 6/8)
(use $2 and $1 off, makes some

FREE

)
Baby Care
Household
Freez Pak Reusable Ice Substitute, large, 99¢
Brita Pitcher Replacement Pitchers, 3 ct box, $14.99
-$3 off Brita pitcher filter or faucet filter, sign up for newsletter, filter reminder printable
-$8 off Brita Pitcher and any Brita Longlast Filters, or other Brita Filter Multipacks 3-ct+, SS 06/02


(makes it $6.99)

Glade Plugins Scented Oil Refills or Aerosol , 2 ct or 6.2 oz, B2G1 at $5.49
Viva Big Rolls Paper Towels , 6 ct, $6.49
-.50/1 Viva Paper Towels printable
-.50/1 Viva Paper Towels 6-pk+, SS 05/19


(makes it $5.99)

Dixie Plates or Bowls, 44-90 ct, $4


(excludes 10 1/6″ plates, 64 ct)


-.75/1 Dixie Plates (sign up) printable


(makes it $3.25)

Ziploc Freezer or Storage Bags, Quart or Gallon Size, 28-48 ct, $4.50
-$1/2 Ziploc Products, any printable


(makes it $4)

Snuggle Scent Booster or Fabric Softener and Conditioner, 9 oz, 31.7-64 oz or 70-80 ct, $2.99
-.50/1 Snuggle product, excl trial, limit 1, RMN 05/19 (EXP 6/9)
-$1/2 Snuggle product, excl trial, limit 1, RMN 05/19 (EXP 6/9)
-.50/1 Snuggle laundry product, excl trial size printable (limit reached)
-.50/1 Snuggle laundry product, excl trial size printable


(makes it $2.49)

Persil ProClean Laundry Detergent, Power-Liquid, or Discs, 100 oz or 38 ct, $10.99
-$2 off Persil ProClean laundry detergent, excl 6-load or less, limit 1, RMN 05/12 (EXP 6/9)
-$2 off Persil ProClean DISCS laundry detergent, Stain Fighter, 38 ct, Publix eCoupon
-$2 off Persil ProClean Power Liquid Detergent 40 or 100 oz or Persil ProClean Stain Fighter Discs 15-38 ct LIMIT 1, (Publix Coupon), Health & Beauty Flyer or printable


(use store and mfr., makes it $6.99)

Downy Wrinkle Releaser, 33.8 oz, $5.99
-$2 off Downy wrinkle releaser plus 33.8 oz, SS 01/27
-$2 off Downy Wrinkle Releaser Plus, 33.8 oz, SS 04/14
-$2 off Downy Wrinkle Releaser 33.8 oz, excl 16.9 & 3 oz printable


(makes it $3.99)

Cascade Dishwasher Detergent & ActionPacs, 20,21,27, or 37 count, $6.49
-$1 off Cascade ActionPacs, 20-37 ct., excl Pure Essentials, trial/travel size printable
-$1 off Cascade ActionPacs, 20-37 ct, limit 2, PG 05/26


(makes it $5.49)

Windex Cleaner or Wipes, 19.7 or 23 oz, or 28 ct, $3
-.50/1 Windex product printable
-$1 off Windex product printable


(makes it $2)

Clorox Disinfecting Wipes or Bleach or Bleach Packs, 70 or 75 qt, 116 or 121 oz, or 12 ct, $3.50
-.50/1 Clorox Bleach, 55 oz + (sign up) printable
-.50/1 Clorox Disinfecting Wipes, 32 ct + printable
-.50/1 Clorox Disinfecting Wipes Easy-To-Pull, 75 ct. printable
-.50/1 Clorox Clean-Up or Liquid Bleach, 55 oz+ bleach, excl trial sizes, pens printable (limit reached)
-$1/2 Clorox Clean-Up, Disinfecting Wipes 35-ct+, Liquid Bleach 55 oz+, Manual Toilet Bowl Cleaner, or Clorox 2 Products, excl trial, SS 06/02
-$1/2 Clorox Disinfecting Wipes, 35-ct, SS 06/02
-.75/1 Clorox disinfecting wipes, 35 ct.+ printable


(makes it $2.75)
Pet Care
Rachael Ray Nutrish Dog Food, Peak or Zero, 12 or 14 lb bag, $19.99
-$4 off Rachael Ray PEAK dry dog food printable
-$2 off Rachael Ray Nutrish Super Premium Dry Food for Dogs printable
-$3 off Rachael Ray Nutrish Dish, Just6, Zero Grain, or Peak dry dog food, 3 lb+ bag, SS 05/05


(use $4 off, makes it $15.99)

Rachael Ray Nutrish Super Premium Cat Food, 6 lb bag, $9.99
-$2 off Rachael Ray Nutrish Super Premium Dry Food for Cats printable
-$3 off Rachael Ray Nutrish Zero Grain Dry Food for Cats printable


(makes it $6.99)

Cat's Pride Fresh & Light Cat Litter, 10-15 lb, $7.99
Publix LINKS
Latest Articles
Categories
Videos
← PREV NEXT →
Printable Coupons
See our full list of printable coupon resources