Welcome to Southern Savers,
where finding deals and steals is simple and rewarding!
See I told you, this would help!
Coupon Abbreviations
SC

= Store Coupon

MC

= Manufacturer Coupon

SS

= Smart Source

RMN

= Retail Me Not

PG

= Proctor and Gamble
Coupon Terms
WYB

= When You Buy

B1G1

= Buy One Get One Free

.75/1

= 75 cents off one item

.75/3

= 75 cents off three items

EXP

= Expiration Date
Going Nuts? I can help you understand coupon terms and abbreviations
Home > Publix Deals > Publix Weekly Ad: 7/19-7/25 or 7/20-7/26
This post may contain affiliate links. Read our disclosure here.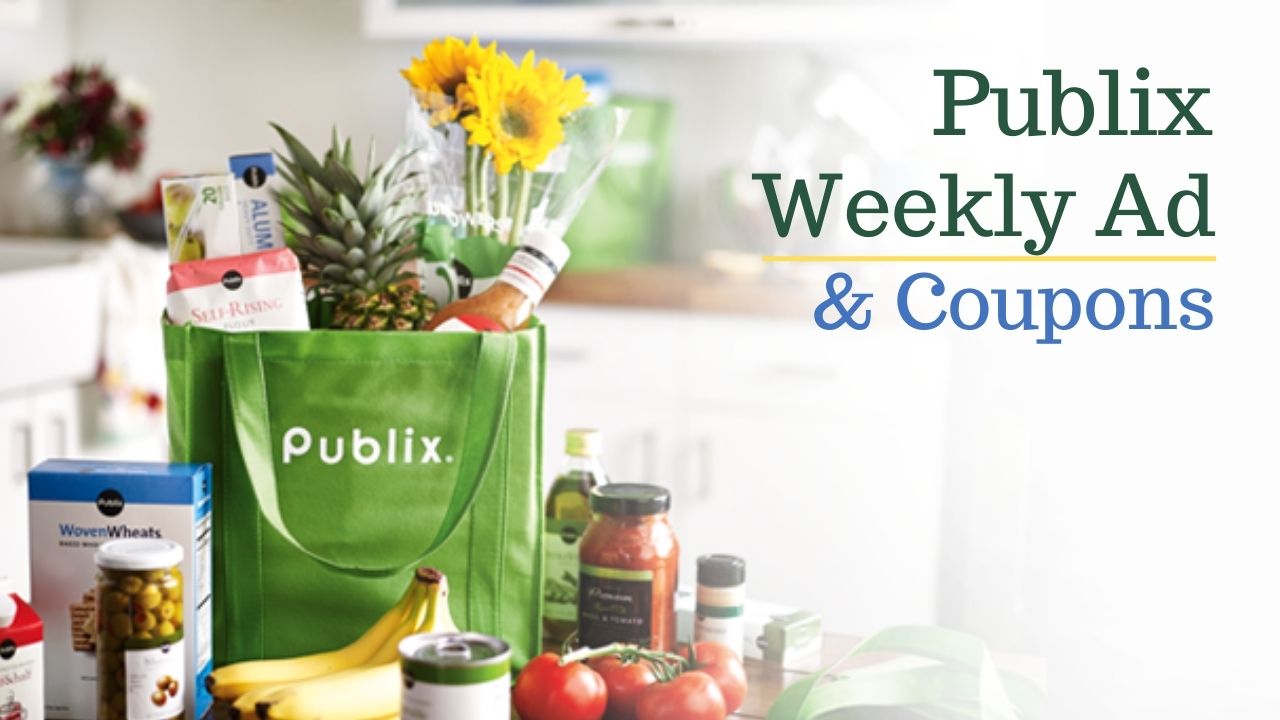 Here is a list of the deals from the new Publix weekly ad that will start on 7/19 (or 7/20, depending on your area). Get Go-Gurt for 84¢ and more.
Buy One Get Ones
Organic Blueberries, 11 oz, at $5.99 ($2.99)
Strawberries, 16 oz, at $4.99 ($2.49)
Campari Tomatoes, 16 oz, at $5.15 ($2.57)
George Foods Microwaveable Sweet Potatoes, 24 oz, at $4.15 ($2.07)
Potato Inspirations Organic Potatoes, 24 oz, at $5.15 ($2.57)
La Mexicana Salsa, 14-16 oz, at $4.39 ($2.19)


sold in produce area

Lantana Hummus, 10 oz, at $5.15 ($2.57)
La Bonne Vie Brie Cheese, 8 oz, at $7.75 ($3.87)
34 Degrees Crackers, 4.5 oz, at $5.49 ($2.74)
Snack Factory Pretzel Chips 5-7.2 oz, at $4.59 ($2.29)


(excluding Chocolate and White Chocolate)

Publix Deli Popcorn Fried Chicken, 6.2 oz, at $4.99 ($2.49)
Perdue Chicken Breast Boneless Skinless, at $6.29 ($3.14) lb
Prairie Fresh Pork Tenderloin, 18.4 oz, at $9.99 ($4.99)
Prime Fresh Delicatessen by Smithfield Meats, 7-8 oz, at $6.19 ($3.09)
Barber Foods Stuffed Chicken Breast, 8-12 oz, at $5.15 ($2.57)
Realgood Foods Co. Stuffed Chicken, 8-12 oz, at $5.15 ($2.57)
Tyson Breaded Chicken Nuggets or Patties or Air Fried Chicken Nuggets or Breaded Steak Fingers, 20-32 oz, at $8.85 ($4.42)
Rosina Meatballs, 20-26 oz, at $10.99 ($5.49)
Borden Cheese Singles, 12 oz, at $5.15 ($2.57)
Chobani Oatmilk 52 oz or Coffee Creamer, 24 oz, at $5.55 ($2.77)
Dannon Danimals Smoothie 6-12 pk 3.1 oz or Lowfat Yogurt 4 pk 3.5 oz, at $6.23 ($3.11)
I Can't Believe It's Not Butter! Spread, 8-16 oz, at $5.55 ($2.77)
-$1 off I Can't Believe It's Not Butter item, Publix (EXP 7/19) eCoupon


(makes it $1.77)

Pillsbury Crescents 8 oz, Cinnamon Rolls or Sticks 12.4-13 oz or Cornbread Swirl or Original Dinner Rolls, 11 oz, at $3.79 ($1.89)
-$1/2 Pillsbury Refrigerated item, Publix eCoupon
-$5 off Pillsbury WYB $15 Refrigerated items, Publix eCoupon


(makes it $1.39 ea.)

The Greek Gods Greek Yogurt Honey Vanilla, 24 oz, at $4.59 ($2.29)
Yoplait Go-Gurt Portable Yogurt or Simply Go-Gurt 8, 16 or 20 pk 2 oz or 2 pk 16 oz, starting, at $2.69 ($1.34)
-.50/1 Yoplait Go-Gurt, 8-ct+, excl Dunkaroos, Ibotta mobile app


(makes it 84¢)

Screamin Sicilian Pizza Co. Pizza, 16.35-25 oz, at $11.19 ($5.59)
-$1 off Screamin Sicilian Pizza (sign up) printable


(makes it $4.59)

Totinos Pizza Rolls 50 ct 24.8 oz or Crisp Crust Party Pizza 9.8-10.7 oz, at $6.28 ($3.14)
-.50/1 Totino's Pizza Rolls, 50 ct, limit 5, Ibotta mobile app


(makes it $2.64)

Pillsbury Toaster Strudel Pastries 6 ct 11.7 oz or Toaster Scrambles, 4 ct, at $3.75 ($1.87)
-$5 off Pillsbury WYB $15 Refrigerated items, Publix eCoupon
Kodiak Cakes Power Waffles or Pancakes 10.72-15.37 oz or Cubs Adventure Waffles, 9.88 oz, at $7.69 ($3.84)
-.50/1 Kodiak Cakes Frozen Waffles or Flapjacks, any, limit 5, Ibotta mobile app
-$1 off Kodiak Cakes Frozen Waffles or Flapjacks, any, limit 5, Ibotta mobile app


-$1.25 off Kodiak Products, excl Power Cups, Bear Bites and Breakfast Bars, limit 5, Ibotta




(makes it $2.59)

Godiva Ice Cream, 14 oz, at $6.29 ($3.14)
Mayfield Ice Cream Bars or Sandwiches, 6 ct, at $6.79 ($3.39)
Mayfield Ice Cream, 1.56 qt, at $6.79 ($3.39)
My Mochi Ice Cream, 9.1 oz, at $6.15 ($3.07)


-$2 off My Mochi Strawberry Banana or Mixed Berry Smoothie, 6 pk, Ibotta (EXP 7/20) mobile app (limit reached)

Pepperidge Farm Layer Cake 19.6 oz or Puff Pastry Turnovers, 4 ct, at $5.89 ($2.94)
Whole Fruit Fruit Bars 16.5 oz or Organic Frozen Juice Tubes, 18 oz, at $4.89 ($2.44)
-.75/1 Whole Fruit fruit bars or frozen juice tubes, 6-ct, limit 5, Ibotta mobile app
-$1 off Whole Fruit fruit bars, frozen, Save 07/09


(use both, makes it 69¢)

General Mills Cereal: Toast Crunch, Cheerios, Reese's, Golden Grahams, Kix, Lucky Charms, Cookie Crisp, Cocoa Puffs or Trix, 8.9-19.7 oz, starting, at $5.99 ($2.99)
-$1/2 General Mills Cheerios, Cinnamon Toast Crunch, Lucky Charms, Reese's Puffs, Chex, Cocoa Puffs, Trix, Cookies Crisp Golden Grahams, Kix, Fiber One, Wheaties, Raisin Nut Bran, Total, Basic 4, Oatmeal Crisp, :ratio Cereal & Granola pouches, Nature Valley Granola pouches, Wonderwork Keto Friendly Cereal, Publix eCoupon
-500 points WYB (2) General Mills Cereal items, excl cereal cups & treats, limit 3, enter code N0REC before first receipt to get 2000 Bonus points, Fetch Rewards mobile app


(makes it $2.49 ea.)

Post Honey Bunches of Oats Cereal 11-12 oz, Great Grains, Raisin Bran, Shredded Wheat or Grape-Nuts, 13-20.5 oz, at $5.27 ($2.63)
Quaker Life Cereal 22.3 oz or Cap'n Crunch 20.5-22.1 oz, at $7.49 ($3.74)
Quaker Simply or Protein Granola Oats or Puffed Granola, 17-24.1 oz, at $7.19 ($3.59)
-$1 off Quaker Puffed Granola cereal, any, limit 5, Ibotta mobile app


(makes it $2.59)

Nature Valley Bars or Biscuits, Wafers or Muffins or Fiber One Bars or Brownies or General Mills Treats or Oat Bars or Chex Mix Bars, 5.76-17.88 oz, at $9.89 ($4.94)
-.50/2 Nature Valley Granola Bars, Protein Bars, Biscuits, Cups, Wafers, Soft-Baked Squares, Soft-Baked Muffins or Crunchy Dipped Granola Squares, Publix eCoupon
-.50/1 Nature Valley Wafer Bars, 5 ct., limit 5, Ibotta mobile app
-.50/1 Nature Valley Protein Bars, 5-ct+, limit 5, Ibotta mobile app
Bisquick Pancake & Baking Mix Original, 40 oz, at $6.49 ($3.24)
Mrs. Buttersworth Syrup, 24 oz, at $6.49 ($3.24)
Log Cabin Syrup, 24 oz, at $6.49 ($3.24)
Campbell's Chunky Soup or Homestyle, 15.25-18.8 oz, at $3.29 ($1.64)
Black Forest Organic Gummy Bears or Gummy Worms, 8 oz, at $4.99 ($2.49)
Betty Crocker Fruit Snacks, Fruit Gushers, Fruit by the Foots, Fruit Roll-Ups, Fruit Flavored or Variety Pack 5.4 – 8 oz or 6-10 ct, at $4.89 ($2.44)
Welch's Fruit Snacks, 4-8 oz, at $2.89 ($1.44)
-$1/2 Welch's Fruit Snacks or Fruit Rolls (sign up) printable
-$1/2 Welch's fruit snacks printable


(makes it 94¢)

Mott's Applesauce 6 pk 3.9-4 oz, at $3.15 ($1.57)
Pillsbury Cake Mix, Brownie or Cookie 15.25-18.4 oz or Quick Break, 14 oz, at $3.79 ($1.89)


(Excluding Corn Bread)

Pillsbury Frosting, 12-16 oz, at $1.50 (75¢)
Filippo Berio Olive Oil, 25.3 oz, at $13.29 ($6.64)
Mueller's Pasta 12-16 oz, (price not listed)


(excluding Veggie, Noodles or Lasagna)

Cholula Hot Sauce, 5 oz, at $4.15 ($2.07)
Old El Paso Taco Shells or Flour Tortillas 5.4 oz or 8-18 ct or Enchilada Sauce 10 oz or Refried Beans, 16 oz, at $4.15 ($2.07)
-.50/1 Old El Paso Product, limit 5, Ibotta mobile app
-.25/1 Old El Paso products, excl Stand N Stuff Taco Shells 15-ct and refrigerated and produce items, limit 5, Ibotta mobile app
-.50/2 Old El Paso Products, select varieties, limit 1, Ibotta mobile app
-$1/3 Old El Paso items, excl Fiesta Twists, seasoning, refrigerated, & items, Publix eCoupon


(use .50/1, makes it $1.57)

Mahatma Long Grain Rice, Saffron Yellow Seasoning, 5 oz, at $1.15 (57¢)
Frito-Lay Simply Snacks, 5.25-8.5 oz, at $5.19 ($2.59)
General Mills Chex Mix Snack or Bugles or Gardettos, 7-8.75 oz, at $3.98 ($1.99)
Planters Cashews Halves & Pieces or Mixed Nuts 8-10.3 oz, at $7.19 ($3.59)


(Excluding Deluxe Mixed Nuts)

Albanese Gummi Bears, Worms or Sour Patch Kids, Swedish Fish, Airheads, Black Forest, Sweetarts, Trolli or Nerds Candy, at $2.89 ($1.44)
Nonni's Biscotti or Bites or ThinAddictives Almond Thins Cookies, 4.4-6.88 oz, at $4.29 ($2.14)
Pepperidge Farm Goldfish Crackers 5.9-8 oz, at $3.54 ($1.77)
Nabisco Family Size Cookies or Crackers or Limited Edition or Gluten Free Oreos, 10-25.6 oz, at $5.99 ($2.99)


(Excluding Nutter Butter)


-$10 Publix Gift Card WYB $50 in participating Kraft, Heinz, Nabisco, P&G or PepsiCo products at Publix, online rebate
-.75/1 Nabisco Oreo Gluten Free Chocolate Sandwich Cookies, select, limit 5, Ibotta mobile app


(makes it $2.24)

Rold Gold Pretzels, 10-16 oz, at $5.19 ($2.59)
-.75/1 Rold Gold Pretzels, select, 3.5, 10, 12, and 16 oz, limit 5, at Kroger, Walmart, Ibotta mobile app


(makes it $1.84)

Lay's Potato Chips or Kettle Cooked or Poppables Potato Snacks, 4.75-8 oz, at $4.79 ($2.39)


(Excluding Baked and Simply)

Greenwise English Muffins 5 ct, 10 oz, at $2.29 ($1.14)
Arnold Whole Grain Bread or Country, 24 oz, at $5.29 ($2.64)
Nature's Own Butterbread, 20 oz, at $4.11 ($2.05)
Sweet n Low Zero Calorie Sweetener 8 oz or 100-250 ct, at $5.59 ($2.79)
Thomas Swirl Bread, Cinnamon Raisin, Cinnamon, Limited Edition or Banana Toasting, 16 oz, at $4.79 ($2.39)
Twinings of London Tea Bags, Black, Green or Herbal 20-50 ct or Probiotic 18 ct or K-Cups, 12 ct, at $10.79 ($5.39)
Splenda No Calorie Sweetener 100 ct or Liquid 1.68 oz or Stevia 80-140 ct or 1.68-19 oz, at $10.99 ($5.49)
-$1 off Splenda Sweetener printable
-$1 off Splenda Sweetener Products printable
-$2 off Splenda Sweetener, excl Splenda Zero Calorie Sweetener Packets 50 ct and Granulated Sweetener 3.8 oz, limit 3, Ibotta mobile app


-$2 off Splenda Zero Calorie Sweetener Packets, 100 ct or 200 ct, limit 4, Ibotta




(use $1 off and ibotta, makes it $2.49)

Arm & Hammer Essentials Deodorant or Ultra Max, 2.5-2.6 oz, at $4.09 ($2.04)
Arrid XX Anti-Perspirant Deodorant, 2.6 oz, at $4.09 ($2.04)
Brawny Paper Towels, Double Rolls Pick a Size or Full Sheet White 6 Roll, at $15.19 ($7.59)
-$1.50 off Brawny Paper Towels, 3 to 8 rolls (sign up) printable


(makes it $6.09)

Carbona Color Grabber In Wash Sheets 30 ct or Washing Machine Cleaner or Pro Care Laundry Stain Scrubber, 8.4 oz, at $5.09 ($2.54)
-$1 off Carbona Washing Machine Cleaner with Activated Charcoal, 8.4 fl oz, limit 5, Ibotta mobile app
-$1 off Carbona Color Grabber, 30-sheets, Ibotta mobile app


(makes it $1.54)

Hot Shot Ant, Roach & Spider Killer Spray 17.5 oz or Ecologic Insect Killer 14 oz, at $6.69 ($3.34)
-$1.25/2 Hot Shot Ant, Roach & Spider Killer Aerosol, Ibotta mobile app
-.75/1 Hot Shot Household Insecticides, limit 5, Ibotta mobile app


(makes it $2.59)

Lysol Wipes 75-80 ct (Excluding 80 ct Pouches), at $6.42 ($3.20)
-.75/2 Lysol Disinfectant Wipes, 35-ct+ (sign up) printable
-.75/1 Lysol Disinfecting Wipes, 30 ct+, Publix eCoupon (limit reached)
-.75/1 Lysol Disinfecting Wipes, 30-ct+, limit 2, SS 07/09
-.75/1 Lysol disinfecting wipes, 30 ct.+ printable
-.75/1 Lysol Disinfecting Wipes, 30 ct+, Publix eCoupon


(makes it $2.45)

Scripto Lighter Aim n Flame or EZ Squeeze, 1 ct, at $5.99 ($2.99)
Snuggle Fabric Softener Sheets, 70-80 ct, at $6.99 ($3.49)
-$1 off Snuggle Small Fabric Conditioner 50 oz, Scent Booster 9 oz, or Dryer Sheets 80-ct or less, limit 1, Save 07/16


(makes it $2.49)

All Detergent with Stainlifters 88 oz or 39-49 ct, at $16.49 ($8.24)
-$2 off All Fresh Clean Laundry Detergent, incl Mighty Pacs 39 ct+ and Liquid Laundry Detergent 79 oz+, limit 5, Ibotta mobile app


-$1 off All Free Clear Liquid Laundry Detergent, 88 fl oz, limit 5, Ibotta


-$2 off all Free Clear large Laundry Detergent, 88 oz+ or 32-ct+, limit 1, Save 07/16


(use $2 off and $2 ibotta, makes it $4.24)

pet Healfhty HIde Good n Fun Dog Treats Triple Flavor Kabobs, 18 ct, at $11.29 ($5.64)
Pedigree Dentastix Dog Treats Daily Oral Care: Snack Food for Small Dogs, Mini Treats 58 ct 14 oz or Small/Medium Dogs, 25 ct 13.93 oz, at $10.79 ($5.39)
Brancott Estate Wine, Marlborough Sauvignon Blanc, 750 ml, at $13.39 ($6.69)
Clay Creek Cabernet Sauvignon Wine, 750 ml, at $18.79 ($9.39)
Bizzy Cold Brew Coffee Decaffeinated or Organic, 48 oz, at $6.99 ($3.49)
Glaceau Smartwater, 1.5L, at $3.09 ($1.54)
Gold Peak Tea, 6 pk 16.9 oz, at $8.69 ($4.34)
Mott's 100% Apple Juice, Fruit Juice or Mighty 6 pk 8 oz, at $4.49 ($2.24)
Mott's 100% Apple Juice or Fruit Juice Blend for Tots, Mighty or Plus, 64 oz, at $4.21 ($2.10)
New England Coffee 9-12 oz or 12 ct, at $11.19 ($5.59)
Pure Life Purified Water 24 pk 8 oz, at $6.19 ($3.09)
Clearly Canadian Sparkling Water Beverage, 11 oz, (price not listed)
Produce
Blackberries, 6 oz, $3.33
-.25/1 Driscoll's Blackberries, limit 5, Ibotta mobile app
Mangos, $1
Red or Black Plums, $2.29 lb
Red Seedless Grapes, $1.99 lb
Sweet Cherries, $2.99 lb
Very Cherry Plum, $3.99 lb
Broccoli, $2.99
Hot House Cucumber, $1.66
GreenWise Organic Salads, Spring Mix, Baby Kale,Baby Arugula or Baby Spinach, 4-5 oz, $3.50
Publix Yellow Onions, 3 lb, $3.49
Tomatoes on the Vine, $1.99 lb
Tree Ripened Peaches or Nectarines, $2.49 lb
Meat
Ground Chuck 3 lb +, $4.49 lb
Boneless Chuck Roast, $7.99 lb
Eye Round Roast, $6.49 lb
GreenWise Lamb Round Bone Shoulder Chops, $6.69 lb
Hormel Pepperoni Minis, 5 oz, $3.50
Jennie_o Ground Turkey, 48 oz, $8.99
Lunchables, 2.25-4.4 oz, B3G3 at $3.45
-.25/1 Lunchables select 2.25 oz+, excl products with drink included, Cracker Stackers 1.9 oz or less, S'Mores Dippers, Cookie Dunks, Dirt Cake, Snack Duos or Lunchables 5-ct, Ibotta mobile app
Oscar Mayer Bacon, 12-16 oz, B2G1
Porterhouse or T-Bone Steaks, $12.99 lb
Kevin's All Natural Chicken Entrees, 16-17 oz, $7.99
Publix Chicken Wings 4 lb +, $3.69 lb
Publix Pork Boston Butt Roast Bone-In, $2.99 lb
Perdue Breaded Chicken Simply Smart Organics or Whole Grain, 22-29 oz, $9.79
Fridge or Frozen
Kraft Singles Cheese 10.7 – 12 oz or Velveeta Cheese Slices, 16 oz, $3
-.50/1 Kraft Singles, Ibotta mobile app


(makes it $2.50)

Sargento Balanced Breaks Snacks or Sweet Balanced Breaks, 4.08-4.5 oz, $3.33
-$1 off Sargento Balanced Breaks Cheese & Crackers item, Publix eCoupon
-.75/1 Sargento Cheese & Crackers Balanced Breaks , Publix eCoupon
-$1/2 Sargento Balanced Breaks item, Publix eCoupon


(use $1 off, makes it $2.33)

Publix Greek Yogurt Fruit on the Bottom or Blended, 5.3 oz, 80¢
President Imported Butter Salted or Unsalted, 7 oz, $3
Bay English Muffins, 6 ct, $3
-550 points WYB Bays English Muffins, enter code N0REC before first receipt to get 2000 Bonus points, Fetch Rewards mobile app
Ore-Ida Just Crack an Egg Scramble, 3 oz, $2
GreenWise Organic Milk, Whiole, Reduced Fat, Lowfat or Fat Free, 64 oz, $3.50
Stonefire Naan Dippers, 7.05 oz, $3
-$1 off Stonefire Product printable


(makes it $2)

Lean Cuisine or Stouffer's Entrees or French Bread Pizza, 5.25-12.75 oz, $3
-$1 off Lean Cuisine Meals, any, limit 5, Ibotta mobile app
-$1.50/2 Stouffer's Meals, 24 oz or less, limit 1, Ibotta mobile app


(use $1 off, makes it $2)

Michael Angelo's Entrees, 9-11 oz, $4
-$2 off Michael Angelo's Frozen Entree item, Publix eCoupon


(makes it $2)

Rao's Entrees, 8.5-9.5 oz, $4
-$2 off Rao's Frozen Entrees, Publix eCoupon (limit reached)
-$2 off Rao's frozen entree printable


(makes it $2)

P.F. Chang's Home Menu meal for Two Signature Rice 16 oz or Dumplings 8.2 oz or Appetizer for Two, 8.8 oz, $4
PF Chang's Home Menu for Two, 22-24 oz, $7.99
Stouffer's Classics, Large Size or Bowls or Lean Cuisine Balance Bowls, 9-20 oz, $3.50
-$1.50/2 Stouffer's Meals, 24 oz or less, limit 1, Ibotta mobile app


(makes it $2.75)
Grocery
Nabisco Newton Cookies, 10 oz, $3.50
-$10 Publix Gift Card WYB $50 in participating Kraft, Heinz, Nabisco, P&G or PepsiCo products at Publix, online rebate
Nabisco BelVita Breakfast Biscuits, 5 ct, $3.50
-$10 Publix Gift Card WYB $50 in participating Kraft, Heinz, Nabisco, P&G or PepsiCo products at Publix, online rebate
Cape Cod Kettle Cooked Potato Chips, 6.5-8.5 oz, $3.50
Frito-Lay Snacks Variety Pack 18 ct, $9.99
-$10 Publix Gift Card WYB $50 in participating Kraft, Heinz, Nabisco, P&G or PepsiCo products at Publix, online rebate
Tostitos or Lay's Dip, 15-15.75 oz, $4.50
-$2.50 off Tostitos Dip WYB (2) Tostitos Chips, Publix eCoupon
Cleveland Kitchen Dilly Garlic Chips or Spears 26-36 ct, $5
-$1 off Cleveland Kitchen Dilly Garlic Pickles, any, limit 5, Ibotta mobile app


(makes it $4)

Del Monte Vegetables 11-15.25 oz or Pickled Beets, 16 oz, $1


(excluding Asparagus)

Mateo's Gourmet Salsa, 16 oz, $4.49
-$1 off Mateo's Salsa, 16 oz, limit 5, Ibotta mobile app


(makes it $3.49)

Welch's Squeezable Spread, Jam, Jelly 17.1-20 oz or Concord Grape Jam or Jelly, 30 oz, $3
Beverages
Coca-Cola Products 12 pk 12 oz, B2G1
Coca-Cola Products 8 pk 12 oz, B2G1
Pepsi Products 12 pk 12 oz, B2G1
-$1 off Pepsi Zero Sugar or Mtn Dew Zero Sugar, 12 pk, Publix eCoupon
Pepsi Products 6 pk 7.5 oz, B2G1
-$1/2 Pepsi Mini Cans, 6 pk, Publix eCoupon
CapriSun Juice Drink Blend or Roarin Waters 10 pk 6 oz, B2G1 at $4.10


(Excluding 100% Juice and Organic)


-$10 Publix Gift Card WYB $50 in participating Kraft, Heinz, Nabisco, P&G or PepsiCo products at Publix, online rebate
-.50/1 Capri Sun or Capri Sun Roarin' Waters, 10-pk, excl 100% juices items, limit 5, Ibotta mobile app
-$1/2 Capri Sun item or Roarin' Waters , 10 pk, excl 100% Juice, Publix eCoupon
Dasani Water 24 pk 16.9 oz, B2G1 at $6.71
Dunkin K-Cups Coffee, or Espresso Capsules 10 ct or Ground or Whole Bean 10-12 oz or Cold Brew, 8.46 oz, $6.99
Gatorade Thrist Quencher 8 pk 20 oz, B2G1
-$10 Publix Gift Card WYB $50 in participating Kraft, Heinz, Nabisco, P&G or PepsiCo products at Publix, online rebate
-$2/2 Gatorade 12 or 12pk, 20 oz 8 pk, or Propel 500mL 12 pk, limit 1, Ibotta mobile app
Monster Energy Drink or Juice Drink, 15.5-16 oz, B2G1


(excluding Monster Java)

Polar Seltzer Water 12 pk 12 oz, B2G1 at $6.45
-$1 off Polar Seltzer, any, 12 fl oz/12 pk, limit 3, at Publix, Ibotta mobile app
Powerade Sports Drink , Zero Sugar or Regular, 28 oz, $1
Publix Premium Ravioli, 9 oz, $4
Rao's Homemade Sauce or Homestyle, 15-24 oz, $6.49
-$2 off Rao's sauce or soup printable


(makes it $4.49)
Personal Care
Tena Pads, Underwear or Guards for Men, 14-45 ct, $2 off
-$1 off Tena Intimates Liners or Pads, Very Light Liners 50 ct, Ultra Thin Light Pads 30 ct, or Ultra Thin Light Pads 24 ct, limit 5, ., Ibotta mobile app
-$2.50 off Tena Intimates Very Light Liners or Intimates Ultra Thin Light Pads, limit 5, Ibotta mobile app
Always Discreet Pads or Underwear, 15-66 ct, $2 off
-$2 off Always Discreet product printable
-$3 off Always Discreet Boutique product, Discreet Incontinence Pad product 21-ct+, Discreet Underwear product, excl 24 & 26-ct Discreet Liners, 30-ct Discreet Pads, & trial, limit 2, Save 07/09
-$5/2 Always DISCREET Incontinence Pads 26-66 ct, 108 ct, Classic Underwear 13-32 ct, Classic Liners 111-132 ct, Boutique Underwear 9-20 ct, Boutique Pads 20-48 ct, excl 24-48ct Always Discreet Liners, Boutique Liners, 30 ct & 60 ct Pads, 66 ct Extra Heavy Pad, Boutique Black Large 20 ct (BLR) & trial size, Publix eCoupon
Aussie 3.2-26.2 oz, $2 off WYB (2)
Batiste Dry Shampoo, 3.81-5.71 oz, $4 off
-$2 off Batiste Dry Shampoo, excl trial, limit 5, Ibotta mobile app
Head & Shoulders 5-28.2 oz, $2 off WYB (2)
-.50/1 Head & Shoulders Conditioner, limit 5, Ibotta mobile app
-$1.25/2 Head & Shoulders 2-in-1 Product, 8.45 oz+, limit 1, Ibotta mobile app
-$2 off Head & Shoulders shampoo, conditioner or styling product, excl Supreme, Clinical, Sachets & trial, Ibotta mobile app
-$2 off Head & Shoulders Conditioner, excl Shea Butter, limit 5, Ibotta mobile app
-$3/2 Head & Shoulders items, excl Supreme, Clinical & trial size, Publix eCoupon
Pantene Hair Care Products 3.2-27.7 oz, $2 off WYB (2)
Herbal Essences 6.8-13.5 oz, $2 off WYB (2)
Olay Cleanse Wipes 25 ct or Body Wash, 17-30 oz, $1 off
-$2 off Olay body wash, 20 oz only, limit 3, Ibotta mobile app
-$2 off Olay Body Wash, 20, 26, or 30 oz, or Olay Hand and Body Lotion, 17 oz, limit 5, Ibotta mobile app
-$3/2 Olay Body Wash, 22 oz, limit 1, Ibotta mobile app
-$1 off Olay premium body wash 17.9 oz, premium body wash 20 oz, or body wash 30 oz, excl trial/travel size printable


-$2 off Olay Body Wash, 18, 20 or 26 oz, limit 5, Ibotta

Olay Regenerist Moisturizer or Total Effects 1.7-2.5 oz, $4 off


(Excluding Trial Size)


-$10/2 Olay Regenerist facial moisturizers, excl trial/travel size printable
-$5 off Olay Regenerist facial moisturizers, excl trial/travel size printable
-$5 off Olay Regenerist Skin Care Products, Body Washes, Ultra Moisture Beauty Bars, Face or Body Lotion, Age Defying Bar Soap, and Rinse-off Body Conditioner, Ibotta mobile app
-$12/2 Olay Regenerist moisturizers, or Olay Serum or Eyes products, excl Total Effects, Age Defying & trial, limit 2, Save 07/09 (EXP 7/22)
-$5 off Olay Regenerist moisturizer, or Olay Serum or Eyes product, excl Total Effects, Age Defying & trial, limit 2, Save 07/09 (EXP 7/22)
-$5 off Olay Regenerist Moisturizer, Serum or Eyes, excl Total Effects, Age Defying & trial size, Publix eCoupon
Crest 3D White Toothpaste 2.7 oz or Complete 4.6-5.4 oz or Pro-Health, 3.5-4.3 oz, $4
-.50/1 Crest toothpaste 2.7 oz+, excl Cavity, Regular, Base Baking Soda, Tartar Control/Protection, F&W Pep printable
-$5/2 Crest 3D White Professional, Crest 3D White Whitening Therapy Charcoal, Ingredients, Crest 3D White Brilliance OR Brilliance Pro toothpaste 3.0 oz+, excl variants, kids, & trial size, Publix eCoupon
-$2/2 Crest Toothpaste, 2.7 oz+, excl Cavity, Regular, Base Baking Soda, Tartar Control/Protection, F&W Pep Gleem, Gum Variants, Brilliance, 3DW Whitening Therapy, 3DW Professional, Aligner Care, Densify, Kids, More Free pks, & trial size, Publix eCoupon
-$1 off Crest toothpaste, 2.7 oz+, excl Cavity, Regular, Base Baking Soda, Tartar Control/Protection, F&W Pep Gleem, Gum Variants, Brilliance, 3DW Whitening Therapy, 3DW Professional, Aligner Care, Densify Variants, Kids, More Free pks, & trial size, Publix eCoupon


(makes it $3)

Crest Pro-Health Mouthwash or Rinse, 946 ml or 1L, $1 off
-$1 off Crest or Scope mouthwash 473 mL+ (16 oz+) printable
Ester-C Vitamin C, 90 ct, 25% off
Nature's Bounty Vitamin Supplements or Dietary or Nutritional Supplements 12-350 ct or 2 oz or 20 ml, 25% off
-$3 off Nature's Bounty Probiotic 10, 30 ct., limit 2, at Target or Walmart, Ibotta mobile app
-$3.50 off Nature's Bounty Optimal Solutions Hair, Skin & Nails Gummies, 120 or 180-ct, limit 3, at Target, Walmart, Ibotta mobile app
-$2 off Nature's Bounty Optimal Solutions Hair, Skin & Nails Gummies, 80 or 90-ct, limit 3, at Target, Walmart, Ibotta mobile app
-$1 off Nature's Bounty vitamin or supplement printable (limit reached)
-$5/2 Nature's Bounty Jelly Bean Vitamins, any variety, select sizes, Ibotta mobile app
-$10.99/2 Nature's Bounty Jelly Bean Vitamins, excl 40 ct trial, limit 1, at Walmart, Target, Ibotta mobile app
-$4 off Nature's Bounty Sleep3 Tablets, 28 ct, or Sleep3+ Stress Tablets, 30 ct, limit 1, Ibotta mobile app
-$5/2 Nature's Bounty Immune 24 Hour+ Softgels, 50 ct, limit 1, Ibotta mobile app
-$5/2 Nature's Bounty Sleep3 Tablets, 56 ct, or Sleep3 Stress Tablets, 60 ct, limit 1, Ibotta mobile app
-$2 off Nature's Bounty Vitamin or Supplement, Publix eCoupon
Nexium 24HR Acid Reducer or Prilosec or Zegerid OTC or Prevacid, 42 ct, $5 off
-$5 off Nexium 24HR allergy, 28 ct. or 42 ct. (EXP 7/23) printable (limit reached)
-$1.50 off Nexium item, Publix eCoupon
-$5 off Nexium 24HR product, 28 or 42-ct, Save 07/16
-$5 off Nexium 24HR product, 28 ct. or 42 ct. printable
Osteo Bi-Flex, 30-120 ct, 25% off
Baby Care
Huggies Diapers 13-88 ct or Little Swimmers 10-12 ct, Pull-Ups 14-74 ct, Goodnites Underpants or Mats 9-44 ct or Wipes 56-624 ct, $15 off WYB $50+
-$2 off Pull-Ups Training Pants printable
-$2.50 off Pull-Ups New Leaf Training Underwear printable
-$2.50 off Pull-Ups Night Time Training Pants printable
-$1.50 off Huggies Little Snugglers Diapers (excludes 9 ct or less) printable
-.75/1 Huggies Little Movers Diapers (excludes 9 ct. or less) printable
-$1.10/2 Huggies Natural Care Sensitive Wipes, 48 ct.+ printable
-$1.10/2 Huggies Natural Care Refreshing Wipes, 48 ct.+ printable
-$2 off Goodnites Nitghttine Underwear printable
-$1.75 off Goodnites Bed Mats printable
-.50/1 Huggies Baby Wipes, 56-192 ct., limit 5, Ibotta mobile app
-$2 off Huggies Wipes, 288-768 ct., limit 5, Ibotta mobile app
-$2 off Huggies Little Swimmers, any size, limit 5 , Ibotta mobile app
-$2 off Pull-Ups Training Pants, 14 ct+, excl Night Time, New Leaf, and Club Packs, limit 3, Ibotta mobile app
-$2 off Pull-Ups New Leaf Training Underwear, 46-124 ct, limit 3, Ibotta mobile app
-$2 off Pull-Ups Night-Time Training Pants, 60-84 ct, limit 3, Ibotta mobile app
-$5 off Huggies Diapers, 32 ct+, limit 3, Ibotta mobile app
-1200 points WYB Huggies Wipes, purchase $15, limit 1, enter code N0REC before first receipt to get 2000 Bonus points, Fetch Rewards mobile app
-$5 off Huggies Goodnites Nighttime Underwear, 28 ct+, Publix (EXP 7/22) eCoupon
Gerber Baby Food or Snacks 1-32 oz or 2 pk 2-4 oz, $3 off
-$4/5 Gerber meals, sides or snacks printable
Sprout Organics Baby Food Stage 2, 3, Toddler, 3.5-4 oz, $5 off WYB (10)
Household
Charmin Bathroom Tissue 30 Mega Rolls, $33.49
-.50/1 Charmin toilet paper, excl trial/travel size printable


(makes it $32.99)

Charmin Bathroom Tissue Super Mega Rolls 6 Roll or Mega Rolls, 9 ct, $12.29
-.50/1 Charmin toilet paper, excl trial/travel size printable


(makes it $11.79)

Sparkle Paper Towels with Thirst Pockets Pick a Size, 6 ct, $6.49
-$1.50 off Sparkle Paper Towels, 6 rolls + printable


(makes it $4.99)

Ajax Dish Liquid, 28 oz, $2.75
Cascade Dishwasher Detergent or Cleaner 36, 43, 52, 62 or 78 ct, $2.50 off
Dawn Dishwashing Liquid 12.2-18 oz, $2.99


(excluding Dawn Powerwash and Powerwash Refills)

Downy or Gain Fabric Softener 81-129 oz, Scent Booster 14.8 oz or Softener Sheets, 200-240 ct, $10.99
-.50/1 Tide Simply liquid laundry detergent 46 oz or smaller, Simply Pods 13 ct., Downy liquid fabric conditioner 34 oz printable
-$1 off Downy liquid fabric conditioner 51 oz incl Infusions 32 oz, Odor Protect 32 oz, WrinkleGuard 25 oz, Nature Blends printable


(makes it $9.99)

Tide Tide PODS or Gain Flings Detergent 92 oz or 25-42 ct, $12.99
-$2 off Tide PODS Laundry Detergent 23 ct, 26 ct, 31 ct, 32 ct, 35 ct, 42 ct or Tide Hygienic Clean Power PODS Laundry Detergent 25 ct printable
-$3 off Tide Pods 32-81 ct., Power Pods 25-48 ct., excl liquid, powder printable
-$2 off Gain Flings! 24-35 ct., liquid laundry detergent 65-92 oz, or liquid fabric softener 90-129 oz printable
-$3 off Tide laundry detergent 92 oz+, powder 47 loads+, excl Pods printable
-$3 off Tide laundry detergent 69-92 oz, Tide Purclean 69 oz, Tide PODS 23-42 ct, or Power PODS 18-25 ct, excl Simply and Simply PODS, & trial, limit 1, Save 07/09


(use $3 off, makes it $9.99)

Glad Tall Kitchen Bags or Trash Drawstring, 50-90 ct, $15.49
-$1 off Glad Trash Bags, limit 5, at Target or Walmart, Ibotta mobile app
-$1.50 off Glad Black Trash Bags, 30 gallon bags or larger, 14 ct+, limit 3, at Target, Walmart, Ibotta mobile app


(makes it $13.99)

Publix Alkaline Batteries Long Lasting AA, AAA, C, D, or 9V, 2-8 ct, $5
Raid Insect Killer 1-8 ct or 10-30 oz, 20% off


(Excluding Fly or Fruit Fly Trap)


-.50/1 Raid product printable
-$10 off Raid Essentials Flying Insect Light Trap, starter kit, limit 1, at Walmart, Dollar General, Ibotta mobile app
-.50/1 Raid item, Publix eCoupon (limit reached)
-$5 off Raid Essentials Light Trap Starter Kit, Publix eCoupon
Reynolds Wrap Aluminum Foil, 50-75 sq ft. , $4
Scotch-Brite Scrub Sponges or Cleaning Pads, 3 ct, $3


-$1 off Scotch-Brite 3, 6, or 9 pks, limit 1, cannot use with other coupons, Checkout 51 mobile app (limit reached)




(makes it $2)

Windex Cleaner 23 oz or Wipes, 38 ct, $1 off
-$1/2 Pledge or Windex products printable
-$1/2 Windex or Scrubbing Bubbles or Fantastik Dissolve Concentrated PODS, any, Ibotta mobile app
-$1/2 Windex products, excl Dissolve items, limit 5, Ibotta mobile app
Ziploc Storage, Freeze, Sandwich or snack Bags, 14-90 ct, $3.50
Off! Insect Repellent 4-6 oz or Citronella Bucket, 18 oz, $1 off
-$3 off Off! Clean Feel Insect Repellent, 4 oz+, limit 2, Ibotta mobile app
-$3 off Off! Clean Feel repellent printable
-$3 off OFF! Clean Feel Repellent, Publix eCoupon
PUR Pitcher Filter, Pitcher Replacement, Faucet Mount or Filter 18 cup dispenser, Water Filtration System or LED Pitcher with Filter, 1-3 ct, 20% off
Kingsford Charcoal Briquets, Original or with Flavors 16 lb or Match Light, 12 lb, $8.99
-$2 off Kingsford charcoal or pellets, 12 lb+ (EXP 7/23) printable (limit reached)
-$2 off Kingsford Charcoal or Pellets, 12 lbs+ bag, Publix (EXP 7/22) eCoupon (limit reached)


(makes it $6.99)
Alcoholic Beverages
Yuengling Traditional Lager 12 pk 12 oz, $12.99
Bota Box Pinot Grigio Wine, 3L, $18.99


-$3 off Bota Box Wine, 3 L box, limit 1, check residency requirements, Ibotta




(makes it $15.99)

Dos Equis Special Lager, 12 pk 12 oz, $15.99
Twisted Tea Hard Ice Tea Malt Beverage, 12 pk , $12.99
Bota Box Wine, 500 ml, $4
Cupcake Sauvignon Blanc Wine, 750 ml, $7.99
Jam Cellars Butter Chardonnay Wine or Butter Cabernet Sauvignon, 750 ml, $15.99
Michael David Freakshow Wine Cabernet Sauvignon, 750 ml, $15.99
Modelo Especial Beer or Negra Modelo, Modelo Oro Light or Pacifico Clara or Pilsner 12 pk 12 oz, $16.49
Truly Hard Setlzer, Berry, Punch or Margarita, 12 oz, $16.99
Publix LINKS
Latest Articles
Categories
Videos
← PREV NEXT →
Popular Posts