This post may contain affiliate links. Read our disclosure here.
I just got my monthly Stitch Fix Box and thought I'd show you what I got plus how to get the same look for a lot less!  I love seeing what they send and getting ideas for things I normally wouldn't consider trying on, but I don't always love their prices.
I turned to Jane.com to find deals for two reasons. First, they have fast turn over on their sales and do a great job of only having on trend items. Second, they are super easy to sort if you are looking for something particular, use the search for "Floral Top" "Plaid" etc and you'll find the exact look you want within a minute!  (Try that on amazon and you'll still be looking for one item 20 minutes later).
Check out how you can get the same looks for over 60% less!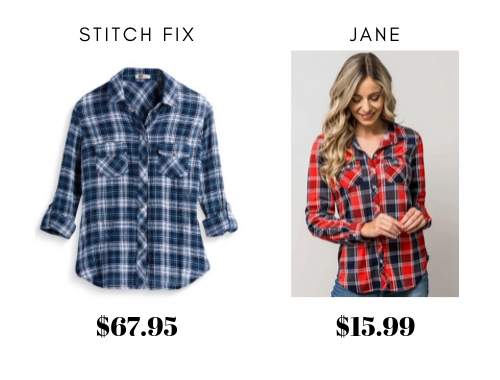 Stitch Fix: Boylen Pocket Button Down Shirt, $67.95
vs.
Flannel Long Sleeve Top, $15.99
While I didn't find the exact colors, I think I actually like the red and blue better.  That could be the price talking… but the colors are brighter and more fall to me on the Jane version.  The Stitch Fix top is not flannel, it's actually a very stretchy fabric that looks a little strange in plaid.  Something you would expect in a solid flowing tunic topic rather than a button down shirt.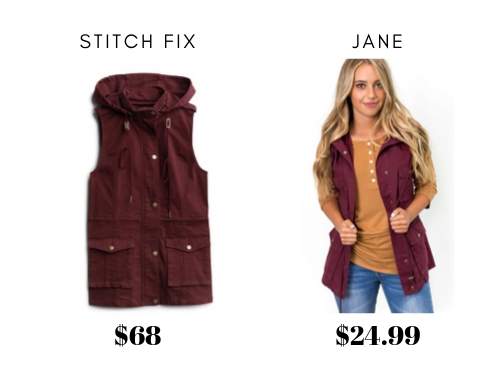 Stitch Fix: Jahana Cargo Vest, $68
vs.
Must Have Utility Vest, $24.99
This is almost a dead on match and every fall wardrobe needs a good vest!  I had two last year that I wore multiple times a week, and a garnet vest just makes my FSU heart happy.  I'm definitely grabbing the Jane version of this and sending back the $68 one.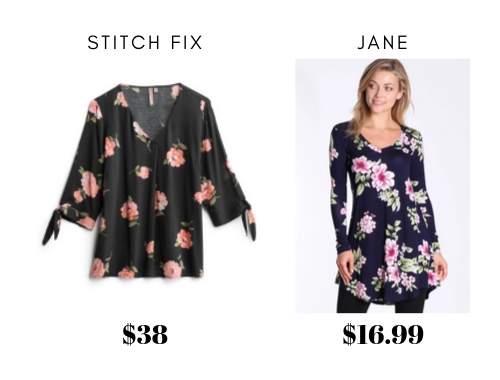 Stitch Fix: Liari Tie Sleeve Top, $38
vs.
Long Sleeve Top, $16.99
This was the hardest to find a straight match for and might be the one item I keep in the box (it doesn't hurt that it's the cheapest either).  There are so many floral print tops out that you can definitely find a similar look just maybe not the identical print.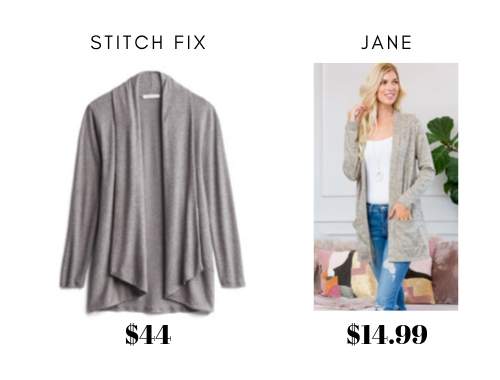 Stitch Fix: Hadlee Brushed Knit Cardigan, $44
vs.
Sweater Pocket Cardigan, $14.99
You'll save $30 plus it comes with pockets… what more do I need to say!!  To the credit of the stitch-fix option it is very soft, but not sure it's $30 softer.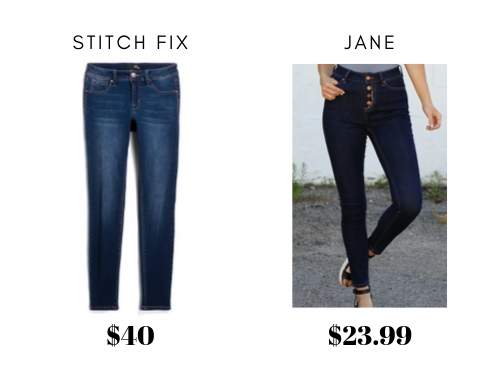 Stitch Fix: 1822 Denim Wynter Skinny Jean, $40
vs.
All Buttoned Up Skinny Jeans, $23.99
Through all my Stitch Fix boxes I've found that jeans are jeans.  Find a brand that works for you and stick with it, but don't pay $40 for a pair of jeans.
Stitch Fix total = $257.95
Look-a-Likes Total = $96.95