This post may contain affiliate links. Read our disclosure here.
Every month, I'm trying to share a selection of recipes that work well in the freezer. I personally love having meals ready in the freezer, but spending all day cooking or making 30 meals at once just doesn't seem feasible. Soups are one kind of meal that are great to freeze and so easy to reheat. You can reheat on the stove or in the slow cooker, depending on how much time you have. I rounded up 5 freezer soup recipes that all use similar ingredients. I didn't necessarily plan it this way, but these 5 freezer soup recipes together use very little meat and lots of canned items, making them extremely frugal!
Note: The shopping list will make enough for ONE of each of these recipes. The number of servings is included. If you want to double or triple a recipe, you'll need to visit the link and make sure you get enough of the ingredients.
Stock the Freezer: Freezer Soup Recipes (with Shopping List!)
Slow Cooker Tomato Soup (serves 4)
This tomato soup freezes beautifully. When you're ready to eat it, make some grilled cheese to go along with it.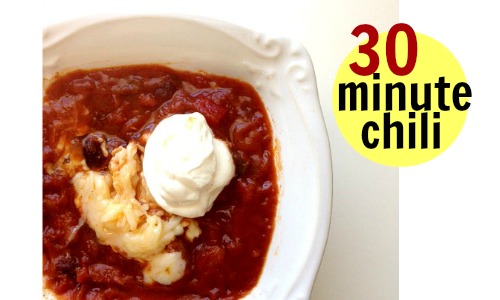 30 Minute Chili (serves 4)
This is a Southern Savers family favorite soup recipe and it freezes so well. You can make some cornbread to go with it and freeze that, too.
Slow Cooker Chicken Enchilada Soup (serves 6)
When you're ready to serve this, make sure you have toppings like shredded cheese and sour cream on hand, or even some tortilla chips.
Slow Cooker Black Bean Soup (serves 6)
The shopping list does not include the toppings for this soup; only the actual ingredients for the soup. Some of the ingredients to top it (such as avocado) will go bad if you're storing the soup in the freezer for several months!
Cabbage Roll Soup (serves 8)
If you plan to freeze this, I'd freeze the rice separately and add it to the cabbage roll soup when reheating so that it doesn't get mushy!
Freezer Soup Recipes Shopping List
This shopping list has everything you need to make these recipes. Be sure to check your pantry for the condiments and spices before spending money on them! Download the shopping list.