This post may contain affiliate links. Read our disclosure here.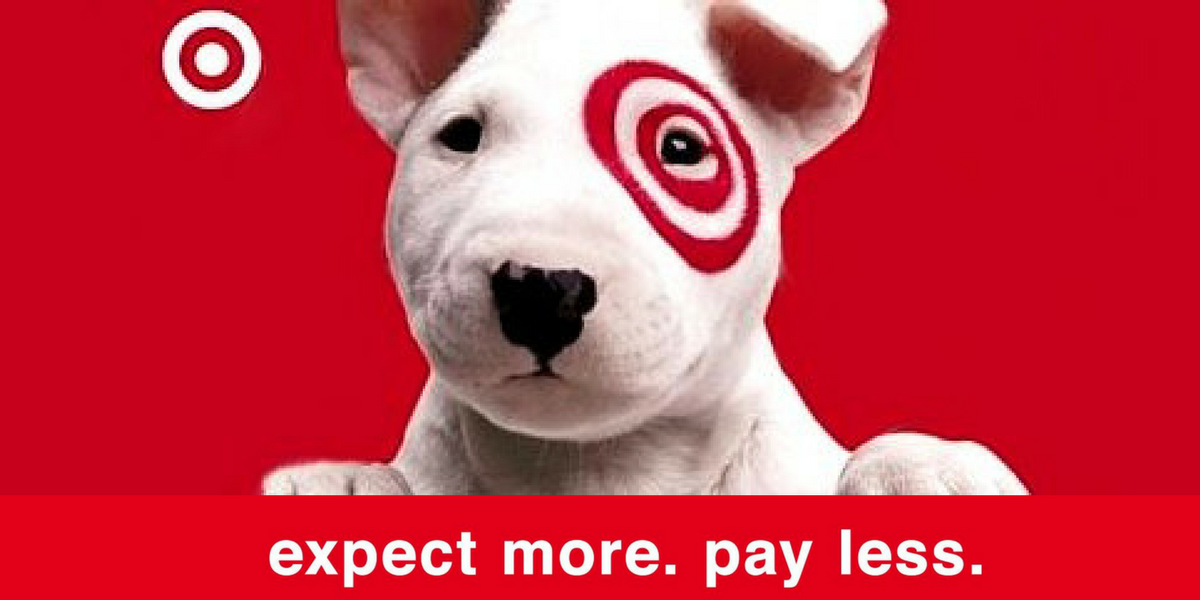 Get ready for the new Target ad starting 4/15.  Here are all the deals in the ad with coupons.  Look for 3 in-ad coupons off personal care, clothing and lawn & garden.  The clothing coupon will definitely make for some fun discounts!
There are two deals this coming week on iPhones.  Get a $100 Target gift card back with and iPhone X or iPhone 8 purchase.
In Ad Coupons
$5 Target Gift Card w/ up & up Beauty, Personal Care, or Household Essentials Purchase of $15 or More
$10 Target Gift Card w/ Apparel, Shoes, or Accessories Purchase of $40 or More
$5 Target Gift Card w/ Lawn and Garden Purchase of $20 or More
Electronics and Entertainment
Energizer Max or Ultimate Lithium AA or AAA Batteries, 10 or 6 pk., $7.99
-$1 off Energizer Batteries, at Target, Ultimate Lithium 6-ct, Ibotta App mobile coupon
-$1/2 Energizer Batteries, on same receipt at Target, 10-ct Max variety, Ibotta App mobile coupon
-.75/1 Energizer MAX Batteries, 10-ct, at Target, Ibotta App mobile coupon
-$1 off Energizer Ultimate Lithium AA/AAA Batteries, Ibotta App mobile coupon
-.25/1 Energizer MAX AA/AAA Batteries, Ibotta App mobile coupon


(Use $1 off, makes it $6.99)

$5 off All Case-Mate Mobile Phone Cases
Altec Lansing Mini LifeJacket 3 Bluetooth Speaker, $49.99
Samsung Smart UHD TV, 65″, $849.99
Vizio Smart UHD TV, 50″, $429.99
Samsung Blu-Ray Player, $79.99
Duracell CopperTop AA or AAA Batteries, 10 pk., $7.99
-$1 off Duracell Coppertop AA/AAA 8-pk, C/D 4-pk, 9V 2-pk+, SS 04/08
-$1 off Duracell Coppertop batteries, AA/AAA 8-pk, C/D 4-pk, or 9V 2-pk+, claim 1 time, cannot use this offer with any other print or rebate, Checkout 51 mobile coupon
-$1 off Duracell Copertop AA/AAA 8 pk, C/D 4 pk, 9V 2 pk+ printable


(Use $1 off, makes it $6.99)

Free Kratos FigPin WYB Any God of War on PS4
Decor
Room Essentials 6 Cupe Organizer Shelf, $29.99
Room Essentials Decorative Y Weave Storage Bin, $5
Room Essentials Fabric Cube Storage Bin, 11″, $4
Room Essentials Decorative Wire Basket, 11″, $8.99
Room Essentials Adjustable 3-Tier Wire Shelf, $19.99
Miscellaneous
Char-Broil 4-Burner Classic Gas Grill, $159
STOK Drum Grill, $105
Hoover Cruise 22V Cordless Stick Vacuum, $99.99
Hoover Air Steerable Upright Vacuum, $99.99
Char-Broil 5-Burner Classic Gas Grill, $239
10% Off Select Grill Accessories
Gift Card Deals
$10 Target Gift Card WYB Any (2) Diapers Listed
Pampers Super Pack Diapers, $24.29
-$1 off Pampers Swaddlers diapers printable
-$1 off Pampers Cruisers diapers printable
-$2/2 Pampers diapers printable
-$1 off Pampers Swaddlers Diapers printable
-$1 off Pampers Cruisers Diapers printable
-$1 off Pampers Baby Dry Diapers printable


(Buy (2), use (2) $1 off, makes it $18.29 ea. after Gift Card)


Huggies Super Pack Diapers, $24.29
-$1.50 off Huggies Overnites diapers, excl 9 ct- printable
-$2 off Huggies diapers, 10-ct+, SS 03/25
-$2 off Huggies Diapers, excl 9 ct. or less printable
-$2 off Huggies Diapers, 10-ct+, Target Cartwheel eCoupon


(Buy (2), use (2) $2 off mfr, makes it $17.29 ea. after Gift Card)

$10 Target Gift Card WYB Any (2) Formulas Listed
Enfamil Premium Gentlease Infant Formula, 32.2 oz, $37.99


(Buy (2), makes it $32.99 ea. after Gift Card)


Similac Pro-Sensitive Infant Formula, 29.8 oz, $36.99
-$3 off Similac Infant Formula Powder, Pro-Advance 1.93 lb, or Pro-Sensitive 1.86 lb canister, Ibotta App mobile coupon


(Buy (2), use (2) $3 off, makes it $28.99 ea. after Gift Card)

$10 Target Gift Card WYB Any (3) Household Items Listed
Viva Vantage Mega Roll Paper Towels, 12 pk., $16.19
-.75/1 Viva Vantage or Paper Towels, 6 pk+ printable
-.75/1 Viva Vantage or Paper Towels, 6 pk+ printable
-.50/1 Viva Vantage or Paper Towels, 6 pk+ printable


(Buy (3), use (2) .75/1, makes it $12.36 ea. after Gift Card)


Bounty Giant Roll Paper Towels, 8 pk., $9.79
-.50/1 Bounty Basic, or Bounty or Charmin Essentials product , excl single rolls and trial size, PG 04/01
-$1 off Bounty Paper Towel, 4-ct+ or 2 huge roll, PG 04/01
-$1 off Bounty Basic or Essentials Paper Towel, 6-ct+, Target Cartwheel eCoupon
-$1 off Bounty Paper Towel, 4-ct+, excl Basic or Essentials, Target Cartwheel eCoupon


(Buy (3), use (3) $1 off, makes it $5.46 ea. after Gift Card)


Charmin Mega Plus Bath Tissue, 8 pk., $9.99
-.25/1 Charmin Ultra Soft or Strong printable
-.50/1 Bounty Basic, or Bounty or Charmin Essentials product , excl single rolls and trial size, PG 04/01
-$1 off Charmin Mega Roll, Mega Plus or Super Mega Roll sizes, 4-ct+, excl single rolls, PG 04/01
-$1 off Charmin Toilet Paper, Target Cartwheel eCoupon


(Buy (3), use (3) $1 off mfr, makes it $5.66 ea. after Gift Card)


Scott 1000 Sheet Bath Tissue, 24 pk. , $15.59
-.50/1 Scott 1000 Bath Tissue, 8 rolls+ printable
-.25/4 Scott 1000 item printable
-$1 off Scott bath tissue, 6-roll+, limit 1, cannot use this offer with any other print or in-app coupon or rebate, Checkout 51 mobile coupon
-.50/1 Scott Bath Tissue, 6 ct.+ printable
-.50/1 Scott bath tissue, 6-roll+, SS 04/08
-.50/1 Scott Bath Tissue, 6-roll+, Target Cartwheel eCoupon


(Buy (3), use $1 off mobile and (2) .50/1 mfr, makes it $11.59 ea. after Gift Card)


Tide Liquid Detergent, 92-100 oz, $11.99
-$1 off Tide detergent 50 oz or lower, excl Rescue, Simply, PODS and trial sizes, PG 04/01
-$2 off Tide detergent 69 oz+, Dreft Newborn or Active Baby 50 oz+, or Dreft Purtouch 40 oz+,, excl Tide Rescue or Simply or detergent 10 oz or PODS, and trial sizes, PG 04/01
-$2 off Tide or Dreft Liquid Laundry Detergent, Tide, 69 oz+, Dreft Newborn or Active Baby, 50 oz+, Dreft Purtouch, 40 oz+ printable


(Buy (3), use (3) $2 off, makes it $6.66 ea. after Gift Card)


Gain Liquid Detergent, 120 oz, $11.99
-$2 off Gain powder or liquid detergent incl Botanicals, or Liquid Fabric Enhancer 48 load+, dryer sheet 105-ct+, or Fireworks 6.5 oz+, excl Flings and trial size, RMN 04/15


(Buy (3), use (3) $2 off, makes it $6.66 ea. after Gift Card)


Bounce Dryer Sheets, 240 ct., $9.99
-$4/2 Downy Liquid Fabric Enhancer 40 load+, Downy or Bounce Sheets 60-ct+, or In Wash Scent Boosters incl Downy Unstopables, Fresh Protect, Infusions, Bounce Bursts Dreft Blissfuls or Gain Fireworks 4.5 oz+; must purchase (1) Downy and (1) Bounce item, excl Downy Libre Enjuague and trial size, PG 04/01


(Buy (3), use $4/2, makes it $5.32 ea. after Gift Card)


Gain Flings, 42 ct., $11.99
-$3 off Tide PODS or Gain Flings detergent, excl Tide detergent or Simply or Simply PODS, or Gain detergent or Flings 5-14 ct, or Tide PODS 5-ct, and trial size, PG 04/01


(Buy (3), use (3) $3 off, makes it $5.66 ea. after Gift Card)


Glad Trash Bags, $10.99


(Buy (3), makes it $7.66 ea. after Gift Card)


Tide Pods, 42 ct., $11.99
-$3 off Tide PODS or Gain Flings detergent, excl Tide detergent or Simply or Simply PODS, or Gain detergent or Flings 5-14 ct, or Tide PODS 5-ct, and trial size, PG 04/01


(Buy (3), use (3) $3 off, makes it $5.66 ea. after Gift Card)


Cascade ActionPacs, 48-85 ct., $13.99
-.25/1 Cascade Dishwasher Detergent – ActionPacs, Gel or Powder detergent, Rinse Aid, or Dishwasher Cleaner, excl trial size, Target Cartwheel eCoupon


(Buy (3), use Cartwheel, makes it $10.57 ea. after Gift Card)


Downy Softener, 129 oz, $9.99
-$4/2 Downy Liquid Fabric Enhancer 40 load+, Downy or Bounce Sheets 60-ct+, or In Wash Scent Boosters incl Downy Unstopables, Fresh Protect, Infusions, Bounce Bursts Dreft Blissfuls or Gain Fireworks 4.5 oz+; must purchase (1) Downy and (1) Bounce item, excl Downy Libre Enjuague and trial size, PG 04/01


(Buy (3), use $4/2, makes it $5.32 ea. after Gift Card)


Downy Unstopables Scent Booster Beads, 14.8-19.5 oz, $9.99
-$4/2 Downy Liquid Fabric Enhancer 40 load+, Downy or Bounce Sheets 60-ct+, or In Wash Scent Boosters incl Downy Unstopables, Fresh Protect, Infusions, Bounce Bursts Dreft Blissfuls or Gain Fireworks 4.5 oz+; must purchase (1) Downy and (1) Bounce item, excl Downy Libre Enjuague and trial size, PG 04/01


(Buy (3), use $4/2, makes it $5.32 ea. after Gift Card)

$5 Target Gift Card WYB Any (4) Personal Care Products Listed
Suave, TRESemme, Dove, and Axe Hair Care, $3.99-$6.99
-$2 off Axe Hair product, excl trial/travel sizes printable
-$2 off Axe Hair product, excl trial/travel size printable
-$1 off Suave Professionals shampoo or conditioner, (limit 3), Ibotta App mobile coupon
-$1.50 off TreSemme shampoo or conditioner, 22 oz, limit 1, cannot use this offer with any other print or in-app coupon or rebate, Checkout 51 mobile coupon
-5% off Dove Shampoo & Conditioner, excl DermaSeries, trial size, and twin and bonus packs, Target Cartwheel eCoupon
-$2 off Axe Hair Care, excl trial size, Target Cartwheel eCoupon
-5% off TRESemme Hair Care, Target Cartwheel eCoupon
-$2/2 Dove hair care items, excl trial size, RMN 04/15
-$3/2 TRESemme pro collection shampoo or conditioner item, excl trial size, RMN 04/15
Q-Tips Cotton Swabs, 750 ct., $4.69


(Buy (4), makes it $3.44 ea. after Gift Card)


Pond's Original Towelettes, 28 ct., $4.69
-$1.50 off Pond's Cold Cream & MoistureClean Towelettes, excl 5-ct, Ibotta App mobile coupon


(Buy (4), use Ibotta, makes it $3.07 ea. after Gift Card)


Degree or Degree Men Dry Spray Deodorant, 3.8 oz, $4.99
-$1 off Degree Men Advanced Protection, UltraClear, MotionSense stick, dry spray, or clinical protection deodorant, excl trial size, RP 03/25
-.75/1 Degree Men Advanced Protection, UltraClear, MotionSense stick, dry spray, or clinical protection deodorant, excl trial size, RP 03/25


(Buy (4), use (4) $1 off, makes it $2.74 ea. after Gift Card)


Vaseline Intensive Care Lotion, 20.3 oz, $5.79
-10% off Vaseline Hand & Body Lotion, all varieties, Target Cartwheel eCoupon


(Buy (4), use Cartwheel, makes it $3.96 ea. after Gift Card)


Dove or Dove Men+Care Bar Soap, 8 pk., $8.99
-.50/1 Dove Beauty Bar, 4-pk+, excl Men+Care and trial size, Ibotta App mobile coupon
-.75/1 Dove beauty bar, 4-pk+, RMN 04/15
-$1 off Dove Beauty Bar, 4-pk+, excl Men+Care and trial size, Ibotta App mobile coupon


(Buy (4), use (1) Ibotta & (3) .75/1, makes it $6.93 ea. after Gift Card)

$5 Target Gift Card WYB Any (15) Organic Baby Foods
-$1 off Plum Organics Mashups printable
-$1/2 Plum Organics Eat Your Colors items printable
-$2/5 Sprout Organic baby or toddler puree pouches printable
–B1G1 Sprout Organic baby or toddler puree pouch printable
-$2 off Sprout Organic SMASH, 4-ct printable
-.85/2 Plum Organics Baby Bowls, on same receipt at Food Lion, Harris Teeter, Kroger, Target, 3.6 oz, Ibotta App mobile coupon
-$1.15/2 Plum Organics Baby Bowls, on same receipt at Food Lion, Harris Teeter, Kroger, Target, 3.6 oz, Ibotta App mobile coupon
-$1/3 Earth's Best Organics jars and pouches printable
-10% off Plum Organics baby & tots varieties, Target Cartwheel eCoupon
$100 Target Gift Card w/ Qualified Activation iPhone X
$100 Target Gift Card w/ Qualified Activation iPhone 8 or 8 Plus
$35 Target Gift Card WYB GoPro HERO5 Black, $249.99


(Makes it $214.99 after Gift Card)
Apparel
A New Day & Universal Thread Assorted Women's Tees and Tanks, $6.66 WYB (3)
Goodfellow & Co. Men's Short Sleeve Novelty Tees, $9 WYB (2)
Produce
Blackberries and Raspberries, 6 oz, $2.50 ea.
Organic Honeycrisp Apples, 2 lb, $4.99
Meat
Buy (1) Get (1) 25% Off All Sutton & Dodge Steaks
Market Pantry Boneless, Skinless Value-Pack Chicken Breasts, $4.99 lb
Oscar Mayer Beef Hot Dogs, $3.50
Fridge or Frozen
Fage Greek Yogurt, 5.3-7 oz, $1
Sabra Hummus, 10 oz, $2.79
-$1 off Sabra Hummus printable


(Makes it $1.79)

California Pizza Kitchen and DiGiorno Frozen Pizza, 13.4-32.7 oz, $5
Naked and KeVita Drinks, 15.2 oz, $2.50
-.35/1 KeVita Master Brew Kombucha, Ibotta App mobile coupon
-.85/1 KeVita Sparkling Probiotic Drink, Ibotta App mobile coupon


(.85/1 makes it $1.65)

Market Pantry Frozen Fruit, 40-64 oz, $9.99
-5% off Market Pantry Frozen Fruit, Target Cartwheel eCoupon


(Makes it $9.49)
Grocery
Dunkin' Donuts Ground or Whole Bean Coffee, 11-12 oz, $5.99
Kellogg's Cereal, 11.6-18.7 oz, $2.50
-$1 off Kellogg's cereal, 8.7 oz + (850 points) printable
-.50/1 Kellogg's Special K Nourish Berries & Peaches cereal, 10.5 oz+, RP 03/04 (EXP 4/15)
-.50/1 Kellogg's Super Mario or Donut Shop cereal, 8.4 oz+, RP 03/04 (EXP 4/15)
-.50/1 Kellogg's Chocolate Frosted Flakes cereal, 10.2 oz+, RP 03/04 (EXP 4/15)
-$1/2 Kellogg's Rice Krispies or Cocoa Krispies cereals, 9 oz+, RP 03/18
-$1/2 Kellogg's Froot Loops cereal, 8.7 oz+, on same receipt, limit 1, cannot use this offer with any other print or in-app coupon or rebate, Checkout 51 mobile coupon
-$1/2 Kellogg's Frosted Flakes, 9.5 oz+,on same receipt, limit 1, cannot use this offer with any other print or in-app coupon or rebate, Checkout 51 mobile coupon
-.75/1 Kellogg's Corn Pops Cereal, 9.2 oz box or larger (EXP 4/16) Ibotta App mobile coupon
-$2 off Fruit or Nuts WYB (2) Kellogg's Cereal, 8.7 oz+, on select products
-$2/4 Kellogg's cereals printable
-.50/1 Kellogg's Super Mario cereal printable
-.50/1 Kellogg's Chocolate Frosted Flakes cereal printable
-$1/2 Kellogg's Special K cereals printable
-$1/2 Kellogg's Raisin Bran cereals printable
-.50/1 Kellogg's Special K Nourish Berries & Peaches cereal printable
-$1/2 Kellogg's Krave, Apple Jacks, Pops or Frosted Flakes cereal, RP 04/08


($1 off makes it $1.50)

Free 32 oz Gatorade WYB (2) Gatorade Drinks, 12 pk., $5.99
Dasani Water, 24 pk., $3.99
Angie's Boom Chicka Pop, $3
KIND Healthy Grains Bars, 4-5 ct., $2.50
belVita Biscuits, 5 ct., $2.50
Pepsi, Canada Dry, Mountain Dew, 7UP Cans and Bottles, 12 or 8 pk., $2.25 ea. WYB (4)
-$1/2 Diet Pepsi or Pepsi Zero Sugar, 12-pk 12 oz cans, on same receipt, Ibotta App mobile coupon
-.50/1 Pepsi-Cola or Mountain Dew or Mist TWST, 8-pk 12 oz plastic bottles, Ibotta App mobile coupon
Vitaminwater Assorted Flavors, 6 pk., $3.99
Doritos and Smartfood Popcorn, 4.75-11.5 oz, $2.50
10% Off Fun Size Variety Mix and Party Size M&M's, 33.9-42 oz
-Free M&M's chocolate candies 3.27 oz or less, up to $2.09, WYB (1) chocolate candies 8 oz+, RP 04/08
Nabisco, Kellogg's, and Pepperidge Farm Multipack Cookies and Crackers, 9-12 ct., $4.50
-$1 off Nabisco multipacks, 7 oz+, SS 03/25
-$1 off Nabisco Multipacks, limit 5, cannot use this offer with any other print or in-app coupon or rebate, Checkout 51 mobile coupon


(Makes Nabisco $3.50)
Personal Care
Buy (1) Get (1) 50% Off Bliss Spa-Powered Skin Care
Household
Buy (1) Get (1) 30% Off Clorox Disinfecting Wipes and Swiffer 360 Dusters Extenders Starter Kits
-15% off Clorox Disinfecting Wipes, 3-pk 35-ct, Target Cartwheel eCoupon
Method Dish or Hand Soap, or All Purpose Cleaner, 10-16 oz or 28 oz, $3.29