This post may contain affiliate links. Read our disclosure here.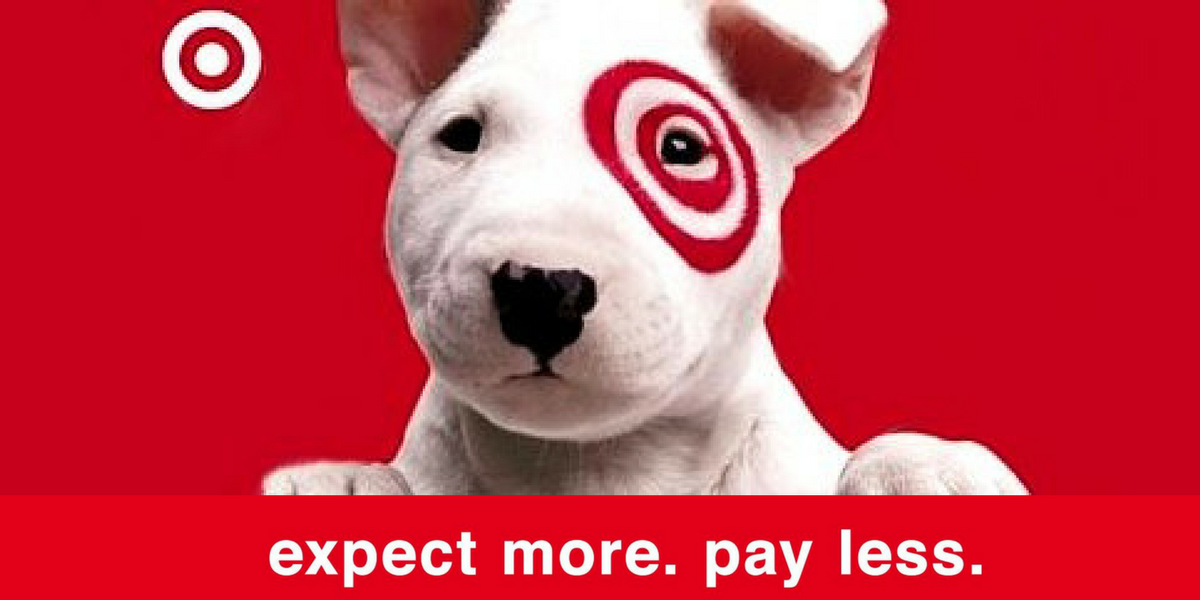 Here are all the deals in the new Target Ad starting Sunday, 4/22. There are some great gift card deals this week that make for cheap Tide and diapers!
Make sure to also check out all the unadvertised deals too.
In Ad Coupons
20% Off Purchase of (2) Footcare Products
$10 Target Gift Card w/ Babyganics, WaterWipes, Seventh Generation, and The Honest Company Diapers and Wipes
$10 Off Select Fitness Gear Purchase of $40 or More
Gift Card Deals
$5 Target Gift Card WYB Any (2) Household Items Listed
Tide Liquid Detergent, 92-100 oz, $11.99
-$1 off Tide detergent 50 oz or lower, excl Rescue, Simply, PODS and trial sizes, PG 04/01 (EXP 4/28)
-$2 off Tide detergent 69 oz+, Dreft Newborn or Active Baby 50 oz+, or Dreft Purtouch 40 oz+,, excl Tide Rescue or Simply or detergent 10 oz or PODS, and trial sizes, PG 04/01 (EXP 4/28)


(Buy (2), use (2) $2 off, makes it $7.49 ea. after Gift Card)


Kleenex Facial Tissue, 3-4 pk., $5.99
-.50/3 Kleenex Facial Tissue 3 boxes or bundle pack printable
-.50/3 Kleenex Facial Tissue, boxes or (1) Bundle pk printable
-$2/2 Kleenex bundle pack, or wipes 20-ct+, on same receipt, limit 1, cannot use this offer with any other print or in-app coupon or rebate, Checkout 51 mobile coupon


(Buy (2), use $2/2, makes it $2.49 ea. after Gift Card)


Cottonelle Double Roll Bath Tissue, 48 pk. , $19.99
-.55/1 Cottonelle Toilet Paper printable
-.55/1 Cottonelle Toilet Paper printable
-.50/1 Cottonelle Toilet Paper, 6 ct.+ printable
-.50/1 Cottonelle toilet paper, 6- rolls, SS 04/08
-.50/1 Cottonelle Toilet Paper, 6-ct+ pack, Ibotta App mobile coupon


(Buy (2), use (2) .55/1, makes it $16.94 ea. after Gift Card)

$10 Target Gift Card WYB Any (2) Diapers Listed
Huggies Super Pack Diapers, $24.29
-$1.50 off Huggies diapers, excl 9 ct- printable
-$2 off Huggies Little Snugglers diapers, excl 9 ct- printable
-$2 off Huggies Diapers, excl 9 ct. or less printable
-$2 off Huggies Diapers, 10-ct+, Target Cartwheel (EXP 4/28) eCoupon


(Buy (2), use (2) $2 off, makes it $17.29 ea. after Gift Card)


Pampers Super Pack Diapers, $24.29
-$1 off Pampers Swaddlers diapers printable
-$1 off Pampers Cruisers diapers printable
-$2/2 Pampers diapers printable
-$1 off Pampers Swaddlers Diapers printable
-$1 off Pampers Cruisers Diapers printable
-$1 off Pampers Baby Dry Diapers printable
-$2 off Pampers Baby Diapers – Swaddlers, Cruisers or Baby Dry bagged items, excl trial size, Target Cartwheel (EXP 4/28) eCoupon
-$3 off Pampers Baby Diapers – Swaddlers, Cruisers or Baby Dry boxed items, excl trial size, Target Cartwheel (EXP 4/28) eCoupon


(Buy (2), use $3 off & $1 off, makes it $17.29 ea. after Gift Card)

$5 Target Gift Card WYB Any (2) Wipes Listed
Huggies Natural Care Baby Wipes, 616 ct., $14.59
-.50/1 Huggies Wipes, 48 ct.+ printable
-.50/1 Huggies Wipes, 48-ct+, Target Cartwheel (EXP 4/28) eCoupon


(Buy (2), use (2) .50/1, makes it $11.59 ea. after Gift Card)


Pampers Sensitive Baby Wipes, 504 ct., $15.99
-.50/1 Pampers wipes printable
-.50/1 Pampers Or Luvs Wipes, 56-ct+, excl Aqua Pure items, Target Cartwheel (EXP 4/28) eCoupon


(Buy (2), use (2) .50/1, makes it $12.99 ea. after Gift Card)

$5 Target Gift Card WYB Any (2) Schick Razors or Cartridges Listed
Schick Intuition f.a.b. Cartridges, 3 ct., $13.49
-$2 off Schick Intuition f.a.b. razor or refill, excl disposables and Men's razor or refill, SS 04/22


(Buy (2), use (2) $2 off, makes it $8.99 ea. after Gift Card)


Schick Intuition f.a.b. Razor w/ 2 Refills, $9.99
-$2 off Schick Intuition f.a.b. razor or refill, excl disposables and Men's razor or refill, SS 04/22


(Buy (2), use (2) $2 off, makes it $5.49 ea. after Gift Card)

$10 Target Gift Card WYB Any (3) Formulas Listed
Similac Total Comfort non-GMO Infant Formula w/ Iron, 1.41 lb, $27.99


(Buy (3), makes it $24.66 ea. after Gift Card)


Similac Pro-Advance non-GMO Infant Formula w/ HMO, 23.2 oz, $28.99


(Buy (3), makes it $25.66 ea. after Gift Card)

$5 Target Gift Card WYB (3) Select PediaSure Products
PediaSure Chocolate Shakes, 6 ct. 8 oz, $10.99
-$3/2 PediaSure Products printable


(Buy (3), use $3/2, makes it $8.32 ea. after Gift Card)


PediaSure Vanilla Powder Shake Mix, 14 oz, $13.99
-$3/2 PediaSure Products printable


(Buy (3), use $3/2, makes it $11.32 ea. after Gift Card)

$5 Target Gift Card WYB Any (2) Household Items Listed
Tide Pods, 32-42 ct., $11.99
-$3 off Tide PODS or Gain Flings detergent, excl Tide detergent or Simply or Simply PODS, or Gain detergent or Flings 5-14 ct, or Tide PODS 5-ct, and trial size, PG 04/01 (EXP 4/28)


(Buy (2), use (2) $3 off, makes it $6.49 ea. after Gift Card)


Downy Fresh Protect Scent Beads, 19.5 oz, $9.99
-$4/2 Downy Liquid Fabric Enhancer 40 load+, Downy or Bounce Sheets 60-ct+, or In Wash Scent Boosters incl Downy Unstopables, Fresh Protect, Infusions, Bounce Bursts Dreft Blissfuls or Gain Fireworks 4.5 oz+; must purchase (1) Downy and (1) Bounce item, excl Downy Libre Enjuague and trial size, PG 04/01 (EXP 4/28)


(Buy (2), use $4/2, makes it $5.49 ea. after Gift Card)


Gain Liquid Detergent, 120 oz, $11.99


(Buy (2), makes it $9.49 ea. after Gift Card)


Gain Flings, 42 ct., $11.99
-$3 off Tide PODS or Gain Flings detergent, excl Tide detergent or Simply or Simply PODS, or Gain detergent or Flings 5-14 ct, or Tide PODS 5-ct, and trial size, PG 04/01 (EXP 4/28)


(Buy (2), use (2) $3 off, makes it $6.49 ea. after Gift Card)


Bounce Dryer Sheets, 240 ct., $9.99
-$4/2 Downy Liquid Fabric Enhancer 40 load+, Downy or Bounce Sheets 60-ct+, or In Wash Scent Boosters incl Downy Unstopables, Fresh Protect, Infusions, Bounce Bursts Dreft Blissfuls or Gain Fireworks 4.5 oz+; must purchase (1) Downy and (1) Bounce item, excl Downy Libre Enjuague and trial size, PG 04/01 (EXP 4/28)


(Buy (2), $4/2 makes it $5.49 ea. after Gift Card)


Downy Softener, 129 oz, $9.99
-$4/2 Downy Liquid Fabric Enhancer 40 load+, Downy or Bounce Sheets 60-ct+, or In Wash Scent Boosters incl Downy Unstopables, Fresh Protect, Infusions, Bounce Bursts Dreft Blissfuls or Gain Fireworks 4.5 oz+; must purchase (1) Downy and (1) Bounce item, excl Downy Libre Enjuague and trial size, PG 04/01 (EXP 4/28)


(Buy (2), $4/2 makes it $5.49 ea. after Gift Card)


Scott 1000 Sheet Bath Tissue, 24 pk., $15.59
-.50/1 Scott 1000 Bath Tissue, 8 rolls+ printable
-.25/4 Scott 1000 item printable


(Buy (2), use (2) .50/1, makes it $12.59 ea. after Gift Card)


Swiffer Sweeper Starter Kit, $11.99
-$2 off Swiffer Starter Kit, excl 1-2 ct Duster 360, Sweep & Vac, Sweep & Trap, Steam Boost and trial size, Target Cartwheel (EXP 4/28) eCoupon


(Buy (2), use Cartwheel, makes it $8.49 ea. after Gift Card)


Tide Purclean Liquid, 75 oz, $11.99
-$2 off Tide detergent 69 oz+, Dreft Newborn or Active Baby 50 oz+, or Dreft Purtouch 40 oz+,, excl Tide Rescue or Simply or detergent 10 oz or PODS, and trial sizes, PG 04/01 (EXP 4/28)
-$2 off Tide or Dreft Liquid Laundry Detergent, Tide, 69 oz+, Dreft Newborn or Active Baby, 50 oz+, Dreft Purtouch, 40 oz+ printable


(Buy (2), use (2) $2 off, makes it $7.49 ea. after Gift Card)


Puffs Facial Tissue, 6-8 pk., $8.49
-.50/1 Puffs facial tissues, incl multi-packs, excl to go singles, PG 04/01 (EXP 4/28)
-.25/1 Puffs Facial Tissues Single or 2-ct multipk, excl Puffs To Go singles, Target Cartwheel (EXP 4/28) eCoupon
-.50/1 Puffs Facial Tissues multipack 3-ct+, excl Puffs To Go singles, Target Cartwheel (EXP 4/28) eCoupon


(Buy (2), use (2) .50/1, makes it $5.49 ea. after Gift Card)


Bounty Giant Roll Paper Towels, 12 pk., $14.49
-.50/1 Bounty Basic, or Bounty or Charmin Essentials product , excl single rolls and trial size, PG 04/01 (EXP 4/28)
-$1 off Bounty Paper Towel, 4-ct+ or 2 huge roll, PG 04/01 (EXP 4/28)
-$1 off Bounty Paper Towel, 4-ct+, excl Basic or Essentials, Target Cartwheel (EXP 4/28) eCoupon


(Buy (2), use (2) $1 off, makes it $11.49 ea. after Gift Card)


Charmin Bath Tissue, 12 or 24 pk., $13.99
-.25/1 Charmin Ultra Soft or Strong printable
-.50/1 Bounty Basic, or Bounty or Charmin Essentials product , excl single rolls and trial size, PG 04/01 (EXP 4/28)
-$1 off Charmin Mega Roll, Mega Plus or Super Mega Roll sizes, 4-ct+, excl single rolls, PG 04/01 (EXP 4/28)
-$1 off Charmin Toilet Paper, Target Cartwheel (EXP 4/28) eCoupon


(Buy (2), use (2) $1 off, makes it $10.49 ea. after Gift Card)

$10 Target Gift Card WYB (2) Garden of Life Products
-$3 off Garden of Life Organic Raw Fit, excl packets and bars printable
-$3 off Garden of Life Organic Raw Fit product, excl packets & bars printable
$150 Target Gift Card w/ Qualified Activation Samsung Galaxy S9, S9+, and Note 8
Miscellaneous
Black+Decker 5 Cup Coffee-Maker, $16.99
20% Off Select Fitness Gear
KitchenAid Classic Plus Stand Mixer, 4.5 qt., $189.99
KitchenAid Fresh Prep Slicer/Shredder Attachment, $39.99
Black+Decker PowerCrush Multifunction Blender, $24.99
Black+Decker 4 Slice Toaster, $29.99
Ball Regular-Mouth Canning Jars, 12 ct. 16 oz, $7.49
Rubbermaid Brilliance Set, 10 pc., $15.99
-$2 off Rubbermaid BRILLIANCE item, at Costco, Kroger, Target, Walmart, Ibotta App mobile coupon


(Makes it $13.99)

George Foreman 4-Serving Rapid Grill Series, $29.99
20% Off All Klean Kanteen, Takeya, and CamelBak Stainless Steel Water Bottles
Electronics and Entertainment
Energizer Clip Light, $4.99
Energizer Lithium AA Batteries, 12 pk., $13.99
-$1 off Energizer Ultimate Lithium AA/AAA Batteries, Ibotta App mobile coupon


(Makes it $12.99)

Roku Ultra TV Streaming Player, $89.99
Energizer Max AA or AAA Batteries, 20 pk., $13.99
-$1.50 off Energizer MAX Batteries, 20-ct, at Target, Ibotta App mobile coupon
-.25/1 Energizer MAX AA/AAA Batteries, Ibotta App mobile coupon


($1.50 off makes it $12.49)

Canon T6 DSLR Bundle, $549.99
Pokemon UltraSun or UltraMoon for 3DS, $29.99
Nintendo 2DS XL, $129.99
Energizer Max AA or AAA Batteries, 10 pk., $7.99
-.75/1 Energizer MAX Batteries, 10-ct, at Target, Ibotta App mobile coupon
-.25/1 Energizer MAX AA/AAA Batteries, Ibotta App mobile coupon


(.75/1 makes it $7.24 )

Energizer Ultimate Lithium, 6 pk., $7.99
-$1 off Energizer Batteries, at Target, Ultimate Lithium 6-ct, Ibotta App mobile coupon
-$1 off Energizer Ultimate Lithium AA/AAA Batteries, Ibotta App mobile coupon


(Makes it $6.99)

Free Legendary Pokemon Character Vist Electronics Dept. for your free code to access a legendary character in Pokemon Sun & Moon Games on Nintendo 3DS
TCL Roku Smart HDR UHD TV, 65″, $649.99
LG Smart UHD TV, 49″, $449.99
LG Smart UHD TV, 60″, $799.99
Toys
Kent Men's or Girls' Mountain Bike, 26″ or 24″, $89
InStep Bike Trailer , $99
Apparel
Select Cat & Jack Tees and Shorts, $4-$6
Car Seat Trade-In Event
Get an Extra 20% Off Purchase of New Car Seat wy Recycle Your Old Car Seat
Produce
Fresh Berries, 6-16 oz, $2.50
Navel Oranges, 8 lb, $4.99
Meat
Oscar Mayer Bacon, 12-16 oz, $5.49
Tyson Any'tizers Frozen Chicken, 22-28.5 oz, $5.99
-$1.25 off Tyson Chicken Strips or Any'tizers Snack item, RP 03/11


(Makes it $4.74)

Oscar Mayer Natural Lunchmeat, 7-8 oz, $3.50
-$1 off Oscar Mayer Natural cold cuts, SS 04/15


(Makes it $2.50)

Jack Daniel's Pulled Pork, $5.99
Fridge or Frozen
Ben & Jerry's Non-Dairy Pints, $3.50
Outshine Frozen Fruit Bars, $3.50
Ripple, Califa, or Lactaid Non Dairy Milk, 48 oz, $3.49
-.50/1 Lactaid milk printable
-.55/1 Lactaid milk item printable
-.55/1 Lactaid milk printable
-.55/1 Lactaid calcium enriched milk printable


(use .55/1, makes it $2.94)

Simply Balanced Organic Eggs, 12 ct., $3.79
-5% off Simply Balanced Organic Eggs, organic & cage free, Target Cartwheel eCoupon


(Makes it $3.60)

10% Off All Snacking Cheese
Grocery
General Mills Cereal, 10.7-12.25 oz, $2.50
-$1 off General Mills Cinnamon Toast Crunch Blasted Shreds or Peanut Butter Chocolate Blasted Shreds cereal, SS 03/25


(Makes it $1.50)

Kellogg's Pop-Tarts, 12 ct., $2.50
-$1 off Kellogg's Pop-Tarts toaster pastries, 8-ct.+ (850 points) printable
-$1/3 Kellogg's Pop-Tarts toaster pastries, 8-ct+, RP 03/11 (EXP 4/22)
-$2/4 Kellogg's Pop-Tarts toaster pastries printable


(use $1 off, makes it $1.50 )

Nestle Pure Life Water, 28 pk., $2.99
Deer Park Water, 24 pk., $2.99
Coca-Cola Cans and Bottles, 12 or 8 pk., $4 WYB (3)
-.50/1 Coca-Cola and Coca-Cola Zero Sugar, 8-pk 12 oz bottles, Ibotta App mobile coupon


(Buy (3), .50/1 makes it $3.83 ea.)

Clif or thinkThin Bars, 6 or 5 ct., $5.49
Snack Factory Pretzel Crisps, 11.25 oz, $3
Synergy Kombucha, 16 oz, $3
Starbucks Single Serve Coffee Pods, 9-16 ct., $9.99 WYB (3)
Archer Farms Ground or Whole Bean Coffee, 10-12 oz, $4.99 WYB (2)
-5% off Archer Farms Coffee, bags, pods & additives, Target Cartwheel eCoupon


(Buy (2), Cartwheel makes it $4.74 ea.)

10% Off Bagged Candy
Annie's Macaroni and Cheese, 5.25-6 oz, 99¢
LaCroix Sparkling Water Cans, 8 pk., $3.33
SkinnyPop Popcorn, 4.2-4.4 oz, $3
Personal Care
Buy (1) Get (1) 25% Off Select Natural Beauty and Cosmetic Products
Baby Care
Buy (1) Get (1) 25% Off All Aquaphor and Eucerin Baby Products
-$1.50 off Aquaphor Healing Ointment printable
-$1.50 off Aquaphor Baby Product printable
-$1.50 off Aquaphor Fast Relief Diaper Rash Paste, 3.5 oz printable
-$1 off Aquaphor Ointment Spray, 3.7 oz printable
All Car Seats and Strollers on Sale
10% Off Select Organic Baby Food & Formula and Premium Baby Toiletries
-$1 off Plum Organics Mashups printable
-$1/2 Plum Organics Eat Your Colors items printable
-.75/2 Ella's Kitchen pouches printable
-.75/1 Happy Baby or Happy Tot Snack printable
-.85/2 Plum Organics Baby Bowls, on same receipt at Food Lion, Harris Teeter, Kroger, Target, 3.6 oz, Ibotta App mobile coupon
-$1.15/2 Plum Organics Baby Bowls, on same receipt at Food Lion, Harris Teeter, Kroger, Target, 3.6 oz, Ibotta App mobile coupon
-$1/3 Earth's Best Organic Jars or Pouches printable
-$1/3 Earth's Best Organics jars and pouches printable
Household
10% Off All GE HD LED Light Bulbs
Dyson V6 Motorhead Cord-Free Vacuum, $249.99
Room Essentials Clear Bin, 56 qt., $4.49
Snuggle Softener, 96 oz, $5.99
-.50/1 Snuggle product, excl trial size, RMN 04/22


(Makes it $5.49)

Snuggle Scent Booster Pacs, 56 ct., $5.99
-.50/1 Snuggle product, excl trial size, RMN 04/22


(Makes it $5.49)

Buy (1) Get (1) 25% Off All Seventh Generation, Method, and Mrs. Meyer's Cleaning Products
-.75/1 Seventh Generation Premium Cleansing Hand Wash, 9.5 oz, at Target, Ibotta App mobile coupon
-.50/1 Seventh Generation dish liquid or dishwasher detergent, RP 04/08
-$1 off Seventh Generation laundry product, RP 04/08
-.50/1 Seventh Generation Hand Wash, 12 oz only, Ibotta App mobile coupon
-20% off Seventh Generation Dish Detergent, liquid, powder, packs, Target Cartwheel eCoupon
-20% off Seventh Generation Dish Soap, all varieties, Target Cartwheel eCoupon
-5% off Seventh Generation Cleaners, sprays & wipes, excl aerosol spray, Target Cartwheel eCoupon
-5% off Seventh Generation Disinfectant, aerosol spray, excl non-aerosol sprays and wipes, Target Cartwheel (EXP 4/28) eCoupon
-5% off Seventh Generation Hand Wash, all varieties, Target Cartwheel eCoupon
-5% off Seventh Generation Laundry, liquid & packs, excl 8 oz trial, Target Cartwheel (EXP 4/28) eCoupon
Pet Care
Buy (1) Get (1) 50% Off All Cat Litter
-$1.50 off Arm & Hammer cat litter printable
-$2 off Arm & Hammer Naturals Cat Litter printable
-$2 off Arm & Hammer Cat Litter printable
-$1 off Purina Tidy Cats clumping cat litter, SS 03/04 (EXP 4/28)
-$2 off Purina Tidy Cats lightweight cat litter, SS 03/04 (EXP 4/28)
-$1 off Purina Tidy Cats LightWeight Cat Litter – any size, any variety (excluding Lightweight) printable
-$1 off Cat's Pride Fresh & Light Ultimate Care Litter, 10 lb, limit 1, cannot use this offer with any other print or in-app coupon or rebate, Checkout 51 mobile coupon
-$1 off Cat's Pride Fresh & Light Ultimate Care litter, 10 lb, SavingStar (EXP 4/25) eCoupon
-.25/1 Cat Litter any brand, 5 lb+, excl litter deodorizer, or litter boxes, box liners or box accessories, Ibotta App mobile coupon
-$1 off Fresh Step Clean Paws cat litter, 18 lb+, at Costco, Kroger, Sam's Club, Target, Walmart, Ibotta App mobile coupon