This post may contain affiliate links. Read our disclosure here.
Grilled cheese is a classic recipe that I feel often gets overlooked. It can feel kind of boring, although you can always jazz it up with some fancy cheese or an addition like bacon. That said, I want to share what I think is the best grilled cheese even with some very ordinary ingredients.
The biggest secret to this grilled cheese is that you're not going to use butter. That's right, no butter! Instead, the secret ingredient to the best grilled cheese is MAYONNAISE. It may sound strange—I've told many people who have given me weird looks—but promise me that you'll try it before you knock it.
The Best Grilled Cheese
Mayonnaise is what takes grilled cheese over the top. It has the perfect amount of fat in it to brown the bread in the skillet, but it burns much less easily than butter.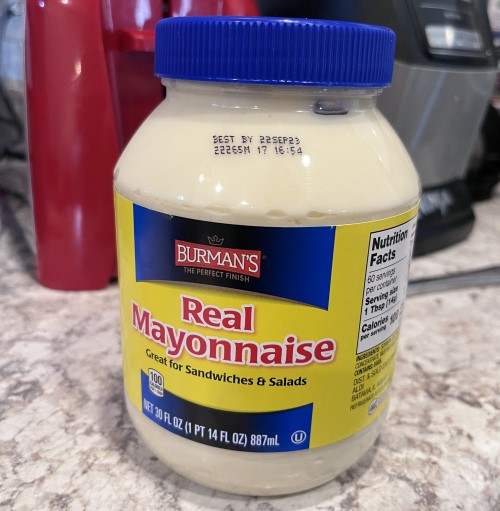 You don't even need special mayonnaise. I used the cheapest kind from Aldi!
And again, you can use fancy bread or fancy cheese—but as long as you use mayo, using the regular bread from the store works great, and I find American cheese melts the best.  A sharp cheddar is also a big favorite here!
I make my grilled cheese in a well seasoned cast iron skillet, but you can use any pan or a griddle on the stove. Let it heat up a bit on medium heat before moving on to the next step.
Spread mayo on both sides of the bread and place mayo side down in the pan over medium heat.
Then put two slices of cheese on top of one side.
After a minute, use a spatula to put the cheese-less piece of bread on top of the cheese side.
Use a spatula to flatten the sandwich a bit as the cheese melts.
Let it cook on one side until it gets the right level of brown (it's different for everyone!), then do the same on the other side.
Cut it in half and serve, watching the cheese slowly start to melt down the sides. I made this one for my youngest for lunch with a side of berries.
I promise, once you try making grilled cheese with mayonnaise instead of butter, you will also consider this the best grilled cheese!
Make this to go with slow cooker tomato soup!