This post may contain affiliate links. Read our disclosure here.
When we go on a trip, there's already a lot of inherent expenses: food, lodging, and gas. But in terms of things to do while we're there, I always love finding free or almost-free things to do so that we can enjoy family time without spending a lot of money. I've done my research and found 25 free things to do in the Gatlinburg and Pigeon Forge area, and I can see us taking our girls to any and all of these places!
If you're headed to another part of Tennessee, check out our Top 25 Free Things to Do in Nashville and 25 Free Things to Do in Chattanooga.
Top 25 Free Things to Do in Gatlinburg and Pigeon Forge
Walk along the Little Pigeon River
Get some exercise and enjoy the views as you and your family walk along the Little Pigeon River. There are lots of historic sites to see, and if anyone in your family likes to fish, you'll run into some great spots to do that as well.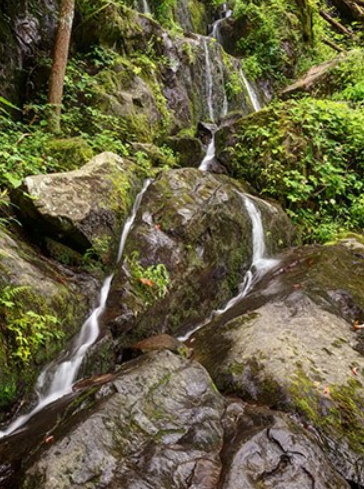 Drive along the Roaring Fork Motor Nature Trail
You can drive along this trail, but once you've seen all there is to say on the 5.5-mile loop, you can get out and enjoy a self-guided nature trail or hike to Rainbow Falls, a beautiful waterfall.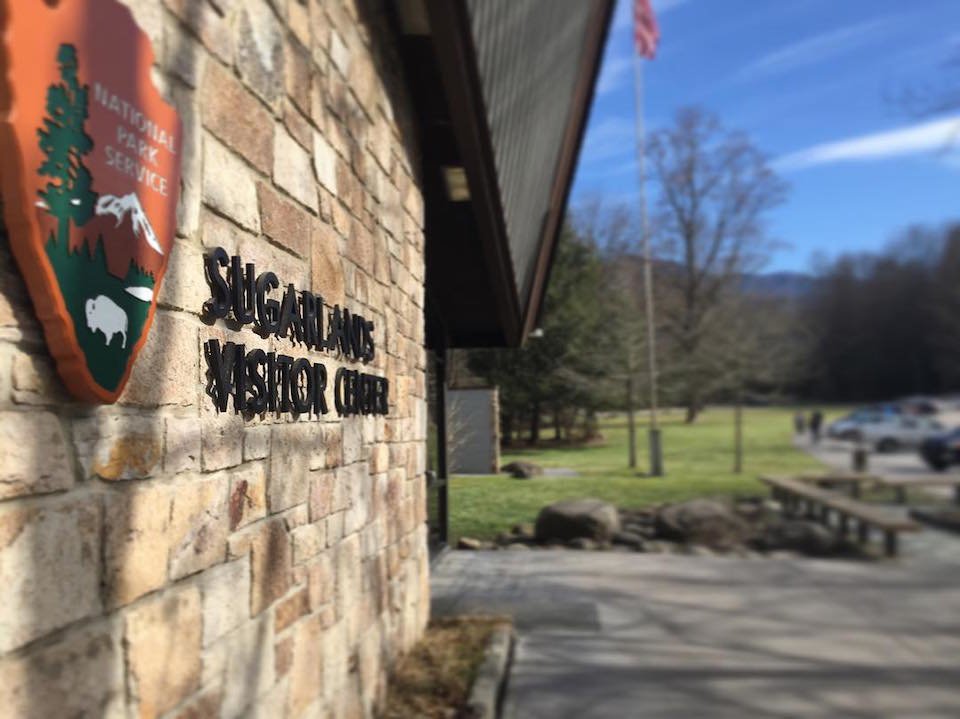 Check out the Sugarlands Visitor Center
This is a great place to begin your time in Gatlinburg. There is a museum, you can speak with rangers, and you can even watch a free movie about the Smoky Mountains.
Mynatt Park, Mills Park, Herbert Holt Park, and Patriot Park are just a few of your options in the Gatlinburg/Pigeon Forge area. There's nothing better than lots of green space for kids to run free while you have a frugal picnic lunch!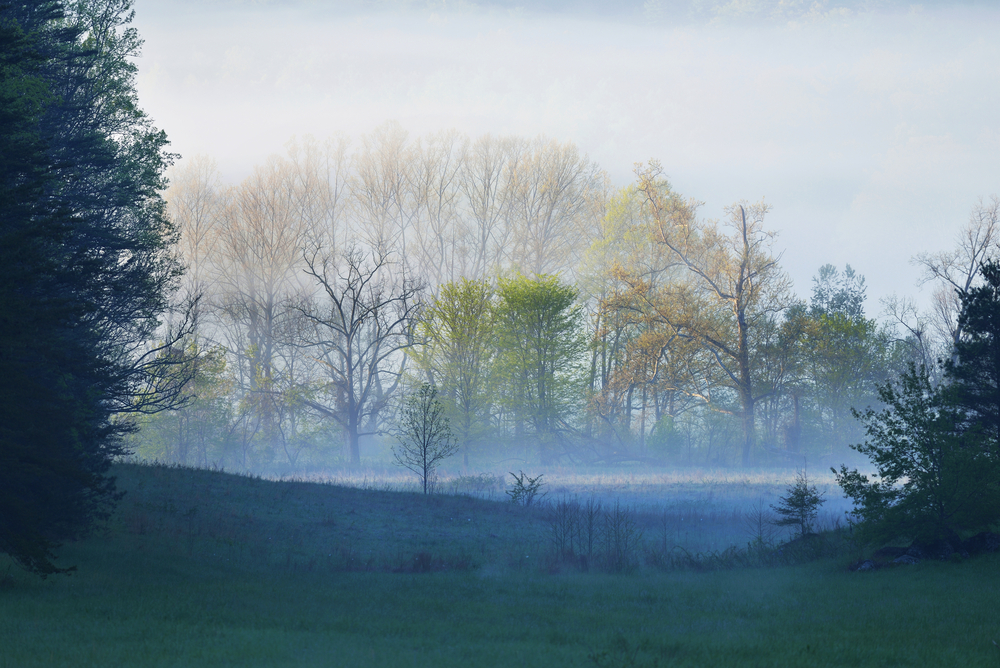 Underground caverns and black bears are just a few of the things that can be sign in and around Cades Cove! Entry is free–you just pay $5 to park.
The highest point in Tennessee, Clingman's Dome gives you a beautiful view of the surrounding mountains and valleys. 
Visit the Mountain Farm Museum and Mingus Mill
Travel back in time and discover what it would have been like to live in the mountains many years ago. There are several historic buildings, include a working blacksmith shop! They have a self-guided tour booklet so that you can take your time wandering around.
Enjoy beautiful art at the Paul Murray Gallery
Mountain life is beautifully depicted at the Paul Murray Gallery; be transported in time to a different way of life.
See a concert at Gatlinburg Smoky Mountain Tunes and Tales
If you're headed to Gatlinburg in the summer, be sure to check out one of the daily performances, usually starting around 6 p.m. In the winter, there are performances on the weekends between Thanksgiving and Christmas.
Located just a few miles from Gatlinburg in the foothills of the Smoky Mountains, Douglas Lake offers opportunities for boating, fishing, and swimming.
Taste complimentary samples at the Gatlinburg Moonshine Distillery
Many of the breweries and wineries at the Distillery offer free wine and handcrafted beer tastings.
Window Shop at the Gatlinburg Mountain Mall
It will obviously cost money to buy souvenirs, but walking around the Gatlinburg Mountain Mall is totally free. See if you can find both of the indoor water fountains!
Take in the view from the Gatlinburg Scenic Overlook
There are plenty of beautiful places to take in the sight of the Smoky Mountains, but this scenic overlook is one of the best.
Sightsee in Downtown Gatlinburg
You can spend a whole afternoon strolling around downtown Gatlinburg. You may find something worth spending money on, but you can also just people watch and take a look at the many attractions Gatlinburg has to offer.
Walk 8 miles in the Great Smoky Arts & Crafts Community
Eight miles may be longer than you want to tackle in one day, but even just one mile of walking will give you and the little people with you some great exercise, all while being entertained by the talented artists who set up shop in this area.
Explore the Arrowmont School of Arts & Crafts
The three galleries at Arrowmont are open to the public and feature revolving exhibitions of work no matter what time of year you visit.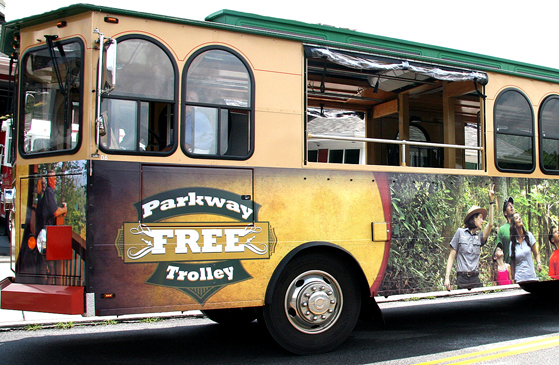 The Parkway Trolley is free in the summers from 10 am to 10 pm. Many kids will just enjoy getting to ride it, even if you don't have a particular destination in mind!
Take a drive down Newfound Gap Road
Newfound Gap Road is a 33-mile stretch that goes completely through the Great Smoky Mountains National Park. There are many places to stop and explore along the road, so you might want to devote at least a morning to this adventure.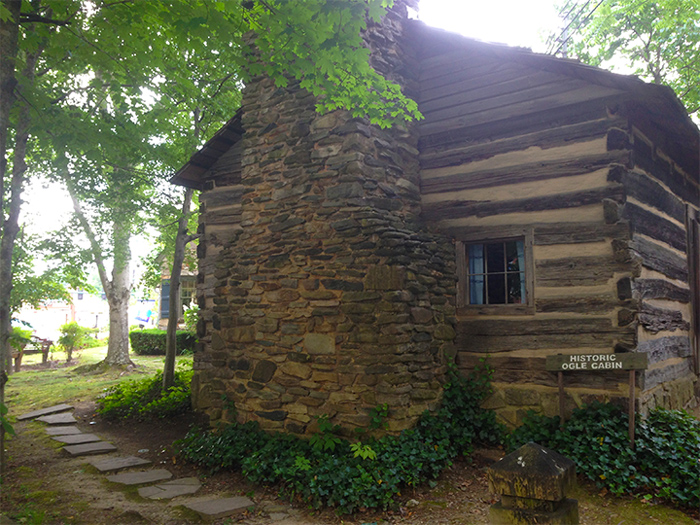 Step inside the Historic Ogle Log Cabin
Travel back in time to see what life was like for the first settlers who arrived in the Gatlinburg area. There are occasionally live demonstrators in traditional 19th century costumes who are available to give tours of the cabin.
Privately owned and located along the Roaring Fork river, Ely's Mill is a historic building that is in the process of being restored by its owners. There are often local crafts and antiques for sell as well as local honey!
Watch experienced woodworkers at The Wood Whittlers
Some of the woodworkers at The Wood Whittlers are from families where whittling has been a central activity for four or five generations. Be amazed at the skill they have working with their hands and creating beautiful pieces out of lumps of wood!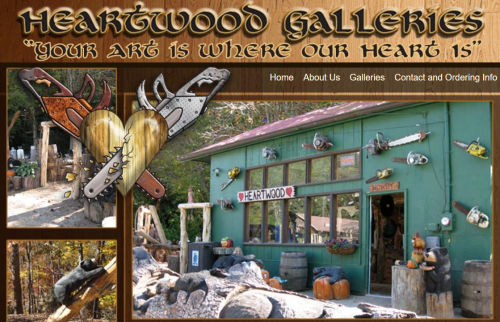 Talk to sculptors at Heartwood Galleries
Home to a "sawdust zoo," Heartowod Galleries features sculptors in the process of creating works of art. There are many life-sized carved animals and the opportunity to talk to sculptors about their work and see them in action.
Get your kids in free to Pigeon Forge Shows
Depending on the age of your kids, some of them may be able to get in free to certain shows in Pigeon Forge, including comedy shows suitable for kids and musical performances.
Take pictures at the Old Mill in Pigeon Forge
Purportedly the most photographed mill in the United States, there is also a general store where you can spend money, if you so choose. The mill is also the site of various events throughout the year, such as Historic Old Mill Heritage Day in September, so be sure to check their website as you plan your trip.
Learn some history at the Little River Railroad and Lumber Company Museum
This museum in Townsend, not far from Gatlinburg, is devoted to the history of the Little River Lumber Company and the people in the region, both immigrant farmers and Native Americans.
Have you been to Gatlinburg? Share your favorite frugal activities there in the comments!