This post may contain affiliate links. Read our disclosure here.
There are lots of debates about snacks and kids and what's best. I don't think there is one right answer (though you can check out my post on tips for kids and snacking), but I do know that for our family, I want snacks to be food I feel good about our kids eating. But I also don't have a ton of time to spend in the kitchen. These 13 sugar free snack ideas are all pretty simple. Some of them require a bit of work, but almost all can be frozen so that you can easily make a bunch and save them so you're not constantly making homemade snacks. When my kids are eating healthy snacks, I don't mind so much if they don't eat a lot at meals. I know they've already gotten lots of good stuff in their bellies!
Note also that some of these sugar free snack ideas are sweetened, but only with small amounts of dates, honey, or maple syrup.
13 Sugar Free Snack Ideas for Kids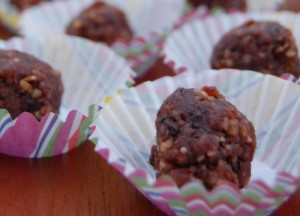 Powerballs | 100 Days of Real Food
These powerballs are sweetened with dates and taste like dessert.
Chocolate Peanut Butter Hummus | The Gracious Pantry
You can dip apples, pretzels, or celery in this yummy hummus!
Best Soft Granola Bars | Yummy Toddler Food
These granola bars have simple ingredients and are great for little ones.
Hard Boiled Eggs | Southern Savers
Use the Instant Pot to make a bunch of hard boiled eggs at once and you've got an easy snack you can keep in the fridge.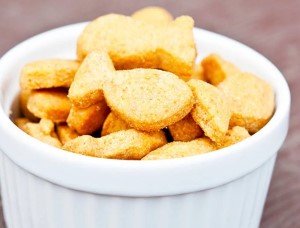 Clean Eating Goldfish Crackers | The Gracious Pantry
Instead of the bags of goldfish crackers from the store, you can make your own (in any shape depending on the cookie cutters).
Apple Muffins | Goodness T
These apple muffins are sweetened with applesauce instead of sugar.
Low Carb Pizza Bites | Sugar Free Londoner
These cheesy pizza bites are gluten free and low carb and a perfect after school snack.
Roasted Cauliflower Hummus | Wholesome Yum
Instead of making hummus with chickpeas, try making this recipe with roasted cauliflower!
Open Faced Apple Sandwiches | Southern Savers
These open faced apple sandwiches can be made in a ton of different ways (to make sure they're sugar free, watch what you put on top!).
Baked Tortilla Chips | Real Mom Nutrition
These tortilla chips are baked in the oven and can be dipped in salsa or guacamole.
Baked Cucumber Chips | Karissa's Vegan Kitchen
Instead of potato chips or crackers, these baked cucumber chips fill your need for a crunch!
Simple Roasted Chickpeas | Southern Savers
These chickpeas are great to pop in your mouth for a healthy sugar free snack.
Keto Biscuits | Sugar Free Londoner
I'm thinking about trying these biscuits for a snack or for an easy dinner side!