This post may contain affiliate links. Read our disclosure here.
We are family of 7 now, which means finding the best accommodations with the best price is important! But booking a hotel doesn't have to cost an arm and leg if you know when and where to look for the best deals. Are you planning some fun vacations or getting ready for a work trip? If so, before you finalize any hotel details, read my tips below for saving on hotels.
7 Tips for Saving on Hotels
Look for Groupon or Living Social Deals
Groupon and Living Social are both great deal sites to look for hotels. On Groupon you can search by location for hotels or you can browse through the "Getaways" they have available. Getaways often include more than just a hotel room, but they are for select cities and properties. On Living Social, you are also able to browse through what they call "Escapes," which is similar to the Getaways that Groupon offers. You may find hotels, bed & breakfast deals, whole trip packages, and more. Plus, Groupon and Living Social often run extra deals where you can use a coupon code to get an additional percentage off!
Join a Hotel Rewards Program
If you are a frequent traveler but don't participate in a hotel rewards program yet, you need to! Most rewards programs are free for basic membership and you can start earning points when you sign up. Our family travels a lot for workshops and we have been Marriott Rewards members for at least the last 10 years.  Staying loyal has earned us great perks like free breakfast (even at expensive locations), always free internet, upgrades and more.
Each program will offer different perks, but they all are designed to help you save money in the long run. You can often use the points you accrue through your membership towards flights, free night stays or upgrades, and other things.
Use a Discount Travel Program
There are a ton, and I mean a ton of travel programs! In my area, one of the local credit unions gives you access to travel benefits and hotels deals just for being a member of the credit union. For military members and their families, USAA offers hotel and other travel discounts online and over the phone.  You've also got the standard AAA and even Costco and Sam's Club are getting in on the travel discounts!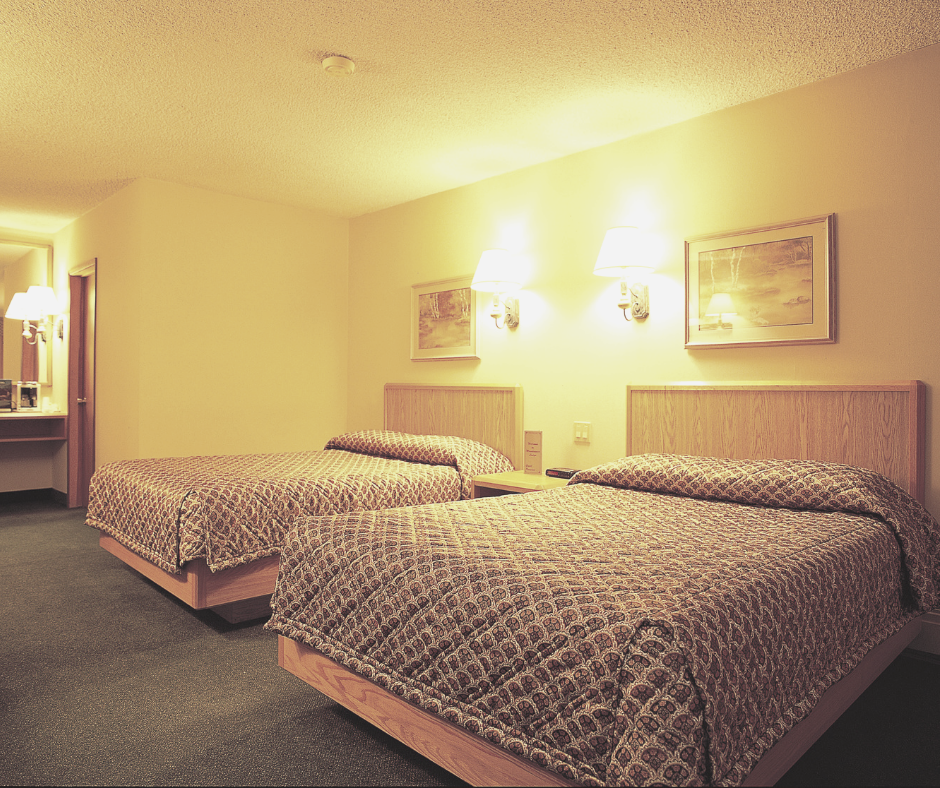 Research Rates & Compare
Frugal trip planning takes time and if you set aside time to do your research before you head out, you can save yourself a lot of money and frustration. It's easy to find the first rate that fits in the budget and yell, "We have a winner!" But I encourage you to check more than one website or travel program before making a reservation. There are numerous websites that will check rates against other sites to make sure you are getting the best deal. Trivago.com is a great example of a site that will crosscheck rates for you.
Bonus Tip: You can find the lowest price and see if the hotel chain will match it directly.  Marriott for example offers rewards members a price guarantee that they will always have the lowest price online, all it takes it chatting their online customer service rep and showing the lower price to get the price match!
Be Flexible with the Location
Location, location, location! If you are planning a trip that includes the beach, Disney World, or a large city, hotels are going to be more expensive the closer you stay to the attraction. Consider looking for hotels just a little outside of the main attraction area. For example, you can save a lot of money on your next beach vacation by staying in a hotel that is not oceanfront.
If you are heading to NYC don't look in Time Square, but look one or two subway stops away.  The price will drops by over $100 a night (not to mention you'll sleep better too).  Trendy locations aren't everything… saving a few hundred dollars on a trip is well worth a $5 Subway card!
Avoid Weekends
In vacation areas, weekend hotel rates are more expensive than weeknight rates. If you can move your trip around to avoid staying through a weekend, you will definitely be able to save more. If you have to stay on weekend night, book as much in advance as possible and call the hotel directly to see if they can offer a discounted rate. It can't hurt to ask!
Bonus Tip: If you are traveling to a large city many times this is the opposite advice and weeknights are much more expensive than weekends.  Consider moving hotels during the week away from downtown work areas to avoid the higher business traveler rates.
Split the Cost
Another way to save is by splitting a hotel room with friends or other family members. If reading that just made your eyes go wide open, maybe this isn't for you, but if you are really trying to cut cost on a hotel room, this is a great option. Most hotels will charge an additional per person fee over the allowed number of guests per room, but it will be less than getting an entirely separate room.
Note: One member of your party will need to reserve the room with a valid card, so make sure you have squared away the details and payment before reserving the room to make sure everyone is on board.
Skip the Hotel Completely
One last tip just to share all things lodging… Sometimes the biggest savings is avoiding the hotel completely and booking an apartment or other rental property.  Consider how long you are staying and the advantages of having a kitchen to prepare meals rather than eating out.  You can also really take advantage of splitting the cost if you have a larger space!  We went to Washington DC with another family and split a 4 bedroom townhouse.  Each family paid $100 a night which was almost $150 cheaper per night than the nearest hotel room!!
Do you have any tips for saving on hotels? Let us know in the comments!