This post may contain affiliate links. Read our disclosure here.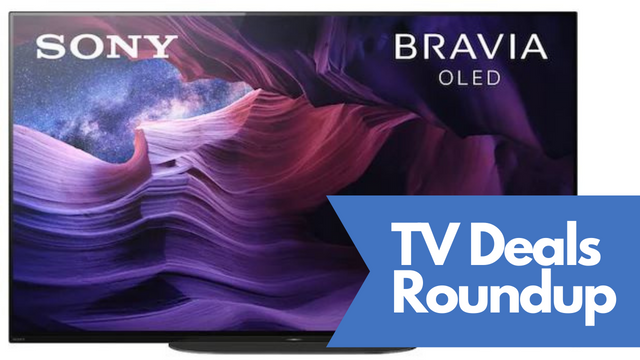 Sorting through the deals can be a bit overwhelming… if you are looking for a new TV here are the top deals running at each major store.
Since each store really only puts a few models at super low prices this is a great way to skim all the deals in one place!
Tip: Most TVs are now 4K and every TV is, or can be, a smart TV.  The big differences to watch for are in the brightness of the screens and energy use.  Here's a general breakdown to help decipher terms:
– HDR stands for High Dynamic Range and means that the TV delivers more colors, more contrast levels and higher brightness.  Dolby Vision is an even larger version of HDR.
– Hertz (Hz) is how fast the screen refreshes per second i.e. 60 HZ refreshes 60 times per second.  Going with 120 Hz can be great for gamers or for watching live sports.
 – LED LCD screens comprise most TVs today.  They use light emiting diodes to illuminate an LCD screen. QLED is also in this category with more advanced structure but still an LED system.
– OLED use a layer of organic LEDs controlled down to the pixel to bring stunning black and contrast.  This is the best in class but very costly.
Top TV Deals for Black Friday
Amazon Fire TV 50″ 4-Series 4K UHD TV – $249.99 (reg. $469.99)
TCL 55″ 4k UHD HDR Smart Roku TV – $299 (reg. $599)
only available for Target in-store pickup
VIZIO V-Series 50″ Class 4K HDR Smart TV – $269.99 (reg. $379.99)
Samsung 50″ Crystal UHD 4K Smart TV – $299.99 (reg. $349.99)
Samsung 65″ Smart 4K Crystal HDR UHD TV – $449 (reg. $649)
Amazon Fire TV 65″ Omni QLED Series 4K UHD TV, Dolby Vision IQ – $549.99 (reg. $799.99)
VIZIO 65″ Class M7 Series 4K QLED HDR Smart TV – $449 (reg. $649)
LG 48″ Class A2 Series OLED 4K UHD TV – $569.99 (reg. $1299)
TCL 75″ 4k UHD HDR Smart Roku TV – $629.99 (reg. $1299)
LG 65″ Class 83 Series QNED Mini-LED 4K UHD TV – $999.99 (reg. $1699)
Quantum Nanocell LED