This post may contain affiliate links. Read our disclosure here.
I don't know about you, but I have a preference when it comes to chocolate chip cookies—I want them to be chewy. Most cookies are chewy right when they come out of the oven, but then they become crispy once they cool. This chewy chocolate chip cookie recipe, though, is chewy the whole time, both when they come out of the oven and several days later.
They also freeze super well. I like to keep a stock of them in the freezer to take to people with meals or for pulling out for dessert if we have company (they taste good frozen, or you can let them thaw for a couple hours). Try this chewy chocolate chip cookie recipe and let me know what you think!
Chewy Chocolate Chip Cookies (Freezer Recipe!)
The recipe at the end of the post is one batch of cookies, but I actually tripled it when I made them for these post, so that's why the quantities are so large! We will have chocolate chip cookies for weeks!
These cookies use basic cookie ingredients, although the corn starch is the one ingredient most people don't associate with cookies. I don't know the exact science, but I think it's the ingredient that keeps these chewy for several days after baking!
Measure out your dry ingredients. I like to measure my flour by grams, and 1 cup is 120 grams. This is 6 cups.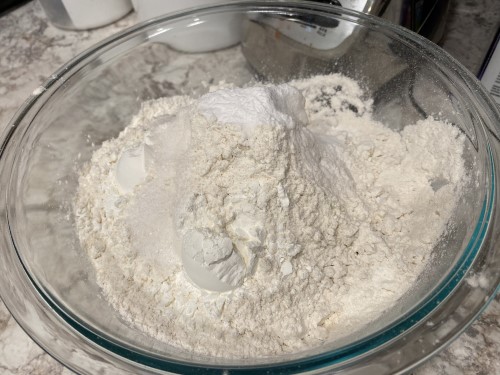 Then add the other dry ingredients: salt, baking soda, and cornstarch.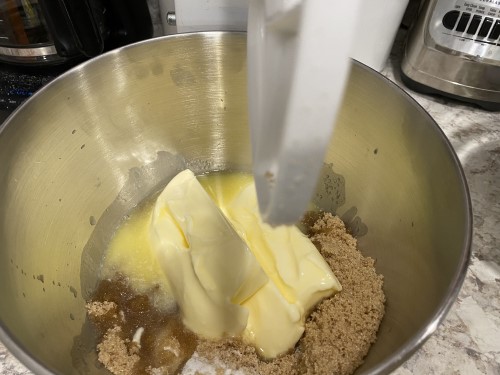 Then you'll want to cream your butter and sugars. Your butter can be all or partially melted, it's up to you and the state of your butter.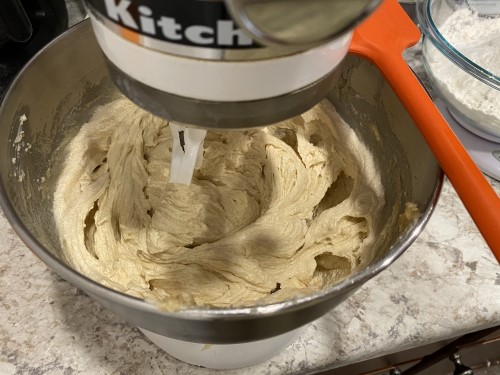 Then you'll add the eggs, vanilla, and dry ingredients.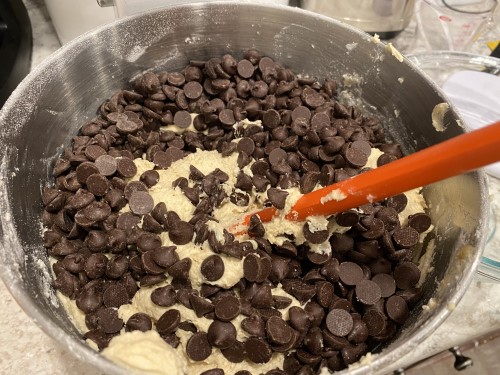 Then add the chocolate chips! I like to use either semi-sweet or dark chocolate chips. Or a combination of the two.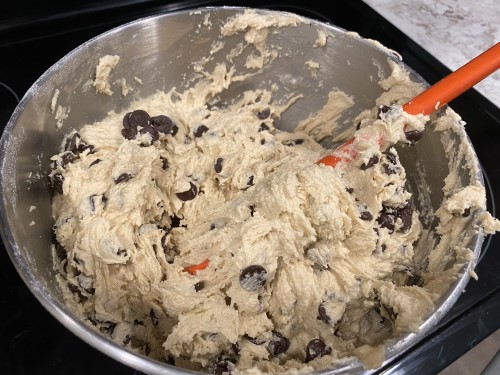 Make sure the chocolate chips are evenly distributed throughout the dough!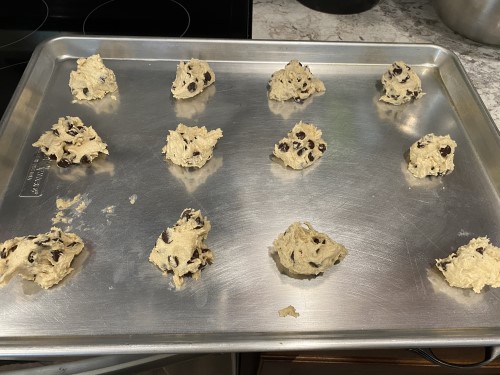 I used a 1/8 measuring cup to get a hunk of dough out and just plopped it on the baking sheet. Then you'll bake them for about 10-11 minuets at 350.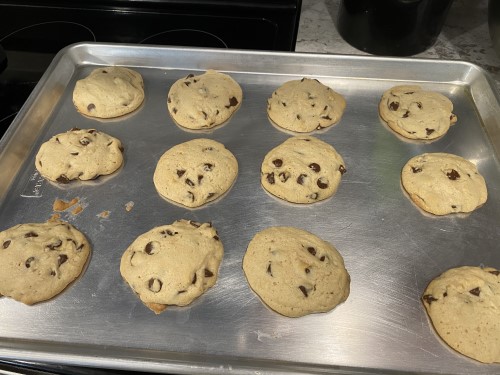 You can also make the cookies smaller; just don't bake them as long. You want to pull them out as soon as the edges start to turn a bit golden. They won't look done, but I promise, take them out!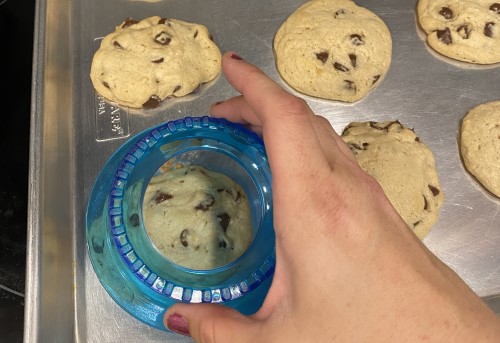 Once they're out, I love using a biscuit cutter or roundish something to shape the just baked cookie into more a circle. I don't remember where this tip came from, but it makes all the cookies look more uniform (which doesn't really matter but I like to do). Then you're going to want to let the cookies sit on the pan, on a rack, for at least 5 minutes.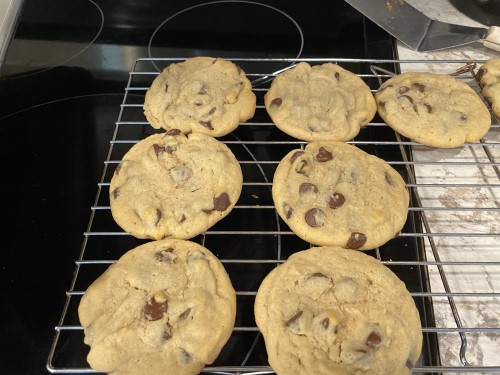 Once they have flattened a bit, you can move them to a rack.
I froze most of the ones I made, so I put them on wax paper on a clean baking pan and flash froze them for a few hours once they were completely cooled.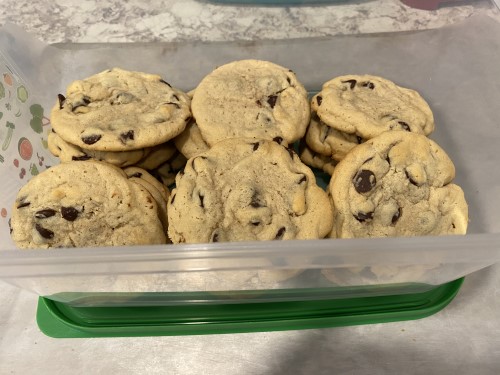 Then I transferred them to a freezer safe container to be taken out whenever we get a craving!
Chewy Chocolate Chip Cookies (Freezer Recipe!)
Ingredients
3/4 cup butter, melted
3/4 cup brown sugar
1/4 cup white sugar
1 egg
1 tsp. vanilla extract
2 cups flour
2 tsp. cornstarch
1 tsp. baking soda
1/2 tsp. salt
12 ounces semi-sweet chocolate chips (1 bag)
Directions
Preheat the oven to 350 degrees.
Cream the butter and sugars together in a stand mixer.
Add the egg and vanilla and cream them together.
In a separate bowl, measure 2 cups of flour (240g) and add cornstarch, baking soda, and salt.
Add the dry ingredients to the wet and mix to combine.
Pour in the bag of chocolate chips and mix well.
Using a medium sized cookie scoop or a 1/8 measuring cup, place balls of dough on a baking sheet.
Cook for 10-11 minutes or until edges just slightly begin to turn golden brown, then remove from oven and place pan on a cooling rack for at least 5 minutes. Allow to cool completely.
If freezing, place on a pan in the freezer and flash freeze for a few hours, then place in a container for long term storage.
Created by SouthernSavers.com
See more of my favorite cookie recipes!