This post may contain affiliate links. Read our disclosure here.
If you're feeling up to frying some chicken at home, give these honey buffalo chicken tenders a try! The effort (though not difficult) really is worth it.
Tip: Dunk these tenders into some ranch dressing for maximum flavor!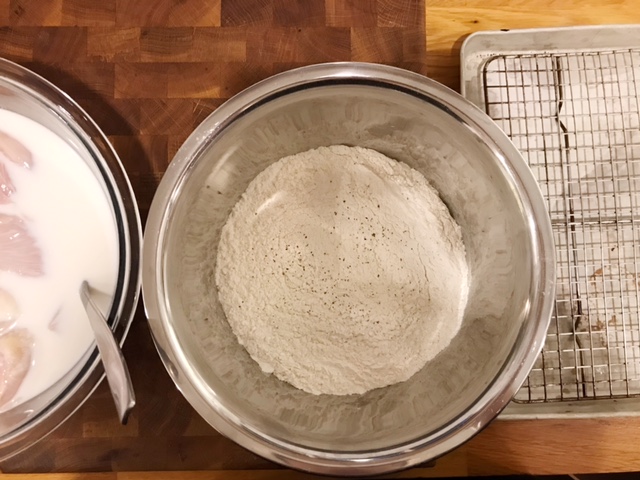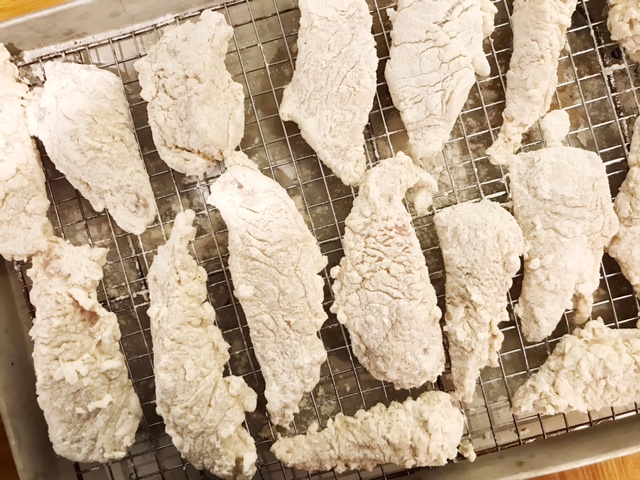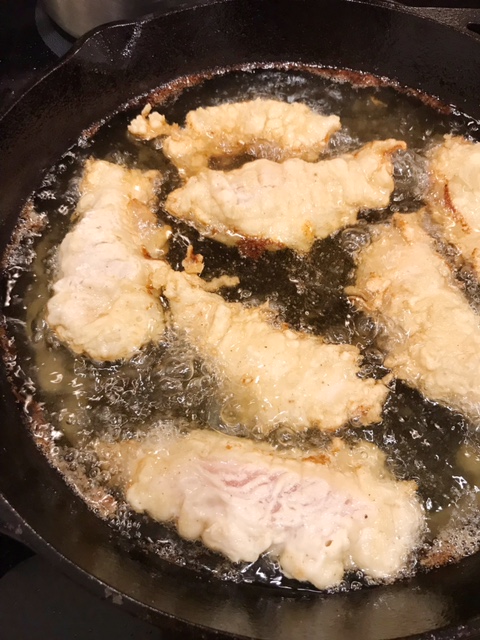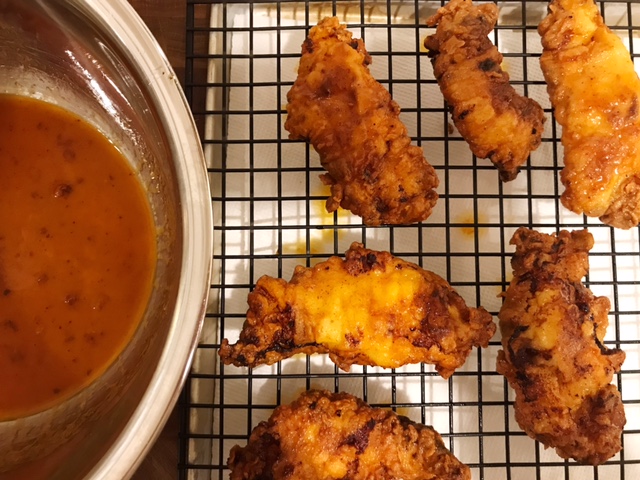 Honey Buffalo Chicken Tenders
Ingredients
2 lb chicken breasts, cut into strips (or you could purchase tenderloins)
2 cups whole milk
2 tbsp white vinegar
2 cups all purpose flour
2 tsp seasoned salt
1 tsp garlic powder
1 tsp onion powder
1 tsp black pepper
1/8 tsp cayenne pepper
vegetable oil, enough to fill 1"-1.5" inches in a cast iron skillet
1 cup hot sauce, such as Frank's or Louisiana
1 stick unsalted butter
2 tbsp honey
Directions
Place the chicken into a gallon-sized bag, along with the milk and vinegar, and allow to marinate in the fridge overnight.
In a mixing bowl, mix together the flour, seasoned salt, garlic powder, onion powder, black pepper, and cayenne pepper.
Place the chicken and milk mixture into a mixing bowl. To dredge the chicken tenders, remove a tender, toss in the flour, add it back to the milk mixture, and then toss in the flour one more time.
Lay the breaded chicken tenders on a plate or a wire rack and allow to rest for at least 20 minutes (allowing the chicken to rest will help to keep the breading on while frying).
While the chicken is resting, heat the oil in a skillet over medium heat, until about 325-350 degrees.
Test the oil by dropping a little piece of flour in; if the oil sizzles around, it's ready.
Working in batches, carefully place the chicken tenders in the oil and fry on the first side until golden brown, about 8 minutes. Flip and fry the other side until golden (the internal temperature should be 165 degrees).
Make the buffalo sauce: in a small saucepan, mix together the hot sauce, butter, and honey until heated through.
Add the buffalo sauce to a mixing bowl. Once the chicken has cooked, been removed from the skillet, and cooled slightly, toss the tenders in the buffalo sauce until well coated.
Serve hot with ranch or blue cheese dressing.
Created by SouthernSavers.com
See more recipe ideas!