This post may contain affiliate links. Read our disclosure here.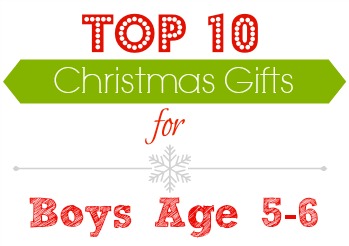 Have a 5 or 6 year old boy on your shopping list for the holidays? This is a list of some great toys that cover a lot of interests from building, interactive toys, games and more. This is the Kindgarten age where they really enjoy interactive toys, plus toys they can play and share with other kids!
 Top 10 Toys:

Ages: 4+
This new tub features a great assortment of LEGO bricks, plus it includes building plate, minifigure, windows, doors and wheels so you can build all kinds of stuff!
Hot Wheels Monster Jam Smash Up Stadium (5 Pk.)
Ages: 3+
This Hot Wheels set includes 5 trucks with cool graphics and bright colors that kids love to race around the track. Favorite hotwheels monster trucks include Grave Digger, Mohawk Warrior, Monster Mutt, Captains Curse, and Ironman!
Lincoln Logs Green Valley Lookeout Set
Age: 3+
This set lets your child create a frontier lookout with wooden logs, complete with grizzly bear! You might have played with Lincoln Logs when you were growing up and it's neat that they are as popular as ever!
Hexbug Aquabot Robotic Fish with Bowl
Age:  3+
This cool robot fish swims around its bowl, just like a real fish, when it comes in contact with water, plus can change direction and dive, too. It's see-through, so you can see inside to its mechanical parts and watch it swim all around without having to clean out a real fishbowl.
Hexbug Nano V2 Helix 180 Large Play Set
Age: 3+
Kids can create a multi-story layout and then watch the Nano V2 bug climb and twist through loops and tubes and around curves! Hexbugs are really popular right now, plus you can attach this to other sets!
Disney Planes Wing Control Dusty Crophopper Radio Control Plane
Age: 3+
This fun role-play remote control plane moves when you push the button to set its propeller spinning it forward, then use the two controllers for steering the plane. If your son is a Cars fan, he will recognize this character from the movie!
Elefun and Friends Chasin' Cheeky Ring Toss Game
Age: 3+
Cheeky the Monkey races around the room as your kids try to toss colored rings over his tail. The first kid to get all of his or her rings on Cheeky's tail has to grab the banana from Cheeky's mouth to win!
Playskool Heroes Marvel Hulk Adventures Electronic Talking Hulk
Age: 4+
This Hulk toy can say over 30 sounds and phrases! Your little superhero will be ready for any adventure with this muscly Avenger on their side.
LeapFrog LeapReader Reading and Writing System
Ages: 4-8
This is a fun way to help your child learn to read and write with confidence by teaching reading comprehension, vocabulary and listening skills in a fun and interactive way!
Age: 5+
You can't go wrong with a scooter and the kids will love riding around, plus its folds up nicely so you can take it on the go.
What is your favorite gift for this age?