This post may contain affiliate links. Read our disclosure here.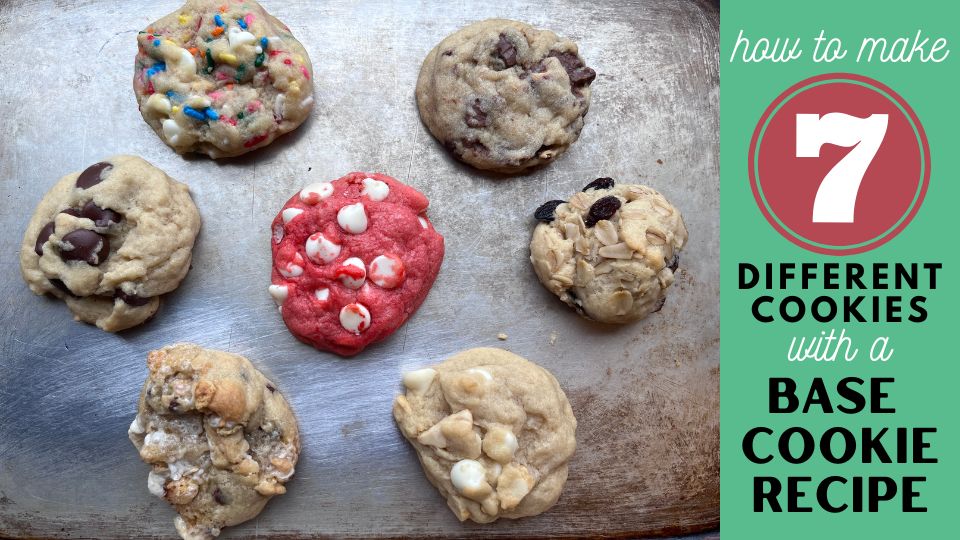 If you've been around for a little while, you may have made my favorite chocolate chip cookie. These cookies are so chewy, and they stay that way! And while I love them with chocolate chips, I decided to see how it would work to experiment. After all, there are other options than chocolate and some occasions might call for something different. With that in mind, I came up with 7 different cookies you can make with the same base cookie recipe. From birthday cake to oatmeal raisin, there's something for everyone!
While I don't know if you're interested in making all 7 at the same time, if you are, here's how I did it: I made a double batch of the base recipe (shared below). Then I divided it into 7 equal parts and added the toppings to each little batch of dough. They can all cook at the same time, so once you have the toppings mixed in, you can quickly bake them. You could even just divide one recipe of the dough in half and do two different kinds if you don't want to do seven.
Another option would be to freeze the base cookie recipe, then pull out dough and let it thaw when you're ready to add some toppings. You can also freeze these cookies once they're made — they hold up beautifully in the freezer.
How to Make 7 Different Cookies with a Base Cookie Recipe
As I said, you're going to start with my chocolate chip cookie recipe minus the chocolate chips.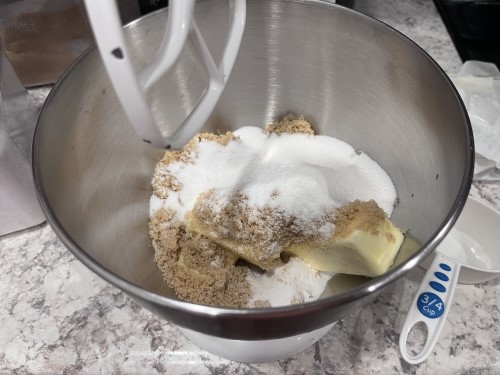 First, you'll cream together the butter and sugars.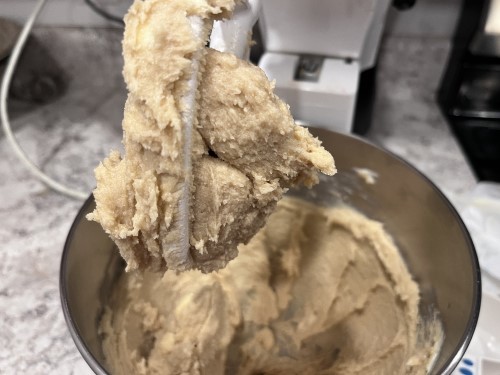 This is the perfect consistency!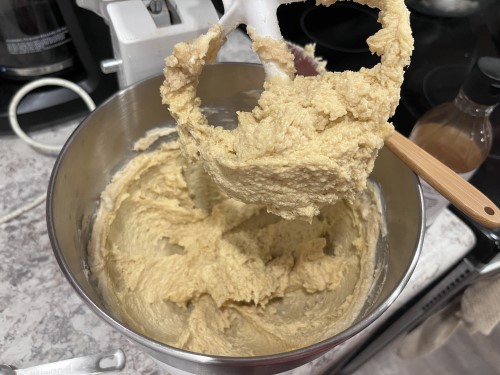 Then add the eggs and vanilla.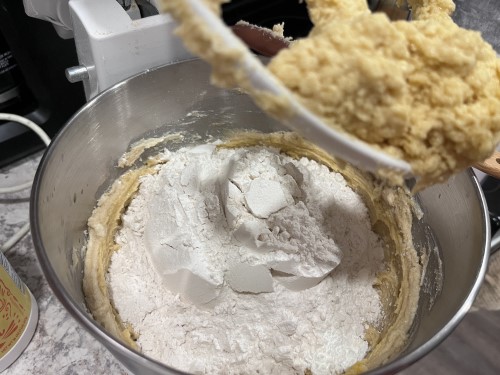 Then add your dry ingredients and mix completely.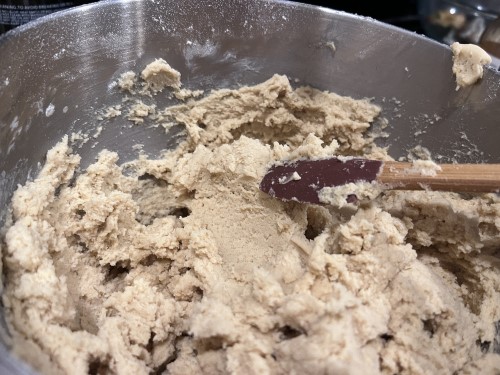 Now you have a huge bowl of cookie dough, ready for your mixins!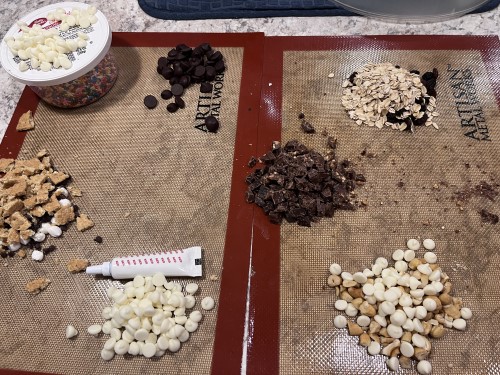 I made 7 different kinds, and laid them all out on the counter so I could make sure I had everything. The 7 kinds I made were:
Birthday cake: White chocolate chips and rainbow sprinkles
S'mores: Chopped graham crackers, mini chocolate chips, and mini marshmallows
Red velvet: White chocolate chips and red food coloring
Candy bar: Chopped up pieces of various chocolate candy bars
White chocolate macadamia nut: White chocolate chips and chopped macadamia nuts
Oatmeal raisin: Rolled oats and raising
Dark chocolate chip: Giant dark chocolate chips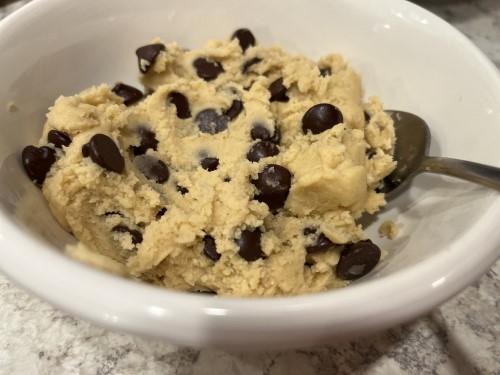 First was the classic: dark chocolate chip.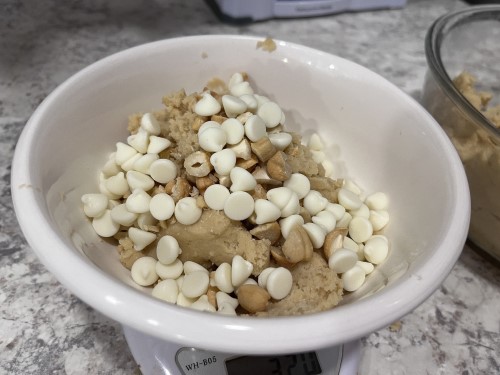 Then the white chocolate macadamia nut.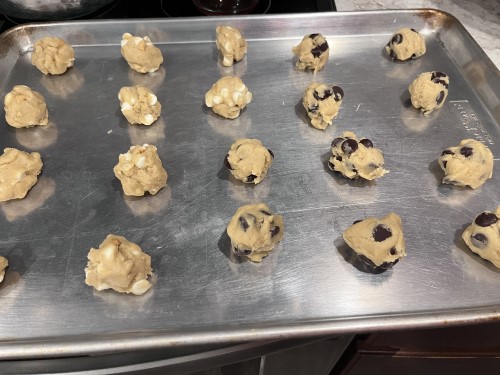 You'll bake them at 350 for about 10 minutes, and I used a tablespoon measure to get balls roughly the same size.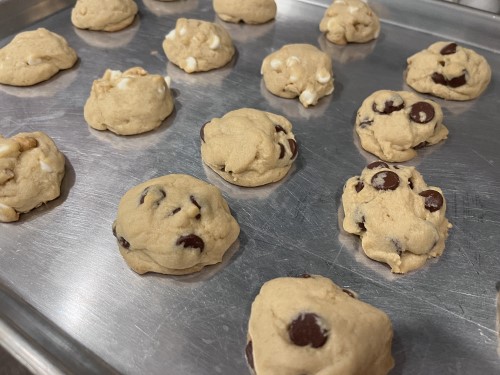 When they're done, just barely starting to turn light brown around the edges, let them cool on the pan for about 5 minutes.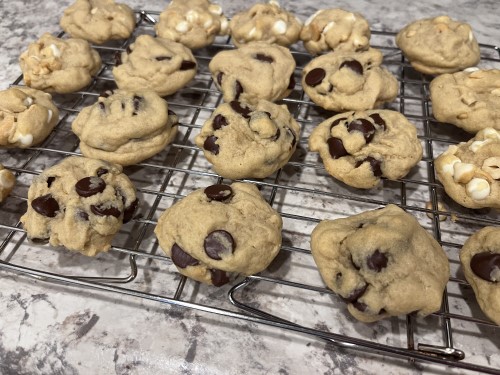 Then remove them to a baking sheet and let them finish cooling.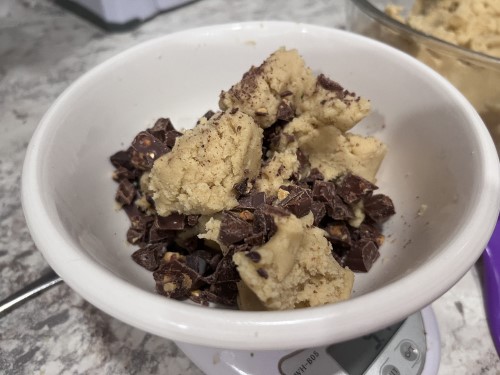 Now for the other mix-ins! We had a bunch of candy from other events, so I took a bunch of miniature candy bars and chopped them up.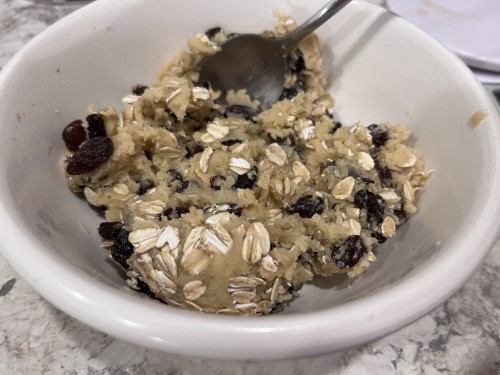 For the oatmeal raisin, I just used rolled oats and regular raisins.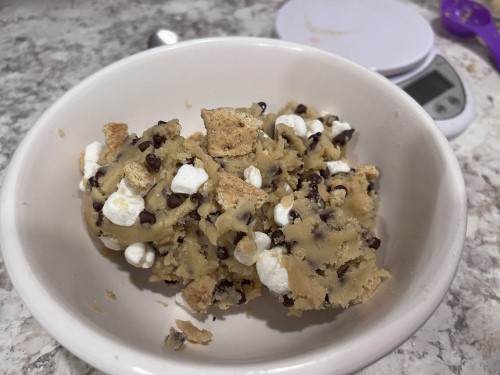 The s'mores cookies had mini marshmallows, mini chocolate chips, and chopped up graham crackers.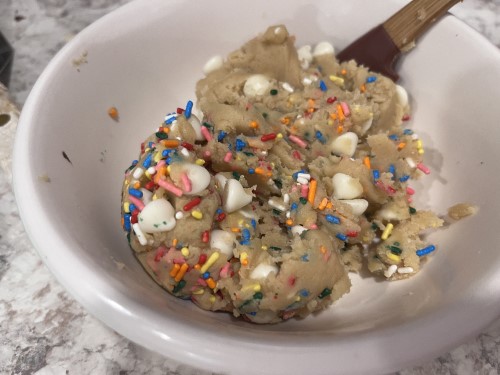 The birthday cake cookies used white chocolate chips and rainbow sprinkles.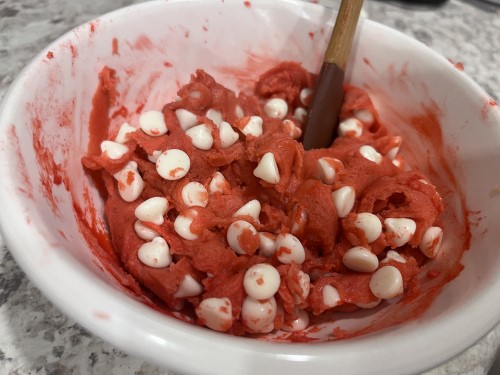 And finally, the red velvet was white chocolate chips and red food coloring. I tried using gel food coloring at first, but it was very difficult to mix in. I recommend liquid food coloring instead!
Here are all of the finished cookies! I let my family taste test them all, and their favorites were the candy bar, s'mores, and birthday cake. I'd love to know which one is your favorite!
Ingredients
3/4 cup butter, melted
3/4 cup brown sugar
1/4 cup white sugar
1 egg
1 tsp. vanilla extract
2 cups flour
2 tsp. cornstarch
1 tsp. baking soda
1/2 tsp. salt
2 cups mix-ins
Directions
Preheat the oven to 350 degrees.
Cream the butter and sugars together in a stand mixer.
Add the egg and vanilla and cream them together.
In a separate bowl, measure 2 cups of flour (240g) and add cornstarch, baking soda, and salt.
Add the dry ingredients to the wet and mix to combine.
Add 2 cups of mixins, depending on what kind of cookie you're making!
Using a medium sized cookie scoop or a 1/8 measuring cup, place balls of dough on a baking sheet.
Cook for 10-11 minutes or until edges just slightly begin to turn golden brown, then remove from oven and place pan on a cooling rack for at least 5 minutes. Allow to cool completely.
Created by SouthernSavers.com