This post may contain affiliate links. Read our disclosure here.
I hear often from readers who say they don't want to spend time looking for coupons and watching sale cycles. I understand what they're saying (even though I still think couponing is the best way to save money on groceries!), we all want the fastest solution to every problem.
For the folks that don't want to follow sales, the next cheapest place to shop is Aldi.   From their weekly special Aldi finds to low prices on pantry staples, there are lots of ways to keep a frugal grocery budget without using coupons. Here are some of the best ways to save money at Aldi.
To see how Aldi stacks up against Sam's Club, check out this post.
How to Save Money at Aldi
Use mobile apps for extra savings
Some apps, like Fetch Rewards, Receipt Hog, and Checkout51, don't require you to shop at a certain store, so you can still rack up rewards.

Check the Fresh Meat special deal 
Each week there are a few fresh meat items at a special price. These prices are usually about as low as you will find these items at any store, so it's worth grabbing these.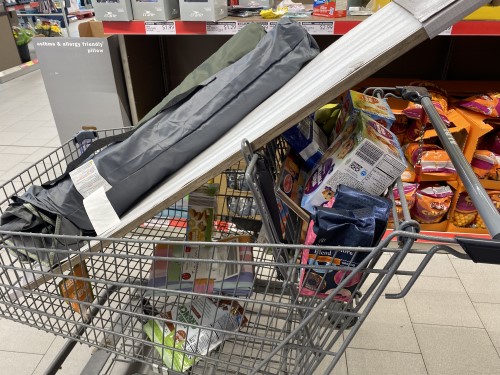 Bring your quarter for the cart
This might be the most important tip! You'll get your quarter back when you return the cart. But this is also a money saving tip because if you don't have anywhere to put your purchases, you won't be able to save all that money by shopping there!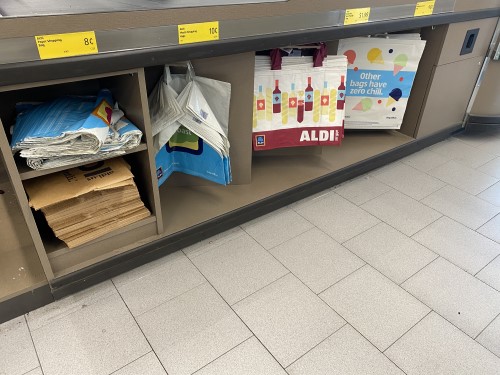 Bring reusable bags for your groceries
You bag your own groceries, and you have to pay for the Aldi bags. So bring extra plastic bags that you have laying around, keep reusable bags in your car, or just load the groceries into bins or laundry baskets in your trunk.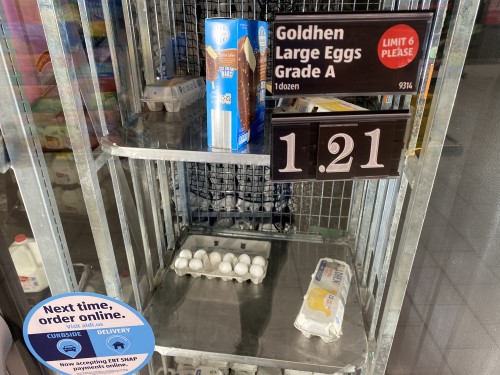 Stock up on staples
Items like milk, bread, eggs, and butter don't often go on sale at any store. Aldi knows that having the lowest prices on these key staple items is enough to make most shoppers loyal (yep, you are that easy to win over). Because of this, Aldi has some of the lowest prices around on these items!  Many times their prices on these items are lower than the current farm price, meaning they lose money here.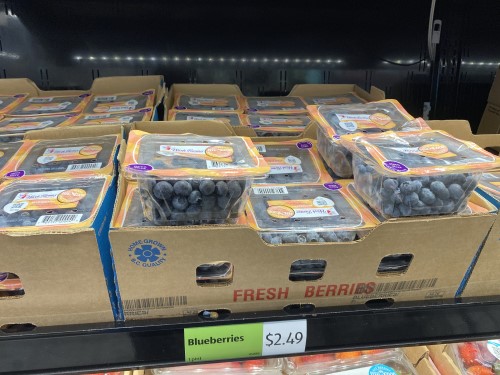 Be careful when choosing produce
If the strawberries are cheaper but they end up having mold after a day or two, you're not really saving money!  They do have low prices, just be diligent in examining packages.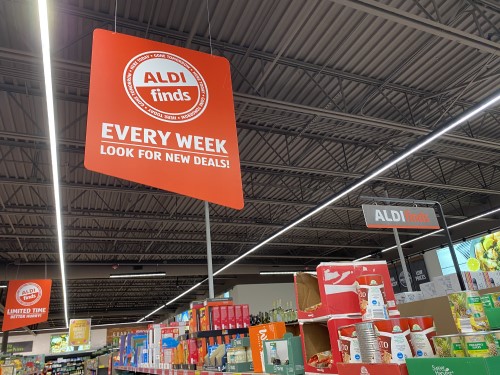 Shop the ALDI finds aisle
Each week, Aldi has special buys that only last as long as supplies last. Stores get these items on the same day each week, so ask an employee which day your local store gets deliveries. Get there early on those days if there's something you really want.
This is also known as the Aldi aisle of shame… remember in terms of staying on budget, these are all items you lived without until this week.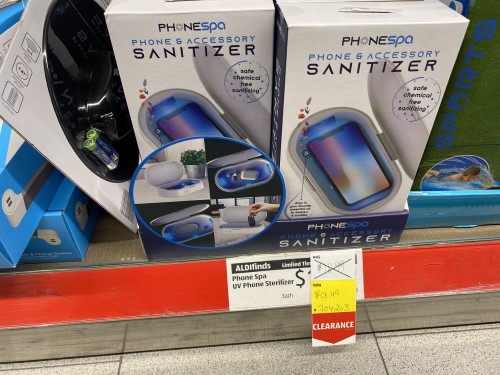 Check for clearance items
You can't use coupons at Aldi, but they will put their own items on clearance. There isn't necessarily a special section, but the tags will look different.
You're saving time by spending less time in the store
Another way to save money at Aldi is more passive—the stores are small, and you won't spend as much time in them at other stores, so you're saving time! In this day and age, time is money.
Stay Away from National Brands
Aldi does sell some name brand items. They will be more expensive than the store brand, and in general are always more than we can find the same item in traditional stores.  Definitely compared to sale prices in those stores.
For an example, one box of Kleenex at $1.48 at Aldi compared to (3) boxes on sale at Walgreens for $2.25!
Get special seasonal items
Aldi has seasonal items throughout the year that you'll be hard-pressed to find anywhere else other than online or a gourmet food store. For example, they usually have pasta in Christmas shapes that are almost as cheap as their regular pasta. They also have gingerbread houses, a special German week with unique German foods, Valentine's Day treats, and more.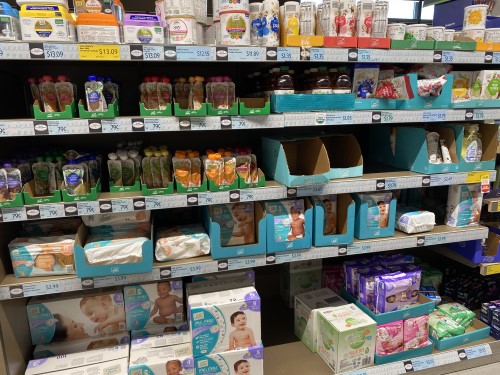 Try their baby items
Aldi has great prices on baby food, formula, diapers, and wipes. Even if you're used to buying these items name brand, give them a try and see how you like them, because it will save you a ton of money!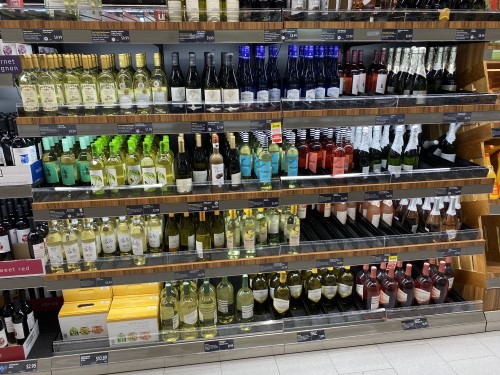 Buy wine/alcohol
Aldi has a huge range of beer, wine, and other alcohol. The quality is great and the prices are low!  You'll find bottles of wine as low as $2.99.
Compare unit prices with other stores
As I have also said about big box stores, be sure to compare unit prices between Aldi and other stores. Sometimes the packaging can fool you.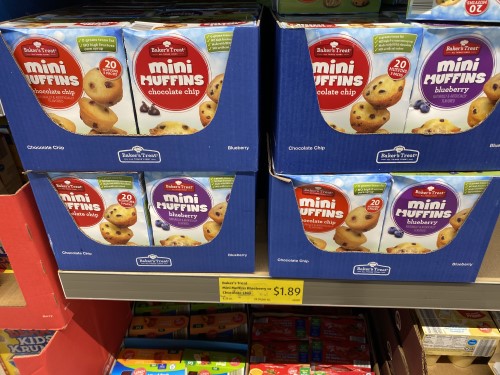 Don't be afraid to try their store brand food items
If you try an Aldi brand food product and don't like it, you can return it for a replacement and a full refund with their Twice as Nice guarantee.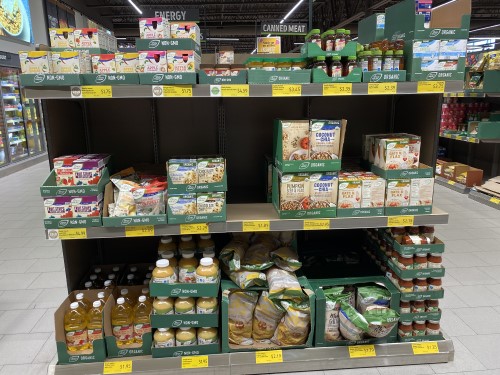 Find great prices on organic / specialty items
Aldi has their own line of organic foods called Simply Nature. They are significantly cheaper than even organic store brand items from other stores!
Plants!
You never know when they'll be there, but Aldi often sells plants of different kinds, from succulents to bulbs to houseplants. They are usually very good quality and you'll find stuff you don't see at other places!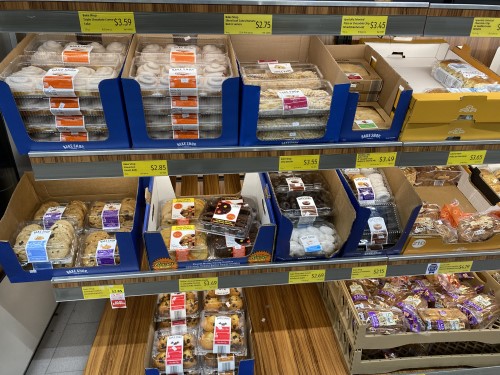 Enjoy their bakery items
While they don't have an in-store bakery, Aldi offers many items like what you'd find in the bakery section of a larger store. The prices are low, and they often mark them down as they near their expiration date. You can freeze these items and
Try their gluten free options

If someone in your house doesn't eat gluten, then you know how complicated and expensive gluten-free items can be. Aldi produces their own gluten-free line, and while I haven't tried everything, so far everything has been delicious!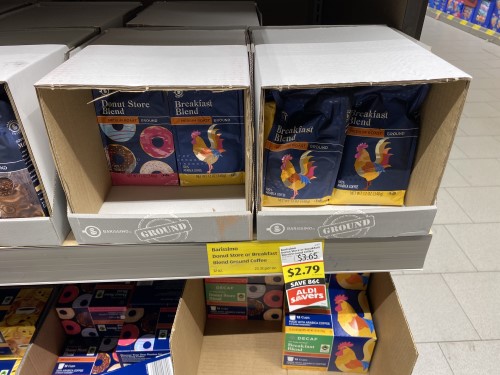 Get caffeinated

Aldi has their own store brand of coffee, and it is so much cheaper than anything at the store. We like it just fine!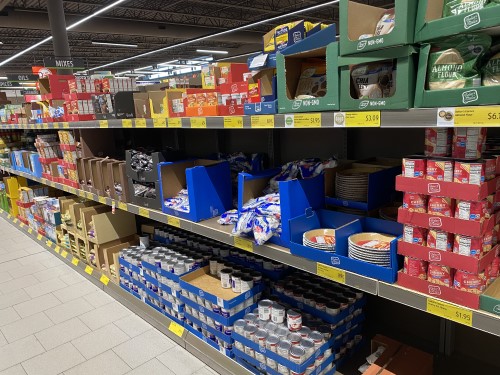 Stock up on baking supplies
If you like to bake, Aldi's regular prices on baking supplies like flour, sugar, baking soda, etc. are some of the lowest around. These kinds of products don't often go on sale at other stores, so stock up at Aldi if you're about to start baking!
Get charcuterie items

There is at least one Facebook group devoted to making charcuterie boards from Aldi products. This is because compared to other grocery stores, Aldi has incredibly low prices on fancy cheeses and cured meats.