This post may contain affiliate links. Read our disclosure here.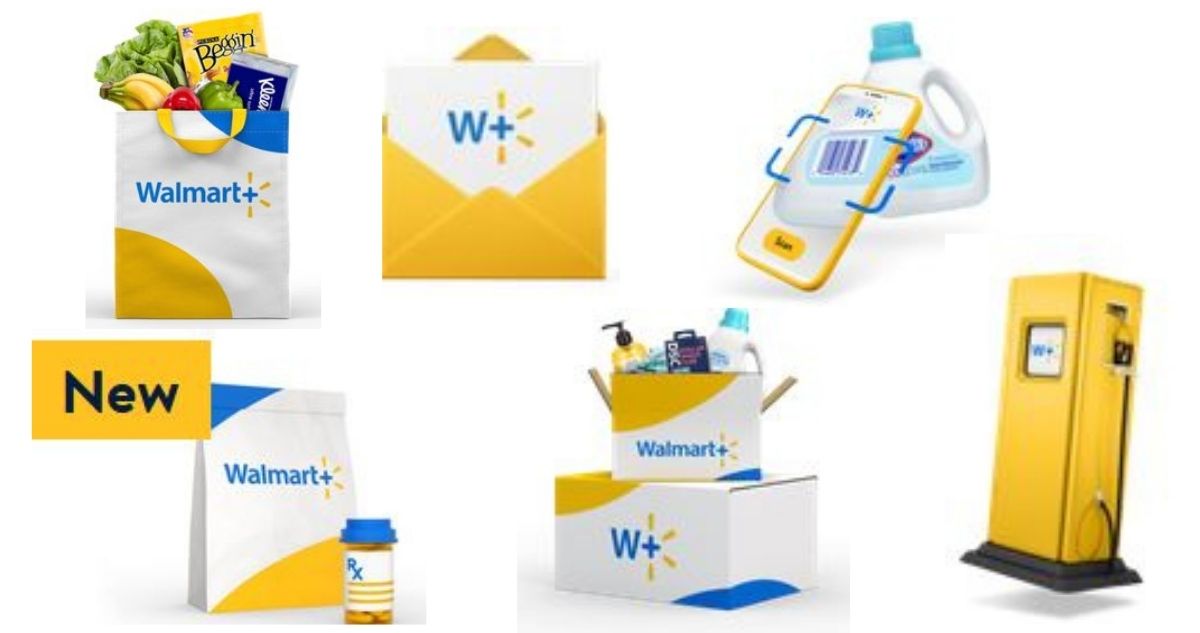 On a recent Monday night Q&A I had a lot of questions about Amazon Prime vs. Walmart+ and which was the better offer.  Both are a year membership with a lot of "perks" for members, but honestly Walmart+ is the clear winner when comparing price and value.
Walmart+ Cost
A year of Walmart+ is $98 if paid annually or you can pay $12.95 a month.  For the best value you want pay annually, paying monthly would cost $155 a year.
Tip: If you want a membership you could always ask for one a gift.  They offer gift memberships.
To compare this with Amazon, the annual cost of Prime is $139 or $14.99 a month.
Walmart+ Membership Perks
Free 2-day Shipping
This is the reason many of us originally got Amazon prime.  For Amazon this is no longer a perk of membership though.  With Walmart+ you'll get free 2-day shipping on most items with no order minimum.  There are also lots of items that qualify for free next-day shipping.
Free Grocery Delivery
Thanks to the large amount of local stores, Walmart+ also offers members free grocery delivery from your local store on orders of $35 or more.  You'll also pay the same price as the local store (no Instacart/Shipt markup).  
Note: That it is nice to still tip your delivery person, so this does have a small added cost.  If you plan to use delivery often then go ahead and pay for Walmart+ In Home for $40 a year.  You won't tip on any orders, they bring your groceries inside and can even put them away!!

Mobile Scan and Go
Use your phone to scan items as you shop in Walmart & check out contact-free.  This is awesome not only for skipping the line, but also avoids having to unload and reload your buggy at self checkout.  This feature is only available for Walmart+ members.
Another perk of Scan & Go is staying on budget.  You'll see a running total of what you are spending and can make wiser decisions if money is tight!
Earn Walmart Rewards
A brand new addition for Walmart+ members only is Walmart Rewards.  You'll find hundreds of offers that give $1-$5 back in rewards for buying participating items.  You earn rewards in-store and online and all earnings can be used on a future purchase.
Note: Rewards from online orders are awarded after the item has been delivered.
Free Paramount+ Streaming
The newest addition to Walmart+ is enjoying a FREE Paramount+ Streaming account.  You get access to all of their content, over 40,000 shows and movies.  This is equal to $4.99 a month (or $59 a year) if you paid for Paramount+ on our own.
Fuel Savings
Members get up to 10¢ off a gallon of gas a 14,000+ participating stations nationwide.  Save at Exxon, Mobil, Walmart and Murphy stations.  To access the savings you'll use the Walmart mobile app at the pump.
Tip: Walmart+ members can also get gas at any Sams Club station even if they don't have a Sam's membership!
6 Months Free Spotify Premium
A limited-time offer currently available, all Walmart+ members get 6 free months of Spotify Premium.  Listen to all music ad-free and even download songs to listen offline.
($59 value)
Early Access to Deals
In trying to keep up with Amazon, Walmart added in +Days to give sales just to Walmart+ members.  They take the early access perk a step farther though with 7 hours early access to all Black Friday and holiday sales before the rest of America can start to shop the deals!!
Free Returns from Home
Walmart+ now made it even easier for you to return unwanted items. No printing, repackaging or waiting in line at the store. Walmart+ will send an associate out to your home to pick up your return free of charge!
Final Thoughts on Walmart+:
We've been members of Walmart+ for almost 2 years now.  When I need items they come much faster from Walmart than from Amazon, so we've started ordering more and more from Walmart.  Most orders arrive in 2-days (Amazon takes a week on any order for us).
The extra gas savings is a huge perk, so make sure you use the Walmart app!  You'll get a code from the app to use at the pump to activate your extra savings.
Adding up the gas savings, with free shipping and streaming we by far have saved the $99 a year.  I don't use delivery as we live too far from a local store, but the new rewards program is coming in handy on any pickup orders!!
With the cost of Amazon Prime continually going up, Walmart+ is a great alternative.
See more online shopping.