This post may contain affiliate links. Read our disclosure here.
I know we are all up for earning a little side money from time to time.  Recently I came across an app called Mobee, it immediately grabbed my attention.  Looking at the concept it is Mystery Shopping joined in with a rewards app.   I downloaded the app (Android | Apple) spent a few weeks playing with it.  $10 in rewards later… here's my Mobee app review so you can decide if you're interested in trying it out! 
Enter code Q272 when you first sign up in the app for an extra bonus.
Mobee App Review
I'm sure your first question is, "What is Mobee?" It's an app that allows you to do "missions" at various stores near where you live. If you live in a more rural area, I'm not sure what kind of options you might have. But if you live near a bigger city or at least travel to a larger city from time to time, there are probably missions that you can find.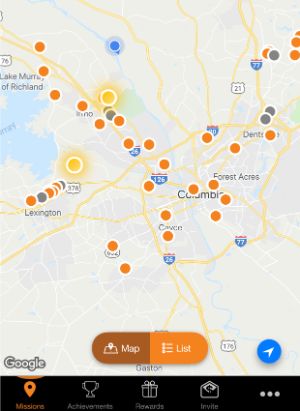 Here's everything showing in my area!
The missions involve going to the selected store and completing certain tasks. I've done two missions so far, both at Kroger, and both missions involved looking for certain kinds of displays in the store. I'm assuming that large corporations are using Mobee to do research on stores that carry their items, as one mission in particular kept asking about Hershey's products.
When you complete a mission, you'll earn "Honey points." These points can then be redeemed for rewards—my favorite is the $5 Amazon gift card. You can also earn points for completing achievements within the app and for filling out short surveys.
Missions are only available for a certain amount of time, and I've been unable to figure out the schedule, although it seems like new missions often become available on the first of the month and maybe only last until a certain number of people complete them. You can see upcoming missions that aren't available yet, but it doesn't tell you how long the missions will be available. So it's best to take advantage of them when you see them!
Once you're signed up and let the app determine your location, the first screen you'll see is a map of your current location and small dots around you indicating missions. Orange dots show available missions; gray dots show upcoming missions. You can also choose to sort the missions by a list instead of looking at the map. When you do that, you can sort the missions in two ways: closest and most points. Both options will show you how many miles away the stores are from your location.
If you find a mission you are interested in, you can click on it to see more details.
If you select a mission that's gray, then this screen will show you when the mission will be available. Some stores may have multiple missions; for example, a Publix near me had one active mission and one upcoming mission.
If you select "View Mission," then you'll see even more information about what the mission will require. I decided to go ahead and try this Kroger mission because I needed to get some items there anyway, and I knew that 500 points would earn me a $5 Amazon gift card!
The app instructions make it clear that you are not to take pictures that include employees. This means taking pictures can be tricky sometimes, as you may not want to ask people to get out of the way.
You'll notice that it says you have to start the mission before entering the store. However, you do have to be in close proximity to the store in order to be allowed to start it. I waited until I was in the parking lot to start this mission.
Once I selected "Start Mission," I saw this screen:
This gave me an idea of what I was going to be asked to do and also showed lots of pictures of the places where I would need to take pictures. The app is wonderful at giving very clear instructions and often giving pictures of what you're looking for.
The questions asked by the app are a combination of multiple choice, typing in numbers, and taking pictures of various things.
The questions are really clear, and you can always go back if you realize you made a mistake. When you're all done, the app will give you a chance to review every single answer.
Then I selected "Finish Mission" and I was all done!
This mission required me to walk around the entire perimeter of the store, and for the front and back of the store, I had to walk back and forth several times because there were multiple questions about displays, and the way our store is laid out, I couldn't always remember how many of each kind of display I had seen. This meant that it was tough to try to do grocery shopping and do a mission at the same time. I ended up abandoning my grocery list while I did the mission, and then just finished my shopping after I was done. And thankfully, on this trip I didn't have any kids with me. Older kids might be able to help with the mission, but younger kids might be a little distracting.
As you could see at the beginning, this mission was worth 500 points. I already had 375 points from one previous mission (175 points) and two achievements (100 points). It took several days for it to be approved, but then when it was, I had those 500 points plus another 200 points for another achievement, adding up to 1,075 points.
With these two missions, I was able to earn enough points to get $10 in Amazon gift cards! I went ahead and redeemed the points and immediately had the gift card codes in my e-mail (for perspective, this was much faster than the last time I redeemed two Swagbucks gift cards, which took several days to actually arrive in my e-mail). 
Overall, I am definitely planning to do more Mobee missions. I don't think it would be worth it to go to a store just for the mission unless it was super close to your house. Better to do it in tandem with a planned trip to the same store. If you can find missions that are worth at least 500 points, then each trip to the store will earn you a $5 Amazon gift card, which isn't bad!
You're not going to make a full income with an app like this, but it could earn you some extra pocket money with very little work.
Have you tried Mobee? Let me know in the comments!
Looking for another way to earn money while shopping? Check out our list of the top receipt scanning apps!