This post may contain affiliate links. Read our disclosure here.
Looking for a fun getaway this Summer, but don't want to break the bank? Whether you enjoy history, have a Girl Scout in the family, or just enjoy seeing beautiful new places, Savannah, Georgia, has something for everyone.
It is filled with history, design and architecture, with many gardens, beautiful old building bursting with character and charm, and it's located near the beach, too!  I lived here for a year before I was married and may be a bit biased but this is truly an amazing city.
You might be seeing dollar signs while I describe this wonderful city, but it doesn't have to cost a fortune to get a great feel for it. Here are 25 free things to do in Savannah!
25 Free Things To Do in Savannah
This is a large city park located in the historic district of Savannah. You can't miss the large fountain in the center or the Confederate War Monument. This is great for a picnic, running, or relaxing.
This is Savannah's most popular cemetery with part natural cathedral, part sculptural garden. A neat site to walk through and learn some history.  They even offer free guided tours! Locals will also tell you to bring a picnic lunch and enjoy the banks of the Wilmington River running along the cemetery.
Running alongside the Savannah River in the Waterfront district a lively area perfect for afternoon strolls, antique shop and galleries to browse.  You'll also find events planned regularly with live music, art shows, and more.  Parking can make this not free, so leave a little early and practice parallel parking so you don't have to pay for a garage spot.
The main structure, together with outlying works including drawbridges, ditches, and dikes, shows example of historic military architecture, plus indoor exhibits highlight the history of Fort Pulaski. Ages 15 and under is FREE and adults are FREE on National Holidays as well.
Tybee Island, a quirky beach town on the Atlantic Ocean about 20 minutes from downtown Savannah, is the perfect place for a laid back day at the beach.
The 22 squares of Savannah, most named in honor of famous locals, are the heart of the city. These communal mini-parks are scattered through the historic downtown and are great for sight seeing and picnics!
It towers over Lafayette Square in the Historic District and is the oldest Roman Catholic church in Georgia. It has beautiful architecture and is open to the public for viewing during the week.
This is the biggest library in the Savannah area and great for cooling off if you visit in the summer. Curl up with a good book and enjoy the beauty of this historic building.
Walking tours are available with the city's oldest cemetery. A signer of the Declaration of Independence and many other well-known people are buried here.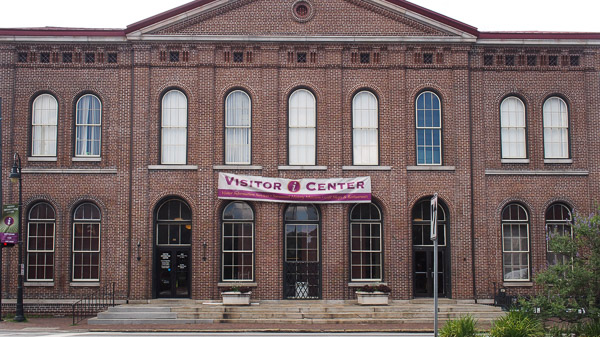 This center not only has a lighthouse a part of it, but also provides information and coupons as well. It also has exhibits to get you acquainted with the town's history. This might be a good stop to start at.
City square with many monuments and historical markers. Many say it's one of the most beautiful squares in Savannah, it provides plenty of room for a picnic, throwing a frisbee or taking pictures.
It costs $5 to park, but this park is otherwise free. There are hiking trails, places to bird watch, and geocaching spots!
These gardens feature native plants and are free for the public to walk around and enjoy the beautiful landscapes and designs!
Savannah College of Art & Design
Walk around the beautiful SCAD Campus or visit the art museum for a small fee. They also have FREE exhibits, shows, bus tours, and more.
Stop by this headquarters with your Girl Scout and enjoy different activities for the kids. There is everything from earning badges to geocaching in Savannah.  Note that there is a charge if you want to make an advanced reservation for an entire troop.
Grab some local produce and see other goodies from local vendors. Each Saturday the Forsyth Farmers' Market opens from 9 a.m.–1 p.m., rain or shine, at the South End of Forsyth Park in Historic Downtown Savannah.
Ferry rides are FREE and they offer a great view of the historic district, Hutchinson Island, and Talmadge Bridge. While the trip is only two-minutes long each way, it's a fun experience to be on the water and see all the sites.
Many historic attractions are located at this city square, which is named for the Battle of Chippewa in the War of 1812. It also features where Forrest Gump's bench was placed for the movie if you're a fan.
Ellis Square features huge water spouts and at night it lights up in various colors making the splashing even more fun. City Market is in this are as well with quaint shops, galleries, and more.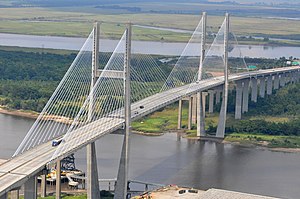 Walk or drive on the bridge on the bridge and get a good view of the city, especially during sunset. It connects South Carolina and Georgia and has scenic views of the Savannah river.
This nine-block pedestrian plaza is located on the former grounds of the city's cotton exchange. There are lots of shop, restaurants, galleries, and a great place to stroll amidst wonderful views.
Tricentennial Park is a great family destination with a collection of 3 unique museums: Savannah History Museum, Georgia State Railroad Museum, and Savannah Children's Museum as well as a Revolutionary War battlefield and memorial. Walk around the battlefield yourself for free or $7 admission to tour the museums.
McQueens Island Historic Trail
Six-mile trail is situated on the old abandoned Savannah/Tybee Railroad bed. Now converted, this bike trail has scenic views by the water.
This is a great option for checking out local architecture. There are also some great monuments worth viewing.
This is also in downtown but has become a bustling scene at night.  With small shops and eateries you can spend the night window shopping and hearing great live music.  There are over 50 art galleries in City Market that are also free to look through.
See more lists of 25 free things to do in various cities!