This post may contain affiliate links. Read our disclosure here.
This post is sponsored by Dove Men+Care. All opinions are my own.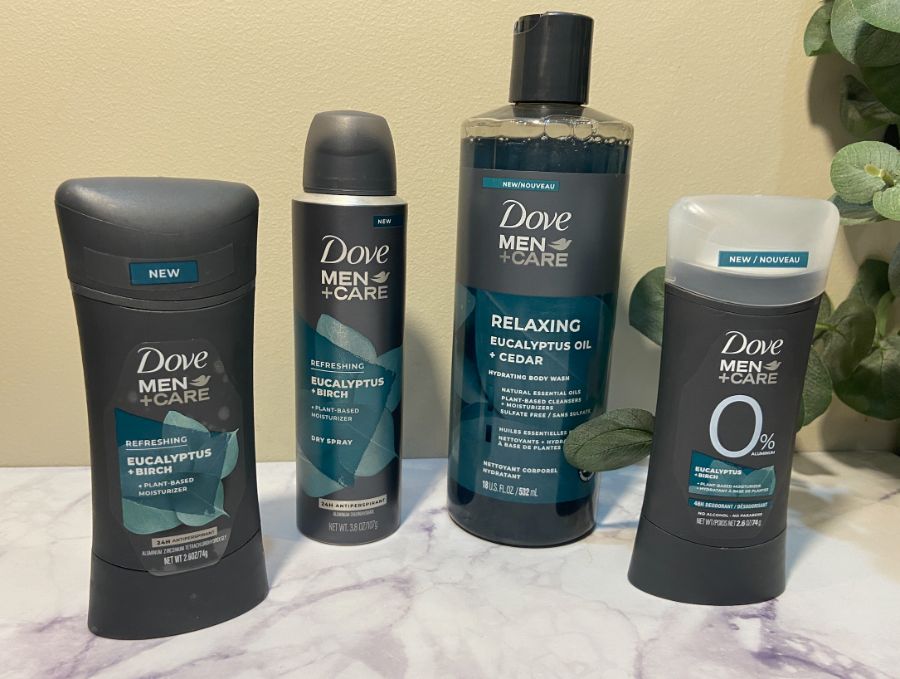 There isn't much better than a great smelling guy (okay maybe a clean baby but that's a different Dove post). If your guy is looking for all-day freshness that can keep up with him then check out the Dove Men+Care Eucalyptus scented collection! This new line includes products formulated with plant-based cleansers, moisturizers, and essential oils. They will have him feeling fresher, cleaner and  ready for a full day of work and play.
You can find the new Dove Men+Care collection on sale thru 6/15 at H-E-B. When you purchase $15 worth of Dove, Axe or Suave products you'll get $5 off. Plus find digital and yellow coupons to use!  You can get the deal in-store or even with a.
Check out all the new products to try:
Dove Men+Care Relaxing Eucalyptus Oil + Cedar Body Wash – hydrates skin while helping you have a relaxing and refreshing shower. Made with essential oils and plant-based cleansers. It is also sulfate free and paraben free.
Dove Men+Care Eucalyptus + Birch Revitalizing Shampoo + Conditioner – thoroughly cleans and revitalizes for healthy-looking hair. It delivers notes of Eucalyptus and Pine & Birch scents.
Dove Men+Care Eucalyptus + Birch Antiperspirant Dry Spray – For men looking for a dry spray deodorant it is made with a plant-based  moisturizer and provided 48-hour odor protection.   
Dove Men+Care Eucalyptus + Birch Antiperspirant Deodorant – A great solid deodorant and antiperspirant that glides on smoothly. Made with a plant-based moisturizer to provide comfort along with  tough sweat protection and odor protection up to 48 hours.
Dove Men+Care Eucalyptus + Birch Deodorant Stick –2.6 oz. – This is a great choice for men looking to go aluminum free! Specially designed for men wanting a deodorant that gives solid odor protection. This 0% deodorant provides 48-hour odor protection and long-lasting freshness with Eucalyptus and Birch scents.
Get the items they need with smells you'll both love! Help him feel refreshed and confident all day with Eucalyptus + Birch scents and plant-based cleansers and moisturizers that leave his skin feeling soft  and clean.