This post may contain affiliate links. Read our disclosure here.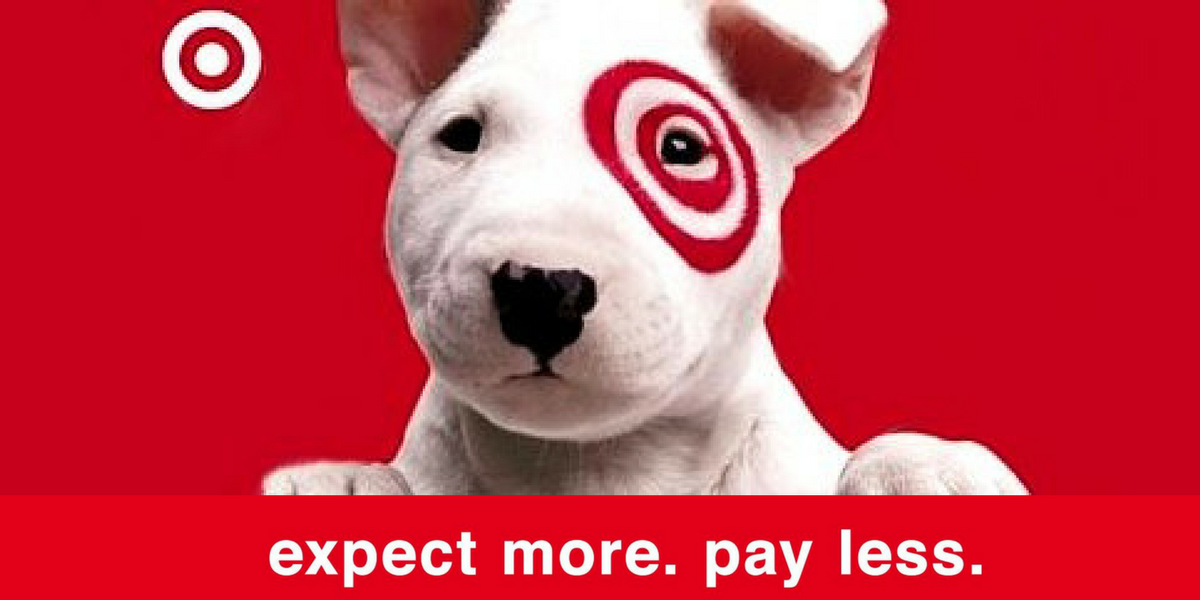 Here are all the deals in the Target ad starting Sunday 5/6. It's a great ad with a number of gift cards and two in-ad coupons!
Make sure to also check out all the unadvertised deals that are also running at Target next week.
In Ad Coupons
$5 Target Gift Card w/ Beauty & Personal Care Purchase of $20 or More
$10 Off Pet Care Purchase of $40 or More
Electronics and Entertainment
Amazon Fire 7 Tablet w/ Alexa, $39.99
Altec Mini LifeJacket 3 Bluetooth Speaker, $49.99
Bose SoundLink Revolve Bluetooth Speaker, $179
Ultimate Ears Wonderboom Bluetooth Speaker, $79.99
JBL Flip 4 Waterproof Bluetooth Speaker, $79.99
Beats Solo3 Wireless Headphones, $239.99
Samsung Galaxy J3 No Contract Smartphone, $89.99
Samsung Gear S3 Frontier Smartwatch, $279.99
GoPro HERO5 Black, $249.99
Fujifilm Instax Mini Instant Film, $14.99
Fujifilm Instax Mini 9 Camera, $59.99
Amazon Echo (2nd Gen), $84.99
Google Home Mini, $39 or $58 WYB (2)
Tile Slim and Tile Mate Bluetooth Trackers, 4 pk., $49.99
Amazon Echo Dot, $39.99 or $59.99 WYB (2)
HP Notebook, 14″, $179.99
Fitbit Charge 2, $119.95
Nikon D3400 Bundle, $499.99
Canon T6 DSLR Bundle, $449.99
Canon PowerShot SX530, $249.99
Mothers Day
Ferrero Rocher Gift Box, 24 pc., $9.99
Lindt Lindor Truffles and Ghiradelli Caramel Squares, $4
Tulip Boquet, 10 Stems, $7.99
15% Off Pacifica Pineapple Quench Water Serum
15% Off Da Bomb Bath Fizzers
15% Off Soap & Glory Scent With A Kiss Gift Set
15% Off SpaLife Mother's Day Mask
15% Off HoMedics Mini Massager
15% Off Sonia Kashuk Mother's Day Large Organizer
10% Off Select Designer and Celebrity Fragrances
Buy (1) Get (1) 25% Off All Frames
15% Off All Jar Candles
Gilligan & O'Malley Sleep Set, $15
10% Off DIY Gifting
Select Jewelry Boxed Gifts, $15.99
20% Off All Women's Handbags, Wallets, Jewelry, Watches, Scarves, and Hats
20% Off SpaRoom Essentials Oils and Diffusers
Miscellaneous
KitchenAid Ultra Power Plus Mixer, 4.5 qt., $249.99
Mr. Coffee Coffee Maker, $59.99
Oster DuraCeramic Waffle Maker, $29.99
Black & Decker Toaster Oven, $29.99
Rachael Ray Cookware Set, 14 pc., $99.99
Nutri Ninja Pro Blender, $49.99
20% Off All Crayoligraphy & Prismcolor Hand Lettering Kits
KitchenAid 2-Speed Immersion Hand Blender, $29.99
KitchenAid 5-Speed Blender, 56 oz, $79.99
Bodum Chambord Coffee Press, $29.99
Crock-Pot Slow Cooker, 6 qt., $29.99
Dyson V7 Animal Cord-Free Stick Vacuum, $299.99
Hoover WindTunnel 2 Rewind Bagless Upright Vacuum, $99.99
iRobot Roomba 690 Robotic Vacuum, $299.99
Apparel
A New Day Cardigan, $15
Buy (1) Get (1) 50% Off All Women's Dresses
Select Women's Sandals, $10
Gift Card Deals
$10 Target Gift Card WYB Any (2) Diapers Listed
Select Natural Diapers, $25.99
-$2 off Seventh Generation diaper product, RP 04/08


(Makes it $18.99 ea. after Gift Card)


Huggies Super Pack Diapers, $24.29
-$1.50 off Huggies Overnites diapers, excl 9 ct- printable
-$1.50 off Huggies diapers, excl 9 ct- printable
-$2 off Huggies Little Snugglers diapers, excl 9 ct- printable
-$2 off Huggies Diapers, not valid on 9 ct. or less printable


(Buy (2), use (2) $2 off, makes it $17.29 ea. after Gift Card)


Pampers Super Pack Diapers, $24.29
-$1 off Pampers Swaddlers diapers printable
-$1 off Pampers Cruisers diapers printable
-$2/2 Pampers diapers printable
-$1 off Pampers Swaddlers Diapers printable
-$1 off Pampers Cruisers Diapers printable
-$1 off Pampers Baby Dry Diapers printable
-$3 off Pampers Pure diapers printable
-$3 off Pampers diapers or Easy Ups training underwear, (2) bags or (1) box, excl trial size, PG 04/29 (EXP 5/12)


(Buy (2), use (2) $3 off, makes it $16.29 ea. after Gift Card)

$5 Target Gift Card WYB Any (2) Household Items Listed
Gain Flings, 72 ct., $17.99


(Buy (2), makes it $15.49 ea. after Gift Card)


Tide Pods, 54-72 ct., $17.99
-$2 off Tide PODS, excl liquid/powdr laundry detergent, Simply, Simply PODS, PODS 5-ct and trial size, PG 04/29


(Buy (2), use (2) $2 off, makes it $13.49 ea. after Gift Card)


Downy Softener, 129 oz, $9.99
-$2 off Downy Liquid Fabric Conditioner 48 load+, or Bounce or Downy Sheets 70-ct+, or In Wash Scent Boosters incl Downy Unstopables, Fresh Protect, Infusions, Bounce Bursts, Dreft Blissfuls or Gain Fireworks 6.5 oz+, excl Downy Libre Enjuague and trial size, PG 04/29


(Buy (2), use (2) $2 off, makes it $5.49 ea. after Gift Card)


Tide Liquid Detergent, 138-150 oz, $17.99
-$2 off Tide or Dreft Liquid Laundry Detergent, Tide, 69 oz+, Dreft Newborn or Active Baby, 50 oz+, Dreft Purtouch, 40 oz+ printable
-$2 off Tide detergent, excl PODS, Rescue, Simply, Simply PODS, detergent 10 oz and trial size, PG 04/29


(Buy (2), use (2) $2 off, makes it $13.49 ea. after Gift Card)


Bounty Paper Towels, 12 pk., $14.49
-$1 off Bounty Basic or Essentials, or Charmin Essentials item, excl single roll & trial size, PG 04/29
-.25/1 Bounty product, excl trial size, PG 04/29


(Buy (2), use (2) $1 off, makes it $10.99 ea. after Gift Card)


Glad Trash Bags, $10.99


(Buy (2), makes it $8.49 ea. after Gift Card)


Bounce Dryer Sheets, 240 ct., $9.99
-$2 off Downy Liquid Fabric Conditioner 48 load+, or Bounce or Downy Sheets 70-ct+, or In Wash Scent Boosters incl Downy Unstopables, Fresh Protect, Infusions, Bounce Bursts, Dreft Blissfuls or Gain Fireworks 6.5 oz+, excl Downy Libre Enjuague and trial size, PG 04/29


(Buy (2), use (2) $2 off, makes it $5.49 ea. after Gift Card)


Downy Unstopables, 14.8 or 19.5 oz, $9.99
-$2 off Downy Liquid Fabric Conditioner 48 load+, or Bounce or Downy Sheets 70-ct+, or In Wash Scent Boosters incl Downy Unstopables, Fresh Protect, Infusions, Bounce Bursts, Dreft Blissfuls or Gain Fireworks 6.5 oz+, excl Downy Libre Enjuague and trial size, PG 04/29


(Buy (2), use (2) $2 off, makes it $5.49 ea. after Gift Card)


Cascade ActionPacs Dishwasher Detergent, 48-85 ct., $13.99


(Buy (2), makes it $11.49 ea. after Gift Card)


Swiffer Sweeper Starter Kit, $11.99


(Buy (2), makes it $9.49 ea. after Gift Card)


Charmin Bath Tissue, 12 or 24 pk., $13.99
-.25/1 Charmin Ultra Soft or Strong printable
-$1 off Bounty Basic or Essentials, or Charmin Essentials item, excl single roll & trial size, PG 04/29
-.25/1 Charmin toilet paper, or Freshmates, excl single roll, PG 04/29


(Buy (2) , use (2) $1 off, makes it $10.49 ea. after Gift Card)

$10 Target Gift Card WYB Any (3) Formulas Listed
Similac Pro-Advance non-GMO Infant Formula, 23.2 oz, $28.99
-$2 off Similac Infant Formula, 1 or 4-ct, Pro-Advance 1.45 lb or Pro-Sensitive 1.41 lb canister, Ibotta App mobile coupon


(Buy (3), use $2 off, makes it $24.99 ea. after Gift Card)


Enfamil Infant Formula, 22.2 oz, $26.99


(Buy (3), makes it $23.66 ea. after Gift Card)

$5 Target Gift Card WYB Any (2) Allergy Relief
-$2 off Nasalcrom Allergy product printable
-$1 off Benadryl Children's allergy medication, excl trial size printable
-$2 off Claritin-D Non-Drowsy allergy product, 10 ct+ printable
-$3 off Claritin non-drowsy allergy item, 20-ct+ printable
-$4 off Allegra Allergy 24 HR or Allegra-D, 24 ct.+ printable
-$4 off Xyzal Allergy 24HR, 35-ct+, SS 04/22
-$4 off Allegra Allergy 24HR, 24-ct+, SS 04/22
-$4 off Nasacort Allergy 24HR, 120+ spray, SS 04/22
-$3 off Advil sinus, allergy or cold, RMN 04/29
-$3 off Advil Sinus, Allergy or Cold product printable (limit reached)
-$5 off Allegra Allergy 24HR 24 ct. + printable
-$5 off XYZAL Allergy 24HR 35 ct. + printable (limit reached)
$30 Target Gift Card WYB Keurig K200 Brewer, $119.99


(Makes it $89.99 after Gift Card)

$100 Target Gift Card w/ Qualified Activation on Verizon Samsung Galaxy S9, S9+, and Note 8
$50 Target Gift Card WYB DJI Spark Drone, $349


(Makes it $299 after Gift Card)

$5 Target Gift Card WYB As Seen on TV Red Copper Flipwich , $19.99


(Makes it $14.99 after Gift Card)

$200 Target Gift Card w/ Qualified Activation on Sprint or AT&T Samsung Galaxy S9, S9+, and Note 8
Produce
Strawberries and Blackberries, 2 lb or 12 oz, $5
Meat
Hormel Bacon, 12-16 oz, $4.99
Buy (1) Get (1) 25% Off All Sutton & Dodge Choice Beef
Fridge or Frozen
Outshine Frozen Treats, $3.50
10% Off All Kids' Yogurt
-$1 off Dannon Danimals Yo-Tubes Lowfat Yogurt , 12 pack printable
-.75/1 Stonyfield Organic Kids Yogurt, 6-pk+, Ibotta App mobile coupon
-$1 off Stonyfield Organic Kids Yogurt, 6-pk+, Ibotta App mobile coupon
-.75/1 Annie's Organic Yogurt Tubes or Cups printable
Naked Juice and KeVita Kombucha, 15.2 oz, $2.50
-.35/1 KeVita Master Brew Kombucha, Ibotta App mobile coupon


(Makes it $2.15)
Grocery
Buy (1) Get (1) 50% Off All Ground or Whole Bean Bagged Coffee
-$2/2 Gevalia, Maxwell House, Max by Maxwell House or McCafe coffee, tearpad
-$1 off Seattle's Best Coffee printable
-$1 off Seattle's Best Coffee PayPal rebate
-$2 off Allegro Coffee, 12 oz bag printable (limit reached)
-$2 off Allegro coffee, 12 oz printable
-5% off Archer Farms Coffee, bags, pods & additives, Target Cartwheel eCoupon
-$1 off Seattle's Best Coffee printable
-$1 off The Original Donut Shop coffee k-cup pods, 10-ct+ box, SS 03/11 (EXP 5/11)
-$1.50 off New England coffee, RP 03/18
-$1.50 off Green Mountain Coffee Roasters, 10 or 12 oz bagged coffee, or 10-ct+ K-cup pods, SS 03/25
-$1.50 off Tully's 12oz bagged coffee, or 12ct+ k-cup pods, SS 03/25
-$1.50 off Krispy Kreme bagged coffee 12 oz, or k-cup pods 12-ct+, SS 03/25
-$1.50 off Laughing Man coffee, 12 oz bag, or (1) k-cup pods 10-ct, SS 03/25
-$2 off Allegro coffee, 12 oz bag printable (limit reached)
-$3/2 Community Coffee bags, 12-32 oz, on same receipt, claim 1 time, cannot use this offer with any other print or rebate, Checkout 51 mobile coupon
-$1.50 off Eight O' Clock Coffee, any size printable
-$2 off Peet's Coffee, K-cup 10 or 16 or 32-ct, or bag 10 or 12 or 20 oz, RMN 04/29
Kellogg's Pop-Tarts, 12 ct., $2.50
-$1 off Kellogg's Pop-Tarts toaster pastries, 8-ct.+ (850 points) printable
-$2 off Kellogg's New! Pop-Tarts Frosted Strawberry Milkshake 8-ct+, WYB (2) Pop-Tarts any variety printable (limit reached)
-$2/4 Kellogg's Pop-Tarts toaster pastries printable (limit reached)


(Buy (4), $2/5 makes it $2 ea.)

Buy (2) Get (1) Free Pillsbury Cake and Brownie Mixes, Pastry Bags, and Frosting
Capri Sun Pouches, 10 pk., $2
Dasani Water, 24 pk., $3.99
Archer Farms Tiny Treats, $3.49
-5% off Archer Farms Bakery Treats, breakfast & dessert, Target Cartwheel eCoupon
Archer Farms Coffee Pods, 16-18 ct., $7.99
-5% off Archer Farms Coffee, bags, pods & additives, Target Cartwheel eCoupon


(Makes it $7.59)

Kellogg's Cereal, 11.6-18.7 oz, $2.50
-$1 off Kellogg's cereal, 8.7 oz + (850 points) printable
-$2 off Fruit or Nuts WYB (2) Kellogg's Cereal, 8.7 oz+, on select products
-.50/1 Kellogg's Donut Shop Cereal printable (limit reached)
-$2/4 Kellogg's cereals printable (limit reached)
-.50/1 Kellogg's Super Mario cereal printable (limit reached)
-.50/1 Kellogg's Chocolate Frosted Flakes cereal printable (limit reached)
-$1/2 Kellogg's Special K cereals printable (limit reached)
-$1/2 Kellogg's All Bran, Mueslix, Smart Start, Corn Flakes, and/or Raisin Bran cereals printable (limit reached)
-.50/1 Kellogg's Special K Nourish Berries & Peaches cereal printable (limit reached)
-$1/2 Kellogg's Krave, Apple Jacks, Pops or Frosted Flakes cereal, RP 04/08
-.50/1 Kellogg's Raisin Bran or Kellogg's Raisin Bran Crunch Cereals printable (limit reached)


($1 off makes it $1.50)

Bubly Sparkling Water, 8 pk., $3.33
-$1/2 bubly sparkling water, 8-pk 12 oz cans, Ibotta App mobile coupon
-$1.25/2 bubly sparkling water, 8-pk 12 oz cans, Ibotta App mobile coupon


(Buy (2), $1.25/2 makes it $2.71 ea.)

Frito-Lay Doritos, 9.25-11.5 oz, $2.50
Pepperidge Farm Cookies, 4.75-8.6 oz, $2.50
Vitaminwater Drinks, 6 pk., $3.99
Coca-Cola, Sprite and More Cans and Bottles, 12 pk. and 8 pk., $4 WYB (3)
Personal Care
15% Off Select Conair Hair Appliances
Philips Sonicare PC 6100 Power Toothbrush, $99.99
-$15 off Philips Sonicare ProtectiveClean 5100 gum health or 6100 whitening rechargeable toothbrush, SS 05/06


(Makes it $84.99)

Philips Sonicare PC 4100 Plaque Control, $39.99
-$10 off Philips Sonicare ProtectiveClean 4100 plaque control or essence+ rechargeable toothbrush, SS 05/06


(Makes it $29.99)

Oral-B Pro 1000 3D White, $39.99
Pet Care
Blue Dog Bakery, 18 oz, $3.99