This post may contain affiliate links. Read our disclosure here.
Now through Monday night, get great prices on most of the top cooking magazines!  Pick your favorites and use it to renew or try something new, either way these are all the lowest prices I've seen on these titles!
All of these offers do not auto renew.  They can also be used a gift or added to a current subscription.
Tip: If you want to give them as a gift you'll get the option to print a gift card at checkout!
5 Great Cooking Magazines:
Food Network – 1 year for $7.50 or 2 years for $15
currently $22 on amazon
Each magazine has 60-100 recipes with full instructions and pictures!  They'll get favorites from top TV foodies plus many more.
Cooks Illustrated – 1 year for $10.50
currently $27 on amazon
My all time favorite cooking magazine, Cooks Illustrated is for beginner to advanced chefs.  Filled with recipes, kitchen product reviews and great quick tips that they'll want to keep every issue.
Cook's Country – 1 year for $10.50
currently $27.95 on amazon
Made by same folks that run Cook's Illustrated, Cook's Country is filled with even more recipes that are all down home comfort foods and family favorites.
The Pioneer Woman – 1 year for $15.95
Filled with mouth watering recipes and fun family tales of life on the farm, this is a favorite magazine for many!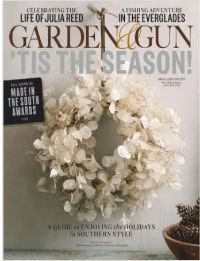 Garden & Gun – 1 year for $5.25
This is a big favorite in our house!  This is a cooking magazine with great recipes, but also includes trendy design, and great articles about places to visit in the south.
Find 50+ other magazines on sale too!