This post may contain affiliate links. Read our disclosure here.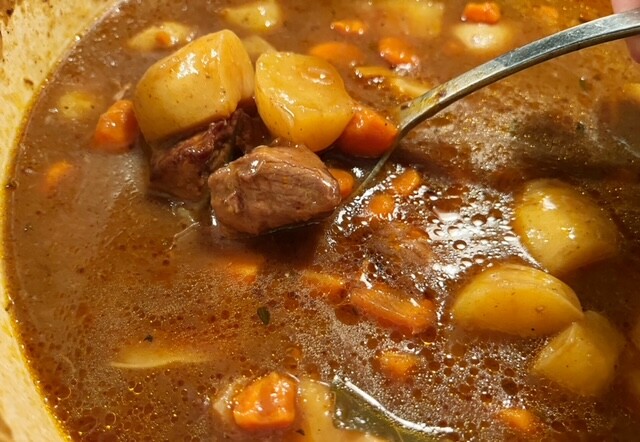 This delicious beef stew is comforting, filling, and easy to make. Start with an inexpensive cut of meat and end with a tender and savory meal!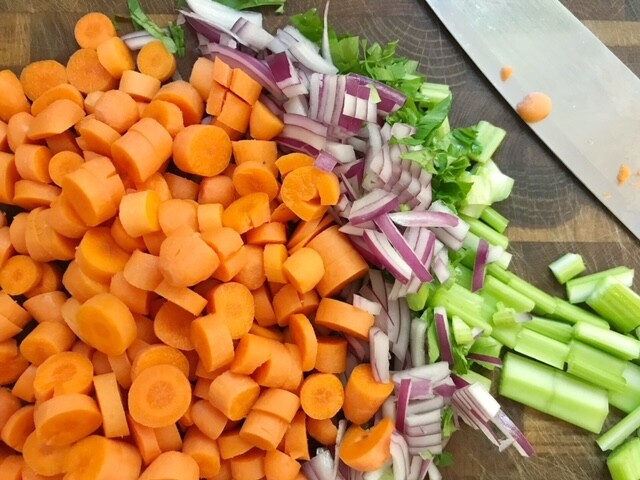 Beef Stew with Potatoes & Carrots
Ingredients
1.5 pounds beef round steak, cut into 2" chunks
3 tbsp olive oil
1 cup diced onion
2 garlic cloves, minced
3 stalks celery, diced
4 large carrots, peeled and diced
salt and pepper
2 tbsp flour
2 32 oz cartons beef broth
2 tbsp tomato paste
2 tbsp Worcestershire sauce
2 tbsp balsamic vinegar
1 bay leaf
1 tsp dried thyme
1 pound baby potatoes, cleaned and cut in half
Directions
Preheat the oven to 325 degrees. Set an oven-proof dutch oven on the stove over medium-high heat.
Season the beef chunks with salt and pepper. When the pot is hot, add the olive oil and the meat, allowing the meat to brown before turning, about 2 minutes. Flip the chunks and allow to brown on the other side. Remove the meat to a plate.
Add the onion, garlic, celery, and carrots to the pot. Add a few pinches of salt and pepper. Cook until softened, about 5-7 minutes.
Sprinkle in the flour over the veggie mixture and cook, while stirring, for two minutes.
Pour in the broth, while stirring, making sure all the flour is combined into the liquid and while scraping up the brown bits from the bottom of the pot.
Add the tomato paste, Worcestershire sauce, balsamic vinegar, bay leaf, and thyme.
Bring to a boil, reduce heat to low, and allow to come to a low simmer.
Add the meat back to the pot, cover, and place in the oven.
Cook for 2 hours until the meat is fork-tender.
Return to the stove over medium-low heat. Uncover the pot and add the potatoes. Cook for an additional 20 minutes until the potatoes are tender.
Note: If you feel like you'd like the stew to be thicker at this point, add a cornstarch slurry (mix together 1 or 2 tablespoons of cornstarch with a small amount of cold water; stir until dissolved; add to the pot; simmer for a few minutes until thickened).
Created by SouthernSavers.com

See more recipe ideas!