This post may contain affiliate links. Read our disclosure here.
It's summer as I'm writing this post, and with lots of day trips and activities, it seems like my kids are wanting to eat constantly. They get three good meals a day, but sometimes they just need a snack in between meals. I want it to be something that will actually combat hunger, so I always want to be able to offer something more than a bag of chips. But there's a reason why they sell those little bags of chips—they're super convenient!
You can create something almost as convenient by prepping some freezer snack recipes that you can pull out at a moment's notice. Yes, there is the prep time, but you can make a double or triple batch of any of these (or one batch of all of them!) and have snacks to last for a while. Here are 5 freezer snack recipes with a printable shopping list at the end if you want to make them all in one morning!
Note: The shopping list has amounts for some ingredients, but I didn't include exact amounts for basic pantry staples. Also, many of these recipes offer ideas for substituting ingredients, so be sure to click through and read the recipes if you have any questions.
Stock the Freezer: Freezer Snack Recipes (with Shopping List!)
No Bake Energy Bites (makes about 16)
These are my kids' favorites. They're actually really good straight out of the freezer, or you can put them in the fridge to thaw a little bit. You can also change up what you mix in if you don't want to use chocolate chips!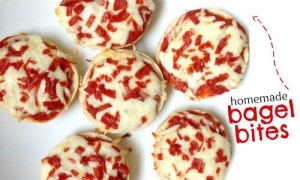 Homemade Bagel Bites (makes 16)
These bagel bites are near perfect replicas of the name brand option, and you can add whatever toppings you want! To freeze them, you'll follow all the steps through baking them, then let them cool and flash freeze them on a pan in the freezer. Then just pop in a freezer safe bag or container and reheat in the microwave or oven.
Trail Mix Granola Bars (makes 8)
These trail mix granola bars are packed full of fiber, protein and healthy fats.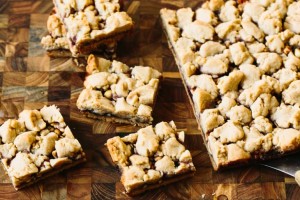 PB&J Crumble Bars (makes 32)
This is a new recipe to me but one that I definitely want to try. I think my kids would really enjoy them, too! To freeze, you can prepare them and then cut them into bars and freeze the bars individually.
Banana Baked Oatmeal Cups (makes 12)
These could also be a good breakfast recipe, but I like having something like this for snacks. These are so filling and will also satisfy a sweet tooth without a lot of added sugar!
Check out other posts in this series:
Stock the Freezer: Beef and Chicken
Stock the Freezer: Breakfast
Stock the Freezer: Chicken Thighs
Stock the Freezer: Ground Turkey
Stock the Freezer: Soups