This post may contain affiliate links. Read our disclosure here.
The Internet is a great resource for new recipes, but sometimes I want a physical copy of a recipe in front of me. But at the same time, I don't want 100 cookbooks at my house! And I always want cookbooks that don't use complicated ingredients and that are mindful of us being on a budget. So I went in search of the best frugal cookbooks hoping that I would be able to find a few to add to my shelf. I was able to find 17 that fit my bill!
If any of these look interesting to you, I'd recommend seeing if your library has them first and trying a few recipes before you invest in the cookbook.
17 Best Frugal Cookbooks for the Home Chef
Family Feasts for $75 a Week
There isn't much here that you probably haven't thought of already in terms of how to save money on food. However, the recipes could give you some reminders of frugal recipes you've forgotten.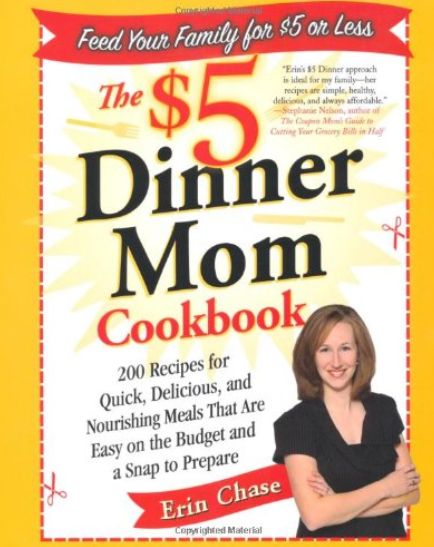 The $5 Dinner Mom Cookbook: 200 Recipes for Quick, Delicious, and Nourishing Meals that are Easy on the Budget and a Snap to Prepare
The $5 Dinner Mom has been creating recipes for years, all of which supposedly cost only $5 per meal. This is an older book and food prices have gone up, but with couponing and watching sales cycles, you can probably get pretty close.
The $7 a Meal Slow Cooker Cookbook: 301 Inexpensive Meals the Whole Family Will Love!
Instead of $5 meals, how about $7 meals? This a great resource of slow cooker recipes that focus on staying within your budget.
Fix-It and Forget-It Big Cookbook: 1400 Best Slow Cooker Recipes!
While not necessarily a budget cookbook, using a slow cooker is often a great way to save money as you can make larger batches of food. The number of recipes in this book will keep you inspired for a long time!
Taste of Home Affordable Eats: 237 All-Time Favorites that Won't Break the Bank
Taste of Home is a great resource for recipes all the time, but this cookbook compiles some of their most popular budget-friendly recipes.
Ten Dollar Dinners: 140 Recipes & Tips to Elevate Simple, Fresh Meals Any Night of the Week
We've had $5 and $7 dinners, but now that we're in 2019, maybe $10 dinners are more realistic. Melissa d'Arabian is a Food Network host who comes up with recipes that I like because they have normal ingredients!
Make the Bread, Buy the Butter: What You Should (and Shouldn't) Cook from Scratch to Save Time and Money
This book isn't just recipes; it also contains advice on when you should make things from scratch and when it's better to just buy them. You may not decide to make everything she recommends from scratch, but even choosing a couple items could help your budget.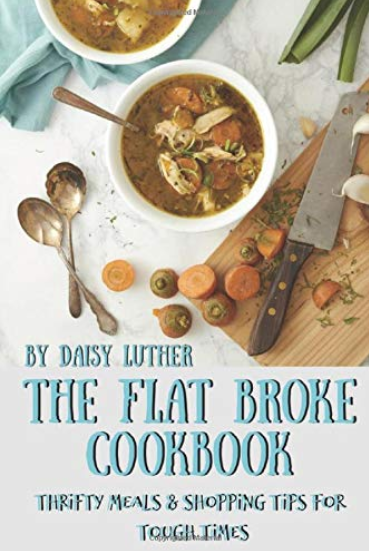 The Flat Broke Cookbook: Thrifty Meals & Shopping Tips for Tough Times
When you're really in a tight financial situation, this cookbook can help you figure out how to cut down to the extreme basics.
The 5 Ingredient College Cookbook: Easy, Healthy Recipes
So maybe you're not in college—but these recipes are basic and simple and could help revitalize your frugal cooking!
Good and Cheap: Eat Well on $4/Day
I've used several recipes of this book when I've found myself in a rut in the kitchen. Even better, the PDF of this book is FREE!
Cheap and Wicked Good: 5-Ingredient Budget-Friendly Recipes for Everyday Meals
The name pretty much says it all, and I'm on board with any recipe that only has 5 ingredients.
The Frugal Paleo Cookbook: Affordable, Easy & Delicious Paleo Cooking
If you're on the Paleo diet, then this cookbook needs to be on your shelf. Eating that way can get pretty expensive, but this resource will show you how to do it if you're on a budget!
The Everything Beans Book: 30 Frugal, Nutrient-Packed Recipes for Every Eater
Beans are well-known for being a frugal option, and this cookbook will expand your bean horizons.
Seriously Good Freezer Meals: 150 Easy Recipes to Save Your Time, Money, and Sanity
Making meals ahead of time and freezing them can save money in different ways, but I think one of the best ways is that if you have a crazy day, you don't waste money going out to eat. 
Keto for Life: Look Better, Feel Better, and Watch the Weight Fall Off with 160+ Delicious, High-Fat Recipes
If keto is what you're doing, then this is the cookbook for you. There are a ton of keto recipes out there, but I've found her blog and this cookbook to be some of the simplest but most delicious keto recipes I've tried.
Budget Bytes: Over 100 Easy, Delicious Recipes to Slash Your Grocery Bill in Half
This blog is another favorite of mine, one that I've followed for at least 5 years. She has a huge collection of vegan and vegetarian recipes on her blog, and the cookbook includes many recipes not on the blog that are simple and budget-friendly.
Good Cheap Eats: Dinner in 30 Minutes (or Less!)
This mom knows how to feed a large family on a budget, which means you can do that, too, with her recipes, even if you have a smaller family.
What's your favorite frugal cookbook? Let us know in the comments!