This post may contain affiliate links. Read our disclosure here.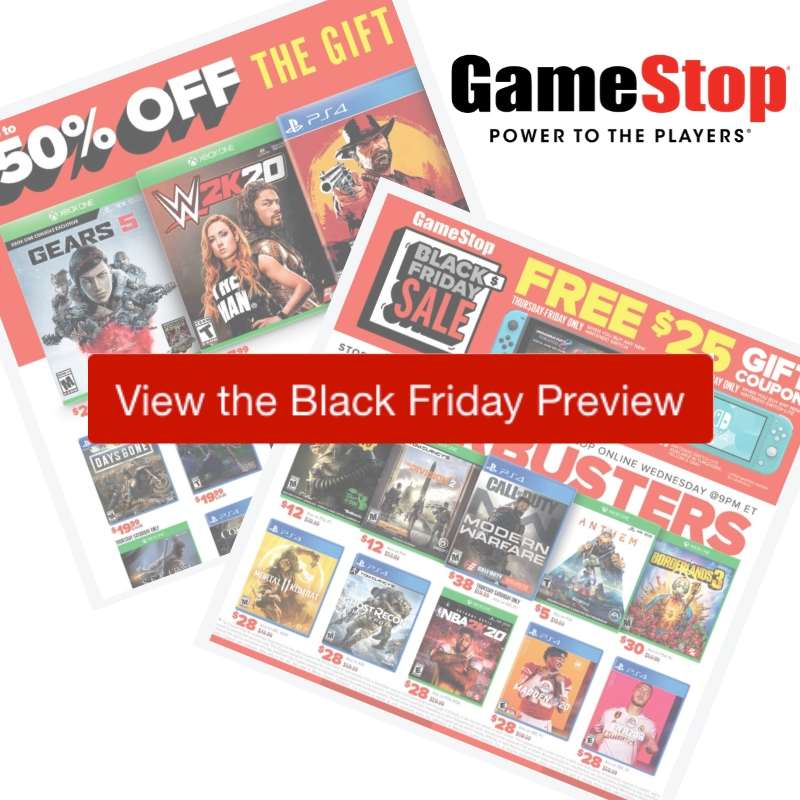 Score new and used video games over 50% off in the 2019 Game Stop Black Friday ad. All the deals are out and many are better than other stores!
Doors open at 3 pm Thursday or you can shop most of the deals starting Wednesday at 9 pm online.
See the full Game Stop Black Friday Ad
Search across all the Black Friday ads
and see what stores have the best deals.
2019 Game Stop Black Friday Ad Deals
Games
Fallout 76 Xbox One Game, $12
Tom Clancy's The Division 2 Xbox One Game, $12
Call of Duty Modern Warfare PS4 Game, $38


Thursday- Saturday Only

Athem Xbox One Game, $5
Borderlands 3 Xbox One Game, $30
Mortal 11 Kombat PS4 Games, $28
Ghost Recon Breakpoint PS4 Game, $28
NBA2K20 Xbox One Game, $28
Madden NFL 20 PS4 Game, $28
Fifa20 PS4 Game, $28
Gears 5 Xbox One Game, $29.99
W2K20 Xbox One Game, $27.99
Red Dead Redemption II PS4 Game, $29.99
Days Gone PS4 Game, $19.99
Medievil PS4 Game, $19.99
Judgement PS4 Game, $29.99
Sekiro Shadow Xbox One Game, $27.99
CodeVein PS4 Game, $39.99
Grand Theft Auto Five PS4 Game, $14.99
Rage 2 Xbox One, $19.99
CTR Nintendo Switch Game, $24.99


Thursday – Saturday Only

Legend of Zelda Breath of the Wild Nintendo Switch Game, $39.99
Call of Duty Black Ops PS4 Game, $27.99


Thursday- Saturday Only

Spider-Man PS4 Game, $19.99
Spyro Nintendo Switch Game, $24.99
Plants vs Zombies Battle of the Neighborville Xbox One Game, $29.99
NFS Xbox One Game, $39.99
Diablo PS4 Game, $16.99


Thursday- Saturday Only

Assassins Creed III PS4 Game, $14.99
JumpForce PS4 Game, $19.99
Resident Evil 2 PS4 Game, $19.99
World War Z PS4 Game, $19.99
Elsweyr Xbox One Game, $29.99
Playstation VR 5 Game Bundle, $199
Select Playstation 4 Games, $9.99
UFC 3 PS4 Game, $9.99
NHL20 PS4 Game, $39.99
Devil May Cry5 PS4 Game, $19.99
Playstation Fortnite Neo Versa Gold Wireless Headset Bundle, $69.99
Assassins Creed Odyssey PS4 Game, $14.99
Man of Medan PS4 Game, $14.99
The Show19 PS4 Game, $19.99
Lego Marvel PS4 Game, $19.99
Kingdom Hearts PS4 Game, $19.99
Concrete Genie PS4 Game, $19.99
Star Wars Fallen Order Xbox One Game or Bundle and Receive $15 Fandango Movie Ticket
Forza Horizon 4 Xbox One Game, $24.99
Farcry New Dawn Xbox One Game, $14.99
Skyrim Xbox One Game, $19.99
Metro Exodus Xbox One Game, $19.99
FallOut 4 GOTY Xbox One Game, $19.99
Borderlands Xbox One Game, $14.99
Just Cause 4 Xbox One Game, $19.99
Up to 50% off Nintendo Switch Games
40% off Holiday Apparel, Calendar & Ornaments
30% off All Board Games, Puzzles & Funkoverse Strategy Games
B2G1 Pre-Owned PS4, XB1, Nintendo Switch & 3D Games
B1G1 Pre-Owned XB360, PS3, DS, Wii, Wii U and PS Vita Games
Yakuza6 PS4 Game, $14.99


starting 11/24

Sega Genesis Classics PS4 Game, $14.99


Starting 11/24

Cyrstal Crisis Nintendo Switch Game, $19.99


starting 11/24

Persona3 PS4 Game, $19.99


Starting 11/24

Persona5 PS4 Game, $19.99


Starting 11/24

Valkyria Chronicles 4 PS4 Game, $19.99


starting 11/24

The Golf Club 2019 PS4 Gaming, $19.99


starting 11/24

Sega Genesis Mini, $49.99


starting 11/24

Darksiders III Xbox One Game, $9.99
Monster Jam Xbox One game, $14.99
Control PS4 Game, $29.99
Select PS4 or Xbox Games, $29.99
Consoles
Nintendo Switch Mario Kart 8 Deluxe Bundle Inlcudes Digital Game Pre-Installed, $299.99
Thursday-Friday Only


FREE

$25 Gift Coupon
Nintendo Switch Lite , $199.99


FREE

$25 Gift Coupon WYB
Saturday – Sunday Only
Playstation 4 1TB System Bundle inlcudes God of War, Horizon ZZero dawn and the Last of US Remastered , $199
PS4 New Glacier White Pro System, $299.99


FREE

$25 Gift Coupon WYB
Playstation 4 DualShock 4 Wireless Controllers, $38.99
Playstation Plus 12 Month Subscription, $44.99
Playstation VR Blood & Truth and Everbody's Golf VR Bundle, $249.99


FREE

$25 Gift Coupon WYB
Xbox One S 1TB Star Wars Jedi Fallen Order Console Bundle, $199.99
Xbox One X 1TB NBA 2K20 Console Bundle Limited Edition, $349.99
Xbox One S 1TB All Digital Edition Console Bundle includes Fortnite Battle Royale, Minecraft and Sea of Thieves, $149.99
Xbox Live Gold 3 Month Membership, $14.99
Xbox One Wireless Controller Elite Series 2, $179.99
Nintendo Switch System Certified Refurbished or Pre-Own, $249.99
$30 off Certified Refurbished or Pre-Owned PS3, XB360, PS VITA, 3DS, Wii U and Wii Systems
Other Deals
PS4 Communicator Headset, $4.99
2TB External Seagate Game Drive Hard Drive for PlayStation 4, $64.99
Kontrol Freek Select 25% off
HyperX Cloud Gaming Headset for Playstation 4, $49.99
Power A Complete Charging Station for Playstation 4 Controllers & Headset , $14.99
Turtle Beach Stealth 600 PS4 Wireless Surround Sound Headset, $79.99
Turtle Beach Xbox One Recon 50K Headset, $19.99
2TB External Seagate Game Drive Hard Drive for Xbox One, $64.99
PDP Xbox One Rock Candy Wired Controllers, $14.99
Plantonics Xbox One RIG 800LX Wireless Headset with Dolby Atmos, $99.99
PowerA Xbox One Wireless Controller Charging Station, $14.99
SteelSeries Arctis 3 Console Edition Wired Gaming Headset, $39.99
GaEMS Sentinel Portable Personal Gaming Unit, $199.99


Thursday Only

GAEMS Vanguard Portable Personal Gaming Environment , $179.99


Thursday Only

NERF Fortnite Legendary Supply Drop, $79.99
Fortnite Llama Dram Loot Drop Toy, $14.99
Jacwares Fortnite Battle Bus Drone, $34.99
Pokemon 24 inch plush toy, $39.99
Pokemon My Partner Pikachu Toy, $15
Pokemon Quest Action Figure 4 pk, $25
Nintendo Switch Poke Ball Plus Controller, $19.99
Play Nintendo Switch Lite Go Case, $9.99
POP Nintendo Switch Super Mario Accessory Bundle, $24.99
Astro A10 The Legend of Zelda Breath of the Wild Wired Gaming Headset, $34.99
Nintendo Switch Mario Edition Starter Kit, $12.99
Nintendo Switch Racing Wheel 2 Pk, $4.99
SanDisk Ultra 128GB MicroSD Memory for Nintendo Switch, $14.99
20% off Lego Sets
Poke Ball Popcorn Maker, $29.99
Super Mario Bros 1UP Waffle Maker, $19.99
Squeezamals Micro Plush 10 Pk, $14.99
Squeezamals Bento Box 5 Plush Pack, $14.99
Funko Pop Vinyl Backpack , $29.99
Spyro 30 inch Pop Vinyl Figure
Pokemon Trading Card Box Triple Pack, $29.99
Minecraft Squeeze & Roar Ender Dragon Plush, $19.99
Benday and the ink Machine's the Ink Machine, $29.99
Bakugan Battle Pack in Japan Packaging, $29.99
Beyblade Burst Turbo Slingshock Element X Pack, $19.99
Marvel Gamer Funko Pop! Mystery Box, $20
Trading Cards B1G1 50% off
B1G1 T-Shirts
HTC Vive Pro VR Starter Kit, $799.99


Includes Vive Pro Headset, StreamVR Base Stations and 2X Vive Controllers

HTC VIve ProVR Headset, $599.99
HTC Vive Cosmos VR System, $599.99
HTC Vive Wireless Adapter, $249.99
Afterglow AG6 Wired Headphones, $24.99
Afterglow AG9 Wireless Headset, $39.99
Turtle Beach Recon 200 Wired Headset, $44.99
Astro A10 Wired Headset, $49.99
Razer Nari Essential Wireless Headset, $79.99
Plantonics Wired Headset, $99.99
GameRider X-Qualifier Racing Style Gaming Chair, $109.99
Gunnar Vertex Onyx Gaming Glasses, $29.99
Razer Seiren X Gaming Microphone, $69.99
CyberpowerPC Gamer Master AMD Ryzen 3 2300X 3.5HZ 8GB DDR 4RAM, $499.99
CyberpowerPC Gamer Supreme Liquid Cooled Intel i9 9900K 3.6Ghz 16GB DDR 4RAM NVIDIA GeForce RTX 2070 Super GPU, $1599.99
CyberPowerPC Gamer Extreme Liquid Cooled Intel i7 9700K 3.6GHz 16GB DDR 4RAM NVIDIA GeForce GTX 1660 ti GPU, $1159.99
Razer Cynosa Mechanical Gaming Keyboard, $39.99
Razer Omata Chroma Mechanical Membrane Keyboard, $54.99
Razer Naga Trinity MOBA MMO Gaming Mouse, $59.99