This post may contain affiliate links. Read our disclosure here.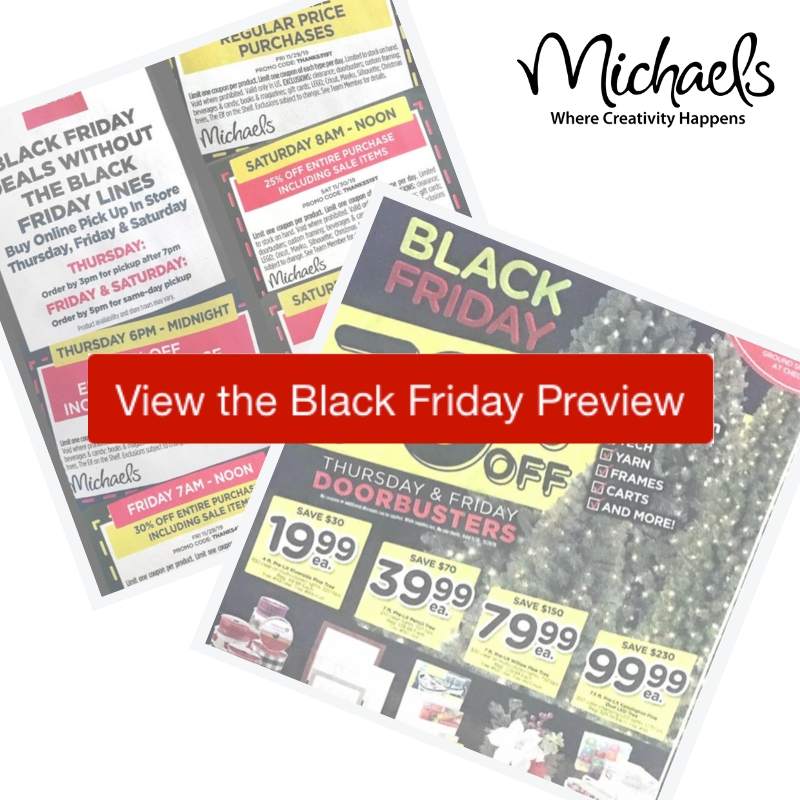 Heads up everyone that loves Michael's. All the deals in the 2019 Michael's Black Friday ad are officially out and it's time to start planning what you want.
Doors open Thursday at 6 pm until midnight and then reopen on Friday at 7 am. You'll also find most of the deals online starting Thanksgiving day.
See the full Michael's Black Friday Ad
Search across all the Black Friday ads
and see what stores have the best deals.
2019 Michael's Black Friday Ad Deals
Seasonal
4 ft Pre-Lit Riverside Pine Tree, $19.99


Thursday & Friday Doorbuster

7ft Pre-Lit Pencil Tree, $39.99


Thursday & Friday Doorbuster

7ft Pre-Lit Willow Pine Tree, $79.99


Thursday & Friday Doorbuster

7.5 ft Pre-Lit Kensington Pine Dual LED Tree , $99.99


Thursday & Friday Doorbuster

7.5 ft Pre-Lit Augusta Cashmere Tree, $89.99
7.5 ft. Keystone Flocked Tree, $119.99
All Trees 50% off
7ft Pre-Lit Cashmere Pencil Tree, $49.99
GE 100 ct String a Long Light Sets B1G1 50% off
Ashland 100ct Basic Light Sets B1G1 50% off
Ashland LED Light Sets B1G1 50% off
Ashland Net & Icicle Light Sets B1G1 50% off
Ashland Christmas Crafting Light Sets B1G1 50% off
GE & Ashland Pre-Lit Wreaths & Garlands B1G1 50% off
Apothecary & Company and Ashland LIghting B1G1 50% off
Collectible Ornaments 50% off
Christmas DIY Ornaments 50% off
Jumbo Outdoor Ornaments & Mega Shatterproof Ornament Sets 50% off
6 pc & 8 pc Glass Ornament Sets , $4.99
Shatterproof Ornament Sets, $14.99
Christmas Roll Wrap & Packaging by Celebrate It, $3
Christmas Bows 25% off
Christmas Boxed Cards 50% off
Christmas Paper Crafting Supplies 50% off
Christmas Brushes 50% off
Christmas Wreaths 50% off
Christmas Garlands 50% off
Christmas Picks & Wreath Supplies 50% off
Tiny Treasures Christmas 50% off
Small Christmas Potted Poinsettias 3 for $9.99
Christmas Decor Collections 50% off
Baskets & Decorative Boxes 50% off
Tree Skirts & Stockings 50% off
Christmas Lanterns, Chargers & LED Packs 50% off
Lemax Christmas Village Collection 40% off
Celebrate It Christmas Party Supplies 30% off
Christmas Baking Supplies 30% off


(excludes gingerbread kits)

Celebrate It Party Essentials Basics, $9.99
Celebrate It Party Essentials Plates, Napkins, Cups & Cutlery B1G1 50% off
Jewelry Collections 40% off


(Excludes strung & packaged beads and jewelry finding)

Mr. Christmas Nostalgic Ceramic Christmas Tree, $29.99
Fire Pits, $39.99
240 pc Shatterproof Ornament Set, $29.99
Christmas Boxed Cards 70% off


Saturday 11/30 Only

Christmas Garlands 60% off


Saturday 11/30 Only

Ashland 24″ Christmas Wreath , $2.99


Saturday 11/30 Only

Celebrate It Christmas Roll Wrap, $1.50


Saturday 11/30 Only
Craft Supplies
All Christmas Ribbon 70% off


Thursday & Friday Doorbuster

Belmont Frames & Shadow Boxes 70% off


Thursday & Friday Doorbuster

Back-Stapled & Gallery Wrapped Canvas by Artist Loft 70% off


Thursday & Friday Doorbuster

Stems 60% off


Thursday & Friday Doorbuster

Craft Storage 60% off
Handcrafted Floral Arrangements 60% off
Kids Art Sets by Creatology 60% off
Crayola 40% off
Strung Beads, Semiprecious, Glass, Metal & Pearls, $2.99
16 Case Photo Keeper, $9.99
5 & 10 Drawer Rolling Carts, $24.99
Siser Heat Transfer Vinyl , $9.99
Cricut Explore Air 2, $199
Kids' Art, Craft & Science Kits B1G1 50% off
Disney Frozen 2 B1G1 50% off
Creatology 40 ct Gel Pens, Felt Tip Pens & Markers, $12.99
Kids Large Color-In Structures , $19.99
Kids Christmas Craft Kits 40% off
Ty Plush Beanies B1G1 50% off
Creatology Wooden Easels 40% off
Jigsaw Puzzles B1G1 50% off
Artist Loft Sketchbooks, $4.99
Canvas Painting Kits by Artist Loft, $7.99
Sharpie 45 ct the Ultimate collection Permanent Markers, $29.99
Artist Loft 24 pc Sketch Marker Set or 48 pc Artist Loft Watercolor Marker Set, $29.99
Artist Loft 106 pc Deluxe Painting Art Set, $44.99
Arts & Crafts Creative Center by Artist Loft, $99.99
Artist Loft Artist Easels 50% off
Canson Artist Paper Pads 40% off
Loops & Threads Charisma & Impeccable Yarn, $1.99
Red Heart Soft Essentials & Soft Yarn or Loops & Threads Soft & Shiny Yarn, $2.99
Loops & Threads Country Loom or Craft Smart Yarn, $2.99
Caron Cakes Yarn or Craft Smart Never Enough Yarn, $4.99
Barcelona & Cozy Wool Yarn by Loops & Threads, $5.99
Lion Brand Homespun and Wool-Ease Thick & Quick Yarn, $5.99
Caron Big Cakes, Chunky Cakes & Latte Cakes Yarn, $6.99
Loops & Threads Chunky Velvet & Sweet Snuggles Yarn, $7.99
Frames & Shadow Boxes by Studio Decor up to 50% off
Cricut Materials, Mats & Tools 40% off


(exclude Cricut Infusuble Ink Blanks & Materials)

Cricut Maker, $349
Cricut 9×9 EasyPress 2, $129
Cricut EasyPress Mini, $49
Silhouette Cameo 4, $279
Recollections & The Happy Planner 40% off
Scrapbook & Photo Albums B1G1 50% off
Paper Crafting Stickers B3G1


(excludes The Happy Planner)

Home Wall Frames by Studio Decor B1G2
Studio Decor Expressions Tabletop Frames 60% off
Christmas Wearables & Accessories B1G1 50% off
Wilton Candy Melts, $1.99
Creatology 100 pc Art Set, $1.99
Glidan Adult & Youth T-Shirts, $1.99
Christmas Pine Cones, $2.99
Wilton Gingerbread Kits, $6.99
Super Value Canvas Packs, $9.99
8.5″ x 11″ Value Pack Paper 5 for $9.99
Spiral Planners, $9.99
Tombrow Dual Brush Pens 10 pc , $11.99
Studio Decor Ornament Frames 5 for $11.99
54 pc DIY Clear Plastic Ornament & Glitter Kits, $14.99
47 pc Glass Ornament Set, $19.99
Artist Easel Bonus Bundle by Artist Loft, $24.99
Artist Loft 101 pc Deluxe Easel Art Set, $29.99
Fashion Accessories 50% off


Saturday 11/30 Only

Color Zone Activity Kits, $3.99


Saturday 11/30 Only

12″ x 12″ Scrapbook Cases 3 for $9.99


Saturday 11/30 Only

Recollections by Photo Boxes 5 for $9.99


Saturday 11/30 Only

12 Days of Socks, $11.99


Saturday 11/30 Only

Artist Loft 126 pc Gift Art Set, $19.99


Saturday 11/30 Only

Recollections 3 Tier Lexington Rolling Cart, $19.99


Saturday 11/30 Only

Essex Rolling Cart by Recollections, $49.99


Saturday 11/30 Only

6 ft. Pre-Lit Windham Spruce Pine Tree, $49.99


Saturday 11/30 Only
In Ad Coupons
40% off All Regular Price Purchases Friday Noon – 10 PM
30% off 30% off Entire purchase including sale items THURSDAY 6PM – Midnight
25% off Entire Purchase including Sale Items Saturday 8AM – NOON
50% off Any One Regular Price Item Saturday Noon – 10 PM
25% off Entire Purchase Including Sale items Friday 7AM- NOON