This post may contain affiliate links. Read our disclosure here.
Whether you're a clean freak or more relaxed about a mess, there's no need to buy a bunch of stuff to have a sparkling clean, fresh-smelling home. Check out these genius ideas to keep your house clean and money in your pocket.
Even better, not only are all of these hacks frugal, most are natural alternatives to regular cleaning products, too!
Dust and scrub with used dryer sheets!
This is a hack I discovered recently and I was amazed at how well it worked. Every time you take out a load of laundry, store your used dryer sheets in an old tissue box or resealable bag. Pull one out when you're cleaning and use it as kind of a disposable rag. They work wonderfully for dusting, polishing stainless steel, cleaning a tub or shower or even cleaning bugs and bird poop off your car! I even found this hack on cleaning grimy pans with a dryer sheet!
Use Swiffer dusters? Wash them and REUSE THEM!
Speaking of dusting, many of us use Swiffer dusters. But is anyone like me and only break them out for BIG cleaning jobs? I don't want to waste them! But here's a mind blowing hack – you can WASH THEM and REUSE THEM! Crazy, right? Head to this post to see the details!
Make your own house cleaners!
Have you ever tried making your own DIY homemade cleaners? They only require a few simple ingredients and are easy to make. They are also much cheaper than buying "green" or "organic" brands and are completely natural and environmentally friendly. Check out these homemade cleaner recipes I posted last year! I also have a recipe on making your own dishwasher detergent!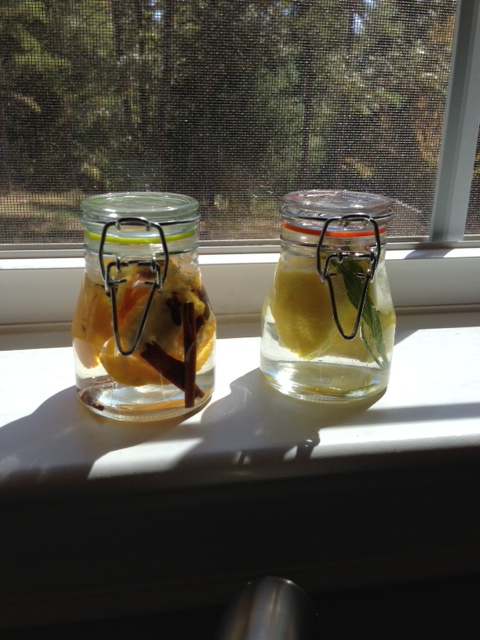 Make your own goo remover!
Since we're talking about making your own cleaners, what about making your own goo remover? Ever come across sticker goo or similar gunk only to realize you're out of the regular stuff? You don't need to buy it – make your own!
Clean your cutting board!
I love my wooden cutting board. I use it every single day. But that constant use can really make it dirty, even with regular wiping. You'll use two basic ingredients: half a lemon and some coarse salt. The lemon will help deodorize and the salt really gives the board a good scrubbing. You'll be surprised how much grime you end up wiping off at the end! Check out this post on cleaning your cutting board to give it a deep clean and make it super fresh!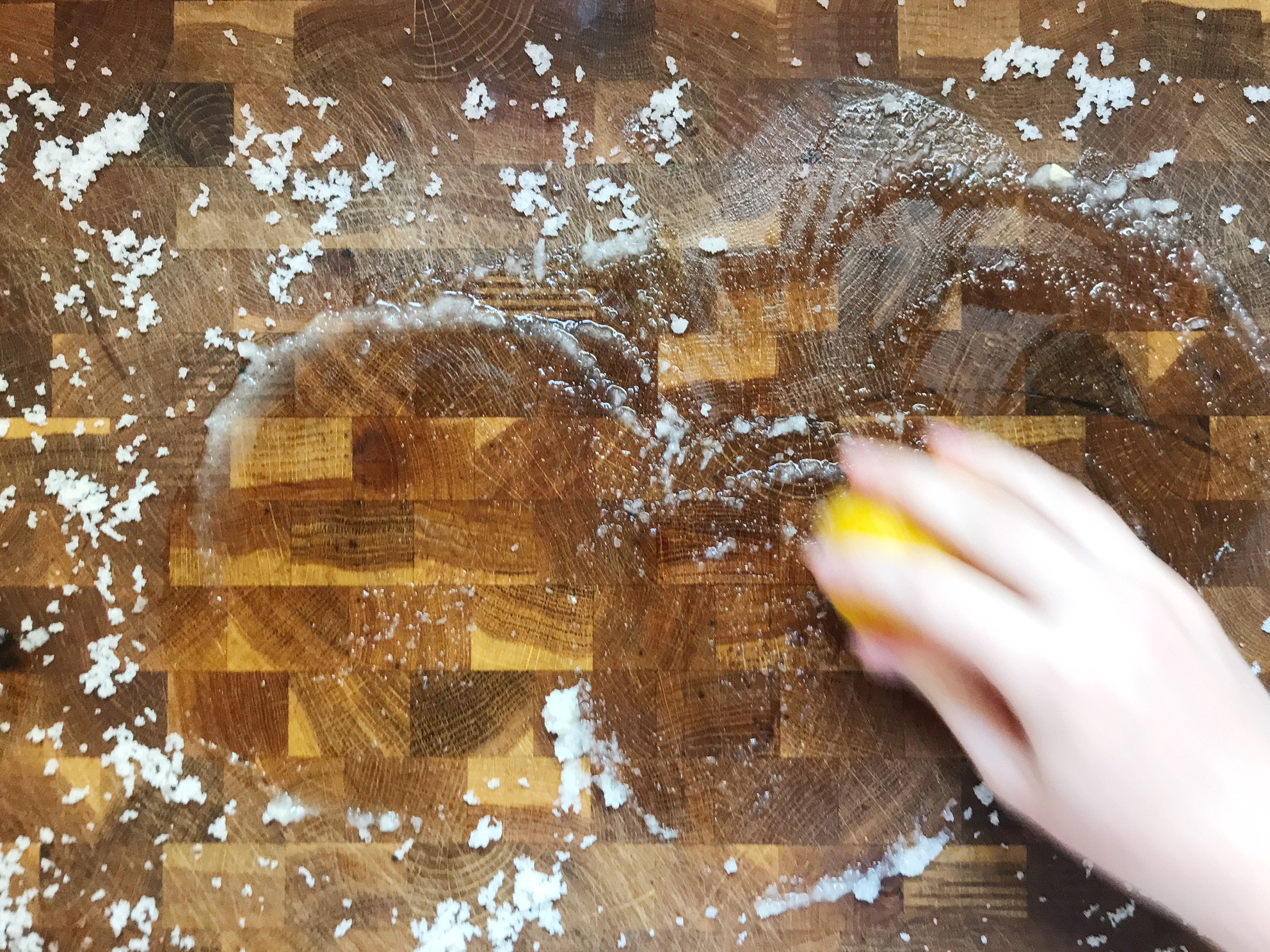 Shine your sink with citrus and baking soda (then throw it down your disposal to clean that, too!)
While you have out that lemon, go ahead and use the other half to deep clean your sink! There's nothing better than a clean, gleaming sink to really make a kitchen feel fresh. Check out this post to get all the details.  Plus, after you're done you can toss the used lemon down your disposal, run it while the hot water is on, and freshen up your drain, too. Another tip: If you're up for it, you go ahead and shine your sink up with a dab of olive oil after you're done. 
Clean stains off your stainless pots with apple peels!
Next time you're peeling apples (for whatever reason) don't throw them out!  Skip your compost bin this time, grab the peelings and deep clean your stainless pots! Grab a stained pot and simmer the peels with some water for 20 to 30 minutes. The acids in the peels will help break down stubborn stains on your pots. Check out this article to get a few more details!
Revamp your cast iron!
While you're tending to your cookware, go ahead and clean your cast iron, too!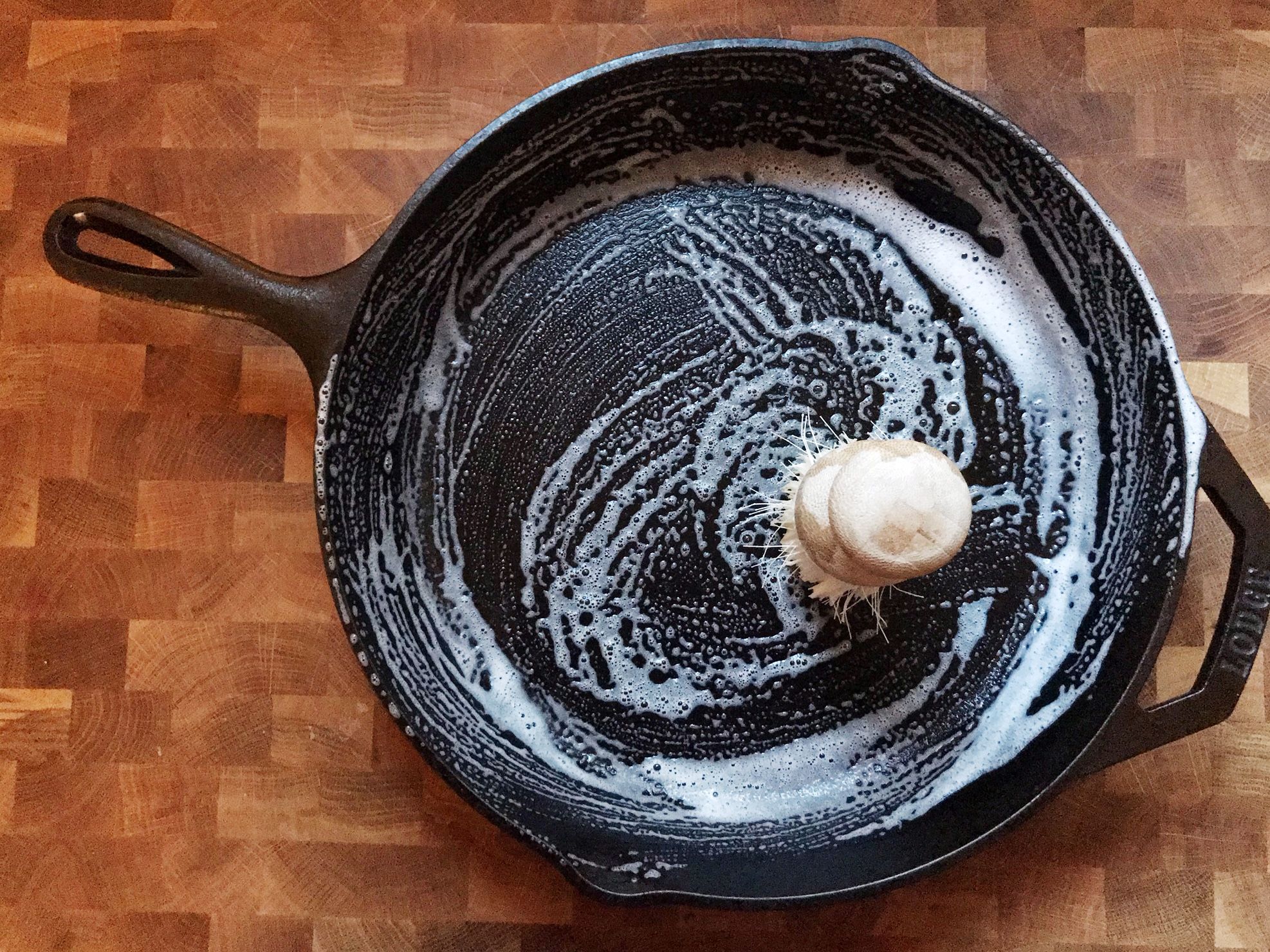 Deep clean appliances with vinegar (while you do other stuff!)
Not all cleaning has to be an arduous task. Some cleaning hacks can happen while you do other stuff! Use a little white vinegar to deep clean the following appliances:
– Dishwasher: Put a cup of vinegar securely in the bottom of your dishwasher (don't put soap in the dishwasher) and run your dishwasher on the hottest cycle.
– Washing machine: Put about 3-4 cups of vinegar directly into the drum of your washing machine. Set it to run on the hottest cycle (on mine it's the sanitize cycle) and when you notice that it's just about filled, push pause. Then let it sit for a while (an hour or so) and then let the cycle finish.
– Microwave: Put a microwave-safe bowl of vinegar and water (about a cup total, half vinegar and half water) and turn on your microwave. Let it run until the water boils and your microwave fogs up. Carefully remove the hot bowl and then wipe down with a clean rag, paper towels or some used dryer sheets.
– Coffee pot: Fill up the water tank with half vinegar and half water. Brew a cycle, let it run about halfway, and then stop it and let it sit for about 15 minutes. Then let the coffee pot finish. Dump the vinegar and then brew another cycle with just water and let it run all the way through to rinse. Use a Keurig? Here's an article with a few specific tips on cleaning your Keurig.
Wash and sanitize toys in your dishwasher!
Whether you're deep cleaning after your family has a sickness or it's just time to clear the crud, there are some toys you can stack in the dishwasher and get them squeaky clean and sanitized! Just make sure you don't put wooden toys or toys with electronics or batteries in the dishwasher. Soft toys (without batteries) can go in the gentle cycle in your washing machine.
Refresh mattresses and rugs with a sprinkle of baking soda and a few drops of essential oil!
Put a cup of baking soda and about 20-30 drops of your favorite essential oil in a container. Mix and then spread on carpets and mattresses, let it sit for 30 minutes and then vacuum it up! I love the storage container they made here.
All done cleaning? Spritz everything with DIY linen spray and call it a day!
One of my favorite things to do after everything is clean is to spritz the bedding, clean towels, upholstered furniture, rugs and curtains with a little linen spray. You can certainly use stuff from the store, but if you're out or just want to be in control of the ingredients you can go ahead and make your own linen spray!
What are your favorite cleaning hacks?
See more freebies.