This post may contain affiliate links. Read our disclosure here.
Rotisserie chickens are a great option for a frugal grocery budget because they are about as cheap as a whole chicken, but they're already cooked! You're saving both time and money.
Another great thing about a Rotisserie Chicken is that they can be used in so many different ways. You can certainly serve it as the main dish, but if you want to save even more money, here are some of my favorite ways to stretch a rotisserie chicken.
How to Stretch a Rotisserie Chicken
Rotisserie chickens are already seasoned, but the seasoning is relatively mild, so you can use it in different kinds of meals without it interfering with the flavor.
Broth or stock
While you figure out what to do with the meat, you can use the bones from a rotisserie chicken to make chicken or bone broth. Be sure not to add any additional salt, as the bones and skin from a rotisserie chicken will contribute a lot of salt to the broth. You can use this broth as a base for soup or in any recipe that calls for chicken stock! I make chicken broth on the stove, but you can also make chicken broth in the Instant Pot.
Pot pie
Making chicken pot pie is another way to stretch a rotisserie chicken. If you add plenty of veggies, you don't need to add very much chicken.
Pasta
Letting the chicken be an accompaniment to a dish instead of the main part lets you stretch it even further. We love adding shredded rotisserie chicken to this pesto spinach mac and cheese.
Soup
You can use your homemade broth as well as the chicken meat to make delicious chicken noodle soup. Freeze it and save it to eat during winter illnesses!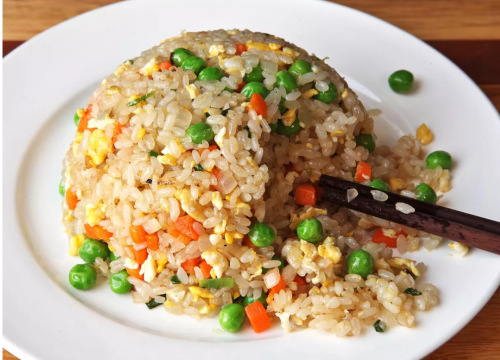 Fried rice
Similar to adding chicken to pasta, you can make fried rice and add some of the chicken meat from a rotisserie chicken.
Pizza
Think outside the pizza toppings box and add chicken to your homemade pizza! This chicken bacon pizza looks delicious, or you could make a BBQ chicken pizza.
Tacos
Something I haven't tried yet but want to, is to use the meat from a rotisserie chicken for tacos or burritos, but mix it in with beans to make it go farther. I'm thinking I could use black beans or even chickpeas, and my kids probably wouldn't even notice!
Chili
As the weather gets cooler, soups and chili are always on our family menu. If you are heavier with the beans, you don't need too much chicken to make white chicken chili.
Chicken salad
For a quick and easy lunch, chicken salad is delicious and comes together so quickly.
Do you have any more ideas for how to stretch a rotisserie chicken? Let us know in the comments!