This post may contain affiliate links. Read our disclosure here.
Although it is not always the favorite holiday for some people, I always enjoy when Valentine's Day comes around. It can be a fun way to celebrate your spouse, and there are also lots of fun options for things to do with your kids. If you don't have a significant other, you can still use it as an excuse to do something for yourself.
Over the years I have done a ton of posts on all things Valentine's Day, from frugal date ideas to DIY valentines to last minute gift ideas. Here are all of my best Valentine's Day ideas in one post.
Note: Some of these posts are older and links and prices may not be accurate. Hopefully in such cases, they will still provide some inspiration and ideas!
Southern Savers Valentine's Day Ideas Roundup
FOOD
How to Save on Valentine's Day Dinner
Simple Valentine's Treats to Make With Your Kids
Frugal Valentine's Day Dinner Ideas
DIY Valentines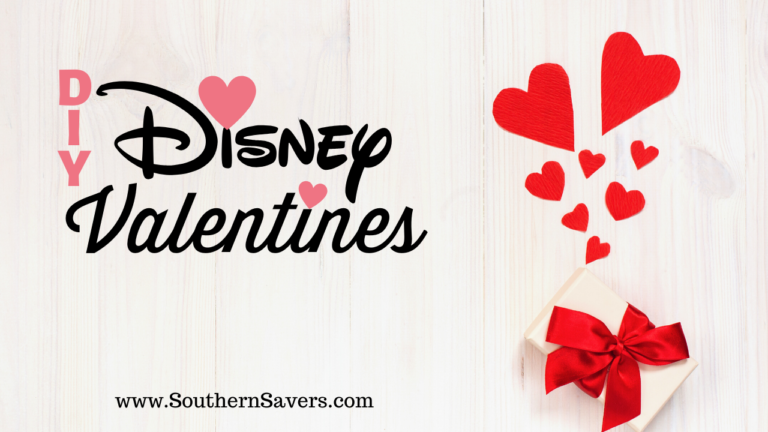 DIY Disney Valentines for Class Valentine Exchanges
20 DIY Valentines for Kids to Exchange
GIFTS
Simple Valentine's Gifts for Kids
10 Frugal Valentine's Day Gift Ideas Under $15
10 Valentine's Day Gifts to Give Yourself
8 Ways to Save on Valentine's Day Flowers
DATE IDEAS
10 Inexpensive and Crowd Free Valentine's Date Ideas
Fun and Frugal Valentine's Day Date Ideas
A Frugal Valentine's Date at Home
10 Frugal Valentine's Day Dates
Top 10 Valentine's Day Gifts for Him
Last Minute Valentine's Day Gifts
MISCELLANEOUS
13 Valentine's Day Ideas for Kids
Free Printable Valentine Coupon Books
DIY Star Wars Valentine's Day Ideas