This post may contain affiliate links. Read our disclosure here.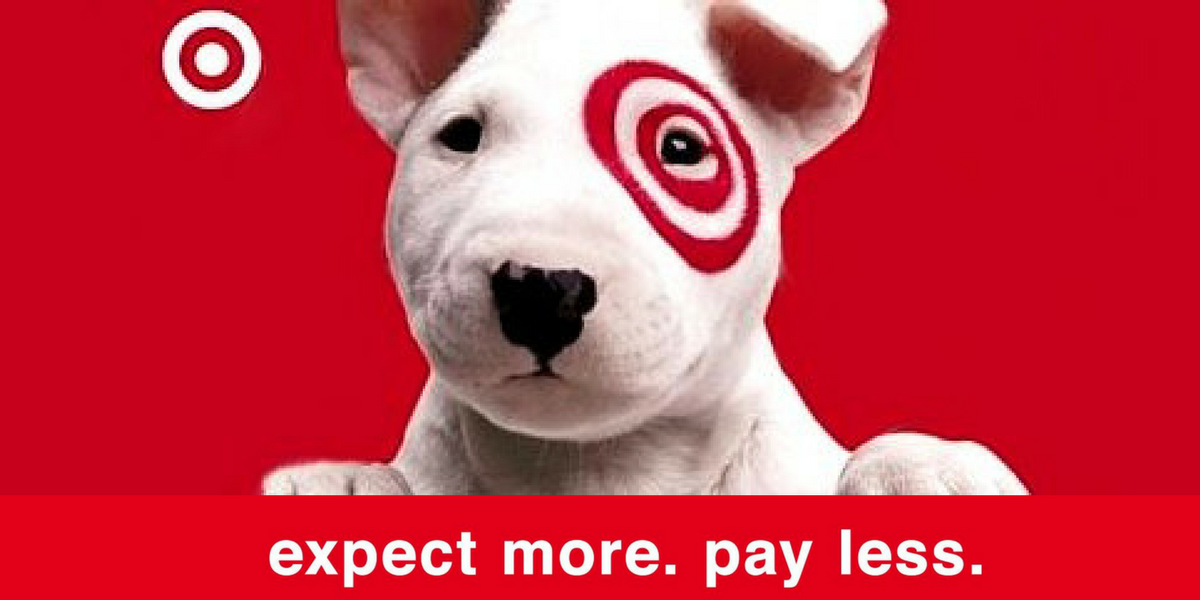 Get ready for all the deals at Target starting Sunday 4/29. Here are all the deals in the ad along with any coupons that are available. If you've got little ones, don't miss the in-ad coupon for a $15 Target gift card with any $75 baby department purchase!
Make sure to also check all the unadvertised deals still running at Target.
In Ad Coupons
$15 Target Gift Card w/ Select Baby Department Purchase of $75 or More


includes: wipes, bottles, baby food, formula, diapers, training pants, and baby toiletries
Electronics and Entertainment
20% Off Samsung Branded Cases for Galaxy S9
Nintendo Switch Donkey Kong Carry Case, $17.99
20% Off All Movies w/ Cartwheel
Gift Card Deals
$5 Target Gift Card WYB Any (2) Pet Items Listed
Purina Fancy Feast Wet Cat Food, 24 ct., $13.59


(Buy (2), makes it $11.09)


Purina Tidy Cats Litter, 35 lb, $12.99
-$1 off Purina Tidy Cats clumping cat litter, SS 04/29


(Buy (2), use (2) $1 off, makes it $9.49 ea. after Gift Card)


Purina ONE Dry Dog Food, 16.5 lb, $21.99
-$3 off Purina One Smart Blend dry dog food (sign up) printable
-$2 off Purina One smartblend dry dog food bag, SS 03/04


(Buy (2), use (2) $3 off, makes it $16.49 ea. after Gift Card)


Purina Dog Chow Dry Dog Food, 46 lb, $21.99
-$3 off Purina Dog Chow Complete Adult with Beef, 14 lb+, RP 04/08


(Buy (2), use (2) $3 off, makes it $16.49 ea. after Gift Card)


Purina ONE Dry Cat Food, 7 lb, $12.99
-$2 off Purina One dry cat food bag, SS 03/04
-$1 off Purina ONE Dry Cat Food – any size, any variety printable


(Buy (2), use (2) $2 off, makes it $8.49 ea. after Gift Card)

$10 Target Gift Card WYB Any (3) Household Items Listed
Bounty Paper Towels, 12 or 8 pk., $15.89
-$1 off Bounty Basic or Essentials, or Charmin Essentials item, excl single roll & trial size, PG 04/29
-.25/1 Bounty product, excl trial size, PG 04/29


(Buy (3), use (3) $1 off, makes it $11.56 ea. after Gift Card)


Viva Giant Roll Paper Towels, 8 pk., $9.79
-.75/1 Viva Vantage or Paper Towels, 6 pk+ printable
-.50/1 Viva Vantage or Paper Towels, 6 pk+ printable


(Buy (3), use (3) .75/1, makes it $5.71 ea. after Gift Card)


Gain Liquid Detergent, 120 oz, $11.99
-$3/3 Gain liquid or powder detergents, or Fabric Enhancers – Fireworks, Dryer Sheets or Liquid, excl Flings, dryer sheets 40-ct or less, Fireworks 6.4 oz and trial size, SS 04/22


(Buy (3), use $3/3, makes it $7.66 ea. after Gift Card)


Charmin Mega or Double Plus Bath Tissue, 12 or 24 pk., $13.99
-.25/1 Charmin Ultra Soft or Strong printable
-$1 off Bounty Basic or Essentials, or Charmin Essentials item, excl single roll & trial size, PG 04/29
-.25/1 Charmin toilet paper, or Freshmates, excl single roll, PG 04/29


(Buy (3), use (3) $1 off, makes it $9.57 ea. after Gift Card)


Bounce Dryer Sheets, 240 ct., $9.99
-$1 off Tide Simply detergent 37 oz+, Tide Simply PODS, Era Detergent 40 oz+, Downy Fabric Enhancer 40-load+, or Bounce or Downy sheets 40-ct+, excl trial size, Tide Detergent or PODS, Downy Libre Enjuague, and Era detergent 6 load, SS 04/22


(Buy (3), use (3) $1 off, makes it $5.66 ea. after Gift Card)


Cascade ActionPacs, 48-85 ct., $13.99


(Buy (3), makes it $10.66 ea. after Gift Card)


Tide Liquid Detergent, 92-100 oz, $11.99
-$2 off Tide or Dreft Liquid Laundry Detergent, Tide, 69 oz+, Dreft Newborn or Active Baby, 50 oz+, Dreft Purtouch, 40 oz+ printable


(Buy (3), use (3) $2 off, makes it $6.66 ea. after Gift Card)


Tide Pods, 32-42 ct., $11.99
-$1 off Tide Simply detergent 37 oz+, Tide Simply PODS, Era Detergent 40 oz+, Downy Fabric Enhancer 40-load+, or Bounce or Downy sheets 40-ct+, excl trial size, Tide Detergent or PODS, Downy Libre Enjuague, and Era detergent 6 load, SS 04/22


(Buy (3), use (3) $1 off, makes it $7.66 ea. after Gift Card)


Downy Unstopables Scent Booster Beads, 19.5 oz, $9.99
-$1 off Tide Simply detergent 37 oz+, Tide Simply PODS, Era Detergent 40 oz+, Downy Fabric Enhancer 40-load+, or Bounce or Downy sheets 40-ct+, excl trial size, Tide Detergent or PODS, Downy Libre Enjuague, and Era detergent 6 load, SS 04/22


(Buy (3), use (3) $1 off, makes it $5.66 ea. after Gift Card)


Downy Softener, 129 oz, $9.99
-$1 off Tide Simply detergent 37 oz+, Tide Simply PODS, Era Detergent 40 oz+, Downy Fabric Enhancer 40-load+, or Bounce or Downy sheets 40-ct+, excl trial size, Tide Detergent or PODS, Downy Libre Enjuague, and Era detergent 6 load, SS 04/22


(Buy (3), use (3) $1 off, makes it $5.66 ea. after Gift Card)


Gain Flings, 42 ct., $11.99


(Buy (3), makes it $8.66 ea. after Gift Card)


Scott 1000 Sheet Bath Tissue, 15 pk., $11.59
-.50/1 Scott 1000 Bath Tissue, 8 rolls+ printable
-.25/4 Scott 1000 item printable
-.50/1 Scott bath tissue, 6-roll+, SS 04/08


(Buy (3), use (3) .50/1, makes it $7.76 ea. after Gift Card)


Cottonelle Mega Roll Bath Tissue, 9 pk., $9.79
-.55/1 Cottonelle Toilet Paper printable
-.55/1 Cottonelle Toilet Paper printable
-.50/1 Cottonelle toilet paper, 6- rolls, SS 04/08
-.50/1 Cottonelle Toilet Paper, 6-ct+ pack, Ibotta App mobile coupon


(Buy (3), use (3) .55/1, makes it $5.91 ea. after Gift Card)

$5 Target Gift Card WYB Any (4) Personal Care Products Listed
Aussie Shampoo, $5.99


(Buy (4), makes it $4.74 ea. after Gift Card)


Select Old Spice or Olay Body Wash or Soap, $4.99
-$1 off Olay bar soap 4-ct+, or body wash, excl 1-bar and trial size, PG 04/29
-$1/3 Old Spice products, excl trial size, PG 04/29


(Buy (4), use (4) $1 off Olay, makes it $2.74 ea. after Gift Card)


Head & Shoulders Shampoo, $5.99
-$4/2 Head & Shoulders products 380 ml/12.8 oz+, or Clinical Solutions, excl trial size, PG 04/29


(Buy (4), use (2) $4/2, makes it $2.74 ea. after Gift Card)


Pantene Shampoo, $5.99
-$5/3 Pantene products, excl shampoo and conditioner 6.7 and 7.9 oz, and trial size, PG 04/29


(Buy (4), use $5/3, makes it $3.49 ea. after Gift Card)


Gillette 5 Razor w/ 2 Cartridges, $7.99
-$1 off Gillette 3 or Gillette5 razor, RMN 04/15
-$2 off Gillette or Venus razor, excl Gillette3, Gillette5, and disposables, PG 04/29


(Buy (4), use (4) $2 off, makes it $4.74 ea. after Gift Card)


Gillette Venus Razor w/ 2 Cartridges, $7.99
-$2 off Gillette or Venus razor, excl Gillette3, Gillette5, and disposables, PG 04/29


(Buy (4), use (4) $2 off, makes it $4.74 ea. after Gift Card)


Select Crest or Oral-B Oral Care, $4.99
-$1 off Crest Wash, 473 mL+, Ibotta App mobile coupon
-$1 off Crest Pro-Health Mouth Wash, 473 mL+, Intense, Advanced or Clinical varieties, Ibotta App mobile coupon
-$1 off Oral-B Glide Floss or Glide Floss Picks, 35 m+ floss, 30 ct.+ picks printable
-$1 off Crest mouthwash, 473 ml/16 oz+, excl trial size, PG 04/29
-$1 off Crest toothpaste or liquid gel 3 oz+ or kids toothpaste 3 oz+, excl 4.6 oz Cavity, Baking Soda, and Tartar Control/Protection; also excl Doc McStuffins, Cars and Princesses, PG 04/29
-$1 off Oral-B adult or kids manual toothbrush, excl Healthy Clean, Cavity Defense & trial size, PG 04/29
Herbal Essences Shampoo, $5.99
-.55/1 Herbal Essences Conditioner, 10.1 oz+, excl bio:renew hair items, Ibotta App mobile coupon
-.80/1 Herbal Essences Conditioner, 10.1 oz+, excl bio:renew hair items, Ibotta App mobile coupon
-.60/1 Herbal Essences Shampoo, 10.1 oz+, excl bio:renew hair items, Ibotta App mobile coupon
-$1.20 off Herbal Essences Shampoo, 10.1 oz+, excl bio:renew hair items, Ibotta App mobile coupon


(Buy (4), use $1.20 off, makes it $4.44 ea. after Gift Card)


Secret or Old Spice Deodorant, $3.97
-$1/3 Old Spice products, excl trial size, PG 04/29


(Buy (4), use $1/3, makes Old Spice $2.47 ea. after Gift Card)

$5 Target Gift Card WYB (3) Quest or Olly Nutrition Bars or Cookies, 4 pk., $7.99


(Buy (3), makes it $6.32 ea. after Gift Card)

$50 Target Gift Card WYB Samsung Curved Smart UHD TV, 65″, $1099.99


(Makes it $1049.99 after Gift Card)

$50 Target Gift Card WYB Samsung Smart UHD TV, 65″, $849.99


(Makes it $799.99 after Gift Card)

$100 Target Gift Card w/ Qualified Activation Samsung Galaxy Note8
$5 Target Gift Card WYB Any (3) L., Cora, Tampax, or Always Feminine Care Products
-.75/1 Always Radiant pantiliners, 48 ct.+ printable
-.50/1 Always liners 30-ct+, or wipes 20-ct+, excl Discreet, PG 04/29
-$2/2 Always Radiant or Infinity pads, 11-ct+, excl Discreet, PG 04/29
-$2/2 Tampax Pearl or Radiant tampons, 16-ct+, PG 04/29
$5 Target Gift Card WYB Milkmakers Oatmeal Chocolate Chip Lactation Cookie Bites, 10 ct., $21.99


(Makes it $16.99 ea. after Gift Card)

$30 Target Gift Card WYB Medela Pump-In-Style Advanced Breast Pump, $229.99


(Makes it $199.99 after Gift Card)

$20 Target Gift Card WYB Samsung 2.1 130 W Soundbar, $139.99


(Makes it $119.99 after Gift Card)

$50 Target Gift Card WYB Samsung Smart UHD TV, 50″, $499.99


(Makes it $449.99 after Gift Card)

$100 Target Gift Card w/ Qualified Activation Samsung Galaxy S9 & S9+
Apparel
Buy (1) Get (1) 50% Off All Universal Thread and A New Day Tops
Car Seat Trade-In Event
Get 20% Off Coupon for New Car Seat or Stroller wy Recycle Your Old Car Seat
Produce
Avocados, 89¢ ea.
Organic Strawberries, 1 lb, $2.99
Organic Grape Tomatoes, 10 oz, $2.50
Mini Sweet Peppers, 1 lb, $2.99
Meat
Buy (1) Get (1) 20% Off All Ground Turkey
Pork Spare Ribs, $2.49 lb
Fridge or Frozen
Buy (3) Get (1) Free All Novelty Treats and Ice Cream
-.75/1 Blue Bunny ice cream and novelties printable
-$1 off Whole Fruit frozen novelty printable
-$1 off Halo Top Ice Cream printable
-.75/1 Turkey Hill All Natural Ice Cream printable
-$1 off Mayfield novelty carton, 4-ct+, RP 03/25
-$1 off Mayfield Ice Cream, 48 or 56 oz, RP 03/25
-$1.25 off Enlightened The Good-For-You Ice Cream, 1-pint, Ibotta App mobile coupon
-$1.35 off Enlightened The Good-For-You Ice Cream Bars, box, Ibotta App mobile coupon
-.75/1 Turkey Hill Decadent Delights Novelties, 9.12 oz bars, 21 oz parfaits, (zip 30003) printable
-.75/1 Turkey Hill All Natural Ice Cream, 48 oz, SavingStar eCoupon
-.75/1 Turkey Hill Decadent Delights Novelties, 9.12 oz bars or 21 oz parfaits, SavingStar eCoupon
-$2 off Chilly Cow ice cream 2-pk 8 oz tubs, or 5-pk ice cream bars, SS 04/08
-$1 off Purity Novelty Carton, 4-pk+, RMN 04/15
-$1 off Blue Bunny Sweet Freedom Ice Cream Carton, excl single serve & personals cups printable
-$1 off Pet Novelty Carton, 4-pk+, RMN 04/15
-.50/1 Blue Bunny Load'd Sundaes Ice Cream Cup, Ibotta App mobile coupon
-$2.50 off Chilly Cow Ice Cream, 2-pk 8 oz tubs, limit 5, Ibotta App mobile coupon
-15% off Magnum Ice Cream Tubs, all varieties, Target Cartwheel eCoupon
-$2.50 off Chilly Cow Ice Cream Bars, 5-pk, limit 5, Ibotta App mobile coupon
-$1 off Turkey Hill Trio'politan Premium Ice Cream, 48 oz, RMN 04/22
-$1 off Turkey Hill All Natural Ice Cream, 48 oz, RMN 04/22
Healthy Choice Power Bowls, $3.50
10% Off All Horizon Organic Cheese
-$1 off Horizon Organic Cheese (sign up) printable
Tropicana Orange Juice, $3.33 ea.
Totino's Pizza Rolls, 40 ct., $2.25
Market Pantry Chicken Breasts, 2.5 lb, $5.99
Sabra Hummus, 10 oz, $2.79
-$1 off Sabra Hummus printable


(Makes it $1.79)

Haagen-Dazs Pints, 14 oz, $3.50
Dryer's or Edy's Ice Cream, 1.5 qt., $3.50
Horizon Organic Milk, 64 oz, $3.99
Grocery
Lindor & Ghiradelli Chocolate, $4
Keebler Cookies, 6-14.2 oz, $1.67 ea.
-$1 off Keebler cookies, 6 oz + (850 points) printable
-$1 off Keebler crackers, 8 oz + (850 points) printable


(Makes it 67¢)

Post or Life Cereal, 11-25 oz, $2.50
-$1/2 Post Pebbles cereals, 11 oz+ printable
-.50/1 Post Oreo O's or Honey Maid S'mores Cereal printable
-.50/1 Post Ore O's Cereal, Target Cartwheel eCoupon
-.25/1 Post Honey Maid S'mores Cereal, 12.25 oz+ box, Ibotta App mobile coupon
-.25/1 Post Honey Bunches of Oats cereal, Honey Roasted variety, any size, Ibotta App mobile coupon
-.25/1 Post Honey Bunches of Oats cereal, Almond variety, any size, Ibotta App mobile coupon
-.25/1 Post OREO O's Cereal, 11 oz+ box, Ibotta App mobile coupon


(.50/1 makes it $2)

Simply Balanced Fruit Strips, 25 ct., $5.50
-5% off Simply Balanced Fruit Strips, Cups and pouches, Target Cartwheel eCoupon


(Makes it $5.22)

V8 Fusion or Veggie Blends, 46 oz, $2.79
Ocean Spray Juice, 64 oz, $2.79
Vita Coco Drinks, 500 mL, $1.67
King's Hawaiian Buns and Rolls, 6-12 ct., $3
Starbucks Ground or Whole Bean Coffee, 11-12 oz, $5.99 ea. WYB (3)
Lay's Chips, 5-8 oz, $2
Archer Farms Trail Mix, 14 oz, $3.49
-5% off Archer Farms Nuts & Trail Mix, excl trial size, Target Cartwheel eCoupon


(Makes it $3.32 )

Pepsi Cans and Bottles, 12 or 8 pk., $3.33 ea. WYB (3)
-$1/2 Diet Pepsi or Pepsi Zero Sugar, 12-pk 12 oz cans, on same receipt, Ibotta App mobile coupon
-.50/1 Pepsi-Cola or Mountain Dew or Mist TWST, 8-pk 12 oz plastic bottles, Ibotta App mobile coupon


(Buy (3), .50/1 makes it $3.17 ea.)

Dove Promises, 8.5 oz, $3.50
General Mills Cereal, 12-18 oz, $3
-Free Milk gallon WYB (4) participating General Mills Big G cereal boxes, up to $5.50 Rebate
-$1 off General Mills Cinnamon Toast Crunch Blasted Shreds or Peanut Butter Chocolate Blasted Shreds cereal, SS 03/25


($1 off makes it $2)

Kellogg's Cereal, 17-18 oz, $3
-$1 off Kellogg's cereal, 8.7 oz + (850 points) printable
-$1/2 Kellogg's Rice Krispies or Cocoa Krispies cereals, 9 oz+, RP 03/18 (EXP 4/29)
-.50/1 Kellogg's Donut Shop Cereal printable
-$2/4 Kellogg's cereals printable
-.50/1 Kellogg's Super Mario cereal printable
-.50/1 Kellogg's Chocolate Frosted Flakes cereal printable
-$1/2 Kellogg's Special K cereals printable
-$1/2 Kellogg's Raisin Bran cereals printable
-$1/2 Kellogg's Krave, Apple Jacks, Pops or Frosted Flakes cereal, RP 04/08
-$1 off Kellogg's Donut Shop, Unicorn or Special K Nourish Berries & Peaches cereal printable


($1 off makes it $2)

Entenmann's Little Bites, $2.79
Skippy Peanut Butter, 40 oz, $4.99
-.55/2 Skippy peanut butter printable
-.55/2 Skippy products printable


(Buy (2), .55/2 makes it $4.72 ea.)

Coffee-Mate Creamer, 32 oz, $2.99
Quaker Chewy Bars, 5-8 ct., $2
Cheez-It Snack Crackers, 8-12.4 oz, $2.50
-$1 off Sunshine Cheez-It 7 oz + (850 points) printable


(Makes it $1.50)

Bubly Sparkling Water, 8 pk., $3.33 ea.
Welch's 100% Juice, 64 oz, $2.79
-$1/2 Welch's 100% Juice, non-Kosher, 46 or 64 or 96 oz, or 10 oz multipk, RP 02/04 (EXP 4/30)


(Buy (2), $1/2 makes it $2.29 ea.)

FIJI Water, 1 L, $1.67
Bai Drinks, 18 oz, $1.67
Mission Soft Four Tortillas, 10 ct., $1.50
Tostitos Chips, Dips, and Salcas, $3
Buy (1) Get (1) 50% Off All Single Serve Coffee Pods
-$1 off Green Mountain Hazelnut iced coffee K-Cups, 12 ct. printable
-5% off Archer Farms Coffee, bags, pods & additives, Target Cartwheel eCoupon
-$1 off The Original Donut Shop coffee k-cup pods, 10-ct+ box, SS 03/11
-$1.50 off Green Mountain Coffee Roasters, 10 or 12 oz bagged coffee, or 10-ct+ K-cup pods, SS 03/25
-$1.50 off Tully's 12oz bagged coffee, or 12ct+ k-cup pods, SS 03/25
-$1.50 off Krispy Kreme bagged coffee 12 oz, or k-cup pods 12-ct+, SS 03/25
-$1.50 off Laughing Man coffee, 12 oz bag, or (1) k-cup pods 10-ct, SS 03/25
-$1.50 off Laughing Man Coffee K-Cup Pods, 16-ct, Ibotta App mobile coupon
-20% off Eight O'Clock Coffee K-Cup Pods, all varieties, Target Cartwheel eCoupon
Baby Care
Bananafish Breast Pump Backpack, $35
Household
Ziploc Mega Packs, $7.49
-$1/2 Ziploc products printable
-$1/2 Ziploc bags, SS 04/22


(Buy (2), $1/2 makes it $6.99 ea.)

Buy (1) Get (1) 30% Off All Household Cleaning Products
Pet Care
20% Off All Flea & Tick Products for Dogs and Cats
-20% off Hartz Flea & Tick, all varieties, Target Cartwheel eCoupon
-$5 off Adams flea & tick collars, 2-pk, RMN 04/29
-$2 off Adams flea & tick items, excl single pack collars, RMN 04/29
-$2 off Adams regular or Plus flea & tick Spot On for dogs, 3 month or 6 month supply, RMN 04/29