This post may contain affiliate links. Read our disclosure here.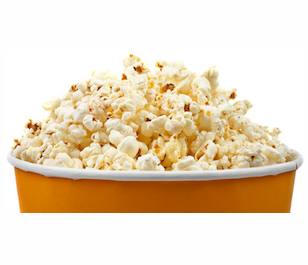 Going to the movie theater can be a ton of fun because of the huge screen, tasty treats, and the overall experience.  But going to the movies has become increasingly expensive in the last few years.  So, with Valentine's Day coming up, I thought it'd be fun to look at all the ways you can watch a movie for free or at a much cheaper cost than that of a movie theater.
Free to Watch Instantly
Youtube.com
Crackle.com
Hulu.com
For those of you who don't know, Youtube recently added a feature where you can watch whole movies online for free. Like the other options listed above, you have to watch commercials every few minutes.  For some this can be annoying, but it is free, so it may be worth the trade off.  The main downside is the selection. These are mostly older movies, but there are some decent titles available depending on what you are in the mood for.
Movie Rentals
Redbox (get a free code for Valentine's Day)
Blockbuster Express (get current $1 off codes)
Amazon On-Demand
These can be good alternatives to going to the movies if you rent the movie, watch it that night, and return it the next day.  Paying per night is nice as long as you only keep it one night.  What makes these even more attractive is the $1 off coupon codes that are usually available.  Most new releases are now $2-$3, but there is still a large selection of good movies that can be free with the use of a coupon code. If you don't want to leave your house, you can rent Movies on Demand from Amazon for anywhere from 99¢-$3.99.  Sometimes they also offer codes and discounts too!
Paid Subscriptions
Hulu Plus $7.99/month (free 1-week trial)
Netflix $7.99/month (free 1-month trail)
Blockbuster $9.99/month (check with your store for pricing)
Amazon Prime $79/year or basically $6.58/month
(plus get free 2-day shipping on Amazon purchases)
Paying a monthly fee to these sites can add up, but there are perks.  Each offers a huge selection of movies and TV shows to choose from, you can watch as many as you want, and you don't have to leave your house to get the movies.  Before purchasing a subscription to one of these sites, you'll want to review the depth of selection available.
We've had Netflix for a while and love it. They seem to have the largest selection and are always adding new features and options. Another perk is that you pay month to month and can cancel your subscription at any time.
With purchase of player
Roku (get a $5 credit to Amazon On Demand when you register your device)
Apple TV
Both the Roku and Apple TV have free content you can access or you can also use them with any one of the subscription services above. They are an easy way to get online content displayed on your TV.  We love our Roku and have found lots of random free shows to watch.  They even have channels for the news! I think I've already mentioned that out favorite is Warehouse 13 right now!
For other ideas on how to save on Entertainment, check out this earlier post.