This post may contain affiliate links. Read our disclosure here.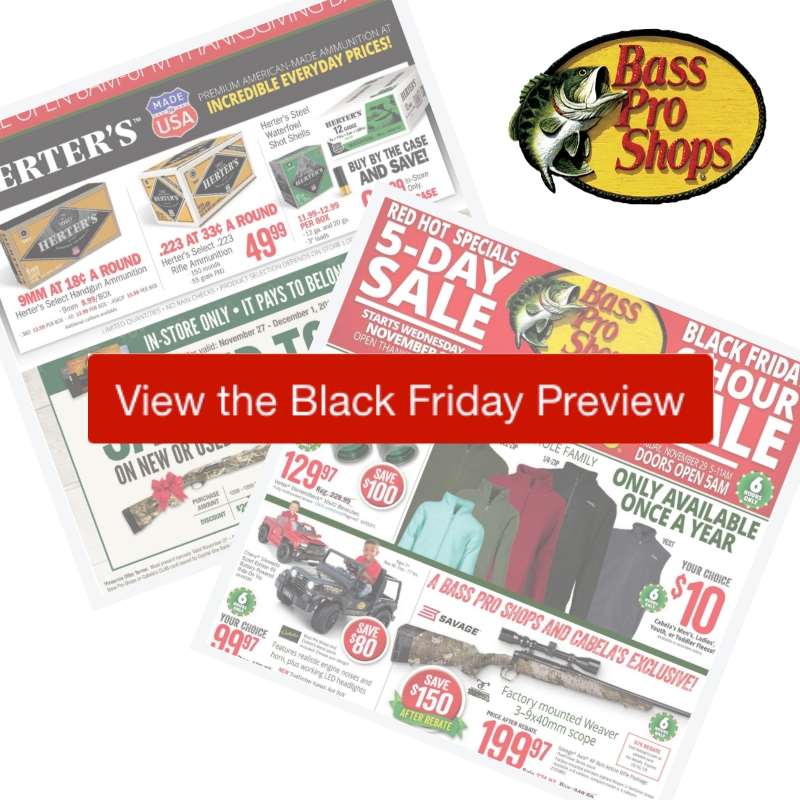 My husbands favorite Black Friday ad is out! Check out all the deals in the 2019 Bass Pro Black Friday Ad.
Doors open Thursday, Thanksgiving Day at 8 am and reopen at 5 am on Black Friday. Note that some deals are part of a 6 hour doorbuster sale that is Friday morning only.
See the full Bass Pro Black Friday Ad
Search across all the Black Friday ads
and see what stores have the best deals.
2019 Bass Pro Black Friday Ad Deals
Household
White River Brixton 8 pc Bed Set, $49.97


6 Hour Sale Friday 11/29 5-11 AM Only

White River Coral Fleece Throws, $7.97


6 Hour Sale Friday 11/29 5-11 AM Only

La Crosse Technology Color Wireless Wi-Fi Professional Weather Station, $99.97


6 Hour Sale Friday 11/29 5-11 AM Only

Toilet Paper Blasters Skid Shot Spitball Gun, $14.97
Bass Pro Shops Cabin Play Tent, $69.97


6 Hour Sale Friday 11/29 5-11 AM Only

Sunglass Outfiters Premium Polarized Sunglasses, $99


6 Hour Sale Friday 11/29 5-11 AM Only

White River Dinnerware Sets 25% off
Toys
Bass Pro Shops and Cabela's Jumbo Play Set B1G1 50% off
Bass Pro Shops and Cabela's Small Play Set B1G1 50% off
Bass Pro Shops and Cabela's Medium Play Set B1G1 50% off
Melissa & Doug Toys 30% off
Bass Pro Shops or Cabela's Bean Bag Toss Game, $39.97
Big Dig Working Crane Ride-On Toy, $39.97
Cabela's The Hunt Nintendo Switch Game Bundle, $39.97
Cabela's The Strike Nintendo Switch Game Bundle, $39.97
Bass Pro Shop Rhino TrueTimber 4×4 RC Truck, $49.97
Bass Pro Shops Forager RC Drone, $44.97
Bass Pro Shops 20V Power Drive RC Truck, $89.97
Clothing
Cabela's Men's, Ladies', Youth or Toddler Fleece, $10


6 Hour Sale Friday 11/29 5-11 AM Only

RedHead Washed Canvas Hooded Jacket, $39.97


6 Hour Sale Friday 11/29 5-11 AM Only

RedHead Beanie and Glove Combo , $7.50


6 Hour Sale Friday 11/29 5-11 AM Only

Natural Reflections Ladies' Long Sleeve Flannel Shirt, $10


6 Hour Sale Friday 11/29 5-11 AM Only

RedBed Men's Promo Plaid Flannel Lounge Pants, $5


6 Hour Sale Friday 11/29 5-11 AM Only

Redhead Men's Bighorn Long Sleeve Sweater, $19.97


6 Hour Sale Friday 11/29 5-11 AM Only

Natural Reflections Ladies' Promo Plaid Pajama Pants, $5


6 Hour Sale Friday 11/29 5-11 AM Only

Bass Pro Shops Youth Denim Jeans, $10


6 Hour Sale Friday 11/29 5-11 AM Only

Natural Reflections Ladies Thermal Crewneck Top, $10


6 Hour Sale Friday 11/29 5-11 AM Only

Natural Reflections Ladies Quarter Zip Fleece Pullover, $10


6 Hour Sale Friday 11/29 5-11 AM Only

Natural Reflections Ladies Classic Straight Leg Jeans, $10


6 Hour Sale Friday 11/29 5-11 AM Only

RedHead Gray's Creek Long Sleeve Crew or Henley, $10


6 Hour Sale Friday 11/29 5-11 AM Only

RedHead tower Rock Waffle Crew , $10


6 Hour Sale Friday 11/29 5-11 AM Only

RedHead Lined Shirt Jacket, $17.97


6 Hour Sale Friday 11/29 5-11 AM Only

RedHead Men's Fleece or Flannel-Lined Denim, $24.97


6 Hour Sale Friday 11/29 5-11 AM Only

Clarks Mens Hudson Bay Mocs, $19.97


6 Hour Sale Friday 11/29 5-11 AM Only

Cabela's 4 pair Pack Wool Socks, $12.97


6 Hour Sale Friday 11/29 5-11 AM Only

Merrell Men's Vego Mid Waterproof Hiking Boots, $69.97


6 Hour Sale Friday 11/29 5-11 AM Only

Ascend Ladies Sweater Fleece Full Zip Jacket, $37.50


6 Hour Sale Friday 11/29 5-11 AM Only

Ascend Men's Bonded Sweater Vest, $30


6 Hour Sale Friday 11/29 5-11 AM Only

Natural Reflections Ladies Natural Fleece Lined Denim, $24.97


6 Hour Sale Friday 11/29 5-11 AM Only

Bass pro Shops or Cabela's Mesh Back Cap, $5


6 Hour Sale Friday 11/29 5-11 AM Only

Natural Reflections Ladies Cozy Socks 2 pair, $12.97


6 Hour Sale Friday 11/29 5-11 AM Only

Quagga Black Friday Boucle Blanket Wrap, $10


6 Hour Sale Friday 11/29 5-11 AM Only

Bass Pro Shops Men's Quarter Zip Fishing Jersey, $24.97


6 Hour Sale Friday 11/29 5-11 AM Only

Bass Pro Shops Men's HPR Jacket or Bibs, $89.99
RedHead or Cabela's Men's or Youth Promo Hoodie, $15
RedHead Men's, Youth or SHE Outdoor Ladies Thermal Fleece Crew Tops or Pants B1G1
RedHead Men's, Youth or SHE Outdoor Ladies Camo Utlity Rubber Boots, $29.97
Carhartt Hubbard Flannel Shirt, $44.99
Columbia Horizons Pine Interchange 3 in 1 Jacket System 25% off
North Face Apex Bionic 2 Jacket 25% off
Columbia Benton Springs Full Zip Fleece Jacket, $29.99
Columbia Basin Trail Fleece Long Sleeve Pullover, $37.50
Under Armour Synthetic Fleece Chenille Logo Long Sleeve Hoodie, $41.25
The North Face Sobranta Crew Sweatshirt, $45
Natural Reflections Ladies Ellie or Allie Moc Slippers, $19.97
Natural Reflections Ladies Double Layer Home Socks, $9.99
RedHead Men's Lodge Moc Slippers, $24.97
RedHead Men's, Ladies or Kids Camo XTR Mocs, $19.97
Natural Reflections Ladies Lumber Jill Pac Boots, $39.97
Wolverine Men's Rancher Square Toe Work Boots, $69.97
Natural Reflections Ladies Bernie Shearling Boots, $39.97
Natural Reflections Ladies Megan Buckle Boots, $24.97
RedHead Slient-Hide Collection 25% off
Under Armour CamoTech Terry Hoodie, $42.97
RedHead Men's or SHE Outdoor 7″ Expedition Hunting Boots, $49.97
DryShot Men's Insight XT Hunting Boots, $89.97
RedHead Men's 8″ Tracker Hunting Boots, $89.97
Cabela's Men's Silent Stalk Gore-TEX Insulated Hunting Boots, $89.97
Irish Setter Men's Ravine Imsulated Boots, $119.97
Sporting Goods
Vortex DiamondBack 10×42 Binoculars, $129.97


6 Hour Sale Friday 11/29 5-11 AM Only

TrueTimber Kanati 4×4 SUV 6V Battery Powered Ride on Toy, $99.97


6 Hour Sale Friday 11/29 5-11 AM Only

Cabela's Plush Pillow Dog Bed, $10


6 Hour Sale Friday 11/29 5-11 AM Only

Hummingbird Helix 7 G2 Fish Finder and Chartplotter, $399.97


6 Hour Sale Friday 11/29 5-11 AM Only

Cabela's 36″ Pro Series Pellet Grill, $499.97


6 Hour Sale Friday 11/29 5-11 AM Only

Cabela's 24″ Pro Series Pellet Grills, $399.97


6 Hour Sale Friday 11/29 5-11 AM Only

Bass Pro Shops A/M 24 Inflatable Life Vest, $59.97


6 Hour Sale Friday 11/29 5-11 AM Only

Cabela's Outdoor Essentials Combo, $10


6 Hour Sale Friday 11/29 5-11 AM Only

Humminbird Helix 10 Mega SI G2N GPS, $999.97


6 Hour Sale Friday 11/29 5-11 AM Only

Johnny Morris Platinum Signature Spinning Reel, $69.97


6 Hour Sale Friday 11/29 5-11 AM Only

Johnny Morris Platinum Signature Baitcast Reel, $124.97


6 Hour Sale Friday 11/29 5-11 AM Only

Johnny Morris Platinum Signature Rod, $119.97


6 Hour Sale Friday 11/29 5-11 AM Only

Cabela's 3 person Hub ICe Shelter Combo, $139.97


6 Hour Sale Friday 11/29 5-11 AM Only

StrikeMaster Chipper Lite 8″ Ice Auger, $299.88


6 Hour Sale Friday 11/29 5-11 AM Only

Lowrance Elite 9 Ti TotalScan FishFinder/Chartplotter, $599.97


6 Hour Sale Friday 11/29 5-11 AM Only

Garmin echoMap Plus 93 SV, $599.97


6 Hour Sale Friday 11/29 5-11 AM Only

Bass Pro Shops Lunker Lounger, $59.97


6 Hour Sale Friday 11/29 5-11 AM Only

Cabela's Catch All Gear Bag, $12.99


6 Hour Sale Friday 11/29 5-11 AM Only

Mr. Heater Big Buddy Propane HEater, $119.97


6 Hour Sale Friday 11/29 5-11 AM Only

Kelty Bestie Blanket, $19.97


6 Hour Sale Friday 11/29 5-11 AM Only

Bass Pro Shop Eclipse Magnum Directors Chair with Side Table, $39.97


6 Hour Sale Friday 11/29 5-11 AM Only

Bass Pro Shops Travel Lite Tripod Stool, $9.99


6 Hour Sale Friday 11/29 5-11 AM Only

Winchester SXP Defender Pump Action Shotgun, $249.97
-$50 Mail in Rebate
=$199.97
Cabela's Flag 24 Gun Safe, $499.97
Cabela's 7 pc Gun Safe Accessory Kit, $19.97
Garmin GPSMAP 64st US Handheld Navigation Unit, $169.99
Sig Sauer P365 Semi Auto Pistol, $399.97
FEderal Black Ammo, $49.97


$25 Rebate WYB (2)

RangeMaxx 10″ Gong with Stand, $59.97
Cabelas 7′ Santa and Snowman in Deer Blind Inflatable, $49.97
Bass Pro Shops 14′ Water Ski Santa Inflatable, $49.97
La Crosse Technology Wi-Fi Remote Monitoring Color Weather Station, $59.97
La Crosse Technology Wireless Weather Station Combo Pack, $39.97
Garmin Panoptix LiveScope Transducer System, $1499.99
Boss Audio Systems AM/FM Marine Reciever with Bluetooth and 2 Speakers, $59.97
Bass Pro Shops Watertight Equipment Case, $19.97
Scosche BoomBottle MM Waterproof Wireless Speaker with Built-In MagicMount, $79.97
Garmin Drive 51 LM Personal GPS Navigator with Driver Alerts, $89.97
Aqua-Vu Micro II Underwater Camera, $149.99
Camo Ratchet Tie-Down Set, $9.97
Bass Pro Shops Pro Qualifier 2 Rod, $69.97
Bass Pro Shops Pro Qualifer 2 Baitcast Reel, $74.97
XPS Hardbait Kit, $9.99
Pflueger Trion Spinning Combo, $59.99
G-Loomis Cap and T-Shirt Combo, $19.99
Berkley Line Spooling Station, $14.97
Plano Guide Series Tackle Bag 40% off
XPS Hyper Braid 8 2 pk Fishing LIne, $15.97
Bass Pro Shops Round 16 Rod Floor Rac, $19.97
Bass Tracker Classic XL , $10995


$400 Instant Gift Card WYB

Tracker 90, $2399


$200 Instant Gift Card WYB

Cabela's #5 Meat Grinder, $59.97
Cabela's Heavy Duty Vacuum Sealer, $199.97
Cabela's Heavy Duty Slicer, $79.97
Cabela's Harvester 5 Tier Dehydrator, $49.97
Bounty Hunter Sharp Shooter II Metal Detector Combo, $199.97
Bradley Original Electric Smoker, $199.97
Bass Pro Shops Eclipse 1.5L Hydration Pack, $10
SOG Pro 6.0 Combo Kit, $49.97
Bass Pro Shops Folding Fillet Table, $39.97
Cabela's Outdoorsman 3800/4750W Generator by Champion, $349.97
Cabela's Carnivore Grinder starting at, $349.99
Cabela's Commerical Grade Vacuum Sealer starting at , $299.99
Cabela's Commerical Grade Meat Slicer starting at , $279.99
Cabela's 80L Commerical Grade Dehydrator, $299.99
Traeger Pro 575 Pellet Grill, $699.97
Trager Pro 780 Pellet Grill, $699.97
Bass Pro Shops 6.5 qt Aluminum Fish Fryer, $24.97
Camp Chef Explorer 3 Burner Camp Stove, $129.97
Camp Chef Professional Steel Griddle, $59.99
Camp Chef Reversible Cast Iron Grill and Griddle, $44.99
Garmin GPSMAP 66i, $524.99
Garmin inReach Explorer + Satelite Communicator/Navigator, 374.99
Garmin Instinct GPS Wearable, $199.99
SOG Pro 3.5 Knife Kit, $29.97
Cabela's Home Trainer 360 E-Collar Dog Training System, $89.97
Cabela's Dog Beds 25% off
Lew's Match Baitcast Reel, $69.97


6 Hour Sale Friday 11/29 5-11 AM Only
Hunting
Savage Axis XP Bolt Action Rifle Package, $274.97
-$75 Mail in Rebate
=$199.97
6 Hour Sale Friday 11/29 5-11 AM Only
Herter's Select handgun Ammunition 9mm, $8.99
Herter's Select .223 Rifle Ammunition, $49.99
Herter's Steel Waterfowl Shot Shells, $99.99
Save up to $100 on new or used firearms with your club card
Spypoint Link-EVO Cellular Trail Camera, $149.97


6 Hour Sale Friday 11/29 5-11 AM Only

Carbon Express X-Force PileDriver 390 Crossbow Kit, $199.97
Bushnell Trophy Cam HD Low-Glow Trail Camera Bundle, $99.97
Avian X AXP Lesser Canada Goose Combo Decoy, $149.97
Smith & Wesson S&W SDVE Series 9MM, $339.99


$40 Gift Card WYB

Smith & Wesson S&W M&P Bodyguard Revolver, $289.97


+$50 Gift Card WYB

Beretta 92FS , $549.97
Beretta All in Storck APX Full-Size, APX Centurion or APX Compact Semi-Auto Pistols, $329.97
Ruger Security 9, $319.97
Walther Q4 TAC M2, $549.97
Browning 1911 .380 Black Label Medallion Pro, $649.99
-$100 Mail in Rebate
=$549.97
Kimber Micro 9″ Stainless , $499.97
Walker's Silencer Digital Earbuds, $99.97
Hoppe's BoreSnake Viper Quick Clean Combo Pack, $49.97
BlackHawk Serpa CQC Concealment Handgun Holster, $24.97
Bulldog Magnum Biometric Pistol Vault, $199.97
Smith & Wesson 642LS LadySmith Double Action Revolver, $419.97


+$50 Gift Card WYB

S&W M&P BodyGuard 380 Semi Auto Pistol, $324.97


+$75 Gift Card WYB

FN FNX45 Tactical Semi-Auto Pistol, $999.97
SIG Sauer P320 M17 Package, $649.99
Tarus G2C Semi-Auto Pistol, $219.97
Ruger LCP Semi-Auto Pistol, $199.97
Glock 19 Gen4 FS Semi-Auto Pistol, $449.99
Browning Buck Mark Micro Bull Semi-Auto Pistol, $269.97
-$50 Mail in Rebate
=$219.97
Beretta A300 Outlander Semi-Auto Shotgun, $599.97
Remington Model 870 Express Pump-Action Shotgun, $299.97
Weatherby SA-08 Semi-Auto Shotgun , $449.97
Stoeger M3000 Semi-Auto Shotgun, $474.97
-$75 Mail in Rebate
=$399.97
Thompsn Center TCR22 Rifle, $299.97
Browning AB3 Combo, $629.97
-$100 Mail In Rebate
=$529.97
Remington Model 783 Scope Combo, $319.97
Henry All Weather Lever Action Rifle, $849.97
Savage Model 12FV Bolt-Action Rifle, $374.97
-$75 Mail in Rebate
=$299.97
Henry Golden Boy Lever Action RimFire Riffle, $449.99
Henry Classic Lever Action RimFire Rifle, $289.97
Savage A17 Semi-Auto Rifle, $369.97
-$50 Mail in Rebate
=$319.97
Ruger 10/22″ Semi-Auto Rifle, $249.97
Browning X-Bolt Max Long Range Bolt Action Rifle, $999.97
-$100 Mail in Rebate
=$899.97
Tikka Tac-A1 Bolt Action Rifle, $1649.97
Thompson Center Performance Center Long Range Rifle, $1049.97
Ruger Precision Rifle Gen 3 Bolt Action Rifle , $1199.97
Boyt Double Gun Hard Case, $169.97
RangeMaxx Shooting Bench, $99.97
Wheeler Fat Wrench With PRLS Combo, $59.97
Pelican Protector Wheeled Double Rifle Cases, $199.97
Tipton Best Gun Vise with 72 pc Gunsmith SEt, $99.97
Hornady Lock n Load Classic Reloading Kit, $279.97
Homandy Lock n load Sonic Cleaner 2L, $99.97
Cabela's Classic 48 E-Lock Gun Safe by Liberty, $1299.97
Browning Droptine 23 Gun Safe, $749.97
-$50 Mail in Rebate
=$699.97
Cabela's 10 Gun Dial Lock Safe, $349.97
RangeMaxx Tactical Gun Case Combo, $59.97
Swarovski SLC 10×42 Binoculars, $1599.97
Leupold RX 1600i TBR with Rangefinder, $249.97
Wildgame Innovations Rival cam 22 Trail Camera Combo, $79.97
Spypoint Link-S Solar Cellular Trail Camera B1G1, $499.99
Moultrie 7000i Cellular Trail Cameras, $149.97
-$50 Mail in Rebate
=$99.97
Pursuit Spring Steel Ground Blind, $49.97
BlackOut Comfort Max 360 Original Blind Chair, $49.97
AmeriStep Care Taker KO Ground Blind, $89.97
Herter's Game Cart, $69.97
ScentLok Camo OZChamber 8K and 0Z500 Combo Duffel Bag, $149.97
Cabela's Antler Mount Kit, $49.99
Cabela's Optimus RTH Compound Bow, $249.97
Diamond Infinite Edge Pro Compound Bow Package, $299.97
PSE Archery Stinger Extreme RTS Compound Bow Package, $349.97
Plano SPIRE Crossbow Case, $49.97
Wicked Ridge Warrior Ultra-LIte Crossbow Package, $299.97
Ravin Crossbows R10 , $1599.99
-$100 Mail in Rebate
=$1,499.99
BlackOut Xtreme 400 FPS Field Point Target, $49.97
Big Game The Maxium Ladder Stand, $149.97