This post may contain affiliate links. Read our disclosure here.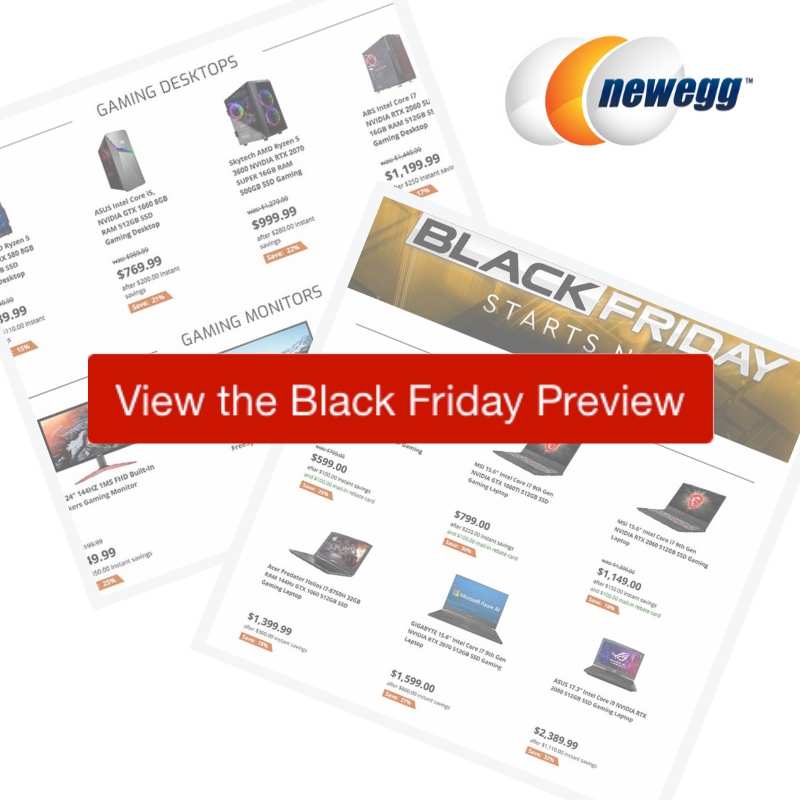 If you are looking for computers, tech equipment, gaming etc. then Newegg is a great place to shop. Here are all the deals in the 2019 Newegg Black Friday Ad.
The ad doesn't state when every price will start, but some have already started. All deals end on 11/30 at 11:59 pm Pacific time.
See the full Newegg Black Friday Ad
Search across all the Black Friday ads
and see what stores have the best deals.
2019 Newegg Black Friday Ad Deals
Gaming Desktops
Skytech AMD Ryzen 5 2600 AMD RX 580GB RAM 500GB SSD Gaming Desktop, $739.99
-$110
=$639.99
ASUS Intel Core i5 NVIDIA GTX 1660 8GB RAM 512GB SSSD Gaming Desktop, $969.99
-$200 Instant Savings
=$769.99
Skytech AMD Ryzen 5 3600 NVIDIA RTC 2070 Super 16GB RAM 500GB SSD Gaming , $1279.99
-$280 Instant Savings
=$999.99
ABS Intel Core i7 NVIDIA RTX 2060 Super 16GB RAM 512GB SSD Gaming Desktop, $1449.99
-$250 Instant Savings
=$1,199.99
Monitors
Acer 24″ 144HZ 1MS FHD Built-In Speakers Gaming Monitor, $199.99
-$50 Instant Saving
=$149.99
Pixio 27″ 2K 144HZ 1MS WQHD FreeSync Gaming Monitor, $279.99
-$30 Instant Savings
=$249.99
Gigabyte Aorus 27″ 165HZ 2K 1MS G-Sync Compatible HDR Curved Gaming Monitor, $459.99
-$60 Instant Savings
=$399.99
Gigabyte Aorus 27″ 2K QHD IPS 144 HZ 1MS G-SYNC HDR ANC Gaming Monitor, $599.99
-$100 Instant Savings
=$499.99
Samsung 49″ Curved 144HZ HDR AMD FreeSync Gaming Monitor, $999.99
-$200 Instant Savings
=$799.99
MSI 32″ Curved FHD 165HZ FreeSync Monitor, $329.99
-$90 Instant Savings
-$10 Mail in Rebate
=$229.99
BenQ 24″ FHD Built in Speakers Slim Bezel Monitor, $119
-$20 Instant Savings
=$99.99
Acer 24.5″ FHD 60HZ Monitor, $129.99
-$45 Instant Savings
=$84.99
Asus 27″ FHD IPS Slim Bezel Monitor, $159.99
Samsung 27″ Curved FHD FreeSync Monitor, $199.99
-$50 Instant Savings
=$149.99
Samsung 28″ 4K UHD FreeSync Monitor, $349.99
-$100 Instant Savings
=$249.99
Acer 32″ IPS WQHD LCD/LED Monitor, $259.99
-$60 Instant Savings
=$199.99
LG 25BL55WY-B 25″ FHD IPS Monitor, $179.99
$30 Instant Savings
=$149.99
Computers
MSI 15.6″ Intel Core i5 9th Gen NVIDIA GTX 1650 512GB SSD Gaming Laptop, $799
-$100 Instant Savings
-$100 Mail in Rebate
=$599
MSI 15.6″ Intel Core i7 9th Gen NVIDIA GTX 1660Ti 512GB SSD Gaming Laptop, $1149
-$250 Instant Savings
-$100 Mail in Rebate
=$799
MSi 15.6″ Intel Core i7 9th Gen NVIDIA RTX 2060 512GB SSD Gaming Laptop, $1399.99
-$150 Instant Savings
-$100 Mail in Rebate
=$1,149
Acer Predator Helios i7-8750H 32GB RAM 144HZ GTX 512GB SSD Gaming Laptop, $1699.99
-$300 Instant Savings
=$1399.99
Gigabyte 15.6″ Intel Core i7 9th Gen NVIDIA RTX 2070 512GB SSD Gaming Laptop, $2199.99
-$600 Instant Savings
=$1,599
Asus 17.3″ Intel Core i9 NVIDIA RTX 2080 512GB SSD Gaming Laptop, $3499.99
-$1,110 Instant Savings
=$2,389.99
AMD Ryzen 7 2700 8 Core 3.2GHz, $299.99
-$140 Instant Savings
=$159.99
AMD Ryzen 7 2700X 8 Core 3.7 GHz Processor, $329.99
-$160 Instant Savings
=$169.99
Orico M.2 SATA3.0 SSD 512GB 3D-NAND Internal SSD, $99.99
-$40 Instant Savings
=$59.99
DIYPC DIY-D2 Black ATX RGB Tempered Glass Computer Case, $69.99
-$30 Instant Savings
=$39.99
Corsair 570X White ATX RGB Tempered Glass Computer Case , $189.99
-$50 Instant Savings
-$20 Mail in Rebate
=$119.99
EVGA SuperNova 750 G5 Power Supply, $139.99
-$40 Instant Savings
-$30 Mail in Rebate
=$69.99
Cosair Vengeance RGB PRo 16GB (2x8GB) 288 PIN DDR4 DRAM DDR4 3000 PC4 24000, $109
-$39.01 Instant Savings
=$69.99
Corsair Vengence 16GB (2x8GB) 260 PIN DDR4 SO-DIMM DDR4 2400, $100
-$40.01 Instant Savings
=$49.99
Patriot Memory 256GB Supersonic Boost XT USB 3.0 Flash Drive, $34.99
-$7 Instant Savings
-$8 Mail In Rebate
=$19.99
TEAMGROUP 128GB Elite microSDXC U3 Memory Card with SD Adapter, $19.99
-$8 Instant Savings
=$11.99
Lenovo 100e 11.6″ Chromebook 2nd GEn 4GB 16GB eMMC SSD, $229.99
-$130 Instant Savings
=$99.99
Razer DeathAdder RZ01-00151400-R3U1 Black Wired Optical Precision Gaming, $49.99
Logitech G402 8 Buttons Gaming Mouse, $59.95
-$37.96 Instant Savings
=$21.99
Logitech G910 Spark Gaming Keyboard, $179.99
-$90 Instant Savings
=$89.99
Logitech G613 Wireless Gaming Keyboard, $149.99
-$80 Instant Savings
=$69.99
Logitech G602 Wireless Gaming Mouse, $79.99
-$51 Instant Savings
=$28.99
Logitech G203 Prodigy Gaming Mouse, $54.99
-$34 Instant Savings
=$20.99
Logitech G933 Artemis Spectrum Wireless Gaming Headset, $199.99
-$120 Instant Savings
=$79.99
Logitech G633 Artemis Gaming Headset, $149.99
-$90 Instant Savings
=$59.99
Other
Homall Gaming Chair Carbon PU Leather Reclining Black Racing Style, $269.99
-$185 Instant Savings
=$84.99
Norton 360 Deluxe 5 Devices, $89.99
-$70 Instant Savings
=$19.99
Microsoft Office Home & Student 2019 Download, $149.99
-$50 Instant Savings
=$99.99
Adobe Photoshop Elements & Premiere Elements 2020 for Windows Download, $149.99
-$60 Instant Savings
=$89.99
Adobe Photoshop Elements 2020, $99.99
-$40 Instant Savings
=$59.99
LAView WI-FI Wireless 1080p IP Camera Security System 4 Channel H.265 NVR, $399.99
-$240 Instant Savings
=$159.99
Portal Mini from Facebook Smart Video Calling with Alexa Built-In 8″, $129
-$50 Instant Savings
=$79.
Samsung 43″ QLED Q60 TV, $799.99
-$302 Instant Savings
=$497.99
Samsung 43″ Frame QLED TV, $1299.99
-$502 Instant Savings
=$797.99
Pioneer VSX-934 Home Audio Reciever, $479
-$190 Instant Savings
=$289.
Energy CF-50 Tower Speakers, $299.99
-$150 Instant Savings
=$149.99
Energy Power 12 Subwoofer, $299.99
-$165 Instant Savings
=$134.99
Klipsch Quintet IV Speaker System, $299.99
-$150 Instant Savings
=$149.99
Hoover Rogue 970 Wi-Fi Connected Robotic Vacuum, $499.99
-$225 Instant Savings
=$274.99
Dyson V7 Cordless HEPA Vacuum Cleaner Blue, $399.99
-$200 Instant Savings
=$199.99
Hoover Cruise Cordless Lightweight Stick Vacuum, $179.99
-$90 Instant Savings
=$89.99
Hoover REACT Whole Home Cordless Stick Vacuum, $299.99
-$185 Instant Savings
=$114.99
Titan Pro ACE II Brown Massage Chair, $4999
-$3,000 Instant Savings
=$1,999
Apex PRO Odyssey Zero Gravity Massage Chair with Full Body Air Compression, $2499
-$1900 Instant Savings
=$599
Bio Bidet Electric Bidet Seat, $399
-$200 Instant Savings
=$199.
Bio Bidet Bliss Bidet Toilet Seat, $1399
-$1,001 Instant Savings
=$398.
KEF Motion One Headphones, $250
-$140.01 Instant Savings
=$109.99
Pioneer SECL 502 Headphones, $29.99
-$22 Instant Savings
=$7.99
KEF Space One Headphones, $380
-$285.01 Instant Savings
=$94.99
Phillips BT7900B/37 Bluetooth Speaker, $79.99
-$43 Instant Savings
=$36.99
Best Choice Products 12V 2.2MPH Kids 2 Seater Ride-On Truck with Parental Control, $499.99
-$220 Instant Savings
=$279.99
Xbox One X Gears of War, $499.99
-$150 Instant Savings
=$349.99
Xbox One S All Digital Edition, $249.99
-$100 Instant Savings
=$149.99