This post may contain affiliate links. Read our disclosure here.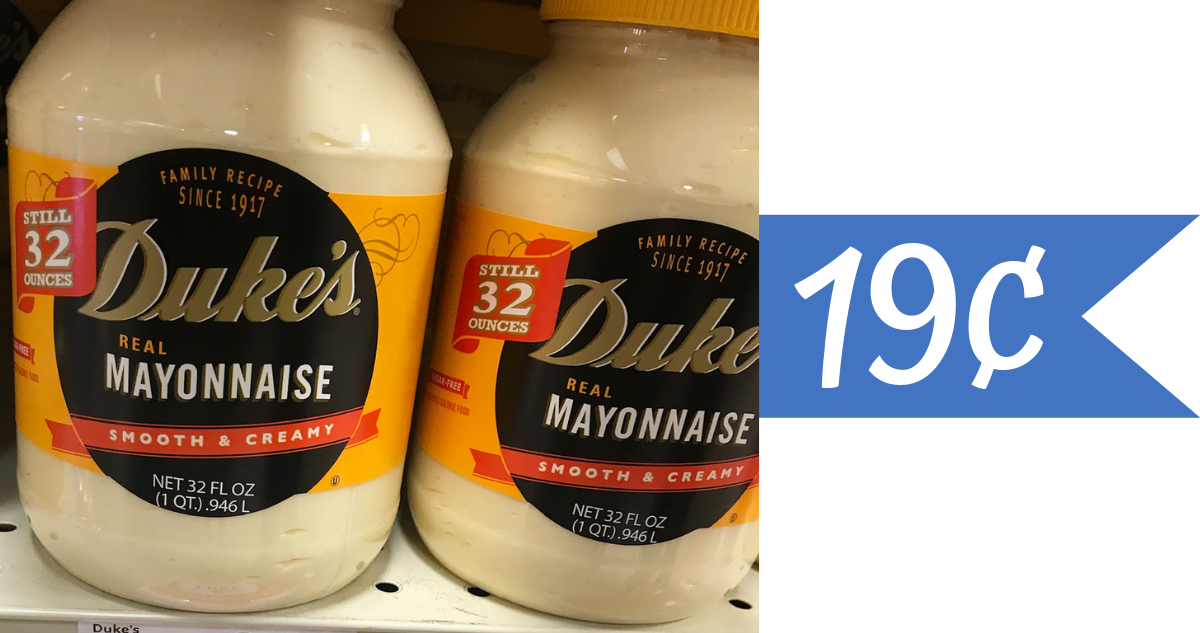 I know many of y'all LOVE Duke's Mayonnaise! We haven't seen deals on it for a while, so I want to make sure you don't miss possibly the best deals we've ever seen on Duke's!! Grab coupons from the 4/7 inserts and then pair in a new Ibotta offer and you can get it as low as 19¢ a jar depending on the store you shop at!
Note: The great Bi-Lo deal is a weekend only sale running Friday to Sunday. If you should any other day it will be $1.19 after coupons.
Duke's Mayonnaise Deals
Lowe's Foods – Duke's Mayonnaise, selected, 32 oz, $3
-.55/1 Dukes Product, limit (1) like coupon, SS 04/07
-.75/1 Duke's product, limit (1) like coupon, SS 04/07
-$1/2 Duke's product, limit (1) like coupon, SS 04/07
-.70/1 Duke's Mayonnaise, any, limit 5, Ibotta App mobile app


(use .75/1 and Ibotta, makes it 80¢)

Bi-Lo – Duke's Mayonnaise, 32 oz, $1.99
-.55/1 Dukes Product, limit (1) like coupon, SS 04/07
-.75/1 Duke's product, limit (1) like coupon, SS 04/07
-$1/2 Duke's product, limit (1) like coupon, SS 04/07
-.70/1 Duke's Mayonnaise, any, Ibotta App mobile app


(use .55/1, makes it 19¢ after Ibotta)

Walmart – Dukes Mayonnaise, 18 oz, $2.58 (reg. price)
-.55/1 Dukes Product, limit (1) like coupon, SS 04/07
-.75/1 Duke's product, limit (1) like coupon, SS 04/07
-$1/2 Duke's product, limit (1) like coupon, SS 04/07
-.70/1 Duke's Mayonnaise, any, limit 5, Ibotta App mobile app


(use .75/1 and Ibotta, makes it $1.08)