This post may contain affiliate links. Read our disclosure here.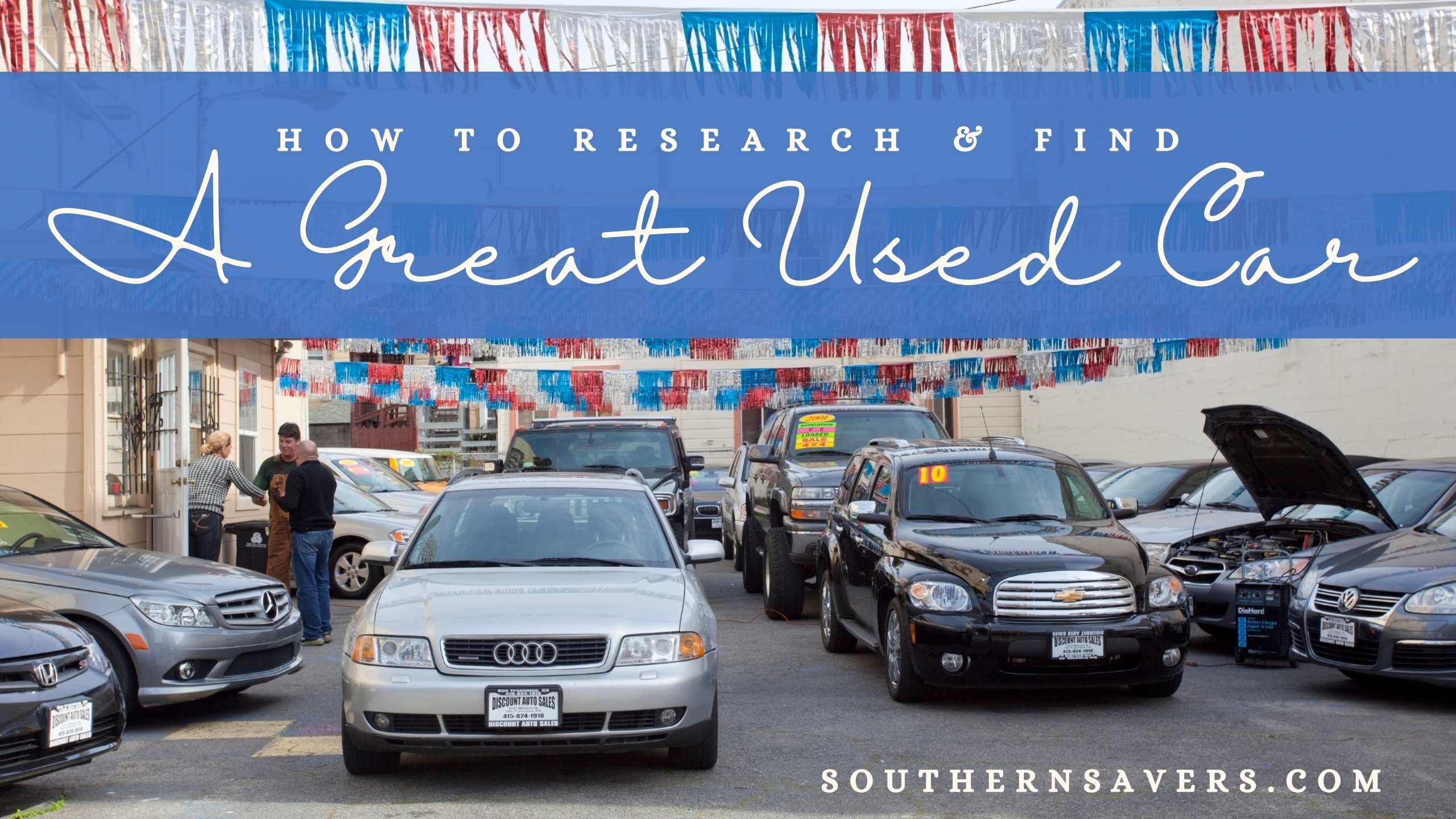 Whether you're looking to upgrade, downsize, find a replacement car, etc. many of us have found ourselves in the used car market lately. And finding a used car right now could be daunting.
Prices are higher than normal and inventory is down. Finding and getting a good deal on a used car is always hard, but especially now.
But there are a few good things going for us. Interest rates are decent, information on vehicles and sellers is easy to get, and cars are more feature-packed and safer than ever (you won't have to search high and low for cameras, airbags or antilock brakes). Put in the legwork before you buy and you can get a GREAT used car for a GREAT price!
How to Research and Find a Great Used Car
1.) Determine your budget
Determining your budget needs to be the absolute first thing you do. Determine how much you want to spend and stick to it like glue.
2.) Write a list of must-haves
Know what you want in a vehicle. When you start shopping, some of the bells and whistles can be really tempting. A slick salesperson can even make you feel like you need these options without you realizing it. This is not necessarily because you're being tricked – it's just FUN to imagine yourself in a more luxurious vehicle. But most of those features won't get used and later when the car is less shiny and new, you may think, "why did I pay so much for this?"
That's why having a written list can be helpful. Buying a vehicle can be overwhelming but having that list in your hand can give you the focus you need to get what you want – a great vehicle at a great price.
Some examples of what you MIGHT need in a vehicle:
6+ seats
Ability to hitch a trailer or bike rack
Bluetooth/hands-free talking
Multiple keys
Roof rack
Extra safety features: back-up cameras, blind-spot monitoring, full-vehicle airbags
Some examples of things that are nice but probably not needed:
Built-in navigation (many of these built-in maps are seriously outdated; get a stand for your phone and use that for navigation. If you absolutely need a large screen for navigation, look for a vehicle with Apple CarPlay or Android Auto – these connections play your phone through your vehicle's screen)
Sunroof (prone to leaking, bad for aerodynamics, probably won't use it as much as you think you will)
DVD entertainment system (if you take long trips with small children this might be more of a need, but for mostly quick trips around town it probably won't get used; also, sometimes letting kids get bored is a good thing)
Heated seats and dual-zone climate control (nice? sure. needed? probably not.)
Leather seats
3.) Be open to different makes and models
After you figure out your needs, be open to a variety of makes and models that fit those needs. This gives you a higher chance of finding what you want at a great price. Just because you're a "Honda family" doesn't mean you HAVE to buy a Honda if you can't find one to fit your needs and budget.
4.) Research, research, research
One of the most important steps in getting a car that will last for a great price is RESEARCH. You might be thinking at this point, "wow, this is a lot of work!" You're right, it is! It seems like car buying should be fun, right? Only if you're spending someone else's money. Put in the work and safeguard your finances.
Once you've determined the makes and models that fit your needs, you need to research:
How much it's selling for in your area based on features and mileage (don't bother with cars selling for way above and be suspicious of cars selling for way below)
Know the reliability and ownership costs (you can find GREAT information on owner's forums – people who already own these cars and what problems, if any, they're having. For example, if you're looking at 2014 Honda Pilots, just Google "2014 Honda Pilot owners forum" and you should get at least several hits you can browse)
Know who you're buying from (look at dealer reviews and only head to the highest-rated shops; if buying from an individual, get the CarFax and trust your gut)
5.) Be willing to walk away 
This is hard to do, especially if you've searched for a while for the car you want. But if they can't get it to the price you're comfortable paying, you need to walk away.
Negotiating Tactics
Start conversations with multiple dealerships. Usually you can do this through their website via e-mail or chat. You can also just call around. You might find a car lot that shines above the rest or one that seems more likely to be willing to make a deal.
If you plan to pay cash at a dealership, don't tell them. If they ask, just say you haven't made up your mind. They make money when you finance, so they're willing to give better deal to individuals who finance through the dealership. If you are planning to finance, come pre-approved so you can compare. Also, reach the price you want to pay BEFORE any offered incentives.
This is worth saying again: be willing to walk away if you don't reach the deal you want. They'll make you feel like you'll never get that price, or they're the only place in town with your desired vehicle. It's not true. There is always another deal out there. Just smile politely, thank them, and leave.
Feel awkward or stressed negotiating in person? It is entirely possible to buy a car completely over the phone, text or e-mail. I have a friend who recently bought a car over e-mail except for the final signatures!
Once you come to an agreement with the salesperson, you'll head to the finance department. Just say NO to the extras the finance person offers. And boy, do they make you feel like you need these things! Even if you are considering Gap insurance, the offer from the dealer is usually way higher than what you can get from your own insurance or an outside insurance. Just smile politely and tell them "no, thank you."
See more frugal living ideas!