Printable Shopping List

Here are my top 10 favorite Kroger deals from this week! Get FREE Siete beans, Dunkin' ground coffee for $1.49, Happy Tot pouches for 86¢, and more.
You can see the full Kroger ad for more deals.
Top 10 Kroger Deals:
See more Kroger deals!
For a limited time, you can get a 1-Year Premium Membership to Craftsy for only $1.49!
With your membership, you can access over 1,500 premium ONLINE CLASSES, admission to exclusive LIVE online streaming events, access to online instruction across 20+ hobbies and so much more! Learn about cooking, baking, sewing, drawing and more much more.
All classes include all needed patterns and instructions.
Have younger kids?? We've also found quite a few that my younger girls can do too.
Sign up now to enjoy 12 months of free classes for everyone in the house!!
Note: You can now login and cancel the auto-renewal in your account at anytime and enjoy the rest of your year membership! 
See more ONLINE SHOPPING DEALS!
Combine a classic oatmeal cookie with the flavor of fall to create a new favorite: pumpkin oatmeal cookies! The simple glaze makes them even better.
Ingredients
1 cup all-purpose flour
1 tsp ground cinnamon
1/8 tsp ground allspice
1/8 tsp ground cloves
1/2 tsp baking soda
1/4 tsp salt
1/2 cup unsalted butter, room temperature
1/2 cup brown sugar
1/4 cup sugar
1 egg yolk
1 tsp vanilla extract
1/3 cup canned pumpkin puree
1 1/2 cups old-fashioned oats
1 cup powdered sugar
2-4 tsp water
Directions
In a mixing bowl, whisk together the flour, cinnamon, allspice, cloves, baking soda, and salt. Set aside.
In the bowl of a stand mixer, cream together the butter with both sugars until well combined, about 2 minutes. Add in the egg yolk and vanilla extract and mix until well combined. Stir in the pumpkin puree.
Slowly add the flour mixture and mix until just combined. Scrape the sides of the bowl down and add the oats. Mix once more until just combined.
Refrigerate the dough for 30 minutes.
Preheat your oven to 350 degrees. Line two baking sheets with parchment or baking mats.
Use a tablespoon cookie scoop to drop dough onto the baking sheets, making sure to leave some space in between each cookie.
Bake for 9-11 minutes, until the edges of the cookies are slightly browned. Remove from the oven and allow to cool slightly.
While the cookies are cooling, make the glaze. Mix together the powdered sugar and a couple of teaspoons of water until completely smooth. Add a couple more teaspoons of water if needed. The glaze should easily drizzle, but not be too thin.
Using a spoon, drizzle the glaze over the cookies.
Created by SouthernSavers.com
See more recipe ideas!
Excited for football season?!
Verizon is offering 40% off NFL+ Premium Annual Subscription w/ RedZone for only $59.99, usually $99.99!
Discount is applied to the first year only and offer ends 10/2.
See more ENTERTAINMENT DEALS!
Printable Shopping List
Use an Ibotta rebate at Publix this week to pick up Two Good Yogurt Smoothies for 50¢.  We're a big fan of these at my house, so we'll definitely be grabbing this deal!
Publix Two Good Smoothie Deal (ends 9/19 or 9/20):
Two Good Smoothies, 7 oz, $1
-$1/2 Two Good Smoothies, Ibotta mobile app
(buy 2, makes it 50¢ each)
Check out the full Publix ad for more great deals.
Perfect for the Fall Season, head over to Yankee Candle and take advantage of their "Buy Two or Three, Get Two or Three Free" sale!
The promo will be applied automatically at checkout and shipping is free!
Deal Ideas:
You could buy: 

Spooky Spider Cider – $34
Pumpkin Maple Crème Caramel – $31

Boo-Nana Toffee – $34
Then get these candles for free:

Mystic Moon – $26.50 FREE

Spiced Pumpkin – $16  FREE

Balsam & Cedar – $5 FREE
The sale at Anthropologie is on sale! For a limited time only, take an extra 40% off sale styles. Save on dresses, tops, accessories and more!
Find some many gorgeous homeware sets and even bridal gowns on sale!
Anthropologie is a unique shopping destination, with an exclusive assortment of clothing, shoes, accessories, beauty, furniture, home décor, garden, bridal, and more.
No code necessary. Discount will automatically be applied at checkout. All sales are final. Furniture is excluded.
Deal Ideas:
Theodore Gauze Throw Blanket – $49.95 (reg. $98)
-extra 40% off at checkout
makes it $29.97
Old Havana Salad Bowl – $29.95 (reg. $42)
-extra 40% off at checkout
makes it $17.97
Composite Agate Cheese Board – $49.95 (reg. $78)
-extra 40% off at checkout
makes it $29.97
Printable Shopping List
Head into Publix and save on Huggies Wipes.  We have a triple-stacking deal to use with this week's sale that will make the big packs of wipes just $2.64!!
Publix Huggies Deal (ends 9/19 or 9/20):
Huggies Wipes, 168-192 ct, $5.89
-.50/1 Huggies Baby Wipes, 56-192 ct., limit 5, Ibotta mobile app
-$1.25 off Huggies Baby Wipes, 112 ct+, Publix eCoupon
-$1.50 off Huggies Baby Wipes, 168-ct+, at Publix, limit 1, SS 09/10
(use all three coupons, makes it $2.64)
See the full Publix Ad for more great deals.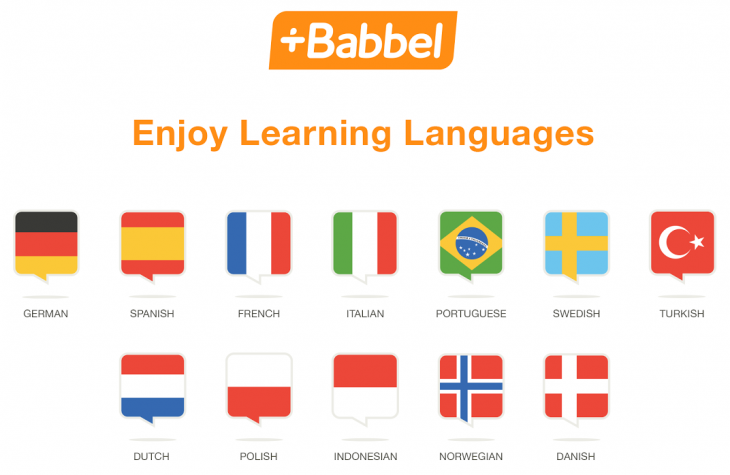 After a long break, we finally have a discount on Babbel again!!  This weekend only, they are offering a huge 70% off sale on a 12 month Subscription.  
Babbel offers 14 different languages and are the #1 selling language learning app in the world! 
With this sale you can pick between a one person or two person account.
Get access for one person for only $8.25 a month (regularly $20.85).
Or get accounts for two people for only $10.90 a month (regularly $36.45)
The best deal is definitely going with the two-person option!  You'll each have your own account and access to all 14 languages.
Tip: If you want to try it out you can get started for free and try one language for a few lessons before it makes you sign up.
Our girls are taking high school Spanish, but this has been perfect to keep them ahead of the curve during the summer and on breaks, and for little sisters to learn too.
« Back to Most Recent