This post may contain affiliate links. Read our disclosure here.
From time to time a reader will send me a question that I could answer on my own, but that I think would be worthwhile to share with the whole Southern Savers community of reader. Recently I got the following question from a reader: "I want our grocery budget to be $100 per week for a family of 4. Give me all your best frugal recipes!"
I posted this on our Facebook page and got a ton of great ideas. Hopefully some of these ideas are ones that you haven't thought of and that will be a helpful addition to your family's meal rotation!
Readers' Favorite Frugal Recipes
The most common responses were just tweaks and hacks that readers wanted to share to make meals cheaper.
Melissa B.: "One night a week we do breakfast… eggs, grits, sausage, and biscuits. For a family of 4, it costs about $6 for dinner and we enjoy it because we are a busy sports family and usually don't have time on the weekend for a good breakfast."
Priscilla M.: "Throw all your leftover veggies in the freezer. Then, about once per month, or whenever you feel like it, you can grab all of them, throw them in a big pot with some tomatoes or tomato sauce and have an amazing vegetable soup. My mom always did this and it was the most delicious vegetable soup ever. The fact that the veggies were already seasoned from the first meal made it so easy to have a quick soup that was full of flavor."
Becky B.: "We eat soup and sandwiches one night a week… dried beans are big help, breakfast for supper every so often helps… use leftover vegetables for a hearty soup."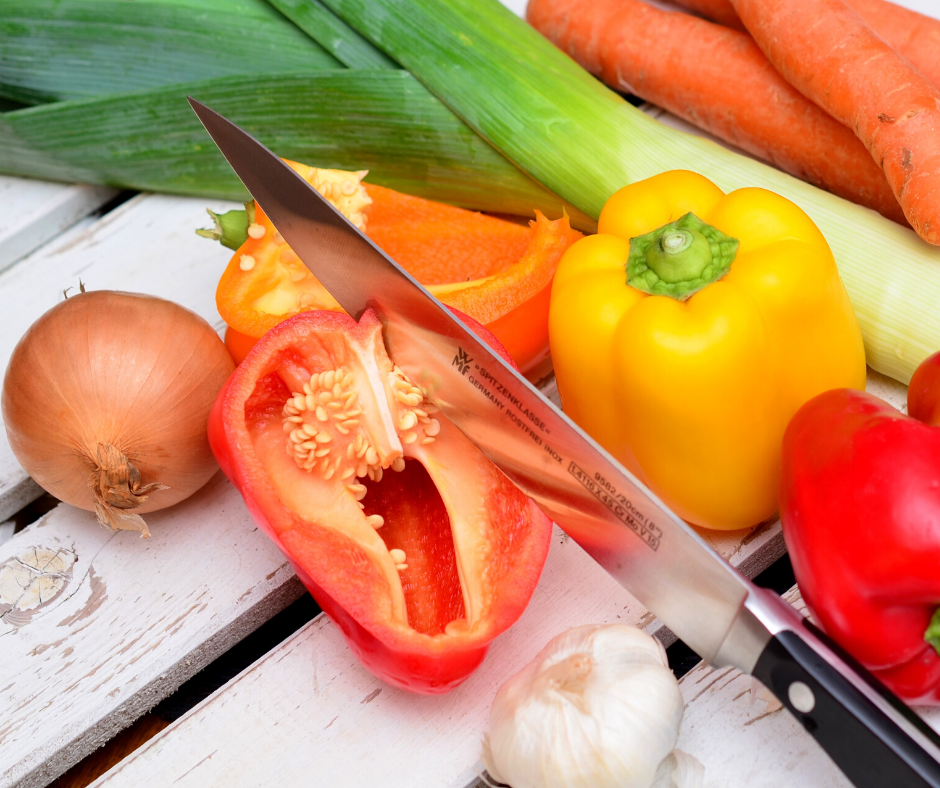 Jodie C.: "I try to only buy what is on sale and look at what I have already at home. Right now, hams are a good buy. I got one for .99/lb at Kroger and I'll make several meals from that and freeze some to make more later. I also buy the whole chicken when it's .99/lb and bake it and make soup and another meal with that usually. Roasts I won't buy usually till it's 2.99 or less. If you make lasagna or a big batch of spaghetti or chili or soup that's good for two meals too usually."
Priscilla M.: "My mom used to take a small bit of hamburger and scramble it, then add a couple cans of pork and beans (you could probably sub out other beans you like) and bbq sauce in a skillet and make a meaty bbq bean she served as a main course. It was a hit when she took to a church potluck. This was the dish she made when the bbq sauce jar was getting low, she'd add a little water and get every last bit of bbq sauce (and ketchup if that was low too). It was probably one of her most frugal meals because it stretched the meat and let her use up every last bit of sauce in her fridge."
Melissa E.: "I get two meals out of a whole chicken. Boil chicken in chicken broth with seasoning of choice till falling apart. Remove chicken to strain and pick out bones, skin, etc. Use half to make a chicken noodle soup (chicken, onions, celery, carrots, potatoes, and noodles). Use the other half to make a chicken pot pie. Thicken broth with flour, add same ingredients as above but no noodles. Cook down until the consistency of your choice (we like it thick), add other veggies if you like. Pour into a pie shell. Place another pie shell on top. When it drops, pinch edges and carve a few slits. Freeze and bake the following week."
Natalie L.: "Baked shells requires a box of seashell pasta, a jar of pasta sauce and a package of shredded mozzarella. Cook your pasta and drain, pour your heated sauce over it and mix in. Top with shredded mozzarella and run under the broiler until the cheese is melted and slightly browned. A filling meal meal for under $5."
Sandi C.: "I use the recipe on Red Gold tomatoes and make a double batch of homemade tomato soup… then freeze in 16oz containers. My kids love it and will sometimes make cheese toast with it. I am going to try to garden a little more also. I also make chicken soup base, cook and shred chicken, and dice onions, celery, and carrots. Add those while cooling and then put in quart size freezer containers. Thaw and cook noodles and serve."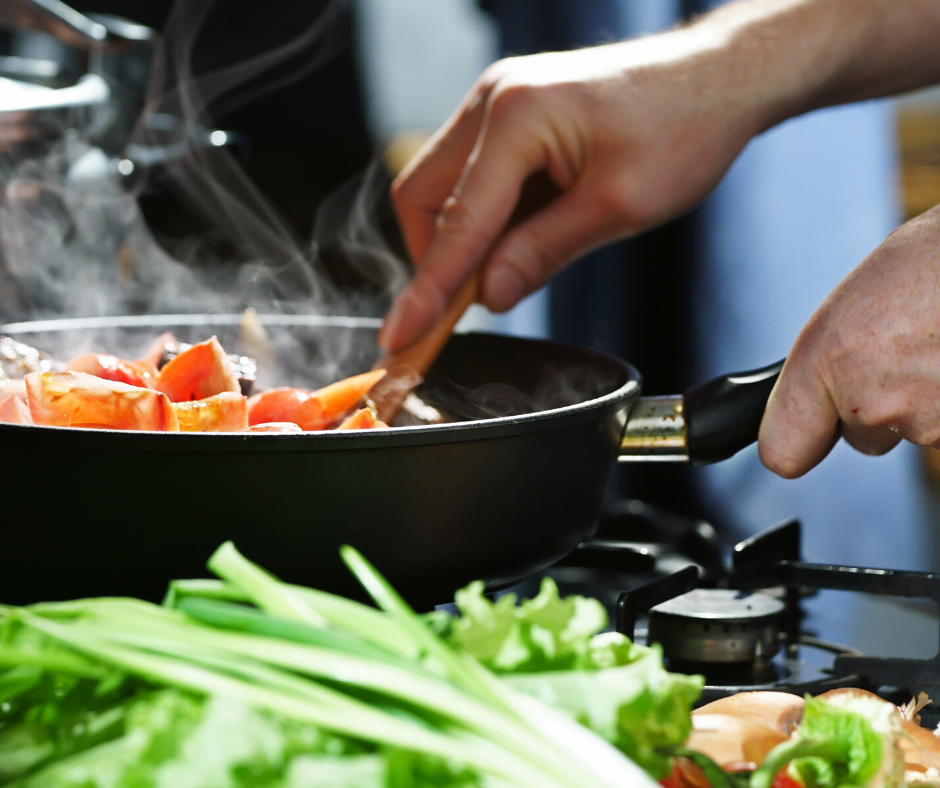 Amanda K.: "Get a fryer chicken for $4 to $7. Meal 1: Fryer chicken with mashed potatoes and baked veggies (Use bones to make bone broth). Meal 2: Chicken tortilla soup using half of the leftover chicken and the broth you made. Meal 3: White bean enchiladas with the remaining chicken and broth. Typically all 3 meals will cost under $20 and we have leftovers for another 1 to 2 nights. So we can usually get a week of dinners for around $20 and everything is healthy and delish!"
Sherry M.: "No meat at least 3 nights a week. Last night was pizza with veggies from scratch. Tonight cabbage and noodles. Breakfast one night a week. Have fun and good luck."
Judy D.: "I stock up on frozen veggies when they are BOGO and then use them in casseroles like chicken, broccoli, and noodles mixed with a can of cream of chicken soup. Sometimes I'll add cheese as well or the French's onions to give it a crispy texture."
Ruth S.: "I buy the Mamma Mary's pizza crust — at Walmart— you could also just save money by buying a roll of crust and rolling it out— we build our own pizzas once a week. I also make chicken noodle soup once a week in crock pot— don't need to use too much chicken for it. I make a big thing of chili and everyone eats PB&J once a week — I shop at Bi-Lo or Publix for cereal."
Jennifer U.: "I eat plant-based. Lots of beans, sweet potatoes and veggies. Vegetarian chili is simple and cheap to make."
Charise M.: "Aldi—ALL THE WAY! I buy meats in bulk, portion out right away, and freeze. We usually pre-marinate pork and chicken for a few portions before freezing. I pre-make meatloaf and freeze uncooked. An easy meal: chicken breast, can of cream of chicken (add 1 can of milk), onions, mushrooms, broccoli and make a casserole—YUMMO. I add only pepper (soup has enough salt). Serve as is or over rice."
Melissa E.: "Place chicken in an oven bag, pour on jar of salsa, picante or Saundus Sauce over chicken, pour one bottle of Masterpiece BBQ sauce over chicken. Close bag and bake one hour. Serve with veggie and potato salad."
Amy W.: "Egg roll in a bowl—low carb, inexpensive, and feeds an army. My favorite low cost meal!"
Rose L.: "I have a bunch. .Make soup from a whole chicken and leftover veggies. A whole chicken gives us 3 meals, .and we are a family of 4. Roast it. Slice for sandwiches. Use bones, etc. for soup in quick pot."
Many readers offered some of their favorite slow cooker or Instant Pot recipes. (If you're new to the Instant Pot, check out my how to use the Instant Pot post!)
Karen R.:  "I'm eating it now, my favorite hearty soup. One can of tomatoes and one can each of black beans and garbanzo beans rinsed and drained. Small amounts of vegetables if you have leftovers. I use small amounts of frozen green beans and onions if I don't have leftovers. Cook in crockpot for about three hours and before serving add croutons or shredded cheese or both! Very nice colors together, taste great, healthy and cheap. All my favorite things!"
Lawanda H.: "Whole foods plant based Instant Pot meals are saving us tons, and we are more energetic, happy, and healthy. We stock up on rice at Costco."
Emily A.: "A lot of crock pot recipes are frugal and tasty and feed a lot. I also consider a lot of chicken recipes to be budget friendly because I buy chicken breasts at Sprouts when they're $1.88 lb. So I think frugal meals depend on what you are paying for ingredients. Try tossing chicken breasts, drained can of black beans, drained can of corn, and a jar of your fave salsa in on low for 6 hrs in a crock pot. We eat it with shredded cheese and Tostitos."
Taryn L.: "Crockpot meal 4 hours on high: 2 lbs chicken, 16 oz salsa, taco seasoning packet, 2 limes (just the juice), cilantro. After 4 hours take chicken out, and shred it and put back in the sauce. Stir and enjoy! Can use for tacos, quesadillas, or salad, or we even like it on Hawaii rolls."
Melissa E.: "2-3 boneless, skinless chicken breast or 4 thighs, 1 cup ketchup, 1/2 cup brown sugar, 1 tbsp apple cider vinegar, 2 tbsp favorite BBQ seasoning. Place chicken in crock pot, in a bowl whisk all other ingredients. Pour over chicken. Cook on low. Shred chicken. Serve over rice or on buns. (Works great with a pork tenderloin, too!)"
Dottianne P.: "Shredded chicken nachos: in crock pot, layer 2lbs boneless chicken breast, cover in taco seasoning. Dump 1 can of drained and rinsed pinto beans, and 1 can of rotel. 2tbsp of lemon or lime juice. Cook on low for 7 hours. Shred with electric mixer. Use as burrito filling , or on top of chips, with preferred toppings. Feeds about 10 normal people or a few hungry teenagers. Can freeze easily the leftovers.I usually also make my own cheese dip and chips. And make cheesy rice and have a can of homemade refried beans."
Ashlee P.: "Taco soup is my favorite! Just throw a can of diced tomatoes, kidney beans, pinto beans, corn, taco seasoning and water/beef broth and 1 lb of ground turkey or ground beef in the Instant Pot and cook for 8-10 minutes! Or do the same and cook on the stove. Tons of food and leftovers for us for lunch. Sometimes we take the 50 cent Doritos packets or Fritos and crunch some up to give it a crunchy texture. Not super healthy but better than fast food for sure!"
Some readers shared resources they have found online that have helped them find new favorite frugal recipes.
Oksana M.: "Natasha's Kitchen is amazing for that. Her few Instant Pot recipes are budget friendly and soooo good."
Heather H.: "Tasty by BuzzFeed has some really good sheet pan dinners that I make for a family of 4 for 100 or so a week."
What are your favorite frugal recipes? Let us know in the comments!