This post may contain affiliate links. Read our disclosure here.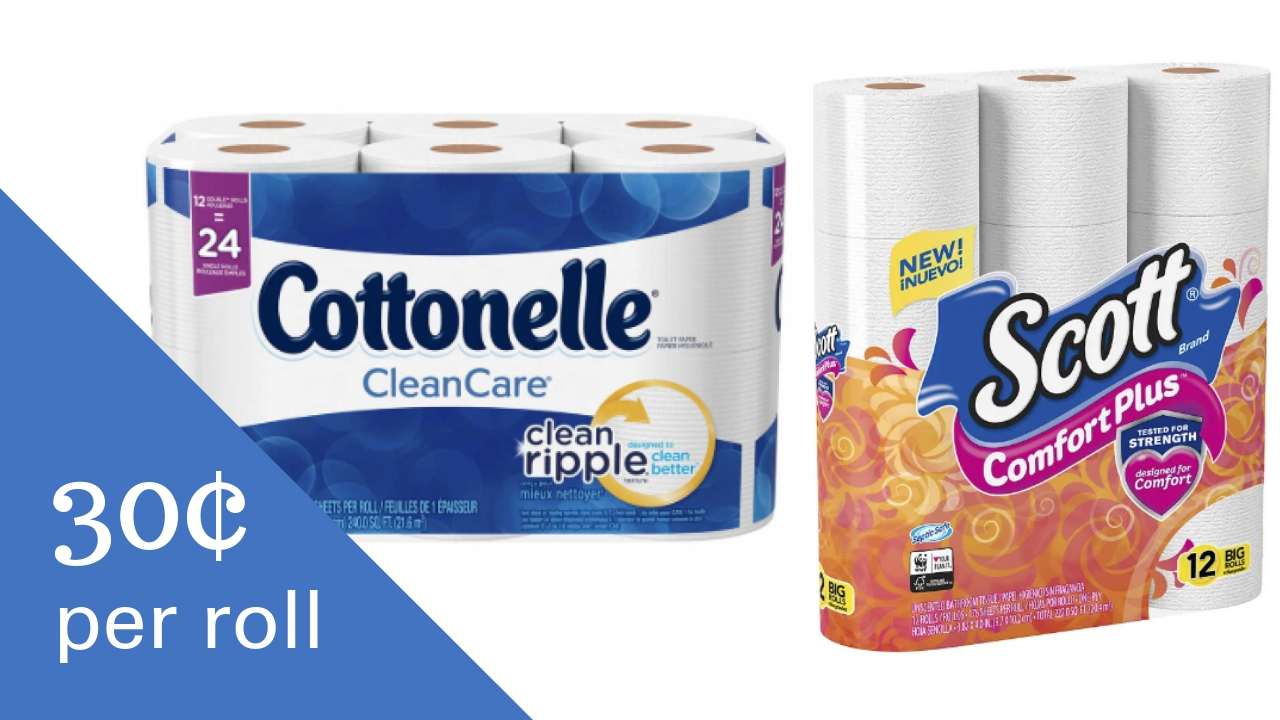 When you buy $15 in Kimberly Clark paper goods at Dollar General you'll get $3 off instantly. This week they have a few items also on sale and we have great coupons for them. Get stocked on toilet paper or Kleenex at a great price!
Here's an idea to get the best deal:
Buy:
(1) Scott Comfort Plus, 12 big rolls, $4.50
(1) Cottonelle Bath Tissue, 24 dbl rolls, $11.50
Use:
Instantly save $3 WYB $15 on Cottonelle, Scott, Kleenex or Viva products


-$1 off Scott Bath Tissue, 6 rolls +, Dollar General (EXP 9/14) eCoupon


-$1 off Cottonelle toilet paper, 6-roll+, SS 09/08
Total Due: $11
Makes it 30.5¢ a roll!
All the current deals this week:
Scott Comfort Plus Bath Tissue 12 big rolls, $4.50


Instantly save $3 WYB $15 on Cottonelle, Scott, Kleenex or Viva products


-.55/1 Scott towels, 6 rolls+, sign in printable
-.50/1 Scott ComfortPlus bath tissue, 6 rolls+ printable
-.75/1 Scott ComfortPlus bath tissue, 6 rolls + (sign in) printable
-$1 off Scott Bath Tissue, 6 rolls +, Dollar General (EXP 9/14) eCoupon


(use $1 off, makes it $3.50)

Cottonelle Bath Tissue Clean Care or Comfort Care, 24 double rolls, $11.50
-$1 off with DG digital coupon
Instantly save $3 WYB $15 on Cottonelle, Kleenex, Scott or Viva products
-.55/1 Cottonelle Toilet Paper (sign up) printable
-$1 off Cottonelle toilet paper, 6-roll+, SS 09/08


(use $1 off and Ibotta, makes it $9.75)

Kleenex Facial Tissues , 3 pk, $4.50


-25¢ with DG digital coupon


-.50/3 Kleenex Facial Tissue 3 boxes or bundle pack (sign up) printable
-.50/3 Kleenex Facial Tissue Bundle Pack printable
-.75/3 Kleenex facial tissue 30ct+, or (1) bundle pack, or (1) Kleenex wet wipes 20-ct+, SS 08/25


(use .75/1, makes it $3.75)