This post may contain affiliate links. Read our disclosure here.
Since I have kids in my home who seem to be hungry most of the time, anything I can feed them that is filling and cheap but not total junk food is a win. This peanut butter chocolate chip cookie dough dip fits the bill, and I hope your family likes it as much as mine does. 
Peanut Butter Chocolate Chip Cookie Dough Dip
What makes this cookie dough dip unique is that the main ingredient is chickpeas (also known as garbanzo beans). Beans are not only frugal, but they're full of protein and fiber, so this is perfect for an afternoon snack. And other than the chickpeas, which aren't necessarily on everyone's shopping list, you probably have everything else you need in your pantry.
Here are all the ingredients you'll need for this recipe. I chose honey for my sweetener simply because that was the first thing I saw in the cabinet. But brown sugar, maple syrup, or your favorite artificial sweetener will also work!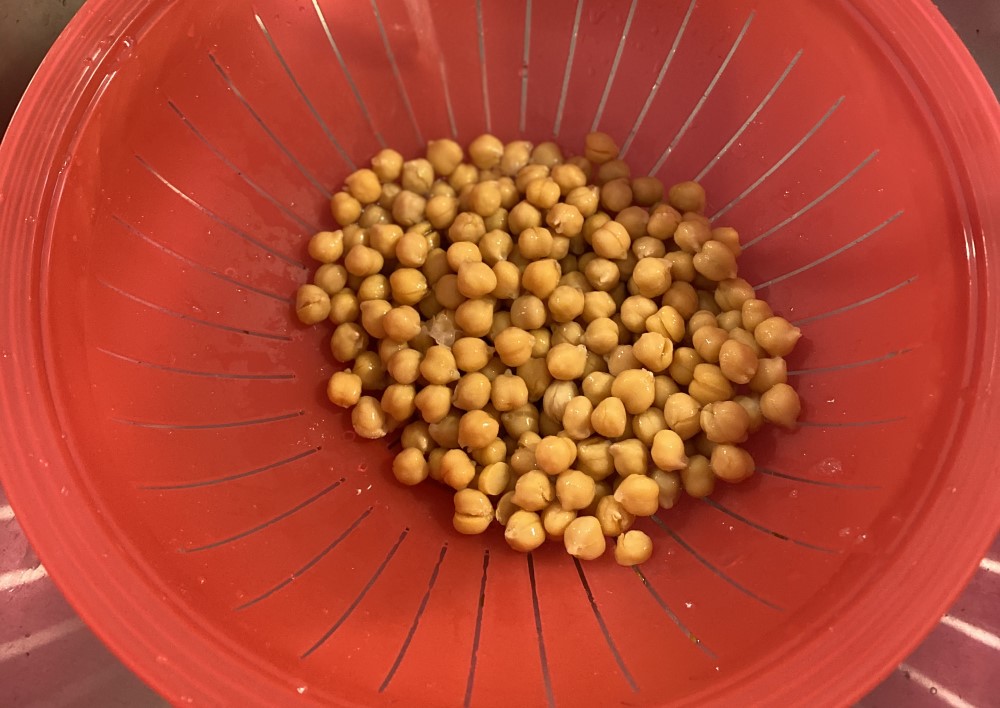 The first step is going to be to drain and rinse your chickpeas. The liquid in the can will not be a welcome addition to your cookie dough dip!
You also need a food processor for this recipe if you want it to be the creamiest version. A blender will work, but you may need to add extra liquid, and it might not turn out quite as well.
Add the chickpeas, oats, and almond milk to the food processor and blend them first.
This is what mine looked like after that step. You may need to use a spatula to scrape down the sides to make sure it all gets blended.
Then add the rest of the ingredients, except the chocolate chips!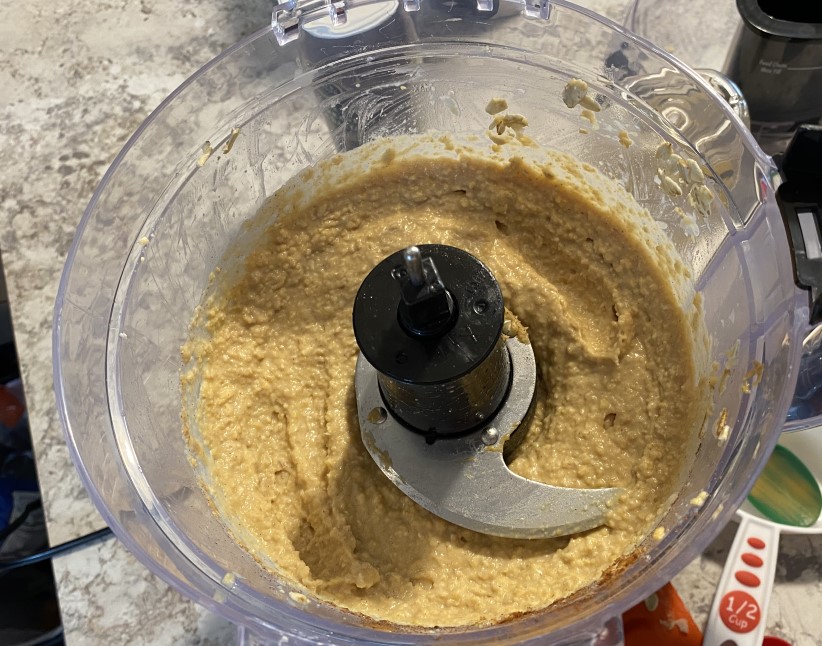 The consistency should be similar to hummus (which is, after all, also made out of chickpeas). If you don't want it to be as creamy, you can add less milk. You can also add more milk if you want it to be even creamier. Keep in mind that if you use a liquid sweetener, that will add to the creaminess, while something like brown sugar or powdered stevia may mean you need to add more milk.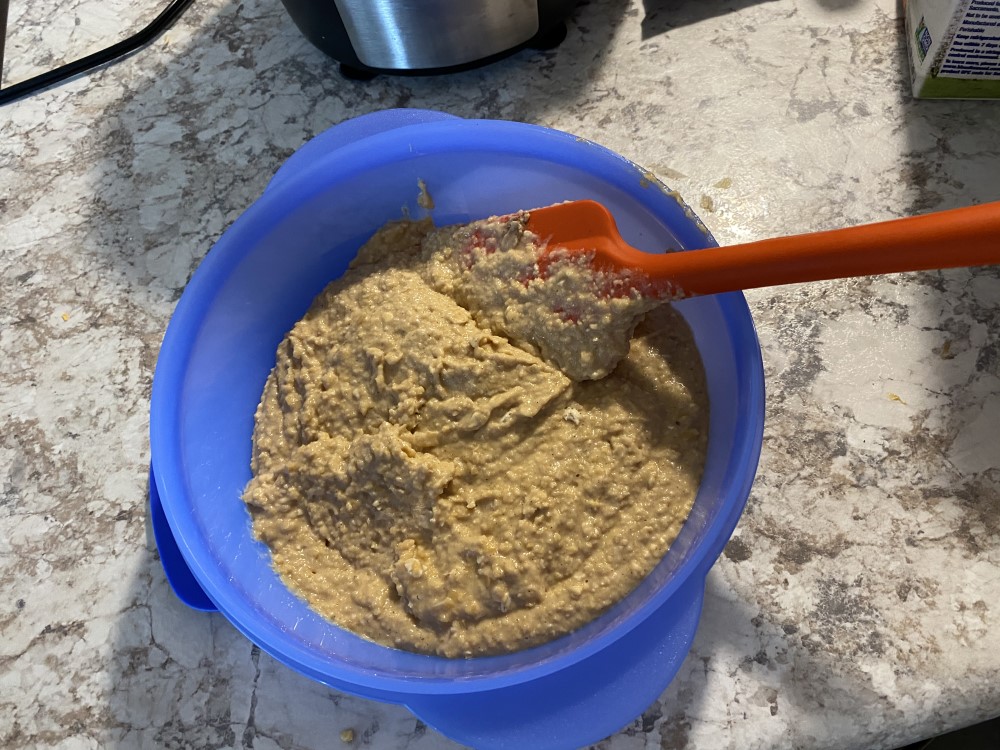 Once it's all blended, put it into a container or bowl before you stir in the chocolate chips. You can also do a taste test at this point to make sure you've got the sweetness right. If not, just stir in some more sweetener with a clean spoon.
Then just add the chocolate chips! I measured out ½ cup for this recipe, but you can always add more or less, or even mix in something else… white chocolate chips, nuts, etc. Anything you'd mix into cookies would be yummy in this dip.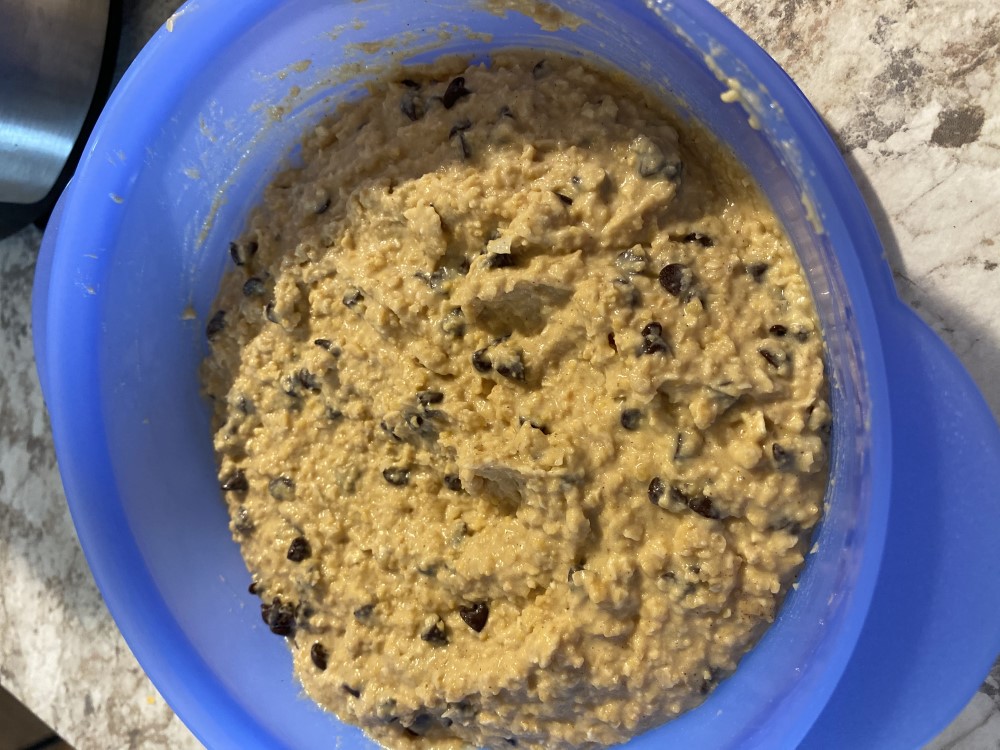 That's it! This keeps great in the fridge for several days but probably won't last that long.
My kids like to dip both pretzels and apples into this cookie dough dip. However, the pretzels in this picture are actually mini pretzels which are not great for dipping—they were just all I had the day I made this. That didn't stop my kids from digging in, though!
Peanut Butter Chocolate Chip Cookie Dough Dip
Ingredients
1 can chickpeas (garbanzo beans), drained and rinsed
¼ cups old fashioned oats
½ cup almond milk
¼ cup peanut butter
2-4 tbsp. sweetener (maple syrup, honey, brown sugar)
¼ tsp salt
½ tsp cinnamon
½ tsp vanilla extract
½ cup mini chocolate chips 
Directions
Place chickpeas, oats, and almond milk in a food processor and blend as finely as you can.
Add peanut butter, sweetener, salt, cinnamon, and vanilla and puree again until the consistency is similar to hummus.
Add more almond milk by tablespoons if you want it to be creamier.
Use a spatula to remove the dip from the food processor and place in a bowl or container.
Then stir in the chocolate chips with a spoon (and add more chocolate chips if desired!).
Serve with celery sticks, apple slices, or pretzels!
Created by SouthernSavers.com
See more Southern Savers recipes!