This post may contain affiliate links. Read our disclosure here.
With grocery prices rising, you may be considering changing your grocery shopping habits or trying something different. Sometimes that can mean focusing on what you're buying that you may not need, or cutting back on splurge items. But sometimes you're already doing that, and you're wondering if changing the store where you shop would help.
Aldi has always been a popular lower-priced grocery store, but I've said before that it's not always necessarily the cheapest, especially if you're shopping sales and coupons at other stores. That said, with prices raising all over the place, I decided it was time to investigate if Aldi is actually the cheapest option when it comes to groceries and how it compares to other stores where I have the option to shop.
So here's my attempt to answer that question: Is Aldi the cheapest grocery store? For this post, I compared to regular and sales prices at both Kroger and Publix.
Is Aldi the Cheapest Grocery Store? Comparing to Kroger and Publix
For the purposes of this comparison, I tried to find the cheapest option for each item. That usually meant it was the store brand, although sometimes it was a name-brand item on sale. On the chart below, wherever you see an asterisk, that means it was a sale price and not the regular price of that item. However, if you're following the Southern Savers method and shopping the sale cycles, you can probably get those items at those prices!
Here's the comparison of the prices, and then I'm going to talk about some of my takeaways.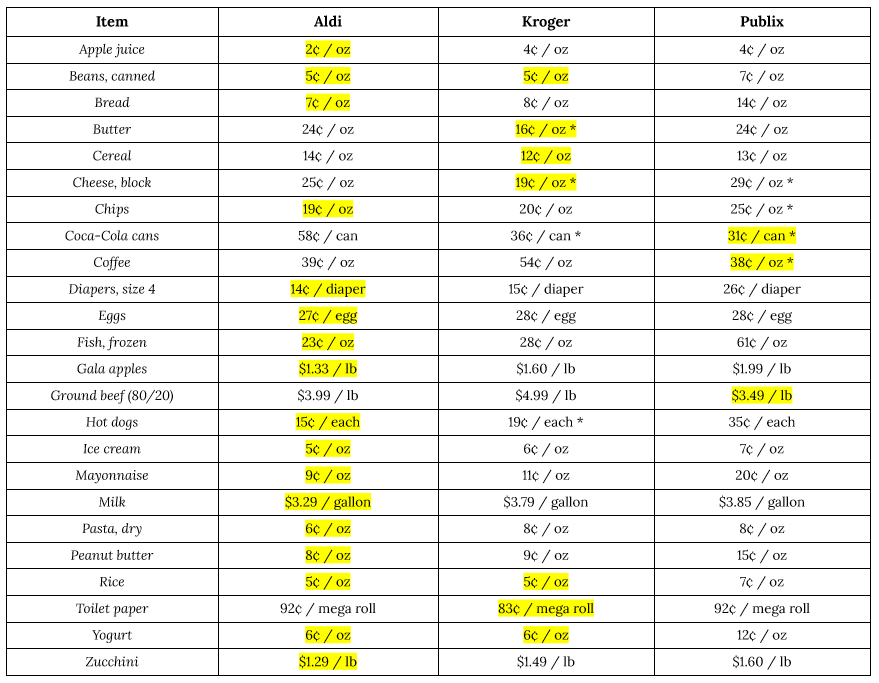 I've highlighted the lowest prices in yellow so that you can easily see which was the lowest. I chose to compare at Kroger and Publix because those are the other two stores closest to me.
In order to compare the actual price, I calculated the unit price. If you shop at other stores, you can usually calculate the unit price by dividing the price by the number of units. For example, if butter is $4/pound, your unit price is $4/pound or 25¢/ounce. Just make sure you're comparing the same units! That said, here are my takeaways.
Aldi is a very cheap option if you miss the sales at other stores
Of the 24 items I looked at, only a few of them were on sale that week at Kroger & Publix.  Aldi does have the lowest price on many items when you are comparing to the non-sale price in the grocery store.  So if you're doing a big grocery shopping trip and don't have time to wait for sales, you're better off shopping at Aldi.
Shopping the sales will almost always make it cheaper, no matter where you shop
If you do have the ability to shop the sales each week and follow the sale cycle, then Aldi probably isn't your best option. Especially if you don't have an Aldi nearby, you're probably better off shopping at stores like Kroger and Publix and paying attention to the weekly ad.
It's worth it to compare unit prices at a few stores
You can use a price comparison chart like this and compare it to a buy price list. I have my own buy price list, but you can also make your own if your staples are different from mine or you have different dietary needs. You may be surprised to find which store has the cheapest price on items you buy regularly.
Buy staples at Aldi and watch for sales elsewhere
Even if you're really good at shopping the sales at some of the larger chain grocery stores, it may still be worth it to buy staples at Aldi. Their baking items, canned goods, and other pantry staples are almost always cheaper than anywhere else. Consider making a monthly trip to Aldi and then shopping the sale cycles at other stores.
Other stores might be better if you prefer name brand
You'll notice that things like diapers are much cheaper at Aldi. However, that is for buying the Aldi brand. While off-brand diapers were something I often bought, some people prefer name brands on things like diapers and coffee. In those cases, you're going to want to look for the sales on those items at different stores!
Conclusion
The best place to buy groceries is going to greatly depend on you, your budget, which stores are near you, and what kind of food you usually buy. That said, if you have an Aldi near you, it is probably worth a shot to go and compare prices to your other local stores. In many cases, you can get many items for much cheaper!