This post may contain affiliate links. Read our disclosure here.
If you live in a house with other people, you probably are already well aware that planning, cooking, shopping for and cleaning up after meals is where a huge portion of your time and energy goes.
When prices on everything keep rising, that adds another component of stress to keeping everyone's bellies full. There is unfortunately no magic formula to help you do all this perfectly without stress, but planning your meals will help you avoid waste, shop smart, and feed your family well. Here are my top meal planning tips as we move into this new year when all of us are looking for ways to save money.
Top Meal Planning Tips for the New Year
Make a list of your family's favorite meals
This is honestly the best place to start when it comes to meal planning. There is no point in making an elaborate plan full of food your family doesn't like. You can always include new things to try along with old classics, but sticking with the ones already in your repertoire will give you a good foundation.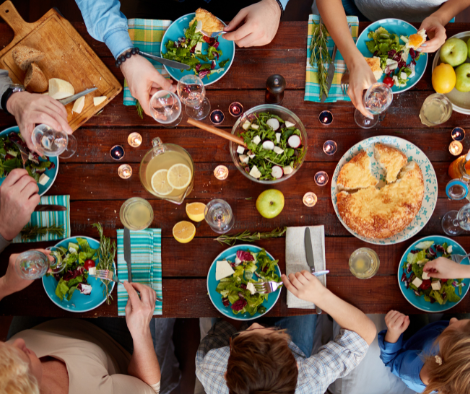 Include your family in the meal planning
Ask each member of your family what 2-3 of their favorite meals are. They may not be everyone's favorite, but those meals are hard to come by. This will give you a pool of meals to choose from (and allow you to maintain happiness among those you are feeding). For example, one of my kids LOVES enchiladas. The other kids do not love enchiladas, but I still try to make enchiladas about once a month.
Try to think of meals that can be made with the same meat
If chicken breasts are on sale this week, then let's hope everyone likes chicken! You can even cook it all at the beginning of the week and utilize it over the course of the week
Monday: Cook chicken breasts in the slow cooker or Instant Pot; use some of it for chicken tacos
Tuesday: Make homemade chicken divan
Wednesday: Make chicken enchiladas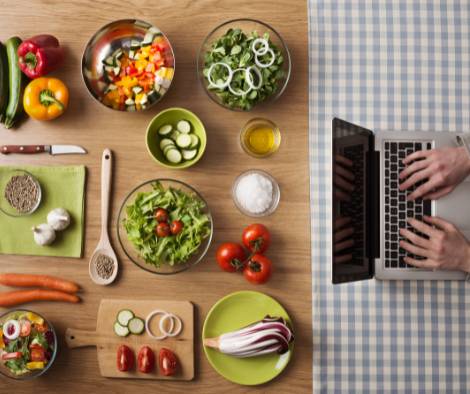 Avoid recipes with uncommon ingredients, or find a substitute
If you see a recipe with many ingredients you don't already have or that are expensive, it may be better to skip that recipe. Alternatively, you can still use the recipe, but just omit or substitute that item. Google is your friend in this area!
Start small with a weekly plan
You can come up with a template for the week to help you plan. For example: Monday – Chicken, Tuesday – Tacos, Wednesday – Pasta, Thursday – Beef, Friday – Pizza, Saturday – No Cook, Sunday – Sheet Pan Meal.
Plan out your side dishes as well as your entrees

Sides for us tend to be fresh or frozen vegetables or salad.  If I don't plan these with the meals, two things happen.  First, I tend to over buy in the grocery store, not thinking about how much we need.  This normally leads to waste when they go bad. The second problem with unplanned sides is that I'll forget what produce I did buy and then, again, it goes bad before it is used. Frozen vegetables solves part of this problem–if you always have a stash of frozen vegetables in the freezer, then you always have a side. I also keep canned biscuits, pasta, and rice on hand since they last a long time and can easily be added to a meal.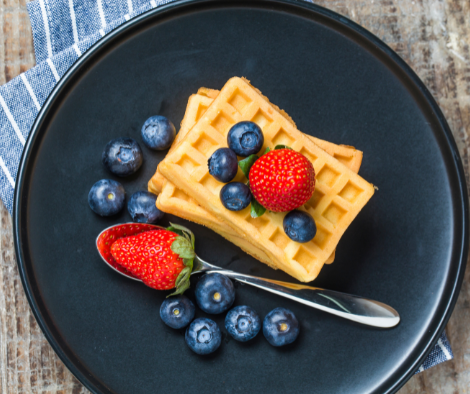 Plan all your meals, not just dinner
I don't want to make this feel incredibly stressful, but I do want you to at least put a little thought into lunch and breakfast as you plan. In our house, breakfast tends to be cereal or bagels every morning except for Saturday when we have pancakes. If I put a few seconds to think through that and make sure we are good on cereal, milk, pancake mix, and syrup then we at least start our days ready. Sometimes it's nice to splurge on grapefruits or a cantaloupe when they are in season too.
Planning lunches is really where some of us can save chunks of money. Either plan to cook extra with your dinner to have leftovers, or go ahead and plan what you would like to eat each day.  A salad, a sandwich… whatever makes you happy. Try to pick foods you know you will enjoy and look forward to eating.
Here are some other ideas:
10 Quicker and Healthier Breakfast Recipes
12 Grab and Go Breakfast Recipes
30 Easy Breakfast Ideas
15 Make Ahead Breakfast Recipes
21 Quick Breakfast Recipes
10 School Lunch Ideas
12 Easy Lunches for Grownups
Double a meal and eat it twice in one week or freeze it
Your future self will thank you if you do this! I like to cook twice as much taco meat as we will eat, for example, and freeze the extra. Then I know I can plan tacos again in a week or two and save myself some work.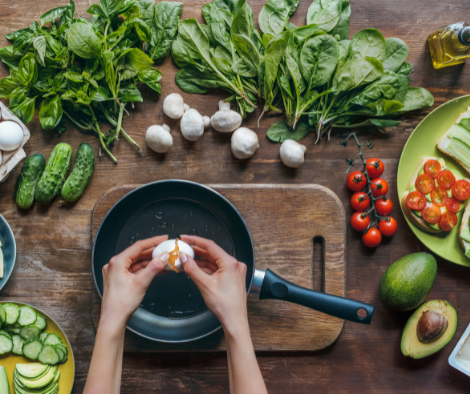 Plan to only add one new recipe a week at first
It's fun to try new recipes, but if you try to plan a week of new recipes, you'll get exhausted before you finish the first week. Also, your family might revolt! Save recipes on Pinterest or e-mail them to yourself and pick one new one to try each week.
Remember that it's okay to plan simple meals
Every meal does not have to be a five-star restaurant experience. What's important is feeding our family food that will nourish them and fill up hungry bellies! That can be done with a simple dinner of scrambled eggs, toast, and fruit just as well as a pot roast with fresh vegetables and homemade bread. Leftovers or frozen pizza, and even eating out occasionally, can also be part of "meal planning"!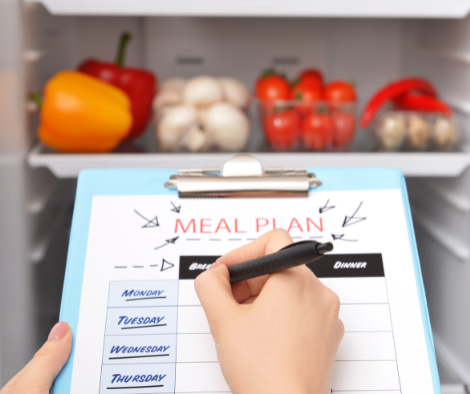 Put your menu plan front and center in the kitchen
Whether you use a white board or just write it down on a piece of paper each week, it can help to have it in front of you so you can try to stick to it. Feel free to be flexible if you need to, but I find it helps me stay on track. You also may find little pockets of time when you can prep something or thaw meat for the next day. Also, if your children are constantly asking "What's for dinner?" they can look for themselves!
Sample Weekly Meal Plan
To get you started, here is our plan for the week. My husband and I are avoiding gluten, so while we do add some items for our kids, maybe this plan will help someone!
Monday: Grilled chicken, zucchini, cauliflower rice, homemade rolls 
Tuesday: Slow cooker meatloaf, mashed potatoes, carrots 
Wednesday: Tacos
Thursday: Eating out
Friday: Leftover tacos
Saturday: "Weekend food" (aka convenience food like corn dogs, frozen pizza, etc.)
Sunday: Snack dinner (a lowkey charcuterie board!)