This post may contain affiliate links. Read our disclosure here.
At home with a toddler? It can be hard to keep coming up with ideas to keep them (and you) from becoming bored. Never fear, as a mom of 5, I have tons of experience keeping toddlers happy. Here is a round-up of my favorite tips, tricks, and tools.
Keep in mind that you do not need everything on this list. I'm giving lots of suggestions but you pick what you think your kid will like and build your toy & supply selection over time. Shop consignment sales, Facebook marketplace, local mom pages, etc (when we are no longer in quarantine of course).
The best part: many of these suggestions are packed with learning and they won't even know it. During the toddler years we want to focus on fine & gross motor skills, counting, colors, shapes, and some exposure to letter sounds all through play.
DIY Activity Ideas
You can do a TON with a toddler with things you already have around the house. A friend let me borrow her sweet 1 year to show off some activity ideas.
Tip: when setting up activities, try to put whatever they are transferring from on the left. This will help lay a foundation for, much later on, reading from left to right.
Pom Pom transfer with tongs. For a more advanced version, you can use construction paper to color the bottom of the muffin slots and they can sort pom poms by color.
(obviously monitor closely to keep them out of the mouth)

Cut up an empty paper towel tube & place it on the holder
Slice a banana with the peel on. Let them peel & eat. You can even talk about how a banana is a circle and count how many slices there are.
One year old loves to help! Let them!
Shapes, colors, and sorting all in this one easy activity. Put the correct color sticker on the corresponding paper.
Tip: peel off the white sticker part for them so they can peel the stickers themselves.
You can do this activity with whatever supplies you have on hand. Scoop & transfer plus water is always a win.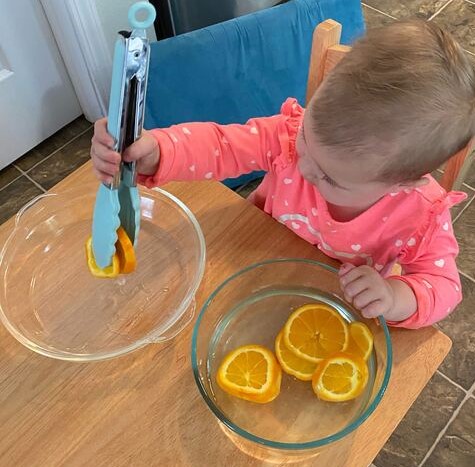 Slice an orange (lemon, grapefruit, etc) and let them use tongs to transfer it. She happily ate the orange after.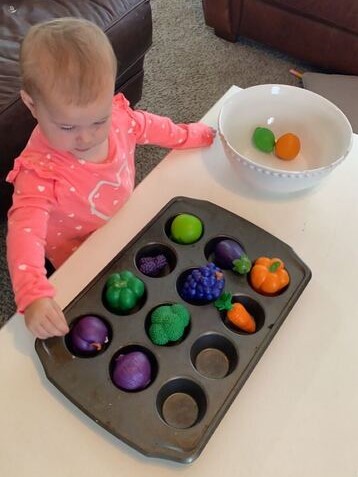 One to one correspondence for toddlers! I used this set of produce but anything that you have 12 of will work. Put all the items in a bowl and they place 1 item per muffin slot.
Puzzles are always a great option!
Sort veggies (or any other toys) by color. We then lined them up & counted them… and of course put the bucket on our head.
Books
It is recommended to read to your toddler for at least 20 minutes per day. With a toddler who loves books, you can easily exceed that. The more the better! Silly voices, animal sounds, and animated reading is highly encouraged. Here is a great video with tips on reading to toddlers.
A few must have books:
First 100 Words
Where Is Baby's Belly Button?
Dear Zoo: A Lift-the-Flap Book
Ten Wriggly Wiggly Caterpillars
Anything written by Sandra Boynton

Tip: these shelves are actually rain gutters! You can see a tutorial here.
Screen Time Wins
If you allow screen time, there are some fantastic options for toddlers! I'm personally a fan of all things in moderation. If you need to cook dinner, nurse a baby… or just need a break, a short video or two can do everyone a world of good.
Here are my favorite options for toddlers:
Dr. Jean (free)
Jack Hartmann (free)
Blippi (free)
Leapfrog Letter Factory (how my kids learned their letter sounds)
Starfall (website & app)
Buy Good Toys
Not all toys are created equal. Here are my favorite toys that will grow with your child & sneak in some learning a lot the way. I like to set toys out Montessori style in a cube. I find they play more with their toys vs when they are in a toy box. A bookcase will also work!
You'll also definitely want to set up a toy rotation. I put out "new" toys every few weeks and it's like Christmas every time.
Puzzles
Bubble Machine
Play-Doh
Washable Paint
Pop-Up Bus
Small Animals
Farm Set
Stacking Cups
Train Set
Blocks
Kitchen
Shape Sorter
Nugget Comfort (not frugal but my kids love it)
Outside Toys
Toddlers love being outside! Fresh air and sunshine is great for everyone. Here are my favorite things to do with toddlers outside.
Point out trees, flowers, bugs, etc.
Empty a storage bin & give them some kitchen tools & water
Chalk
Kiddie Pool
Water Table
Slide (great inside and outside)
Lawn Mower
Balance Bike or Trike
Moms To Follow
Here are a few of the moms I follow on Instagram for activity ideas. They all have ideas for toddlers up through preschool.
Busy Toddler
Can Do Kiddo
Days With Grey
Speech Sisters
Counting with Kids
Bringing Up Babe
ABC Jesus Loves Me (free curriculum)
If you want more ideas head to our Entertaining Toddler Pinterest board.  We have ideas for a DIY water wall, matching games, sprinklers and more!
You guys always have great ideas too, so I'd love for you to share any favorite activities in the comments below!